Dharmendra: Hema is the most beautiful woman I know
Last updated on: October 18, 2011 14:49 IST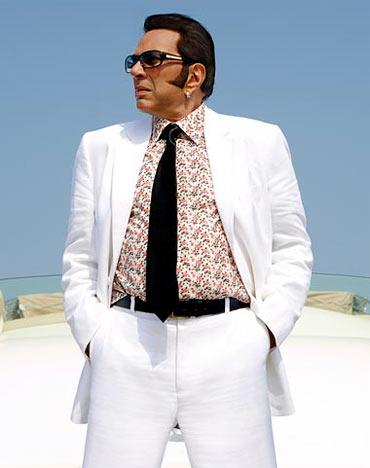 The man who has completed 50 years in Hindi cinema and has more than 250 films to his credit, says that at the age of 75, he still feels like a kid.
Dharmendra will be seen playing a don in Tell Me O Kkhuda, a film directed by his wife Hema Malini and starring his daughter Esha Deol.
Ensconced in a cosy sofa at his residence in the Mumbai suburb of Juhu, Dharmendra talks to Sonil Dedhia over a cup of tea, about the experience of being directed by his wife, working with his daughter and his life so far.
You have worked with your sons Sunny and Bobby, and now with Tell Me O Kkhuda (TMOK), you are sharing the screen with your daughter Esha. Are you excited?
Yes, I am very excited. It's always good to work with your family. I love the script. TMOK is the story of Tanya (Esha), a happy-go-lucky city girl who is a novelist, has a boyfriend, and is well-settled. Her life suddenly turns upside down when she finds out that she is an adopted child. Nursing a wish to meet her biological parents, she leaves home along with her childhood friend (Chandan Roy Sanyal) and boyfriend (Arjan Bajwa). The trio embark on a journey filled with adventure, action, emotion and comedy. 
Tell us about your character in the movie.
I play Anthony, a don in Goa, who is the uncrowned ruler of the underworld and is very powerful. Yet, he is soft-hearted because he loved a girl when he was young but was betrayed by her. Due to certain circumstances, Anthony meets Tanya and her friends. The much dreaded mafia don is amused by their courage and the task they have undertaken and helps them find Tanya's parents.
My look is very different in the film and I love it. Esha suggested it -- she came up with the idea of keeping the side locks and making me wear an earring.
'I see my mother in Ahana'
Last updated on: October 18, 2011 14:49 IST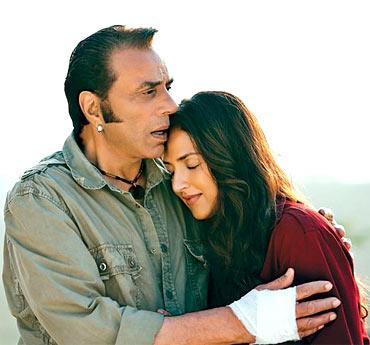 Esha's career hasn't shaped up as expected so far...
She is a very fine actress and a beautiful girl. Ups and downs are a part of life. Every person in this industry goes through it but that should not be a concern. I enjoyed working with her. I see her as a confident actor.
I have done so many films, I have performed many dangerous stunts, but when Esha was doing the stunts, I was a little concerned. She has worked really hard on this film.
What about your youngest daughter Ahana?
She is an angel. She is a very ambitious girl and has a lot of dreams. She is a very simple and kind-hearted person. Sometimes I see my mother in her. There are a lot of things that are going on in her mind -- let's see what happens.
Not much has been written about your daughters from your first wife, Vijeta and Ajeta.
Yes, we have never spoken about them in the media as this is our private affair and I would not like my private life to be out in the public. Their marriages were also low-key affairs in spite of grand celebrations. We have always been very private about our family. I don't celebrate my birthday after I lost my mother and overall, we have always kept a low profile in the media. During our time, movies were about show business but today, it has become a show-off business. You have to blow your own trumpet.
'I should have been a little relaxed with my sons'
Last updated on: October 18, 2011 14:49 IST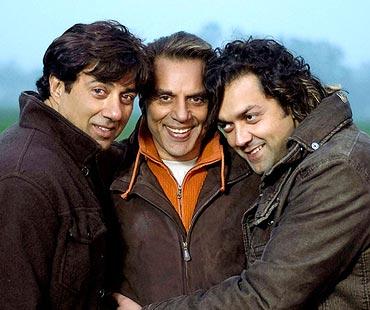 What kind of father have you been?
I have never differentiated between my children. I love everyone. Just imagine how a person who loves everyone will be a father to his kids. They are my darlings.
You have been a strict father. What was your father like?
My father was stricter than what I am with my kids, but that has made me what I am today. I remember I was in the fourth standard and it was winter. I wanted to sleep next to my father so I told my mother. My father called me and took me in his arms and I started feeling so nice. Suddenly, he told me to recite mathematical tables! I was scared to death. I looked at my mother and started making expressions to her that please get me out of here (Laughs).
A father's relation with his son is something inexpressible. I don't think anyone can exceed the love a father gives to his son. The mother will always protect her son but a father will always be concerned. Sometimes I feel I should have been a little relaxed with my sons.
Please continue...
My father was a schoolteacher. When I confided in my mother that I wanted to become an actor, initially she was shocked. I was fascinated by cinema. When she realised how much it meant to me, she came around. She asked me to send applications to directors in Bombay -- she was so innocent she thought you could just apply to become a star!
But strangely enough, God was listening to her prayers because that's how things happened. Filmfare magazine announced a talent search and after a year I was short-listed for a screen-test and then there was no looking back.
'It has been a beautiful journey with Hema'
Last updated on: October 18, 2011 14:49 IST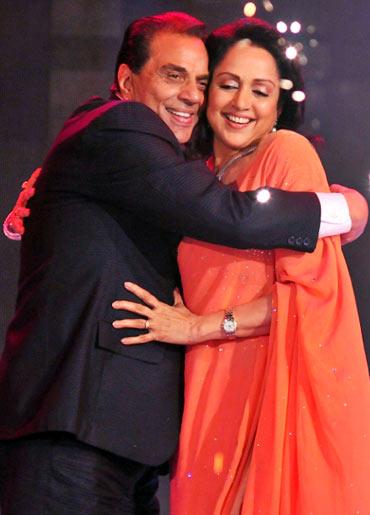 This is the first time you are working under a female director and that, too, your wife Hema Malini.
Yes, this is my first film with a female director. Today, women have reached where even men cannot. Hema Malini is a very intelligent person and her vast experience as an actor makes her a wonderful director. She has a very clear vision and knows what her film will look like. She looks into all the little details and came up with ideas and suggestions we wouldn't even think of. She cares for her cast and crew and always keeps everyone in the loop.
How has the journey been so far with her?
It has been a beautiful journey together. We have done so many films together and given so many hits. We are considered to be one of the best loved on-screen couples. We have a chemistry that is unbelievable and complement each other really well.
I have always enjoyed working with her. She is the most beautiful woman I know. She is a very caring lady. I respect her a lot.
'I am very romantic'
Last updated on: October 18, 2011 14:49 IST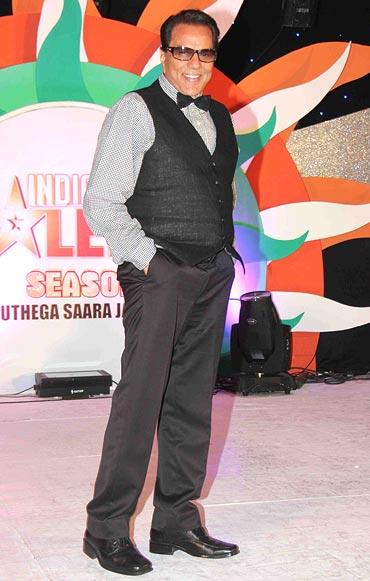 Seventy-five years old and you still feel you are a kid?
I have always been very active since my young days. I would climb the banyan tree and would jump straight into a river, play kabbadi with people older than I, and have always kept myself fit. I have always been very daring. I have always felt young inside and it reflects on my face.
Is it the kid in you that still keeps you going?
Yes. The kid in me always reminds me of the journey that I have made to reach where I am today. I still take my sons (Sunny and Bobby Deol) and caress them in my arms like any father would do to a newborn baby. My soul is still very innocent, like that of a mischievous kid. I have not let success go to my head. Till today, I don't feel that I am an actor. I love everyone and I just want to continue till the time I can. 
People know you as the He-Man. How romantic are you?
I am very romantic. I romance with life. There is a misconception that a He-Man is always strong and cannot be romantic. When a He-Man romances, nobody can do better than him (Smiles).
'I never feel satisfied as an actor'
Last updated on: October 18, 2011 14:49 IST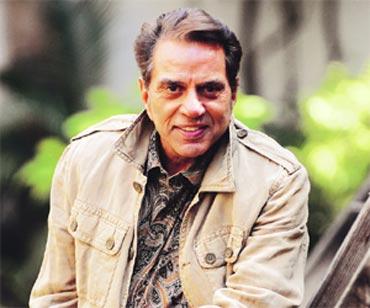 How would you define cinema?
Cinema has always been my passion. I will keep romancing it. It is a medium that makes me go close to my audience. I can play so many characters and yet be myself. I think 99 per cent of people today dream of becoming an actor and whoever says he doesn't would be wrong. I am lucky that my hard work paid off and today by God's grace, I am successful.
Would you like to rewrite anything in your life?
I never feel satisfied as an actor. You always feel like doing different subjects. Because I am unsatisfied, it keeps the actor in me going. I always look back at my films and say I could have done this role better or I could have dubbed in a better manner.
Are there any unfulfilled desires?
I just asked God to make me a successful actor who would have a Fiat, a small flat, and my posters would be all across the country. God has been so kind to me that he has always kept exceeding my expectations. I want to live this life all over again. I don't think I have any complaints.
'Dilip Kumar has always been my idol'
Last updated on: October 18, 2011 14:49 IST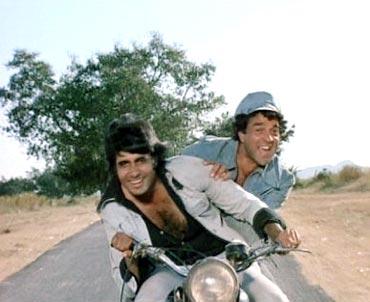 What's the thrill that you get each time you face the camera?
I don't know. I have just given my 100 per cent as an actor. I think I can say I had the privilege of playing the characters of Satyapriya in Satyakam and Viru in Sholay and also Dharam in Dharam-Veer. I have played so many characters and have lived so many different lives in this one life. I have enjoyed working on some of the finest scripts made in Hindi cinema.
You have been an inspiration to a lot of actors. Who has been your inspiration?
I was short-listed in the all India talent search by Guru Dutt and Bimal Roy and I will always be thankful to them. Whatever I am today is because of them.
Dilip Kumar has always been my idol and when I was young, I wanted to do the kind of films he did. I also loved the style of James Dean.
Ever thought of directing a film?
There are a lot of things that I want to do but I never thought of becoming a director. It's a full time job, which is very difficult. I have always taken myself seriously as an actor. I have written a little part of TMOK. Apart from that, I am writing a story... let's see what happens.