Anupam Kher: I will feel 19 even when I turn 89
Last updated on: March 4, 2011 10:17 IST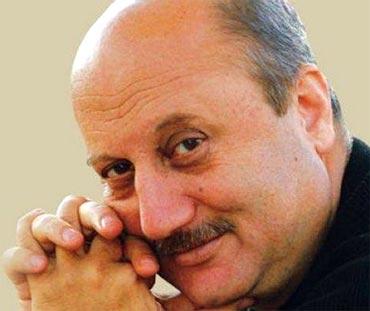 Anupam Kher has been around for almost three decades. Known for his versatility as an actor, Kher still has the same spark that we saw in his first film Saaransh. 
After doing more than 400 films, he still thinks he has a long way to go.
In a detailed chat with Sonil Dedhia, Kher talks about playing father on screen, playing father in real life, and working with the young generation.
At 56, do you still feel young at heart?
I will feel 19 even when I turn 89. It's a thinking man's mind. As long as my mind keeps thinking and growing, I will always be young at heart.
Do you think actors improve with age?
No. There are so many actors who have deteriorated with age. You need to keep your options open.
'Acting is not about control. It's about inhibition'
Last updated on: March 4, 2011 10:17 IST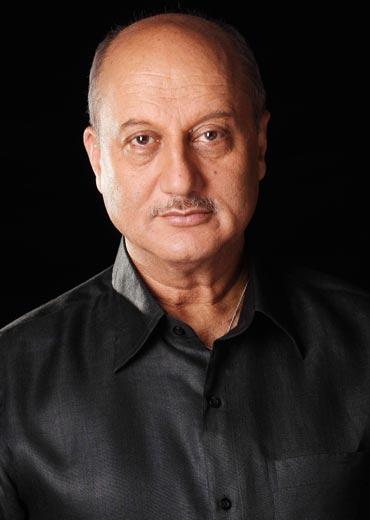 So many Bollywood actors have been your students. Who's been your favourite?
It's like asking a father to ask to choose among his kids. The success of an individual who has passed out from this school (Anupam Kher Acting School) doesn't reflect on the success of the school.
Working is very important for me. And from that point of view, I am proud because almost 40 percent students are working today in advertisements, television or films.
What is the first thing you teach your students?
The first thing that comes out of my mouth is that you should be able to make an ass out of yourself. Acting is not about control. It's about inhibition. The more inhibitions you have, the more time you take to learn it. Actors should be able to do anything.
In my film Dil, I did a scene where I take a fly out from my tea and drink that tea. If I had taken the scene seriously, I would have asked millions of questions and wouldn't have been able to pull it off as convincingly as I did.
'Mainstream actors are doing unconventional films'
Last updated on: March 4, 2011 10:17 IST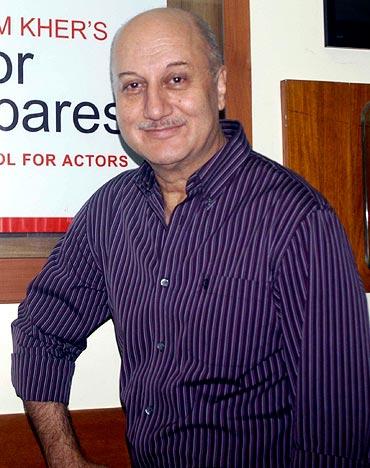 Do you think people still require godfathers to enter the industry?
No. Things are different today. Casting directors have come in. Also, directors cast their films according to the characters. People now look for trained actors.
Naseeruddin Shah, Alok Nath, Seema Biswas and so many of my colleagues were trained actors and we had to do things we were not convinced of. We were educated actors but we never carried the burden of education in our acting.
Today, the environment has changed. Movies like Khosla Ka Ghosla, A Wednesday and Dev D are being made. Mainstream actors are doing unconventional films.
What kind of changes have you seen over time?
The audience has changed. People are accepting different kinds of films but that doesn't mean every small budget or realistic film is good.
We had some of the brilliant movies coming out like Udaan and Phas Gaye Re Obama. And there are actors who can fit into any role. Today, Naseer can do a lead in Ishqiya and we both can carry a movie like A Wednesday. It's all thanks to the changing cinema.
You have played the character of a father so many times. How is your character in Yeh Faasley different from the rest?
This character is one of the most unusual characters that I have played. He is arrogant, ambitious yet loving.
I have done a lot of father and daughter films from Teezab to Daddy to Dil Hai Ki Manta Nahi. But they were traditional. This film is a thriller.
'I went through a lot of humiliation in the first three years of my career'
Last updated on: March 4, 2011 10:17 IST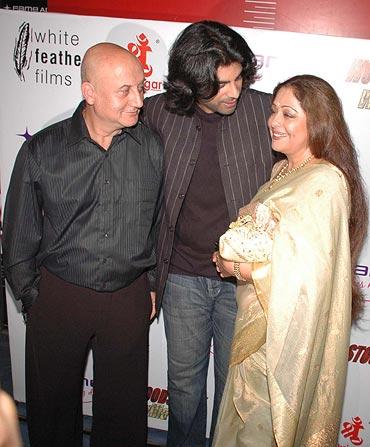 You were at the peak of your career in the 1980s when Sikander came into your life. Do you miss spending those early days with him?
Sikander was four years old when I married Kirron. I would spend as much as time possible with him. When he grew up, he got busy with his studies and work. He is a very grounded child.
Sikander had received good reviews about his performance but hasn't clicked in Bollywood yet. Your comments.
It's just a matter of success. Success gives you certain kind of confidence. For some people success comes fast and for some, they have to struggle. I had to survive in the city without a home or basic necessities. At least, he has a home, a car and an I-pad! I am sure it bothers him and his mother but that will change soon.
When I came to Mumbai, I had no work for two years. I was planning to return to Shimla. My grandfather wrote a letter to me and said that you have worked hard and your parents have worked hard to get you where you are today. He wrote, 'A man who is drenched is not scared of rains.' That was one of the turning points of my life.
I went through a lot of humiliation in the first three years of my career. When you go through that, it levels you.
'Actors don't retire'
Last updated on: March 4, 2011 10:17 IST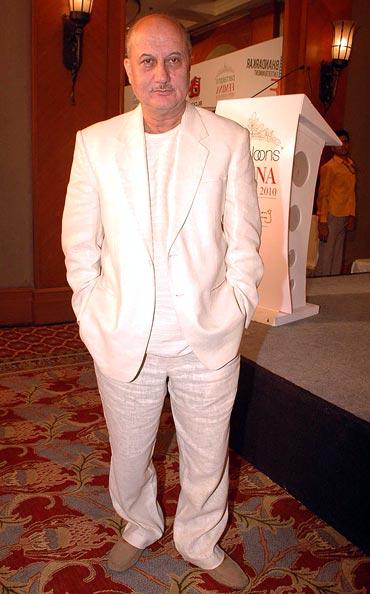 Do you have any regrets in life?
I don't look at regrets. I feel sad and disappointed sometimes but the optimist in me is so strong that it washes everything else. My father once told me not to be ashamed of failure. It is a lesson I will never forget. I have failed many times, but I have never quit.
How does it feel to work with youngsters? What do you learn from the new actors?
Spontaneity. As you grow and do more films, there is a danger of it getting eroded. With the new crops of actors, I can learn the way they approach acting.
Also, I get new reactions. When I am working with the same actors, they are quite predictable. Today's generation is adamant about what they want and I am saying this is in a good sense. They are achievers and that keeps me going too.
Have you ever thought of what you'd do when you retire?
This is the best part of this profession. Actors don't retire. Someone will still want a great-grandfather at the age of 85 and will cast Anupam Kher for it (smiles).