Ang Lee: Masala chai is so wonderful!
Last updated on: November 1, 2012 18:21 IST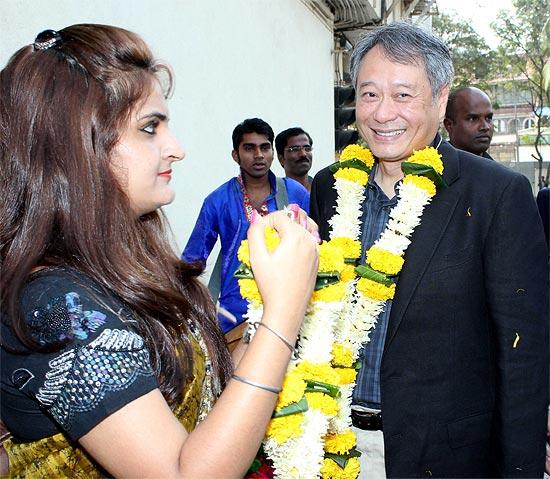 "Indian culture is very inspiring," says Academy Award winning filmmaker Ang Lee, with a warm smile. The Taiwanese-born American director is in India to kick-start the promotions of his forthcoming film Life Of Pi, starring Indian actors like Irrfan, Tabu, Suraj Sharma and Adil Hussain.
Put up at Mumbai's five-star hotel J W Marriott, the soft-spoken filmmaker spoke at length about his wide range of movies -- from the action-packed films Crouching Tiger Hidden Dragon and Hulk (starring Eric Bana) to softer films like Sense And Sensibility and Brokeback Mountain.
Life Of Pi promises to be another brilliant film. Based on Yann Martel's novel of the same name, Lee spent four years translating a difficult story into a visually stunning 3D experience.
The 58-year-old filmmaker talks to Sonil Dedhia about his India experience, and why Life Of Pi is his toughest film yet.
Your films are known for their visual appeal. India is considered to be a very visual country, thanks to its diverse cultures. How does India inspire you as a visual artist?
I have always admired the spiritual side of India. Everything about this country is so awe-inspiring. Like, for instance, a simple masala chai is so wonderful.
Indians are very warm people. When I came here to work on the film, I realised that it will take time to understand the culture of this place.
I visited many temples and zoos in South India as it related to the film, and during one of my visits to a temple, I had to wait for almost four hours in queue.
It was a little frustrating but I didn't complain. I joke that the studio has given their money to the project but I have given my sweat to it (laughs).
The culture is very inspiring. What changed my preconceived notions about the country is that the people here are really wonderful.
'Nobody owns a zoo, not even Michael Jackson'
Last updated on: November 1, 2012 18:21 IST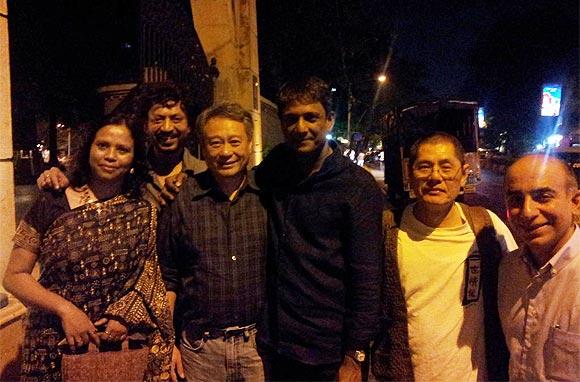 It's the darker side of India that attracts attention from the West. You probably are the first filmmaker to glorify Indian culture.
I think either way it is unfair (to show the darker side or to glorify India) as Indians are in the middle. It's your home. Whenever outsiders come, they take what they need.
Like Yann Martel (author of Life of Pi); he romanticised India. It wasn't the real India he showed. Nobody owns a zoo, not even Michael Jackson.
Even in Pondicherry, before the 1970s, there were hardly any nuclear families. A lot of that isn't realistic. It's a fable-like thing.
I tried to justify it so that people here don't raise eyebrows. It's not always fair; you need a whole spectrum to show Indian lives.
This is the first time that your film is getting a massive release in India. What kind of a response or reception do you think you will get?
I am full of anxiety. I hope culturally when they see the first half people don't raise their eyebrows.
I have done my best. I roped in Indian consultants, Indian cast and crew and tried to make this film as realistic as possible.
The best part about Pi's character is that he isn't a bullshitter (laughs). Everything he says in the book is somewhat realistic and you cannot prove he is wrong. So that's the charm of the book.
I hope the Indian audience doesn't find it unauthentic. I hope they get a thrill while watching the movie. It's based in Pondicherry, at a specific time, and Pondicherry is anyway unlike the rest of India.
I hope my film goes big. Most of all I hope that the movie is thought-inspiring. I want people to generate wonderful thoughts towards life after watching the movie.
'I converted all my ideas into a virtual set on a computer'
Last updated on: November 1, 2012 18:21 IST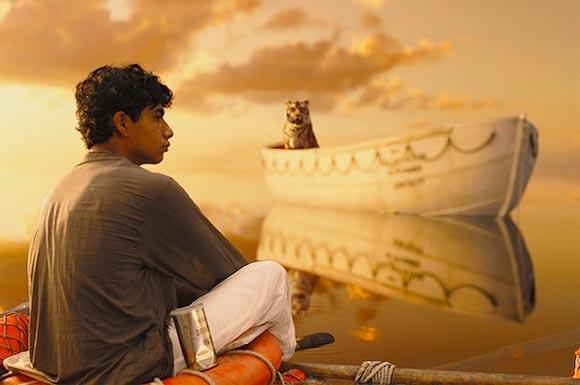 At what stage of reading this novel did you decide to make the film?
I read the book when it first came out in 2001. Around five years ago, Fox Star Studios approached me to direct it. I immediately got hooked. I knew it was a huge responsibility.
It's a very tough book to adapt for a film. How did you visualise the film?
I took up the challenge in two stages. The first thing I did was I came to India and followed the route that Yann Martel has written in the book. Along with my researcher and screenplay writer we did a lot of research. This was just the Indian part of the book. I shot in India at Pondicherry and Munnar.
The other important element was the ocean. I spent about a year doing pre-visualisation.
I converted all my ideas into a virtual set on a computer. It was very helpful. It gave me a great perspective and I could modify whatever I wanted.
We had to build a wave tank to simulate the open ocean. I built a studio at Tai Chong airport, which is the third largest city in Taiwan. We used terminals as offices and hangars as studios.
It took you almost eight months to say yes to the project. Did you at any point during that time think of backing off?
Yes, a couple of times. But it was not from my side but from the studio. They thought it was too expensive.
For me, starting something and not finishing it is like killing me. So once I get hooked, I am possessed. I just don't want to take no for an answer.
I had to provide evidence whether a certain thing was doable. My thoughts and tests on 3D, pre-visualisation etc... in every meeting I had to show them how I wanted to go about it.
They found my decision to go to Taiwan crazy but I did a tour with the producers and went step by step.
Then I started my auditions. I had to show them the tape of Suraj, who plays the main lead. Little by little they gave in.
Right before they gave a green light to my film, thank god, they had a big flop in their regular formula movie. It was a big summer Hollywood movie and it turned out to be a big flop, nobody went to see it. I cannot tell you what the movie was, but the same week we got the green light!
'I didn't want 3D to be just a gimmick in my movie'
Last updated on: November 1, 2012 18:21 IST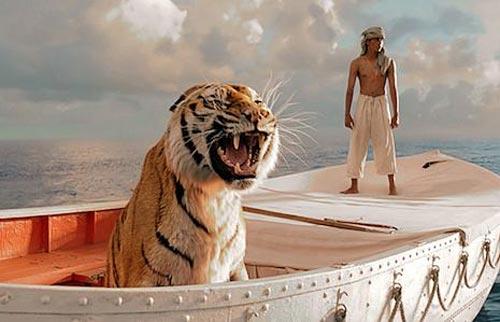 You have taken 3D to a different level with your film. Give us an insight into making the film in 3D.
Making the film in 3D started off as a very naive and stupid idea. I thought it was impossible to make this film in 3D. The 3D technology is very expensive.
When you read the book you will find that it is very spiritual. I thought that if I can add another dimension to the movie (3D) maybe I could take a leap of faith (laughs).
I didn't want 3D to be just a gimmick in my movie. When I shot some of the ocean part in 3D, I realised that it was a new illusion, which was quite fascinating.
How much is a film about technique and how much is it about a story, for you? Life of Pi is after all a philosophical novel. How did you strike the balance?
Whenever people watch a film, they go for an emotional ride. The film should serve their purpose as artistic tools. It's a very expensive art. Thousands of people work with you, and millions of dollars are spent. You have to plan almost everything in advance, pre-visualise it.
I wasn't trained that way. I had to force myself and try myself. I'm used to block out the shots, work out the emotions before I decide to shoot it. I could not do that. Because, when I shot Suraj, the tiger wasn't there. He was only to be graphically incorporated a year later. It was tough incorporating all the elements together.
So are you saying that your film is a perfect blend of emotions and technique?
(Smiles) Technique is used to set the emotion right. Like how we got the emotion of a tiger out, to which our protagonist reacts. We had a definite purpose and we achieved it.
'Somewhere I believe the movie chose me'
Last updated on: November 1, 2012 18:21 IST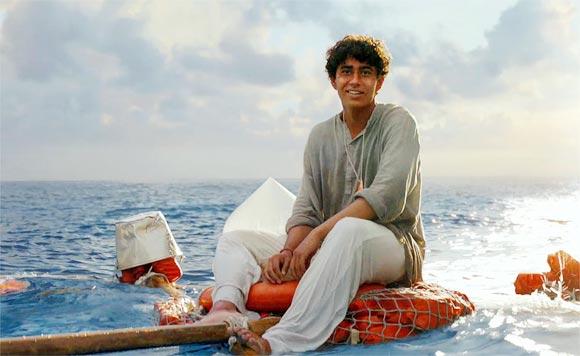 Do you think the excess emphasis on emotion is India's contribution to the West?
Yes. I think they are pretty dried up (laughs). They have been dominated by the western culture of Europe and America for so long, it's time Asians offered something.
In the movie business, they always look for something fresh; they also look for something universal. That's how mainstream movies are.
People who want to go mainstream in Hollywood filmmaking have to go beyond the specific; they have to find something universal that moves everybody.
As you mentioned, the film was a big undertaking. Three other film makers who were approached, backed off. What went through your mind before signing this up?
They all backed off for different reasons. N Shyamalan never read the script. I don't know what the story of the second director is.
The one before me went pretty deep. He animated the movie too but the studio didn't go along with his ideas and somehow they fell apart.
I came with the perception that every movie has its own fate. Somewhere I believe the movie chose me.
When I start a film I develop a sense of belonging, I belong to the movie and the movie is mine. Then there's no use thinking about the previous history.
'I have been very stressed for the last four years!'
Last updated on: November 1, 2012 18:21 IST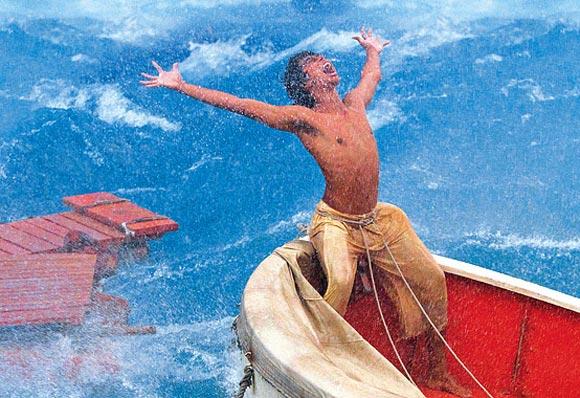 How much of your own interpretation did you bring to the story?
Everything is my interpretation.
We are filmmakers, not translators. We don't convert books from words to cinema. It's what moves us or inspires us that we try to spell out cinematically.
I hope the film stands on its own, even though it is from the book because it's a different medium. The book makes a philosophical point about theology and zoology. It examines illusions.
To me, that was tough. How do you create illusion, especially with so much money? I'll be honest with you: I have been very stressed for the last four years!
How much are you exposed to Indian movies?
Not much. I remember about 10-15 years ago, when I saw Sholay, I thought in American movies everything is faster. The focus is only on the story. But India can give four hours of everything.