'Katrina and I look good in reel life
Last updated on: April 28, 2010 13:25 IST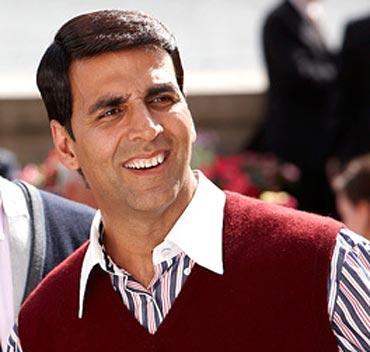 He is the country's highest income tax payer. At 43, he is one of the oldest teenage heartthrobs in the country.
And, despite being married and loyal to one of the prettiest heroines of his times, Akshay Kumar has always been tagged as a Casanova who has come close to almost every heroine in the film industry be it Raveena Tandon, Deepika Padukone, Katrina Kaif or Priyanka Chopra.
After a rough 2009, which saw a number of his films (De Dana Dan, Tasveer, Kambaqt Ishq) failing to make the desired impact at the box office, Akshay is banking heavily on his releases this year.
The handsome hero spoke to rediff.com days before Housefull hits the theatres. Excerpts from the tete a tete:
Tell us something about your character in Housefull.
This is a romantic comedy which depicts the story of Aarush -- the world's most unlucky man. He firmly believes that his bad luck will go away only after he finds true love. The story is about his quest for true love; how one lie of his leads to another and how different people from different walks of life come together to bail him out. This is a hilarious comedy of errors.
What is the USP of this film? From the promos it looks like another typical slapstick comedy.
This is a film where you will have unadulterated fun. You need to just come and enjoy it. There are no messages in the film! Kids are going to love it, boyfriends will enjoy it, girlfriends will cry every now and then, aunties and uncles will be rolling on the floor laughing and mothers will be tickled pink!
'I always take inspiration from real life faces for the expressions I portray on screen'
Last updated on: April 28, 2010 13:25 IST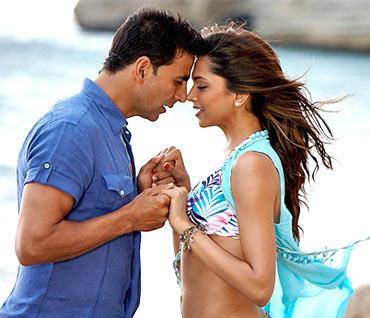 Why are most comedies multi-starrer films?
Good point! I have never sat down to think about it. In my early stage of career I have done comedy films where I was the single hero. But it is a fact that nowadays filmmakers want to make comedy films with multiple heroes.
Today, in comedy films, there is no hero, we are all characters. I feel that is the best part of doing a comedy. And of course the fact that in a multi-starrer, the responsibility and pressure are shared equally.
You have managed to be different in all the comedy films you have acted in. How do you manage that?
I always take inspiration from real life faces for the expressions I portray on screen. I love to observe people around me and try to incorporate their behaviour in my roles. I travel a lot and utilise my time in observing people.
Recently, I was stuck in Frankfurt airport due to the volcano related problems, I had a great time there observing so many types of people. All of them have something to offer. While playing a character, suddenly these expressions and the faces flash into my mind and I just enact what I observed.
In our industry, people mimic famous actors, but I think we should imitate real people. Try to mock them, copy them without copyright.
Having said that, I must acknowledge the contribution of directors Neeraj Bohra, Priyadarshan and Raj Kumar Santoshi. They are all brilliant actors and helped me make a difference in comedy films.
'In Namaste London all the characters were real'
Last updated on: April 28, 2010 13:25 IST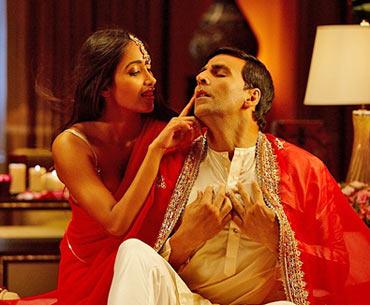 Have you ever thought of a writing a comedy film?
Come to think of it, I have written a couple of films. I wrote Namaste London and I also played a key role in visualising the concept of Waqt. I never sit down and write the story, which a professional writer would do, but when I am talking to someone and find something interesting, and feel that it can be converted to a character in the big screen, I do write.
In Namaste London all the characters were real. I know someone who is from Jalandhar and married to a British girl. After marriage, he was at the Heathrow Airport all alone and shattered. I took that cue for Namaste London and developed the others characters slowly.
You have worked with all the leading ladies in the industry. Who do you love working with most?
[Smiles] I have given hits with everyone right from Ayesha Jhulka to Katrina Kaif and have enjoyed working with all of them. For me it is difficult to tell you who I love working with the most. But, in the recent past, I have done most of my films with Katrina, so I will say Katrina and my pair looks good in reel life.
'My remuneration has gone down and become zero after I turned producer'
Last updated on: April 28, 2010 13:25 IST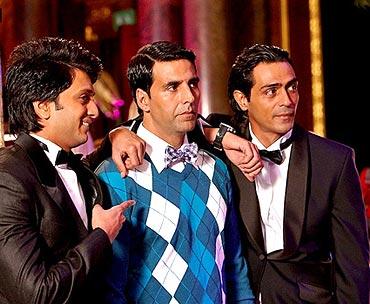 You are a complete entertainer in reel life. What kind of person you are in real life?
To be very honest I am shy and introvert in real life. Even if I crack jokes, it will be within a very close circle. I have very few friends from my student life and from this industry. I am a workaholic and love to work 24/7. I love the business I am in -- film acting and producing. Whatever I have learned is through experience, not any degree.
Being an introvert, how difficult is it to act in front of the camera?
[Laughs] If you get the kind of money which we get to perform, I am sure all expressions will come live in front of the camera automatically!
Talking about remuneration, how has it increased over the years?
To tell you the truth, my remuneration has gone down and become zero after I turned producer. When I make films and release them, I earn whatever the film earns but the money goes to my production house. If the film flops, I have to bear all the losses.
But it is better this way because my stress levels have gone down and people do not accuse me of taking so much money from them and not delivering a hit.
Stress levels may have gone down, but they cannot be zero at your level. How do you conquer stress?
I wake up very early in the morning and go for a swim in the beach. During this time, I want to be alone. This time is only mine and no one has any rights over it. Everyday I want to spend some quality time with myself. I also go for a walk in the beach and think a lot. This is how I de-stress.
'I have no fights with the Khans'
Last updated on: April 28, 2010 13:25 IST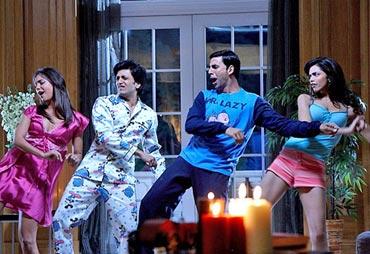 Being one of the biggest stars in Bollywood, what are the things that you miss most?
I miss the first few things I did in my life. I am very close to them -- my first Fiat car, my first motor bike and my first house. My car is still in running condition, just the airconditioner is not working. I bought this car 25 years back and I have started my struggles with this car.
You are a proud father and caring husband. Do you avoid daring stunts?
Honestly speaking, while doing stunts I do get scared like any ordinary man. When I was doing Fear Factor I used to always tell the contestants that one should be scared about stunts. Only then can they do it safely. After becoming a father, I did avoid stunts for some time, but am back in action now.
There are rumours of two separate camps -- Akshay Kumar and Shah Rukh Khan. The fact that you are working with Farah in Tees Maar Khan and Shah Rukh is not, has fuelled rumours about you snatching Farah from Sharukh Khan.
Our film industry is very big and vast. There work for everybody. Every year our industry releases close to 150 films. We all can work in this industry without fighting with each other.
I am not sure of the camp concept you are talking about. Farah approached me with a nice concept, I liked it and thus we ended up doing Tees Maar Khan. I have no fights with the Khans. I talk to them on and off.