'I don't want to make cutesy, candy-floss romance'
Last updated on: June 22, 2011 11:48 IST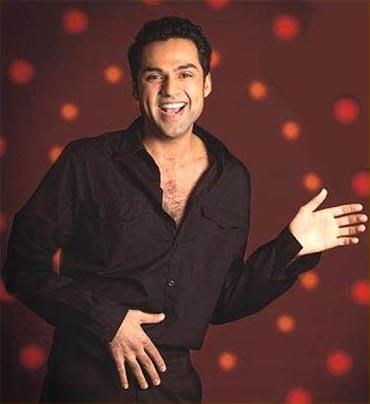 Abhay Deol seems to be a moody person and his choice of films echoes this, whether it's the sly thief in Dibakar Banerjee's Oye Lucky! Lucky Oye!, or the stubborn lover in Kashyap's Dev D. Although he asserts that his latest flick Zindagi Na Milegi Dobara will break the stereotype, he is reluctant to comment on his rapport with his senior and hugely popular co-star Hrithik Roshan. He also denies reports that he is dissatisfied with his role in Zindagi ...
Excerpts from an interview with Ankur Pathak. 
 
Comparisons have been made between your new film Zindagi Na Milegi Dobara, and Dil Chahta Hai

It's a story of three guys going on a trip. There are many films other than Dil Chahta Hai that have the same theme, so that doesn't imply they are a Dil Chahta Hai rip-off.

I know it's the same banner (Excel Entertainment) and then again there's Farhan (Akhtar) but I can assure you it is not even close to a film like DCH.
How would you define your character in the film?

He is an upscale South Mumbai kind of a guy. He is rich, instantly likeable and a very loyal person. He laughs a lot. You can depend on this fellow. How he is with his family I cannot tell because he never interacts with them throughout the film. The film is about bonding with friends. The bottom line is -- you will like him a lot.

'I have had to live uncomfortably with the tag of being an off-beat hero'
Last updated on: June 22, 2011 11:48 IST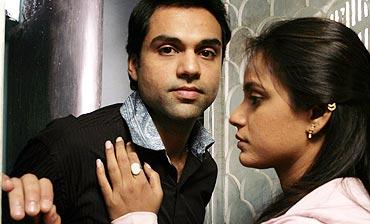 Is this film a sign that Abhay Deol has finally succumbed to the conventional, commercial film?


I have never sat down and decided what mainstream is, what art-house is or what is commercial. Every filmmaker wants his film to be commercial. If he is making a non-commercial film, he obviously is making a flop. In today's day and age, you cannot define the genre of a film completely. It is just that there has been a formula for decades which has worked for so long that it is defined as mainstream.
Coming to your question, I have had to live uncomfortably with the tag of being an off-beat hero. I say 'uncomfortable' because being an off-beat actor could scare distributors and producers from signing me on, or even if they do, marketing the film well.  
As an actor what is the most important thing you keep in mind when you sign up for a film?


I think that would be relating to the character. It is a crucial thing without which I wouldn't be able to pull off the part. That was the one thing that made me come on board for Zindagi - it is high on content and the character is someone I can understand very well. I have always done films with that logic. For instance, it was the ambition of
Lucky in Oye Lucky! Lucky Oye!
that I connected with strongly.
'I don't have problems with multi-starrers'
Last updated on: June 22, 2011 11:48 IST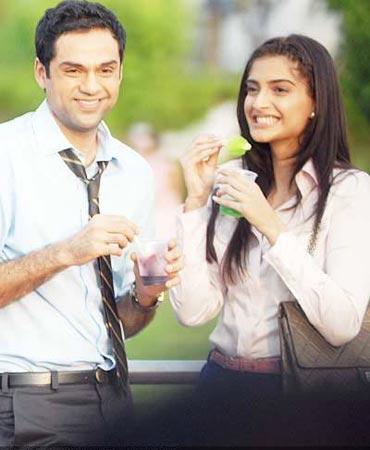 How did you relate to a dark character like Dev from Kashyap's Dev D?

I think I could relate to his stubbornness and vulnerability at the same time.
Are you comfortable sharing screen space with so many other actors, as ZNMD has a multi-star cast?

I really don't have a problem with it. It is not the first time that I have shared screen space with other actors. I did Honeymoon Travels Ltd which had as many as six couples. I did Anil Kapoor's Aisha where I was hardly there. As long as I'm happy with my character I have no complaints. This one (ZNMD) was a very pleasurable film to work on.
What adventurous stunts did you perform for the film?

I have always been worried about jumping from an airplane, which I finally did for this film. It was a damn scary thing to do, and while on the plane with the guy who I was to jump with, I was hesitant. But then I took the plunge. I also did deep sea diving which I almost find meditational as I love the sea.
'Zoya Akhtar is extremely sharp'
Last updated on: June 22, 2011 11:48 IST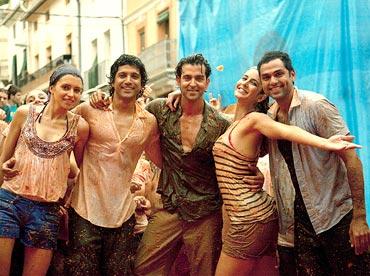 What do you like the most about Zoya Akhtar as a director?

Above all things, I like her understanding of human character and its many emotions. She is extremely sharp. Working with this girl I've realised you cannot fool her by putting up an act. She reads people like a book. With her, it is always reading in-between the lines, never about the lines.
How happening was Spain?

Oh, shooting in Spain was beautiful. I'm particularly fond of their culture and the music. I don't like the food so much. We travelled extensively. The climate was too hot. In all, there were 107 locations, so we explored all parts of the country. They have their film industry centred in Madrid. Although we didn't shoot there, I did spend a day in the city when I had time.
If it was the last day of your Zindagi how'd you spend it?

I would spend the entire day with my friends and family. Come on, let's be honest, more than anything in the world, I'm sure anyone would like to spend the day with the people they care for.
'Zoya gives her actors space to improvise'
Last updated on: June 22, 2011 11:48 IST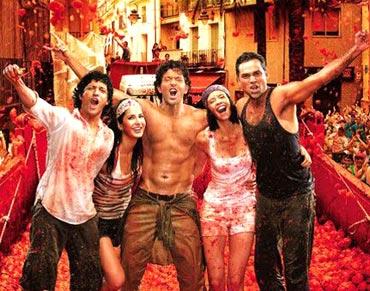 Are you an actor who strictly follows the director's guidelines or do you tend to improvise on your own?

Most of the directors that I've worked with more than welcome the actors' interpretation of the character, barring a few. Zoya is extremely open to her actors' suggestions and allows them that space. My method is that I don't mug up my lines or get married to the dialogue given. I'm more spontaneous.

But in Zoya's case, I was surprised at her terrific understanding of the character. I didn't do anything on my own and relied blindly on what Zoya said about approaching and playing the character. 
With three guys on board, there must have been a lot of bromance. Did the girls feel ignored?

Well, not so much Hrithik, but Farhan and I were on schedule for quite a while before the girls came up. So we had formed a little group of our own. We were already familiar with the place and knew where we had to go to eat, play around or do fun stuff. They (Katrina and Kalki) had to kind of adjust themselves but it was all very cool.
Reports suggested you were not happy with the way your role shaped up.

Reports suggest a lot of things, my friend. Sources told me when you came here for this interview that you already had an agenda. True? (Laughs loudly). What I'm trying to say is people make a lot of stories and there really is no point answering any of them.

'Dibakar Banerjee and his crew are the nicest people I've worked with'
Last updated on: June 22, 2011 11:48 IST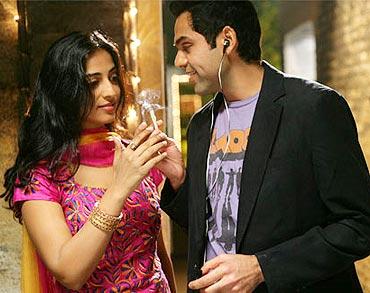 So it seems you really were not happy then?

Honestly, when I read the script, I didn't know what I was to play and I liked the part which I eventually did very much. I was very surprised and even told Zoya that this was the role I was hoping I'd get. It's the best I have done so far. It is a role which is exactly the same on screen the way it was on paper. And it is the same case with the film. It has turned out very well.
What kind of rapport did you share with Hrithik Roshan?

How many questions do you have to ask? (Laughs and ignores the question)
Name one film of yours which you cherish the most.

My best experience has been with Dibakar Banerjee while working on Oye Lucky! Lucky Oye! More than the story it is the team that matters. Dibakar and his crew are the nicest people I've worked with. I'm working with them again in Shanghai.
Is Basra -- your debut as a producer -- happening?

No, it's been shelved. But there are other projects we are trying to develop.

'I want to raise the bar in Indian cinema'
Last updated on: June 22, 2011 11:48 IST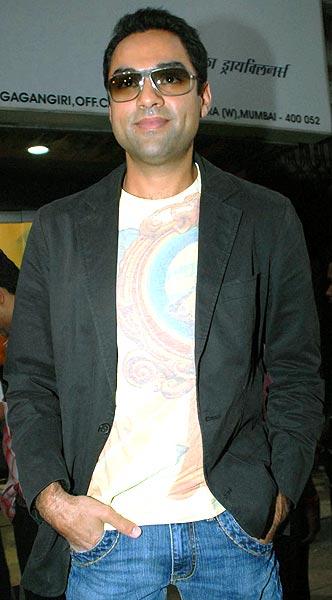 As producer what kind of cinema would you like to make?

See, my only interest is to raise the bar in Hindi cinema. It is to explore very different themes which I hope will succeed commercially. In India, if we have to make a controversial and highly provocative film, we add sex to it -- which is the easiest way out. There are other routes too. It could be politically provocative as well or humorously provocative.
Basically, I don't want to get trapped in making cutesy, candy-floss romance. I want to create a movement which can stand alongside the mainstream on its own feet without having to depend on it. I'm not sure if that will happen.