Indian Ocean: The last interview
Last updated on: December 28, 2009 15:30 IST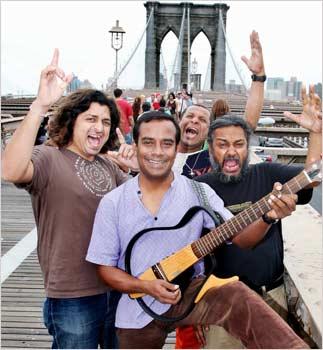 A few weeks ago the band Indian Ocean came to the US for its seventh concert tour in this country. On October 9 they performed before 550 people at a concert in New York City's B B King Blues Club.
Three days later the four band members -- Asheem Chakravarty, Susmit Sen, Rahul Ram and Amit Kilam -- were on their way back to India. As they walked in the transit section at Doha airport, Asheem suddenly collapsed after a heart attack. He spent time in a coma in a Doha hospital and then was brought to Delhi.
Asheem seemed to be showing signs of improvement, but then he suddenly died on Christmas Day, following another heart attack. He was only 52.
Before they left for India, the four band members sat with Aseem Chhabra for a free flowing, candid and introspective conversation. It was their last interview together.
You have been performing in the US since 2002. The audience at your concerts seems to be mostly Indian Americans in their late 20s or early 30s. I sense they have been in this country for five to ten years. They must have seen you perform in India. Can we say that through your music they appear to be making a connection with the India they left behind?
Asheem: That seems correct about quite a few of our audience in this country.
Rahul: Yes, I think so. I saw that in Seattle at a club called Neumo's. We played for Asha for Education and for CRY. And it was like playing in a college in India. The room was full of people standing and they seemed to be going back to their college days, singing every song with us.
When you first starting touring the US, did you have a sense who your audience will be?
Rahul: No, we didn't know.
Asheem: The first time we came here was to play for the Smithsonian festival in Washington DC and 99% of the audience was all locals (non-Indians). We did five shows back-to-back. Initially, there were 30 or so Indians, but the numbers increased as a result of word of mouth.
'It is a different high when you are converting new audiences'
Last updated on: December 28, 2009 15:30 IST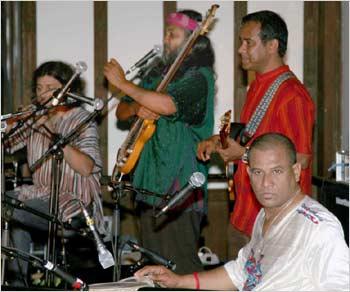 You recently performed in Russia. What was that experience like?
Rahul: They were all Russians in the audience. Only in Moscow, when we played at Gorky Park, there were some Indians. In Kazan and St Petersburg there were only a few Indians. But we were signing autographs and selling CDs after ever show.
Amit: In Kazan out of the three or four Indians, two were Kashmiris. They walked up to me and talked to me in Kashmiri and I was like wow!
How do you communicate with a completely foreign audience?
Susmit: If it is really good music, if it affects people, then it is the best language you can communicate in with the audience. They are moved, that's it.
Rahul: We played in Hanoi in 2006. There were over 2,000 university kids and they had no idea what we were singing. But it was one of our best concerts. There was a brief introduction in the beginning and that was it. The response was amazing.
Asheem: I think the same thing happened in Bandung, Indonesia. We played in an indoor stadium which was packed. There were at least 5,000 people there. And the response was similar.
Susmit: I don't think language really matters. It is a different high when you are converting new audiences. When we started performing as Indian Ocean, we were converting new audiences at every concert. In fact someone even came up with the name 'events of conversion.'
Four of you have been together since 1994. Rahul said at the concert that in 15 years you have only done 30 songs. Where are you today as a group?
Rahul: I feel that we have to come out with another Indian Ocean album. We haven't done an album since 2003. In 2005 the soundtrack of Black Friday came out, with three songs of ours. But it is different from an album like Kandisa or Jhini with 70 minutes of songs.
Susmit: Nowadays the film guys are coming to us. We have more than enough material to come up with an album. But often that music belongs to the film companies.
Asheem: We did six songs for the film Bhoomi. But we have been traveling and so we are not focused on bringing out a new album.
Rahul: But we have to wait for Bhoomi to be released. We do have other material, but we should be working to release that music. It's a time schedule issue. We produce music when there is a deadline and assignment. But need to focus on our own albums.
Amit: I think I disagree here. Black Friday is as much our album as Jhini. We worked as hard as we would have worked on another album. Just because there are other artists on the album doesn't preclude it to be ours. And Bandhey (from Black Friday) is as much our song as is Kandisa.
'We are always told that we are different'
Last updated on: December 28, 2009 15:30 IST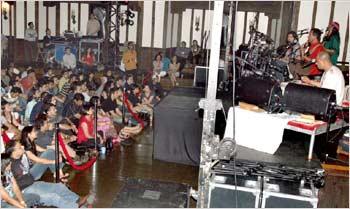 You maintain your independence from Bollywood. And your main source of music is non-Bollywood. How do you guys do that?
Rahul: There are other bands like that too. Euphoria makes its living just by live concerts and their own music. But they play some of their own songs and then they play 80% of other stuff, including Hindi film and some English songs. Euphoria has several videos in the market which we don't.
Rabbi Shergill and Kailash Kher also generate a lot of income doing live shows with non-Bollywood songs. But those people sing Indian pop songs. Our sound is completely different. And for us to make a living with this very different sound, that is a matter of pride for me.
Amit: Most of the bands follow the genres that exist in the market, whereas we don't.
Asheem: We are always told that we are different.
Rahul: I actually think Indian Ocean is at rank with several top world music groups like Baba Maal (the Senegalese singer). But even though we are reaching a wide audience, it is still taking us a very long time to be recognised in the world music scene.
Is it because you are coming from India?
Rahul: I'm not sure.
Asheem: Pakistan has been very big in the world music scene, starting with from Nusrat Fateh Ali Khan. And even Junoon rode that wave.
Susmit: I feel that a band like Junoon may have been very big in India and Pakistan, but there hasn't been a band like ours from Asia with such a wide reach.
So what will it take for a band like Indian Ocean to work with a mainstream label in the West?
Asheem: There can be a host of reasons for that. You may be very good but people in America may not know you.
'Mainstream is what everyone listens to, no?'
Last updated on: December 28, 2009 15:30 IST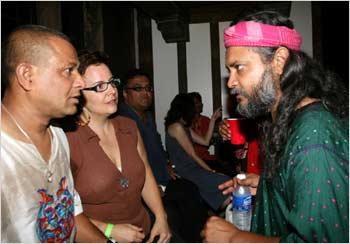 Absolutely! The US just discovered A R Rahman.
Asheem: A R Rahman ruled a billion people before the US looked at him.
So I wanted to go back to the question about what would it take Indian Ocean to the next level.
Asheem: We have made some wrong decisions. For instance, we did not agree to release a video with Kandisa. That would have established a brand for this kind of music.
But Kandisa was a huge hit.
Rahul: Yes, but think of how much bigger it would have been if we had released a couple of videos.
But your core audience is not waiting for the video.
Rahul: You are assuming a core audience, which is limited to those people who have heard us and seen us perform. When the Bandhey video came out, the footage was from the film. That song reached number two on the charts long before the film was released. The video kept playing on music channels.
After that, we started getting invitations to perform from small towns in India like Jalpaiguri and Bhubaneshwar, which was very good.
So our core audience was not limited to those who had seen us perform in college campuses. Actually our core audience is mainstream.
When we performed at the Red Fort in 1997, there were rickshaw-wallahs dancing to our music. So mainstream is what everyone listens to, no?
'We are playing what we want to play'
Last updated on: December 28, 2009 15:30 IST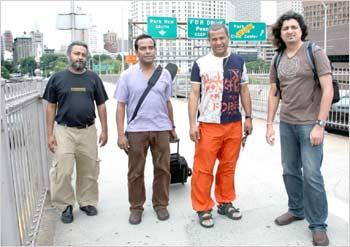 Let's go back the issue of the world music category. Peter Gabriel, for instance, used some Indian musicians in his compositions and also released their albums through his Real World label.
Rahul: But they have also released some not so good music through that label. Everything was new and unfamiliar to him. It's like somebody listening to jazz for the first time. They may not be able to differentiate between a (John) Coltrane and somebody who might be very ordinary.
We actually did contact Real World, but we got the sense that they found our music to be quite Western. It wasn't authentic enough for them.
Amit: They wanted the snake charmer or a folk singer sort of Indian image.
Rahul: -- They cannot see us in our own reality. We are playing what we want to play. But I object to someone telling me that we are too sophisticated.
So what's the future for Indian Ocean?
Asheem: Next year we are going to do something major. Something of major proportions, but we cannot talk about it right now.
Will you release more songs, or will your sound also evolve?
Susmit: That is a continuous process.
Rahul: If you listen to the Black Friday album, it was a different sound, including the background score. It is different from anything we had done before.
Our impact comes through works like that as well, which gives us a lot more dimensions to play around with. There is a lot of scope.
We are now talking about bringing in other musicians and their skills, something you have the luxury to do when you have established yourself.