'I wouldn't have performed as well as a dhobi'
Last updated on: January 20, 2011 11:10 IST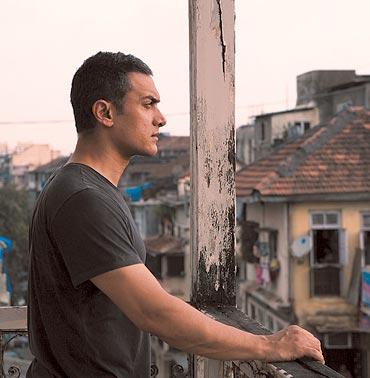 Aamir Khan's first release of the year is nothing like the regular AK fare we've seen.
Dhobi Ghat -- directed by his wife Kiran Rao -- treats him as just another character along with Prateik Babbar, Monica Dogra and Kriti Malhotra.
Aamir chats about the film, and also tells Sonil Dedhia why he won't wish Sachin Tendulkar for the World Cup.
What can we expect from Dhobi Ghat?
Well, it's an unusual film, never been seen before. I have said before that it's not an Aamir Khan film and is meant for a niche audience. I believe the film is made for an audience, who would be more interested in music, art, painting or something unusual like that.
Prateik Babbar has got good reviews for his character as a dhobi. But do you think you could have done a better job since you were keen on playing his character?
Yes, I was thinking of playing the dhobi, as the character excited me a lot. But I think Prateik has done a brilliant job. He is an immensely talented actor. I don't think anyone else could have performed this role better. Not even me.
Your character in the movie seems quite restrained.
I have always said that this is not an Aamir Khan film. I have acted according to what the script demanded.
'I do attend award functions'
Last updated on: January 20, 2011 11:10 IST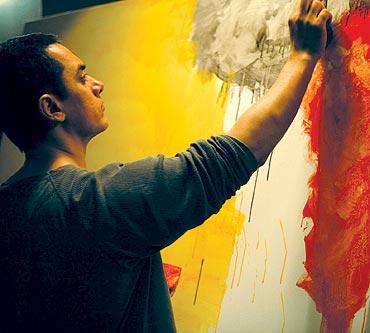 Is Bollywood losing faith with the award ceremonies? Ajay Devgn revealed the truth behind them recently.
I cannot speak about the others but I have said before that Indian awards lack credibility. People tell me that you attend the Oscars (but no award shows in India). But I do attend award functions -- two of them -- in India -- the Dinanath Mangeshkar Awards and Gollapudi Srinivas Memorial Endowment Award. The latter takes place in Chennai and the annual award is given to the best debutant director. I was chosen for Taare Zameen Par.
It's said that you requested Madhur Bhandarkar to postpone the release of his film Dil Toh Bacha Hai Ji from January 26 to January 28. Is that true?
I haven't said anything to Madhur Bhandarkar. Madhur and I are friends; I don't where all this comes from.
In the 22 years of my professional career, I have never done something like this and I don't believe in it. It depends on your film. When I select a film, I have an agenda in my mind that the movie should be entertaining and even if it releases against four other movies.
'I'm disappointed that Peepli Live is out of the Oscar race'
Last updated on: January 20, 2011 11:10 IST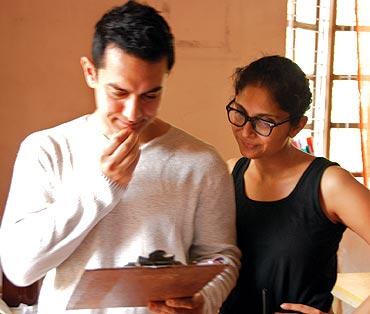 Peepli Live is out of the Oscar race. Are you disappointed?
Yes, it's a little sad and disappointing.
On the other hand, we're proud that our film could represent the country. It motivates us to do something better in future.
You are very close to Sachin Tendulkar. The World Cup is around the corner. Have you conveyed your best wishes to him and the team?
I would not like to wish Sachin. There is a story behind this. There was a time when I would call up Sachin before every match to wish him luck. But unfortunately, every time he would perform badly. Since then I have become very superstitious and I called Sachin to tell him this.
From the time I stopped calling him, he has started hitting centuries (laughs)!
But yes, I wish the Indian team all my luck. I hope to see them lifting the World Cup this time.
'Dhobi Samaj Sangh wanted us to change the film's title'
Last updated on: January 20, 2011 11:10 IST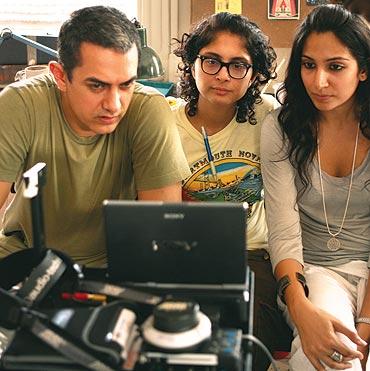 The members of Akhil Bhartiya Dhobi Samaj Sangh have raised certain issues with the name of the film, Dhobi Ghat.
Yes, that's true. There was a case registered against the name Dhobi Ghat. But we didn't go to court because we got the news quite late. The judge didn't pay much heed to the case since he felt it was trivial and dismissed the case.
I remember I got a call from Amit Khatri on Tuesday. Amit is the head (of the organisation) and he expressed his reservations about our film Dhobi Ghat. I called all of them to my office, and they raised serious issues with the film's name. They said the word 'dhobi' is slang and they were deeply hurt with it. They were also worried about that the dhobis in the film may not have been shown in good light.
I asked them to watch the film and that if they had any doubts after that, we will take the necessary action.
They saw the film and found it very interesting. Yet, they asked me to change the title.
I was shocked as there were just three days left for the release. Still I promised them that I would do the needful but that it would take seven to 10 days. After some hours, I got a call from Amit saying that they didn't want us to change the title because of my promise (to change the title). 
I have respect for everyone. When two parties fight, they call for different press conferences. But here, we are sitting together.