'I felt terribly sad when Phoolan Devi was killed'
Last updated on: June 18, 2012 18:35 IST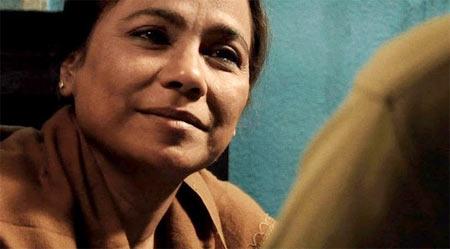 Seema Biswas, best known for her portrayal of the dreaded Indian dacoit-turned-politician Phoolan Devi in director Shekhar Kapur's Bandit Queen, saw the release of yet-another classic role in Patang last week in New York.
Biswas plays Sudha, a middle-class woman in Ahmedabad, who holds her family together after her husband's death. 
Patang, made by United States-based debutant director Prashant Bhargava and producer Jaideep Punjabi, was screened at the Ebertfest in Illinois and the Indian Film Festival of Los Angeles recently.
She reflects on the film, and talks to Aseem Chhabra about the role that set a benchmark in her career.
What was your reaction when Prashant and Jaideep offered you the role of Sudha in Patang? 
Initially, when they approached me, I wasn't very excited. When I read the script I felt my character was in the backdrop. So I thought maybe this was not a film I would do.
When I did not show enough interest, Prashant sent me a long e-mail, with details about Sudha's character, how they were planning to shoot the film and how my character would be seen in the film.
I thought of reconsidering my decision. I thought they were non-resident Indians and would make the film from their point of view. I went to Ahmedabad and they were already doing workshops with non-actors. 
I saw Prashant's involvement, his passion and rapport with child actors. He would somehow communicate with them in his broken Hindi. 
Then I met Prashant's mother, who was involved in the film's pre-production. She showed me parts of the old city, which would be used for the shoot, and introduced me to local women to give me a sense of my character. She had lived in Chicago, but was comfortable on the streets of Ahmedabad. It seemed as if I was a foreigner and she had lived there her entire life. 
I realised that the team had a heart, an attachment to India. So I decided to accept the role.
How was the atmosphere on the sets?
Prashant always had a tough connection with his crew. He was polite and soft-spoken. But (Indian National Award-winning cinematographer) Shanker (Raman) would have the camera on and Prashant would also be shooting and we would never hear the word 'cut!' Sometimes the camera would be on for four or five hours! At home or in the market, the scenes would go on.
'Besides Bandit Queen, I have not done any major role'
Last updated on: June 18, 2012 18:35 IST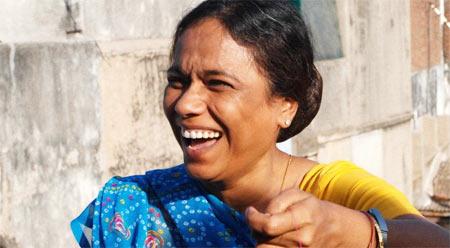 I interviewed Nawazuddin Siddiqui (who plays Sudha's son Chakku) and he told me that it was a good challenge for actors to share screen time with non-actors. 
We would be shooting with non-actors and despite instructions about the scene they would go in different directions. The scene would be only for a couple of minutes, but we would stay in character for four-five hours. Sometimes the non-actors would anticipate what I was about to say, and they would pre-empt me from saying my dialogues. Prashant wanted to make sure that the scenes didn't look rehearsed.
How different was this as compared to working with other directors?
It was surely an interesting experience since I have a theatre background. In theater one rehearses a lot, living with the character for hours. And during the process new elements emerge.
We improvised so much while making Patang. Sometimes I would have five dialogues, but I would end up speaking a lot more. It was an interesting game, all the while keeping it realistic with the non-actors. 
The other directors do rehearsals a few weeks before the shoot. There are discussions just to understand how I as an actor can visualize particular scenes. They help you prepare, to enter a different world.
You have said Patang was special for you.
Oh yes, especially being in Ahmedabad and watching the city prepare for Uttarayan (kite festival). They enjoy life so much. I think everyone should visit Ahmedabad once to see what it means to live life to the fullest. 
How do you prepare for the roles, especially given that you have a theater background?
For me the preparation is the same no matter whether it is a small or a big role. 
I have worked for so many years, but while you can make a retrospective of other actors' films, you cannot do a retrospective of my career. Because besides Bandit Queen I have not done any major role.
You had a major role in Water, Amal and you were the lead in Cooking With Stella.
But still you cannot make it into a retrospective. Whether it is a small role or big one, I make a biography of the character -- whether I am sitting in a car, eating, crossing the street. I make the back story of any character I play. That is how I prepare for stage and screen.
'After Bandit Queen opened, some people offered to make another film with a similar theme'
Last updated on: June 18, 2012 18:35 IST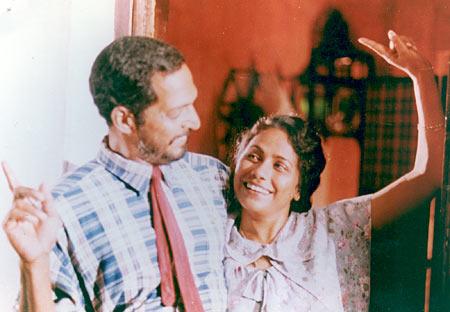 How did your life change after Bandit Queen? Were you offered a lot of work?
When Bandit Queen made headlines, it was also banned for sometime, at that time I got Khamoshi. Some of the filmmakers advised me not to accept it otherwise I would always be slotted in mothers' roles. But I had been in theatre where one can play any age. 
My film hadn't opened and I had become famous because of the controversy. I wanted to be known for my work. So I decided to accept Khamoshi.
Plus it was work and I am sure you needed money.
Yes, I needed work. I hadn't shifted to Mumbai at that time. I was with the National School of Drama's repertory company. I came to Mumbai on my way to the London Film Festival for Bandit Queen. I heard through friends that (Bollywood filmmakers) Ram Gopal Varma and Sanjay Leela Bhansali were looking for actors to cast in their films.
What project did Varma offer you at that time?
He narrated to me an interesting story about a woman police officer. But then Rangeela became a hit and he shifted in another direction. When I met him Rangeela had not been released. 
After Bandit Queen opened, some people came to me offering to make another film with a similar theme. They told me Bandit Queen was not a complete film. I was turned off by that language. So for two years I did no work, other than the role of Kasturba Gandhi in the play Gandhi Virudh Gandhi. 
Bandit Queen and Khamoshi both opened in 1996. For Khamoshi, I wanted to learn sign language and so I moved to Mumbai. I bought a small one-bedroom flat with whatever money I had saved. 
How did Shekhar Kapur find you while you were acting in Delhi's National School of Drama plays?
I was in a comedy play with called Khubsurat Bahu. And I noticed one day that Shekhar was in the audience. But before that Tishu (director/actor Tigmanshu Dhulia) -- my junior at NSD, who was casting for Bandit Queen -- had taken my pictures.
'I was nervous about playing Phoolan Devi, especially the nude scene'
Last updated on: June 18, 2012 18:35 IST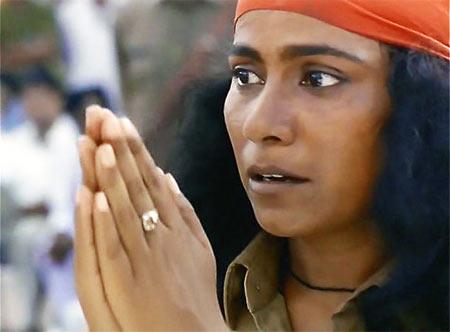 How was the transition into films from theatre? Was it tough playing Phoolan Devi?
Honestly speaking, I had no desire to be in films. I knew that a certain kind of people joined films and I didn't fit that profile. I was fine doing theater for NSD and struggling in Delhi. 
We used to go to Shakuntalam Theatre in Delhi to see foreign films and I would say, this is what is called acting.' Our Hindi films were so superficial as compared to the foreign films I saw. 
But I was nervous about playing Phoolan Devi, especially the nude scene. So I talked to my teachers at NSD -- Anuradha Kapur (Shekhar Kapur's cousin) and M K Raina. Their advice was that I should talk to the director. When I brought up the issue with Shekhar, he said that it was the ugliest scene in the film. 
Weren't you nervous shooting the gang-rape scene?
That was essentially a technical issue. There was the emotional impact of the rape, but I knew they would handle it technically. But how was I to do the nude scene?
Shekhar was fine with getting a body double, because he didn't want to decorate the scene. Instead he wanted to show it as raw as he could.
Did you meet Phoolan Devi?
Later, after the film was made. Earlier she was in jail and so we weren't allowed to meet her. I had a surprise meeting with her. There was a screening scheduled at Delhi's Siri Fort auditorium. We were staying at Asoka Hotel. Shekhar called me and asked me to come to his room. He said he had a surprise for me.
Shekhar would often praise Sridevi and I had told him how much I liked her films. So I thought he was going to introduce me to her. I was with my mother. We knocked on Shekhar's door and I called out his name. I heard a woman saying namaste to me. That's when I suddenly realised and I said to myself: 'Arre baap re, this is Phoolan Devi.'
'I found it so ironic that Phoolan was alive in the jungle but was killed amid people in Delhi'
Last updated on: June 18, 2012 18:35 IST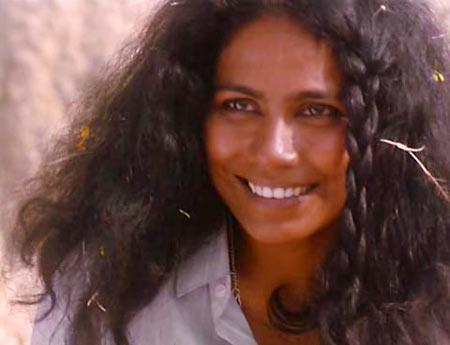 How did you feel when she was killed?
I felt terribly sad. When we were shooting in the jungle, Phoolan's first husband Maan Singh was with us. He would narrate stories about the harsh conditions. There were so many times they contemplated committing suicide or perhaps surrender. They lived without food and water for weeks.
In 2001, I was at a radio station. A peon walked in and the station manager asked him whether he recognised me. He referred to me as Phoolan Devi. The peon replied, 'But Phoolan Devi was just killed.' I said, 'No, it's not possible.' I got into my car heard the names Phoolan Devi and Bandit Queen on the radio. Then I began to sense something had happened. I reached home and there was the press waiting to get my comments.
I found it so ironic that she was alive in the jungle but was killed amid people in Delhi. It was so sad, because she had finally started to enjoy her life. 
You are lucky that you got to play such a major role.


I don't know if it was my destiny or what I should call it. Bandit Queen was ahead of its time. A few months ago I was doing a play in Haryana and people mentioned to me that they had really enjoyed Paan Singh Tomar and Kahaani. But we didn't have such a large audience for a film like Bandit Queen then. 
'After Water, I kept telling Deepa I didn't like my performance'
Last updated on: June 18, 2012 18:35 IST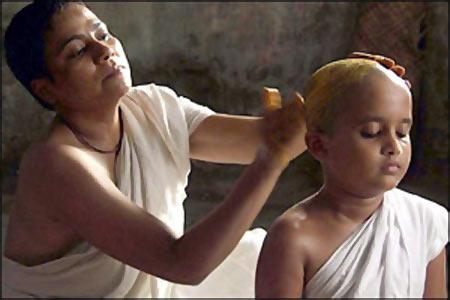 You saw Patang the first time recently at the Indian Film Festival Los Angeles. Did you have any idea what it would be like?
I had seen some scenes in rough cuts. But I always have so much doubt the first time I see myself onscreen. Even after so many years. I am very critical of all my performances.
Does it become easier over repeated viewing?
I have to remind myself to see the whole film and not to just focus on myself. The first time I saw Bandit Queen - it was a 4-hour uncut version. I saw it at (late editor) Renu Saluja's home and then I called Shekhar crying that I was terrible in the film. 
It happened after Water when I kept telling Deepa I didn't like my performance.


I also get nervous when the film shoot starts. Last year when we were on the set of Midnight's Children in Sri Lanka, all I could see was a big cast and everyone was so talented. Also they were from the upper, elite class, and English speaking.
Why should that matter?
There were many dialogues in English and I was nervous, since I am more comfortable speaking in Hindi. I was worried that people would be able tell that I was not acting in my language.