'I don't think I have lost the race'
Last updated on: February 1, 2011 17:23 IST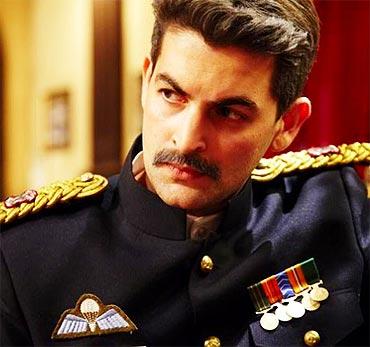 In his next film, 7 Khoon Maaf, Neil Nitin Mukesh will venture out into a new territory by playing a stern army officer, who falls in love with Susanna (Priyanka Chopra), and soon, dies by her hand.
Based on Ruskin Bond's short story Susanna's Seven Husbands -- a story of a beautiful woman, who, over 35 years, gets married seven times due to the untimely and mysterious deaths of her husbands.
Neil talks to Sonil Dedhia about his character in the film. He also talks about his career, and insists that he has not lost in the rat race with his contemporaries.
 What made you say yes to 7 Khoon Maaf?
There are many reasons why I got excited about this film. One big reason has to be Vishal Bhardwaj. He is one of the best directors in today's times. I am lucky that I am working with him so early in my career.
I guess I am the youngest person in the industry to have worked with six different directors, all of who have won National Awards.
The script was fantastic and the character was well-etched. Also, it's a dream come true to share the same space with veteran actors like Naseeruddin Shah and Annu Kapoor.
Tell us about your character in the film.
I play Major Edwin Rodrigues. This is the first time I play a character, who is much older than me. It was tough to play this role because I had to do a lot of research to get my mannerisms right. I gained five kilos for the role and had to grow a thick moustache.
'I don't identify with this character at all'
Last updated on: February 1, 2011 17:23 IST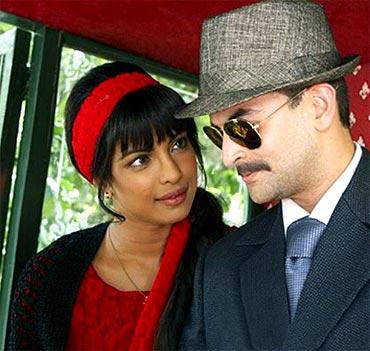 How much do you identify with this character?
I don't identify with this character at all. I don't understand the army. 
I have an uncle, who is now a retired army officer. I wanted to get into the skin of the character, so I went to Delhi and met my uncle. He took me through the life of an army man.
My look in the film -- thick moustache, army suit and aviator sunglasses -- was all inspired from him.
With seven actors in the film, did you ever have apprehension in terms of your screen presence?
If that had been one of the priorities, I wouldn't have been a part of the film. There is no point of speaking about insecurity for any actor in this film because all of us knew the agenda. But I can say I am lucky to play Susanna's first husband! (laughs)
How does the movie take you forward as an actor?
As an actor, it has been a journey, which I was hoping to make some time in my career but did not expect so soon. The depth of understanding emotions and characters is the best thing of being an actor. It allows you to portray characters that you just dream of in a normal life.
How was it working with Vishal Bhardwaj?
He is fabulous. I am not saying that because he has made successful movies but because of the human being that he is. He has got a great calibre. He is an actor's delight. He is very easy to work with, and very relaxed and calm. Many a time while shooting, I didn't even realise that the shot was over.
'I don't understand the business of box office'
Last updated on: February 1, 2011 17:23 IST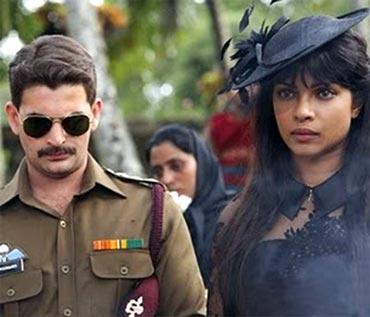 You last two movies -- Lafangey Parindey and Jail -- didn't work at the box office. Disappointed?
I wish I were a producer so that I could answer the question. I am an actor and do my job. I don't understand the business of box office. As far as I know, the producers of my films are quite happy and I guess that's why I am getting films.
What is it that you look for in a script before selecting it?
I should relate to the script. If I think I cannot do justice to the role, I won't take up that film.
The second thing is the director. I must be assured that I am in safe hands.
Then is the producer because ultimately, actors want their films to release in theatres. I have had bitter experiences where my films had to go through rough patches. Johnny Gaddar was stuck for a year and half. Tera Kya Hoga Johny has still not released.
'I am hungry for more success'
Last updated on: February 1, 2011 17:23 IST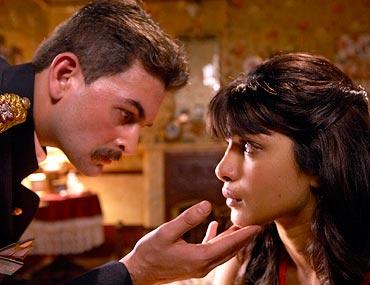 Do you think big banner movies are mandatory for an actor to shape his career?
It's all about working with good banners. Like I said, at the end of the day, one wants his film to release. Big banners comes with an assurance that your films will get released.
I accept films by putting myself in the audience's place. When I am offered a movie, it is very important to know what I am doing in the film. I broke the norm by debuting in a negative role. If I wanted, I could have continued doing negative roles and get tagged as a villain. But I wanted to explore my creativity.
Do you think you have lost the rat race with your fellow contemporaries?
I have always been choosy about my work because I like to work with good banners and directors. I think you should tell me where I stand. 
It takes two-three months to shoot a film. Lafangey Parindey took nine months for my training, shooting and post-production. Unfortunately, the audiences tend to miss all these things and judge the actor only for those three hours of the film. I don't think I have lost the race. I have a lot of quality work in my hand.
So you are content with the work you have done?
I wouldn't say I am content. I don't think any actor should be content with whatever they do, as then one gets a laidback attitude. I am hungry for more success. It has become a Friday game -- one good Friday and the whole perception changes.
'As an actor, a lot of things have to sacrificed'
Last updated on: February 1, 2011 17:23 IST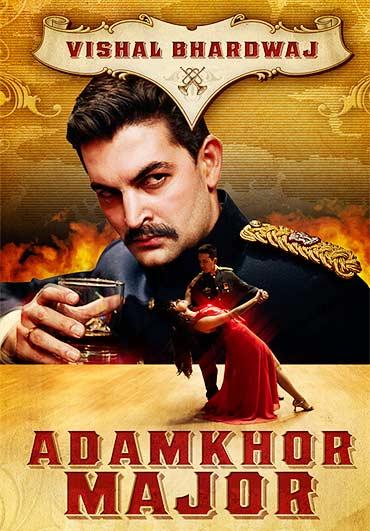 Do you get time to spend with your family?
Yes. But not as much as before. As an actor, a lot of things have to sacrificed and one of them is spending time with family. I shoot for the whole day and by the time I'm back, I am tired and want to sleep.
What's happening with your your passion photography?
I constantly do photography. It goes wherever I go. I recently donated one of my pictures for the Save the Tiger cause and it was auctioned for more    1.5 lakh. I am very passionate about it and would love to do it for charity.
You are doing Abbas Mustan's Players, which is a remake of Hollywood film, The Italian Job. Can you tell us which character are you playing?
No, I can't reveal that. I have signed one more film but I can't speak about that too.