Hugh Jackman dances at FICCI, gets Ganesha!
Last updated on: March 25, 2011 20:34 IST
The Hollywood star took dancing lessons from Shah Rukh Khan, chatted with Karan Johar and made Aishwarya Rai Bachchan blush at FICCI Frames on Friday
If you recently happened to notice a sudden surge of interest in your wife/girlfriend/partner about the movies business, you can be rest assured it had something to do with Hugh Jackman descending at FICCI Frames, the three-day media and entertainment global convention.
Sure enough, the Hollywood star made his presence felt as he took to the stage alongside Aishwarya Rai Bachchan and Shah Rukh Khan.
Watch Jackman shake a leg with Shah Rukh Khan along with first images from the convention that concluded a little while ago in Mumbai.
The King and I
Last updated on: March 25, 2011 20:34 IST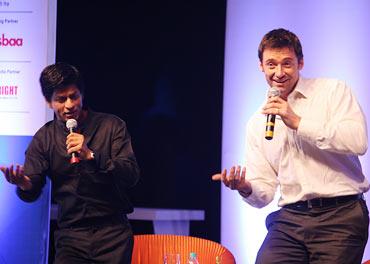 The stage was set as it was a clash of the Titans on the Day three of FICCI FRAMES 2011 as Hollywood star Hugh Jackman stood face to face with Bollywood superstar Shah Rukh Khan and shared the stage for a discussion on the entertainment world.
Bollywood actress Aishwarya Rai Bachchan also graced the occasion as she presented Hugh Jackman a memento -- a Ganesha idol and a Wolverine frame!
 
Anchored by filmmaker Karan Johar, Jackman and Khan discussed about how the gap between the world's two biggest film industries -- Bollywood and Hollywood was decreasing day by day.
The Hollywood actor confessed that he loved watching Bollywood movies and complemented Shah Rukh Khan and Karan Johar for the movie My Name is Khan.
Jackman, best known for his role as Wolverine in the popular X-Men series joked that his next film was with Karan Johar 'because Shah Rukh Khan is busy with his other projects'
"Karan is making a film with me which is a sequel to My Name is Khan. It's called My Name is Jackman and I am not a Tourist," he quipped.
What's the big secret yaar?
Last updated on: March 25, 2011 20:34 IST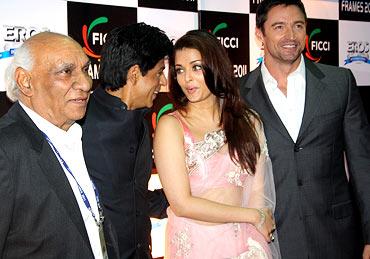 The Hollywood actor said that he was thrilled to be India as it was his maiden visit to the country and he 'always dreamt of coming here'.
"I am so excited," Jackman added, "It's just been a day but I almost feel like I've been here for more than a week! The people, the colours, the sound and the culture it's all so amazing. Sadly my wife and I are here only for four days so we'll make sure we make the most of it."
Jackman also joked that one of the reasons he came to India was to meet some of the Bollywood directors so they could sign him up for their next movies!
Johar made it a point to mention the fact that recently there were a lot of changes happening in the Indian film industry and the presence of studios like Fox and Disney has helped the filmmakers to a great extent.
Khan added that the boom in technology in India had also given a boost to exchange of ideas and that 'it is a boon to the Indian film industry'.
"With the backing of studios it would help Indian cinema get a wider audience all across the world," Khan whose movie My Name is Khan was backed by Fox Searchlight Pictures.
Shah Rukh Khan also said that he felt that Hollywood studios setting up base in India would encourage more filmmakers to approach the big studios to back their projects too.
Jackman too agreed that this would reduce the gap between both the nations and help the overall industry to make better films in the future.
Koffee with Karan
Last updated on: March 25, 2011 20:34 IST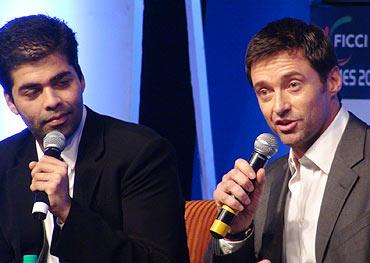 When the Hollywood actor was asked to share his experience on working with the concept of studios he said, "As an actor it makes life much easier."
He added that the studio system also helped actors in selecting roles and made sure that an actor doesn't end up choosing wrong films.
"Yes there are intrusions but when a studio is investing $100 million anyone would like to have a say and it really doesn't really matter," he said but added that 'most of the studios are very supportive'
Karan Johar suggested that in India the studios did not interfere with the creative process and that the focus was more on marketing and storytelling.
On being asked how he perceived Bollywood movies, Jackman said that Bollywood was 'very very popular' in Australia.
Interestingly, Jackman said that directors in the West took inspiration from Bollywood and mentioned how Baz Luhrmann (director of Austarlia) was so inspired by Bollywood and he actually included a scene in the movie.
Tummy tuck!
Last updated on: March 25, 2011 20:34 IST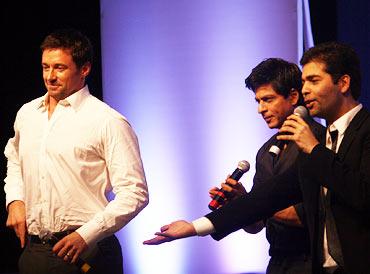 Jackman said, "I remember in one of the scenes Nicole Kidman and I had to dance. As we are leaving we have our first kiss and it starts raining and everyone starts dancing. I actually went up to Baz and asked him why did he chose the rain when we could have just been kissing in the sun to which he explained to me how much rain and romance meant in Bollywood."
While Hugh Jackman confessed that he was keen on acting in Bollywood, Shah Rukh was unsure whether he would fit in Jackman's world
"I would love to do a Hollywood film but I am not sure whether they would be comfortable with my accent," Khan chuckled in his trademark style and added, "I would love to make a film which will be seen globally."
In a repartee that followed, the Badshah of Bollywood cheekily said that Jackman had already offered him the next X-Men movie.
The Hollywood actor quickly retorted saying that he'd in fact asked Shah Rukh to finance the film and not to act in it!
My friend Ganesha
Last updated on: March 25, 2011 20:34 IST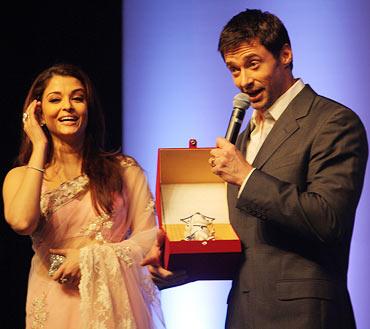 Johar quickly took this opportunity to promote Shah Rukh Khan's unclog release Ra One to which Jackman said that he'd already seen the promos of the film '29 times'!
Shah Rukh said that Ra One was completely inspired by X-Men.
"I was talking to Karan Johar and Yash Chopra about the kind of films we make. One day my kids came to me and said that why don't we also make some cool film like X-Men and Wolverine. So I decided to watch all the X-Men films read the magazines and even saw the cartoons and truly and honestly X-Men is one biggest inspiration for me to attempt and make a film like Ra One."