Want to watch Hrithik or Harry Potter this week?
Last updated on: July 13, 2011 18:59 IST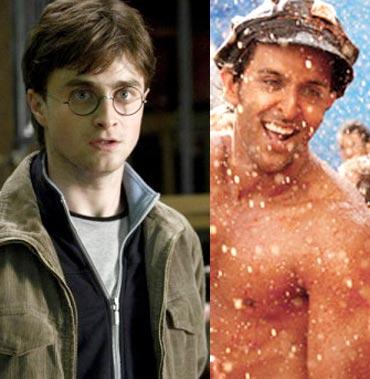 Don't blame me, I'm not the one who decided that Zindagi Na Milegi Dobara should release July 15, coinciding with the blockbuster of blockbusters, Harry Potter And The Deathly Hallows Part 2, the last film in an epic eight-film series.
The hype is deafening.
However, I'm just taking a page out of the Weasley's book and having a laugh. Here's an unapologetically daft look at five rivalries conjured up between these two dramatically different films.
Harry Potter vs Hrithik Roshan
On one hand, we have the boy wizard, the young man with a lightning shaped scar. And on the other, stands the one and only 'god of dance' himself, fluently breaking a beat as he makes a Zoolander face at the chosen one.
Daniel Radcliffe, the boy who plays Potter, has recently come out and declared how discreetly he overcame a battle with alcoholism, and Roshan couldn't be discreet if he tried.
Women might feel differently seeing these boys without their shirts, but we're backing wizard over star kid.
Ron and Hermione steaming it up vs Katrina Kaif soaked in tomatoes
Last updated on: July 13, 2011 18:59 IST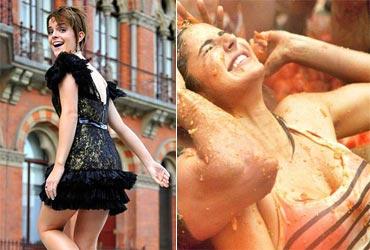 In this eighth 'and final' installment of the Harry Potter franchise, the characters have all grown up and Ron (Rupert Grint) and Hermione (Emma Watson) finally have their moment of passion.
It might not have been a big deal ordinarily, but the audiences have watched these children grow over the last decade, and the expectations from this romance, detailed so lovingly in the book, are epic.
However, Katrina Kaif has made fetish objects out of mangoes with her embarrassingly sexy fruit drink commercials, and here when she's soaked in tomatoes at Spain's Tomatina festival, we're betting the fruit gets lucky too.
Gotta go with Sheila for this one.
Kalki The Strange vs Bellatrix Lestrange
Last updated on: July 13, 2011 18:59 IST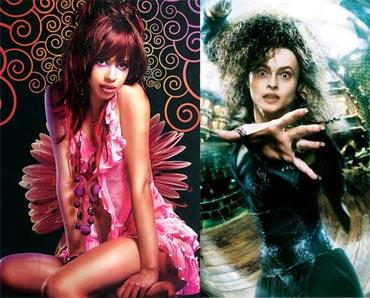 Kalki Koechlin is Bollywood's quirkiest leading lady, an actress with an eccentric filmography given to peculiar, radical film choices other mainstream actresses might not have tackled.
She's fearlessly embraced the new wave, married a top madman director, and is doing her thing. It's a career Helena Bonham Carter, who plays Death Eater Bellatrix Lestrange, would have approved of.
Carter is a wildly inventive actress who doesn't know the meaning of the word fear, and, married to the one and only Tim Burton, can clearly tame wild brains or, better still, stoke their creative fires deeper. Both Kalki and Helena seem to have smaller roles in these big films, but you can count on both to make their respective films a lot cooler.
And head to head, experience forces us to give it to Helena. After all, nobody messes with Marla Singer.
Farhan Akhtar and Abhay Deol vs Fred and George Weasley
Last updated on: July 13, 2011 18:59 IST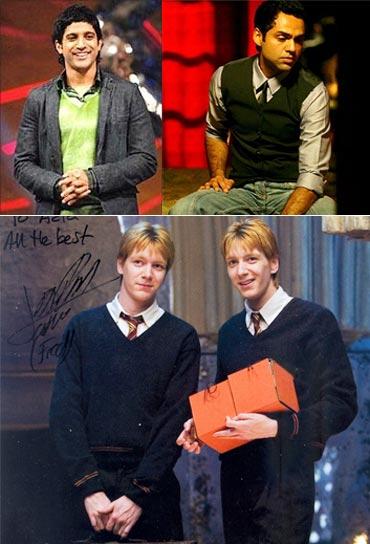 Two sets of goofballs having a blast, but which two are more fun?
Farhan and Abhay look to be reveling in the madness of adventure sport, skydiving off airplanes and finding themselves scorching hot scuba diving instructors, while Fred and George Weasley (played by twins Oliver and James Phelps) are a couple of pranksters having a magically good time.
Akhtar's fun on screen has so far been suited to less adventurous characters, while Deol is a fine, but increasingly charmless actor.
The twins, on the other hand, are as much fun as a barrelful of monkeys: which is to say, a lot. They win.
Everybody in ZNMD versus The Man Who Must Not Be Named
Last updated on: July 13, 2011 18:59 IST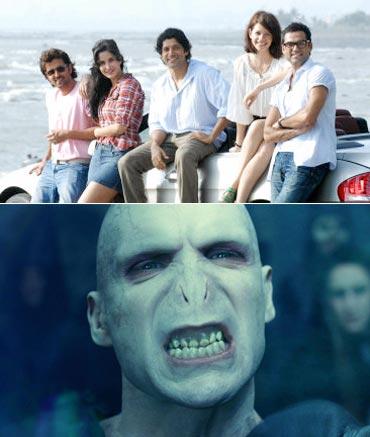 A bunch of kids at a bachelor party versus the leader of the Death Eaters? Please.
Ralph Fiennes plays the notoriously noseless ineffable one, a character so overarchingly evil that other characters fear even taking his name in vain, quite like the literal antichrist. Lord Voldemort is a vile and wonderful villain, the kind we don't see much of anymore, with a thickly nuanced and textured back story and ruthless motivations.
He's one of current pop-culture's ultimate antagonists, and since this is going to be the very last chance to see this man on the big screen, I think that's what we should all grab at the very first opportunity. The competition can always work just as well on television a few weeks later.