'I had batata vada and samosa after 15 years'
Last updated on: October 13, 2010 10:54 IST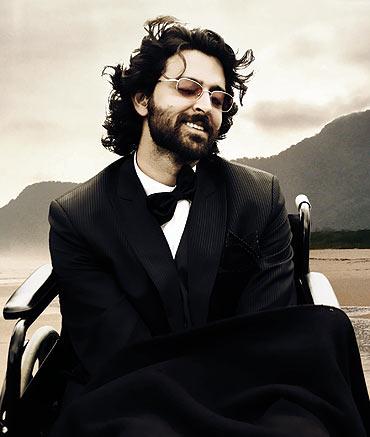 Hrithik Roshan could not have been in any other profession but acting. His looks, actions, the way he carries himself -- everything seems just fit for a hero.
And of course, there are his acting skills. Never mind Kites, his earlier films like Kaho Na...Pyaar Hai, Lakshya and Jodhaa Akbar have proved that.
Hrithik is back with a new film called Guzaarish, directed by Sanjay Leela Bhansali. It co-stars Aishwarya Rai Bachchan, with whom Hrithik has done Dhoom 2 and Jodhaa Akbar.
In this film, the actor takes up perhaps one of his toughest film roles -- a paraplegic magician. He tells Srabanti Chakrabarti more about it.
'This film teaches you how to live life despite barriers'
Last updated on: October 13, 2010 10:54 IST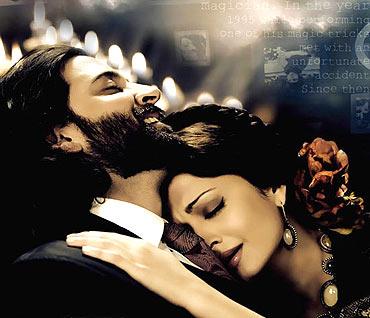 You play a paraplegic magician in Guzaarish. This is a very unique role. Was the challenge responsible in you agreeing to take up the role?
The primary reason behind taking up this film was the script. I am playing a character called Ethan, who was a magician in his past but he becomes a paraplegic after an accident. After that, he gets restricted to his wheelchair. I met a few people suffering from this in Mumbai to get a better understanding of the character.
Ironically, when I finished reading the script, I got a severe problem with my knee and could barely move. I needed crutches. The doctor told me that I might have to stop working in films. But the script taught me a very important life lesson -- I'm not the only one with problems in life, many people have problems. And they may have far worse problems than me. This made me accept the fact that though I had a problem with my knee, I could still move on in life.
This film teaches you how to live life despite so many barriers. I want everyone to watch this film only for that reason.
You've never played a character like this before.
This character is very special and different from the others I have played until now. This man on the wheelchair is the coolest superman. Since I have met people like this, they are the real heroes for me. They kept me happy and energetic. They shared a lot with me: ideas, jokes and their feelings.
I am just representing one of them. While playing this character, I felt I should not let them down. I will be working for them for the rest of my life. It's sad that we don't have a proper organisation, which can take care of such people.
When you go abroad, you can see so many facilities for paralysed people. They can live life properly and have access to everything, thanks to their advanced wheelchairs and equipment -- they can even watch a movie.
'I can't take a stand on mercy killings'
Last updated on: October 13, 2010 10:54 IST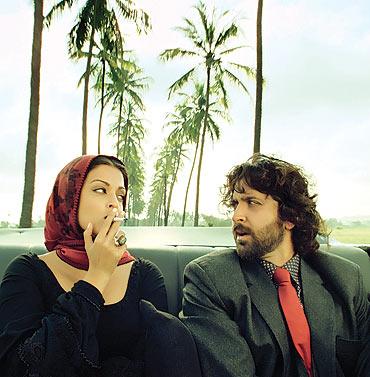 It must have been a difficult job to play this role.
It was difficult. But whenever I felt I couldn't do it anymore, I thought of their faces. That would make me get up and perform my scenes.
Playing this character was like a responsibility. There were real people to inspire me. This is when the 12 years of work experience in the industry came in handy.
Every actor has their own approach. The first two months went in just preparing for the film. I used to meet paraplegic people on a regular basis, feel their emotions and observe how they went about living life. Only after I felt I was ready did I tell Mr Bhansali that we can start shooting.
Does this film send out a message on mercy killing?
The film doesn't take a stand on that. It tells the story of an individual. Ethan's message is to live. For 14 years he lived a paraplegic's life. In these 14 years, he won medals and awards, wrote books, did a daily radio show and many other things. He never gave up. He lived like a magician. A magician always performs in front of audience; he never fails.
Ethan reaches a point in his life when his body cannot function -- his liver, heart and kidneys stop functioning. He realises that the curtains have been drawn and now he needs to go to a place where he can hear the applause. He wants to gallop to the end. The message he sends is very clear -- live your life to the fullest.
If you ask me, I can't take a stand (on mercy killings). But I feel that people should be heard, there must be a forum and each case should be decided on its own merit.
'I had to make a lot of changes to my looks'
Last updated on: October 13, 2010 10:54 IST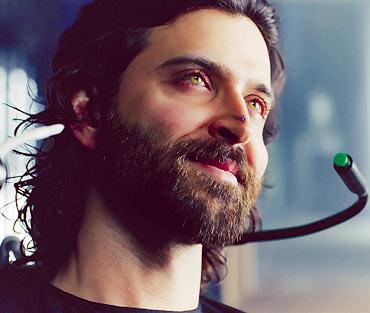 You have changed your look for the film.
I had to make a lot of changes to my looks.
But let me tell you that after 15 years, I had batata vada, samosa and all sorts of junk food, which I was not allowed to have before! I had to look like a person, who was not in the pink of health. So I gained weight, stopped gyming and smoked a lot. Ethan could not have a muscular body so I had tone down that too.
How was your experience working with Sanjay Leela Bhansali?
I truly cherished working with him. Before I started working with him, many people told me that he was eccentric, that he would shout and so on. I was a bit scared because I am a very sensitive actor. If someone yells at me on the sets, I just stop working and leave.
But when I started my work with him, I was spellbound. The way he takes care of his cast is amazing. We clicked right from the beginning.
'The audience has always liked our pair on screen'
Last updated on: October 13, 2010 10:54 IST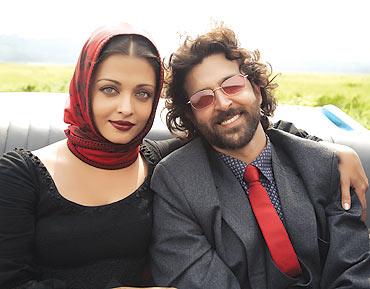 This is your third film with Aishwarya.
Yeah, when Mr Bhansali was narrating the script to me, he was toying with the idea of taking Ash for this project. The moment I heard that, I asked him to please go ahead. The audience has always liked our pair on screen.
You have also sung in the film.

Yes. I practiced the song for three days before recording it. The situation was very emotional and it was very difficult for me to emote through that song. But when Mr Bhansali explained it to me, I was astonished! He made it so easy and he is such a brilliant singer. Let me tell you -- he dances very well, he edits very well and he directs very well -- he is a multi-faceted genius!