A chat with the stars, with Farah Khan
Last updated on: August 17, 2009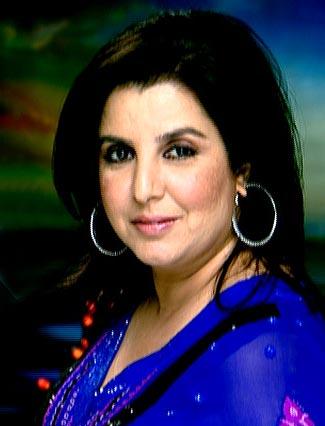 Farah Khan's new chat show, Tere Mere Beach Mein, promises to be interesting. It will feature celebrities, chatting on various topics. The stars -- like Priyanka Chopra, Ritesh Deshmukh, Salman Khan, Shah Rukh Khan, Genelia D'Souza, Asin, Deepika Padukone, Imran Khan, Kareena Kapoor, Irfan and Yusuf Pathan, Shahid Kapoor, Hrithik Roshan, Kangna Ranaut, Sonam Kapoor, Karan Johar, Yuvraj Singh, Sreesanth and Vivek Oberoi -- are expected to reveal unknown personal facts about themselves on the show.
Tere Mere Beach Mein will premiere on August 23. Watch it on Saturday and Sunday at 9pm on Star Plus.
Farah Khan tells Rajul Hegde what to expect.
How has your experience been on the show?

The co-ordinating and research was like making a movie. It was not as easy as I thought it would be.
How different is this show compared to other chat shows?

The celebrities will not be coming here to plug their movies, albums or discuss controversies. Shah Rukh Khan chatted about being a joru ka ghulam, Salman chatted about being a mama's boy, Bipasha Basu and Shilpa Shetty talked about how today's daughters have become the sons of the house. 
I have chosen topics that the entire nation can relate to. This show is not about the celebrity and me. It's about the humanness and the genuine side of the guests that shine through. It's about linking the common man to the world of the stars.
'I speak before thinking; that gets me into a lot of trouble'
Last updated on: August 17, 2009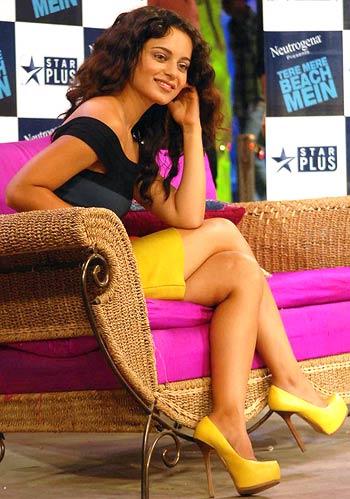 You invited Hrithik Roshan and Kangna Ranaut for the chat show, open to the media. Haven't they come to promote their film, Kites?

Not at all. We are not talking about Kites. The topic is how people overcome their defects or shortcomings to become successful. Hrithik spoke about his speech problem -- he stammers -- that he's never spoken about before.
Do you have any shortcomings?

I have many -- you will need three-four episodes for that (smiles). The main shortcoming is that I speak before thinking and that gets me into a lot of trouble.
I discussed weight problems with Karan Johar and Sonam Kapoor. That was another shortcoming for me.
How did you manage to get Salman Khan's mother on the show? She has never appeared on an show before this?

I have known Salma aunty from my childhood days because we are family friends. Though she is media shy, she happily agreed to come on the show when I told her the topic. But she asked me to give her two months to lose weight. After three months, neither she nor I lost weight -- we are still the same! She was adorable.
'I used to love Koffee with Karan'
Last updated on: August 17, 2009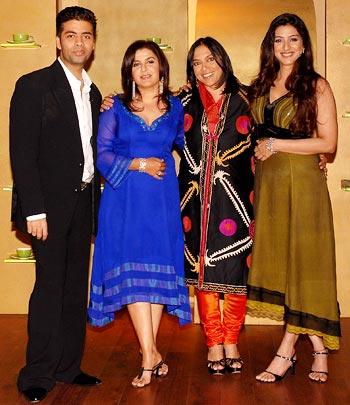 Did you pick up anything from the other chat shows?

I used to love Koffee with Karan. It was entertaining and fun. I have been on the show many times and gotten into a lot of trouble. He has done it so well with Bollywood stars that I didn't want it all over again.
My show is more candid. I like The Oprah Winfrey Show but we cannot relate to that in our country.
My show is a mix of entertainment and seriousness. Sometimes, the topic becomes funny. We had a lot of fun when Shah Rukh came on the show. In Salman's show, there was a moment when his mother broke down. I had asked her how she felt when her son was in jail.
Did Karan Johar give you any tips?
Yes. He told me to learn the questions and script properly. Of course, we improvise a lot on the show. Secondly, he told me to lose weight. I didn't follow that (laughs).
Did you take any tips from your brother Sajid Khan?
Yes, I learnt how not to annoy anyone (smiles).
Which guest surprised you on the show?

Most of them did. For example, Hrithik spoke about his father being bald, and how people would make fun of that -- how that would make him angry, and how he learnt to deal with it. I didn't know about it even though I know him well.
The Pathan brothers -- Irfan and Yusuf -- talked about sibling rivalry. They were so funny, and they are not my friends. In fact, I met them for the first time. They talked about their rags to riches story, and were so candid about it.
'Hopefully, we will have Lalu and Baba Ramdev in the second season'
Last updated on: August 17, 2009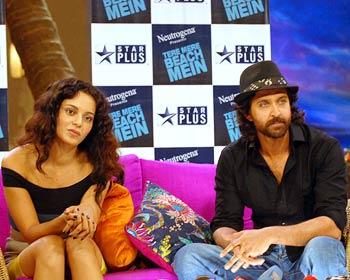 Since you know most of the celebrities on the show, was it easier for you to question them?

Yes. There is a comfort level. Also, I don't think they would come on a show like this if they didn't know the host. Most of them come for me.
What did you discuss with Imran Khan and Kareena Kapoor?

They spoke about love in today's generation -- how today's young generation are open about their relationships and don't care a damn whether it's an inter-caste or inter-religion.
Was it a conscious decision to invite mostly the people from film industry?

Not really. Basically, we were looking at A-listers from different walks of life. We have four cricketers -- Yuvraj Singh, Sreesanth, Irfan and Yusuf. We really wanted politician Lalu Prasad Yadav but it got cancelled at the last minute because of his cataract operation. Hopefully, we will have him, Baba Ramdev and Himesh Reshammiya for the second season.
'I had to do the maximum prodding for Hrithik'
Last updated on: August 17, 2009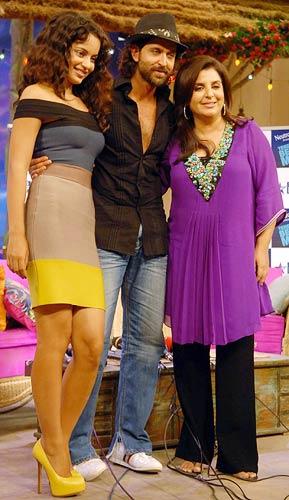 Any episode which left you emotionally drained?

There was an episode where Ritesh Deshmukh, Vivek Oberoi and Sreesanth had to speak about their mistakes in life. Sometimes, it is an impulsive life-changing mistake like a commoner on the show, who made a simple mistake one day. He broke the law, crossed railway tracks and came under a train. But he was so positive. He started an NGO and provides artificial legs to people.
Is it difficult for you to make a guest open up?

Sometimes. I had to do the maximum prodding for Hrithik. He was a bit hesitant to open up at the start. His stammering has been with him for 30 years, and he needs time to open up. Some people told me he would never come on the show and talk about his problems. But he trusted me.