PIX: Fashion highs and lows at Cannes
Last updated on: May 16, 2011 17:24 IST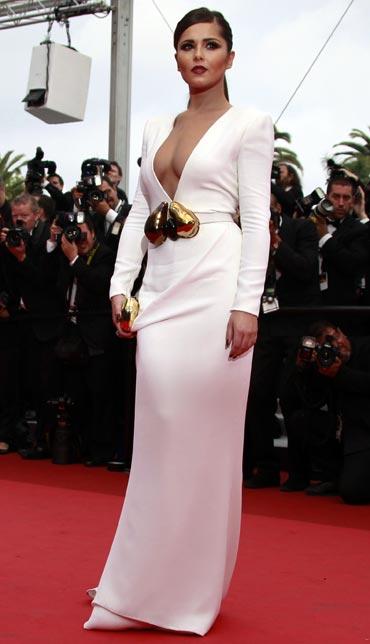 British crooner Cheryl Cole made a stunning entry at the 64th Cannes Film Festival in a majestic white gown with a plunging neckline.
The new X-Factor US judge turned heads on the red carpet in a dress by Stephane Rolland with hair slicked back side parting and dramatic plum lips.
Only, those two metallic chunks on the dress take the focus away from the whole look. And not in a good way.

Sarah Jessica Parker
Last updated on: May 16, 2011 17:24 IST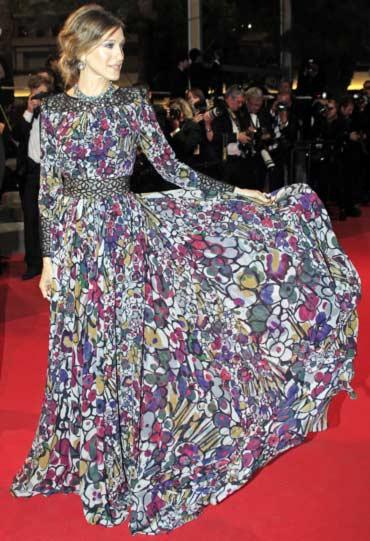 Sex And The City actress Sarah Jessica Parker is a fashion icon and knows how to live up to her second name. The 40-something actress made quite an entrance as she had every photographer's attention on her as she strolled down the red carpet at the Cannes Film Festival.
The actress wowed in a floral print crepe georgette gown, with lace detailing on the sleeves and neckline from designer Ellie Saab, which she wore to the Wu Xia premier at the Palais des Festivals.
Elizabeth Olsen
Last updated on: May 16, 2011 17:24 IST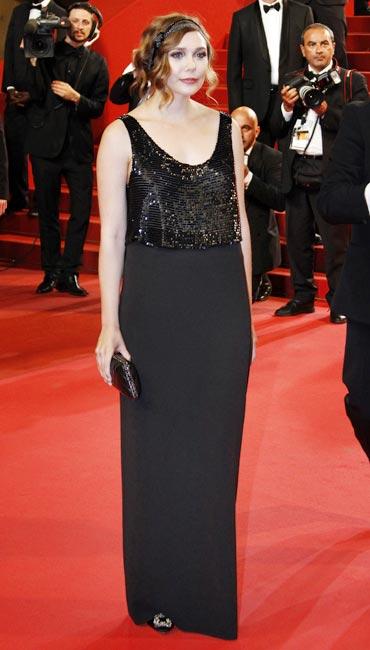 Actress Elizabeth Olsen, who's the younger sister of the famous Olsen twins (Mary-Kate and Ashley), poses as she arrives on the red carpet for the screening of the film Le Gamin au Velo.
The young actress arrived in a in a slinky black gown with a thigh-high split from her big sisters' Autumn/Winter collection 2011. While the dress looks rather matronly from this angle, the slit alone shoulders the responsiblity to make it work.
Penelope Cruz
Last updated on: May 16, 2011 17:24 IST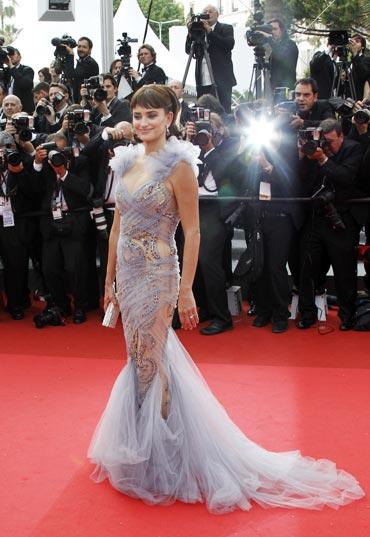 For her upcoming film's premiere, the stunning actress, who's back to being awesome after giving birth just a couple of months ago, chose a dramatic Marchesa Fall 2011 gown.
The tufts of tulle on the shoulders and flowing tulle train had a bedazzling embroidered details. A gold Swarovski clutch and Chopard jewels completed her look.
Uma Thurman
Last updated on: May 16, 2011 17:24 IST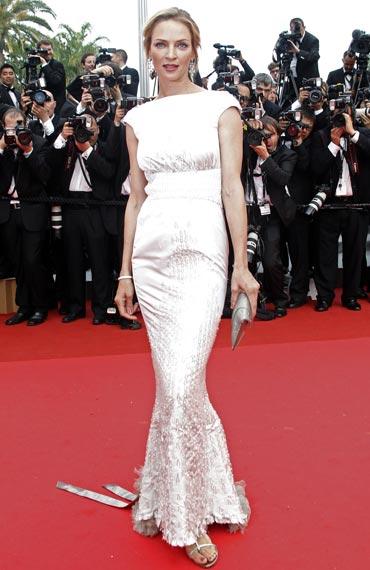 Jury member Uma Thurman arrived for the Pirates of the Caribbean screening in yet another white couture gown -- a floor-sweeping Chanel Couture number.
The Kill Bill star accessorised the ensemble with a simple silver crocodile skin clutch and some diamond chandelier earrings.
Jane Fonda
Last updated on: May 16, 2011 17:24 IST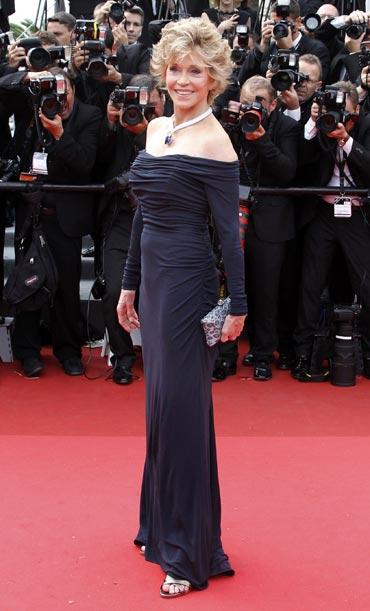 Jane Fonda upped her sex appeal with this slinky off-shoulder dress in deep blue colour that hugged her body and rounded off the look with a statement neck piece for the red carpet.
Sonam Kapoor
Last updated on: May 16, 2011 17:24 IST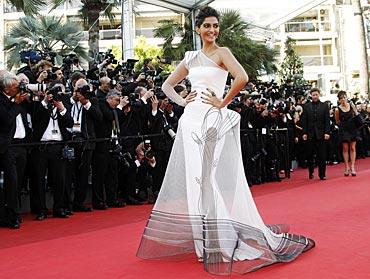 And finally, our very own fashionista
Sonam Kapoor
dazzled in a white
Jean Paul Gaultier couture gown and owned the red carpet.