The Happiest Marriages in Bollywood
Last updated on: May 23, 2011 16:56 IST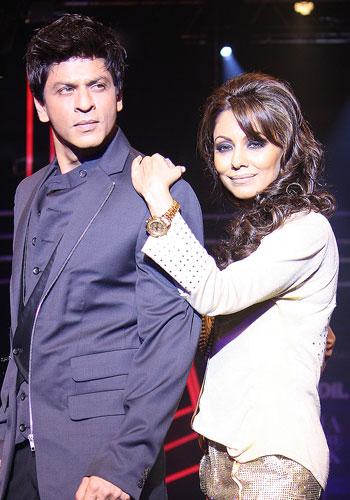 So it appears that Arnold Schwarzenegger was a better actor than we ever imagined.
It was learnt recently that the former Governor of California fathered a child with one of his employees, and his 25-year marriage fell apart as a result. It is being seen as just another bad Hollywood marriage.
However, focussing on the positives, here's a look at 10 of our couples who have made it work. They're stars, they're famous, they're in the public glare. And yet their marriages are the stuff of legend. Here's a Bollywood glimpse:
Gauri and Shah Rukh Khan
King Khan is one of those men who knows how to keep his private life private. His relationship with Gauri began when they were young, long before he was a star, and has stayed rock-solid ever since.
There have been rumours linking him to co-stars but none of these has snowballed into anything of note, while their wedding continues to give others in the industry hope.
Twinkle and Akshay Kumar
Last updated on: May 23, 2011 16:56 IST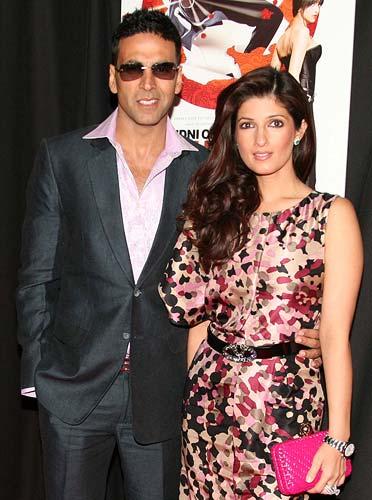 Twinkle managed to not just snag Akshay, but turn him from being a casanova and one of the most infamous womanisers in the industry into a loyal and devoted husband and father.
Dimple Kapadia and Rajesh Khanna's daughter might never quite reached genuine stardom on screen, yet this was quite a coup, and the couple look great together.
Kajol and Ajay Devgn
Last updated on: May 23, 2011 16:56 IST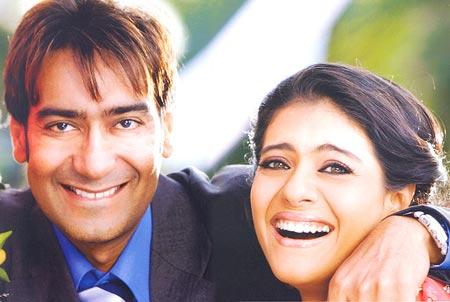 When Kajol married Devgn, she was the industry's numero uno heroine and the actor was yet to prove himself. But now the tables have turned and Kajol, more a wife than a heroine, plays second fiddle to Devgn, currently the industry's most successful leading man.
They might have seemed like an unlikely pair, but these two are stable and committed and making it work.
Sussanne and Hrithik Roshan
Last updated on: May 23, 2011 16:56 IST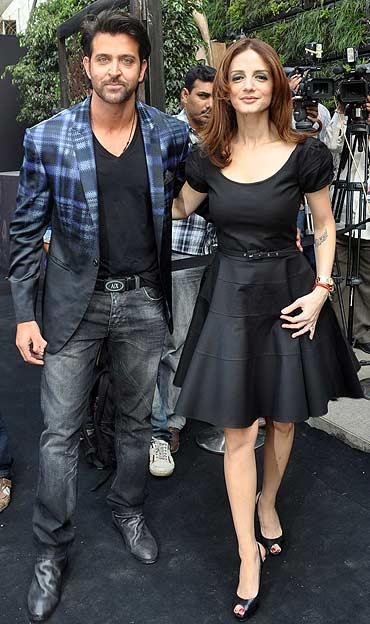 It's a tough job, being married to one of the industry's most desirable heroes.
Hrithik Roshan may or may not bat for both teams, but happens to be a huge pin-up sensation for both women as well as gay men.
The striking Sussanne, however, takes it in her stride and shows absolutely no insecurity as the couple smilingly continue to dazzle cameras everywhere.
Malaika Arora and Arbaaz Khan
Last updated on: May 23, 2011 16:56 IST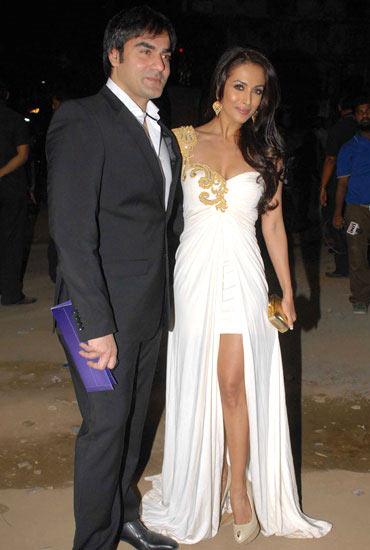 This one's the pair of the moment.
The Dabangg producer Arbaaz and his Munni Badnaam Malaika have been stable from the very beginning. He's been secure enough to let his wife become the queen of Bollywood item songs, and she's been amazing enough to have children and be a good wife alongside her dayjob of judging reality shows and dancing atop moving trains.
Mehr and Arjun Rampal
Last updated on: May 23, 2011 16:56 IST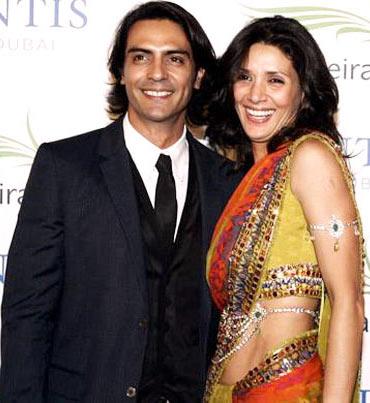 Supermodel relationships usually flounder since pretty people end up having legions of pretty admirers, but Arjun Rampal and Mehr Jessia have managed to keep their boat wonderfully steady. He's gone from strength to strength in the Hindi film industry while Mehr remains one of the most gorgeous women in the country.
Aishwarya Rai and Abhishek Bachchan
Last updated on: May 23, 2011 16:56 IST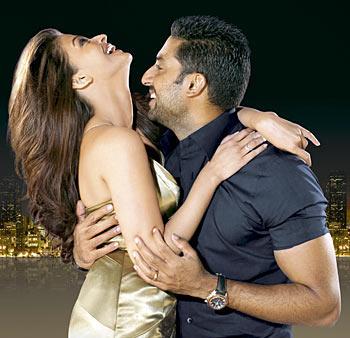 Their wedding halted the nation. News channels covered it feverishly, tongues wagged, there was much speculation. But Abhi-Ash, or Abhiwarya, became the country's most identifiable A-list couple. He's Amitabh Bachchan's son, and she's one of the country's biggest brands. It was always a marriage destined for headlines and the couple have, to their credit, kept things grounded. They also seem incredibly smitten with one another.
Jaya and Amitabh Bachchan
Last updated on: May 23, 2011 16:56 IST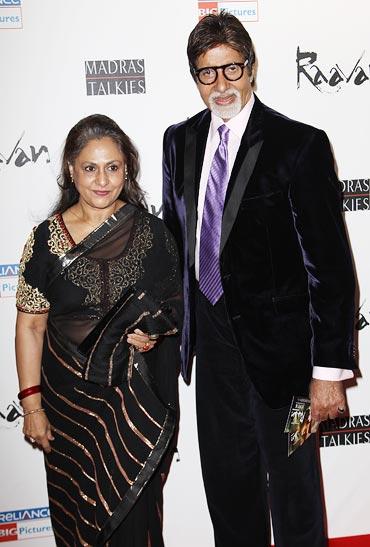 There were rumours, sure, but the country's biggest star made sure no amount of salacious gossip and tabloig tongue-waggling would enter his house, and his marriage stays steady and exemplary.
Wife Jaya quit acting at the peak of her career to raise their kids, but as we now see both Amitabh -- who keeps going strong as ever -- and her in a jewellery commercial, we realise the Sholay couple can still make us smile.
Neetu and Rishi Kapoor
Last updated on: May 23, 2011 16:56 IST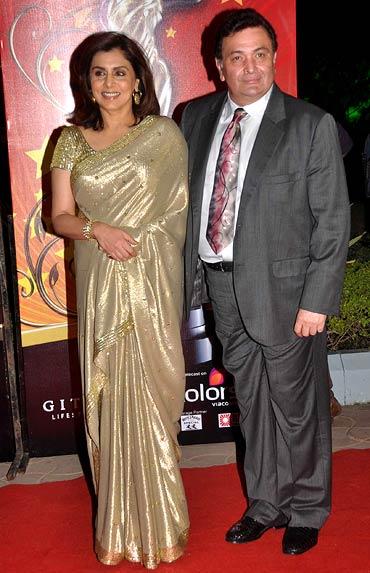 Very few on-screen pairings, no matter how successful, can go the distance and translate themselves into actual relationships, but these two cinematic sweethearts did it, and how.
Last seen in the fantastically acclaimed comedy Do Dooni Chaar last year -- which bagged a National Award -- they prove that age is just a number and true love can indeed last forever. A perfect couple, this.
Saira Banu and Dilip Kumar
Last updated on: May 23, 2011 16:56 IST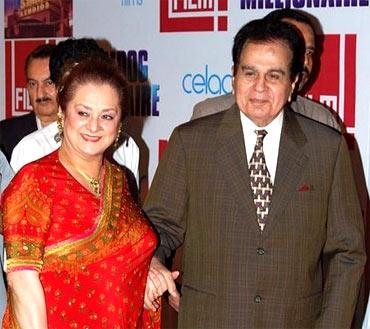 They still hold hands.
Dilip Kumar, considered the best actor among Indian stars, married the stunning Saira Banu in 1966 when he was 44 and she was 22. There were reports of a second wife Kumar kept on the sly in the early 1980s, but the couple made it through and now, with him 88 and her 66, they might not make too many public appearances, but when they do, they hold hands. Incredible.