From Satya to Mohandas
Last updated on: September 1, 2009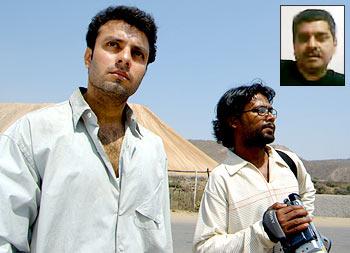 We rarely meet film directors, who have completed their education from the reputed Indian Institute of Technology no less. But Mazhar Kamran [inset] is an exception.
In his second year of studies, Kamran realised that engineering was not where his heart lay -- it was in films.
"I saw films of Ingmar Bergman and other world cinema in my second year of IIT. It was then that I realised I wanted to be in the film world," Kamran says.
He had no connections with the film world since he was a Lucknow-based young man, studying in IIT Chennai. But it was just a matter of time before Kamran joined Ram Gopal Varma, and did the cinematography of his brilliant Satya. Today, Kamran is ready with his directorial debut, Mohandas.
He talks to Syed Firdaus Ashraf about his journey.
How did an IIT undergraduate get interested in cinema?
In my second year of studies, I was exposed to a film club screening in Chennai. That's where it started. In fact, I took over the running of the film club. We used to invite people to talk about movies and screen world cinema classics.
After my graduation, I went to FTII [Film and Television Institute of India] in Pune. I chose cinematography as my specialisation. I don't think writing and direction can be taught. Rajeev Menon -- a cinematographer and friend of mine -- also influenced me to the craft. I completed my course in 1989.
I came to Mumbai, and joined the serial, Surabhi. For four years, I did short films and ad films.
'A person need not have a lot of money to survive in Mumbai'
Last updated on: September 1, 2009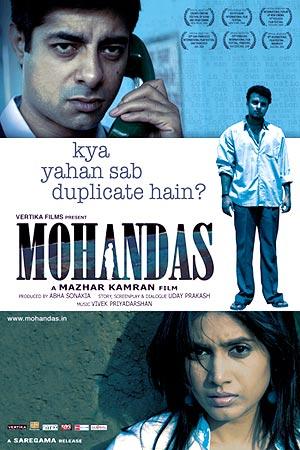 Was it difficult to meet ends since you did not have a regular income?
No, not at all. A person need not have a lot of money to survive in Mumbai. I stayed with friends in those days. I assisted some cinematographers but my real aim was to assist a director. I made small films on my hometown Lucknow for UP tourism, Snake Charmers and Urdu writer Qurtulun Haider.
How did Ram Gopal Varma's Satya happen?
A friend Kannan was writing Daud for Ramu and he suggested my name. Ramu wanted someone, who was not in the industry to do the work. First, he went with American cinematographer Gerrad Hooper. But Gerrad could not give enough time. When the film was 30 percent complete, I took over. I did the cinematography for Kaun too. That's how I became a cinematographer.
'Direction was more of a struggle than I imagined'
Last updated on: September 1, 2009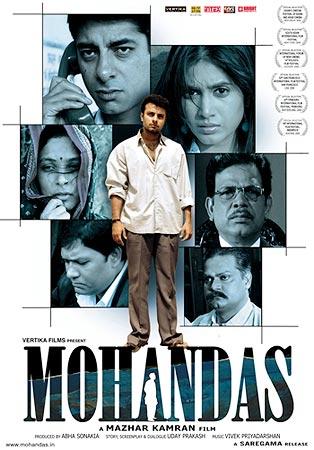 How did you then become a director?
Direction was more of a struggle than I imagined. It took a lot of time and energy. After Masti, I put a stop to cinematography. I have done films like Satya, Kaun, Jhankaar Beats, Tarkeeb and Kitne Door Kitne Paas.
Masti released in 2005. What did you do for four years?
I was scripting. Mohandas filming began in 2007. It took two years to make this film.
How did Mohandas happen?
A friend Uday Prakash -- who is a short story writer -- was developing some concepts. One day, he came back from his native place in Madhya Pradesh and told me some bizarre series of incidents, where a man lost his job because somebody else robbed his identity. I could see that story in a film on screen.
I took that idea and fictionalised it. I didn't want to get bogged down with the real story. I then found someone to produce the film.
You're a first-time director. How did you convince actors to be a part of the film?
I had worked with Sonali Kulkarni in Kitne Door Kitne Pass, so I knew her. Sushant Singh agreed because he had worked with me in Satya. The same was the case with Govind Namdeo and Aditya Shrivastava. They suited the roles and were patience enough to support me.
'Mohandas is not an elitist or niche film'
Last updated on: September 1, 2009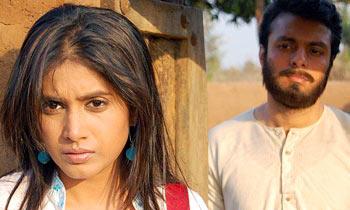 Do you think this film will appeal to audiences? It looks more like an art film.
These kinds of categories are broken today. There is no demarcation. Mohandas is not an elitist or niche film. People are in the mood for new stories and Bollywood is going through a transformation. I feel people will be receptive.
People are bored with the same old stuff. If people perceive a new story told in a new way, they will watch. They will connect. There is a thirst for people to see stories which makes sense as opposed to films which makes no sense.
Do you want to stick to direction now?
Yes. I am murder mystery for Venus. The script is ready. I do not want to stick to one genre. I have an urban love story too. I have five ideas at this moment.