'From age 7-70, everyone loves Brand Rajinikanth'
Last updated on: December 12, 2012 09:00 IST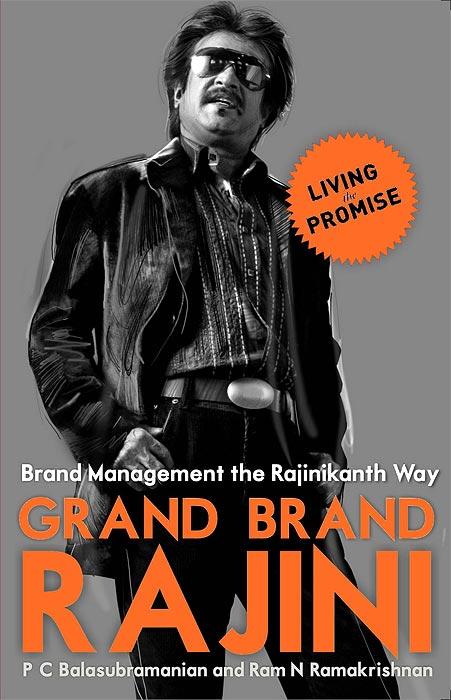 Chartered accountants P C Balasubramaniam and Ram N Ramakrishnan have co-authored a book on Tamil superstar Rajinikanth called Grand Brand Rajini.
On his birthday on December 12, the authors tell Shobha Warrier why they chose to write a book on Rajinikanth and why they see him as a brand.
How did you come together to write the book?
Bala: Our association goes back a long time. Our love, admiration and respect for Rajinikanth is the connecting factor.
Ram helped in my first book Rajini's Punchtantra. Thereafter, it has been a long felt need in us both to write a book jointly.
'We have focused mainly on Rajinikanth's films and film career'
Last updated on: December 12, 2012 09:00 IST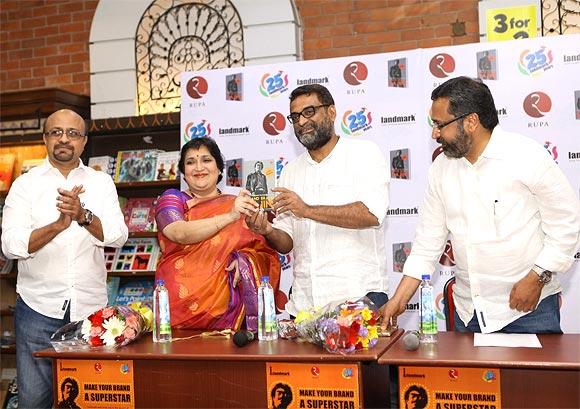 Why did you decide to brand Rajinikanth as a product?
Bala: The general perception of a brand applies to a product or service. But a brand is much more -- it is a belief, value, perception, passion, desire and is entirely intangible.
We looked at Rajini as someone beyond a product. He fitted a brand description in almost every conceivable manner, which we have explained in detail in the book's first chapter.
Did you confine Brand Rajini to only films, or does it transcend films?
Bala: The value of Brand Rajini stems from the experience the consumers derive from him. To that extent it is definitely about Rajini's films and the Rajini experience.
Though Rajini's off-screen image does have an impact, we have focused mainly on his films and film career.
How did you go about planning the book from the perspective of a brand?
Bala: Our experience in brands, branding, and brand development stems from our corporate exposure, as we come from the accounting profession. We did in-depth research on branding theories by eminent authors and to understand from other corporate brand chronicles how, why, and what made them get to the status that they have reached today.
This was the most critical and most interesting part of the book -- which draws the parallel to Rajini's own history in the entertainment industry.
'I am a self-confessed fan and admirer of Rajini'
Last updated on: December 12, 2012 09:00 IST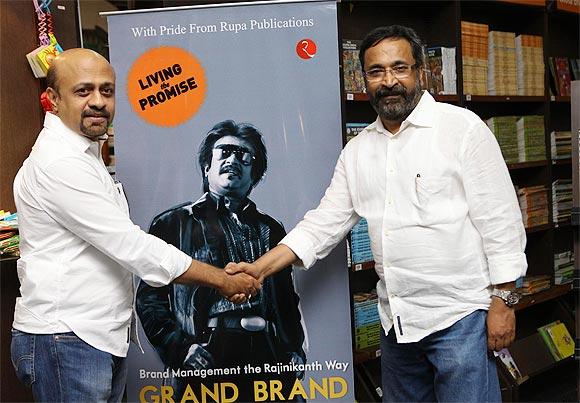 You have already written a book on Rajini. Are you a fan of his and is that why you thought of this idea?
Bala: I am a self-confessed fan and admirer of Rajini but that is not the only reason for this creation or idea.
This idea may have germinated independent of me being a fan of Rajini, though being a fan, I pursued the subject with great passion, personal involvement and dedication.
How long did it take to complete the book?
Bala: We had conceptualised it with great clarity about six months ago, and spent perhaps 90 to 100 days in all to complete the final manuscript.
As fans of Rajinikanth, can you write about him without any bias?
Ram: We may appear prejudiced in responding to this question as we are his fans, but that's not the reality.
We would like to quote Mr R Balki (the chairman and chief creative officer of Lowe Lintas Partners and director of the film Paa) who came for the launch. After reading the book, he said, "The book is not blind idol worship. It is well thought out and has lots of substance."
The book refers to Rajini's journey on the way to becoming a superstar. At the beginning of the journey, Rajini doesn't know what he will end up being but he approaches his career with strength and humility.
'You may like him, you may dislike him, but you cannot ignore Rajinikanth'
Last updated on: December 12, 2012 09:00 IST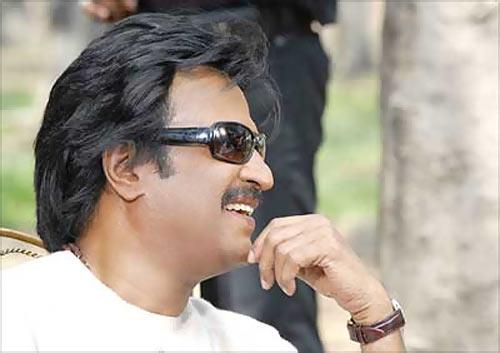 Why do you call Brand Rajni, a Grand Brand?
Ram: What is not Grand about Brand Rajini? It's the culmination of style, substance, delivery, commitment, excellence, and above all humility.
So how did Rajinikanth become a Grand Brand?
Bala: Every brand goes through a life cycle -- from launch to emerging brand, then to a power brand, then iconic, and then it gets a cult following.
A brand does not think at the beginning that it will attain a super status but goes on the path with great conviction. It has its success and failures but it carries on with its mission. 
We have tracked that brand life cycle by explaining key branding strategies of Brand Rajini and have drawn parallels with relevant case studies of known corporate brands at every stage of development.
We are sure that the reader will be convinced (whether he is a fan or not) that Rajini is indeed a Grand Brand today.
We can definitely state that innovation, conviction, sustenance, perseverance, differentiation, fellowship, substance, delivery and humbleness in Rajini contributed immensely to his becoming a Grand Brand.
How do you account for Rajnikanth starting in Tamil cinema and later spreading his market to other parts of India, and then outside India too?
Bala: Though he started in Tamil, in no time, he was acting in Kannada, Hindi and Bengali movies. People all over India saw something unique in him. You may like him, you may dislike him, but you cannot ignore Rajinikanth.
Those who started liking him started endorsing the brand, Rajini. People saw his movies again and again, and cemented the value of the brand.
'Rajini smiled, laughed and then wished us luck!'
Last updated on: December 12, 2012 09:00 IST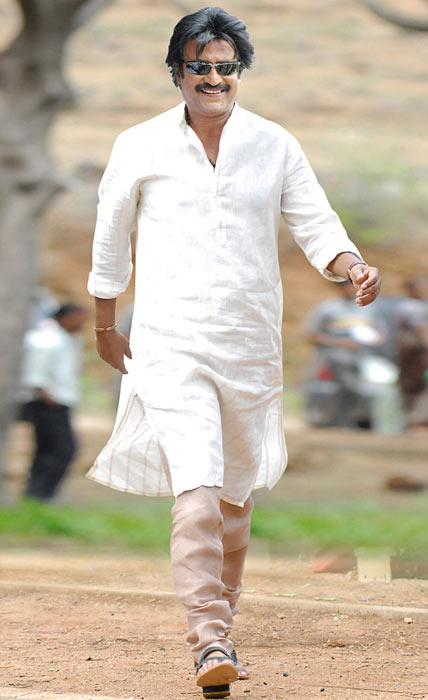 Are there other such brands in the Indian film industry?
Bala: There are two brands in the Indian film industry: Brand Amitabh Bachchan and Brand Rajini. These brands have sustained for many years, and been loved by many generations. From age 7-70, everyone loves and consumes these two brands.
How did Rajinikanth respond to the book?
We discussed the concept with him and he liked it a lot.
What was his reaction when you called him Brand Rajini?
He smiled, laughed and then wished us luck! When we gave the manuscript to him, he went through it in three days. He liked the concept. He is one person who doesn't get too amused when you talk about him.
When I wrote my first book, Rajini's Punchtantra, he wrote a note to the book and later praised the book a lot. Coming from a person like Rajini, it was a huge honour.
When I asked him to give a note like that for this book, he said, it was completely about him and it would not look proper if he gave a note. I respected his views. That is one of the reasons why I love the brand even more.