Farooque Shaikh: If I work every day, I get bored
Last updated on: December 28, 2013 10:01 IST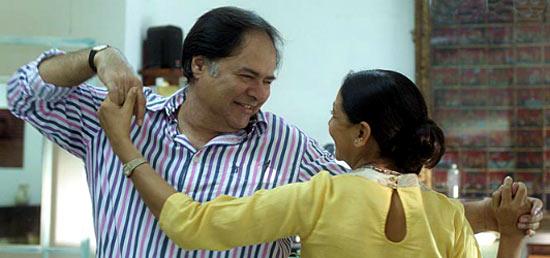 Actor Farooque Sheikh passed into the ages in the early hours of December 28. We reproduce an interview with the veteran actor, first published in January 2013.
Thirty years after they enthralled audiences in the classic Chasme Buddoor, Farooque Shaikh and Deepti Naval will come together again in this week's release Listen... Amaya. 
In a candid chat with Patcy N, Farooque looks back at his long career and his favourite directors, and discusses his new film. 
Why do you do such few films and what made you sign this film?
I have been about 40 years in this industry. I was never famous for doing too much work; in 40 years I must have done 35 films. Apart from the fact that I am a lazy lump, I am also somebody who doesn't like to work every day. If I work every day I get bored very easily. 
Therefore it is better for me to do less work and get less bored and it is much better for the audience to see less of me so they get less tired of me. One film a year is good for me.
Listen Amaya is a very interesting film. In Hindi cinema there is one other film that is slightly similar to this angle. I won't name the film. That apart, there has not been another film that I remember of this kind in terms of the subject matter. 
The story is relevant to today's time and it involves two generations. Everyone can identify with these characters and roles. The engrossing element of life is the USP of this film.
So what do you do when you get bored?
People, who are mentally challenged, never get bored. Because my mind is always working, I never get bored. Doing nothing is very healthy because you get time to yourself and your family. Your wife gets to scold you and she also stays healthy because of it. Plus, you do other things like travelling, reading, meeting people.
Sadly, for an actor, his job is not like standing on a weighing machine and putting in a coin and getting a ticket. For an actor to do even slightly creditable work, he has to rejuvenate his system from the life around him. This cannot happen if I am spending all my time in the studio. These are some of the reasons I haven't done too much work.
'For an actor to make it seem like he is not acting is the biggest challenge'
Last updated on: December 28, 2013 10:01 IST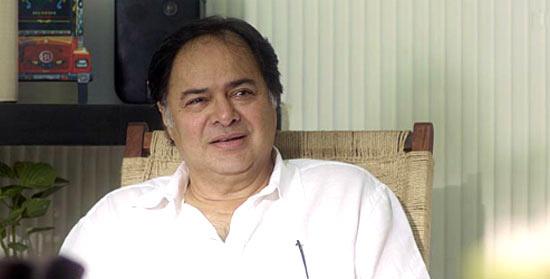 So when you do take up a role what excites you as an actor?
The script, what I am required to do in the script, who is trying to make the film. After interacting with the director what do you feel, your confidence in people who are making the film... If these things are okay, the remaining part becomes easy to negotiate and you say yes or no in two minutes.
Has it ever happened to you that you signed a film because you liked the script, but when it went on the sets, it was not up to your expectations?
Yes, that has happened. You try to make the best of a bad situation. I won't talk about the film, but Deeptiji and I did such a film. Both the director and producer are now resting in heaven so it is not good for me to talk about it. But it did happen. 
We both read the script and thought we should do the film as it had lots of potential for an actor, but we came to know that there were just rain songs and running around trees. We had signed it so we made the best of what we had. Audiences liked some parts and rejected others. 
Is it easier to do realistic characters?
It depends on the director, who sets the note for the unit and for the film. You have a perception of the story and the character and if the director says the opposite, then you and the director have to come to a consensus and work accordingly. 
But if, god forbid, you don't have consensus, then the director is the captain of the ship and his word is final and you as an actor must try to mould yourself accordingly.
In Listen.. Ameya, (director-producers) Avinash (Kumar Singh) and Geeta (Singh) and I had a number of meetings. We read the script and made the necessary changes, we talked about it, and discussed it. 
As an actor, you know things. If in a scene you have to travel in a train, then a train is not alien to the actor. He knows how to climb into it etc. Nobody has to tell him that. So, that way it is not a challenge, but bringing it close to real life is challenging, and I must confess that Deeptiji does it better than me.
However, if you are doing a completely outlandish scene then it is more challenging, like if you are a villager and in your dream sequence you travel to France and climb onto the Eiffel Tower and sing a song. Then I am stretching my imagination and I will have to think how a villager will react on the Eiffel Tower.
For an actor to make it seem like he is not acting is the biggest challenge. But in our industry people are happy and say 'Kya scene kiya aasoo nikal aaye' or 'Aisa hasaya ke hamre peth main bal aagaye'. That is the easy part of acting where you cry or make people laugh. But if a person acts in a way that others feel that they did not see any performance, and it feels like this happened just the way it was shown in the film... doing such scenes is difficult.
'Deeptiji is a first grade actress'
Last updated on: December 28, 2013 10:01 IST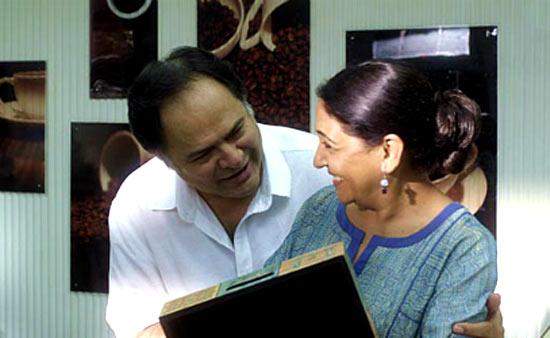 In terms of fleshing out a character, how much is it you and how much is it the director's input and the script?
It depends on the script. I will give you an example of a film that I did with Dibakar Banerjee (Shanghai) in which I play a corrupt bureaucrat. My experience of that on a personal level is less than Dibakar's. He has met and studied quite a few of them so whenever I ran into a dead end he would say, 'Farooquesaab, mujhe lagta hai aisa hona chahiye. Then I would completely rely on him because he knows his job. 
When you do something like Listen... Amaya, you don't have that much of a problem because you are not completely alien to the character or the script as it is a familiar subject. The debutant filmmaker is always willing to go out of his way to show the best he can do, so that zeal and enthusiasm is very infectious and you also put in an extra effort.
And working with Deepti Naval for so many years?
She is a first grade actress and personally I believe that she should have been ranked much higher than she is. Very few people can act with as much realism in the mundane day-to-day scenes like Deepti does. At the same time, you give her a very dramatic scene and she will still convince you. This is a quality very few people have and Deepti has that quality.
We were recently speaking of Saath Saath and there are certain scenes that I watch in Saath Saath now and I realise she really flew in the scenes and I was just watching. I didn't notice it when she was doing it then.
For whatever reason, her own, the way the industry functions, the way you plan and strategise, I don't think Deeptiji got what she deserved.
We have done so much work together so we must be having some capacity to put up with each other and have some comfort zones as performers. When you have that kind of comfort zone then you are at ease as you know everything and you don't have to test the ground.
With Deeptiji I have that kind of comfort zone and she has also developed a thick skin to tolerate me so we somehow get through.
'There is a cut-off age for love'
Last updated on: December 28, 2013 10:01 IST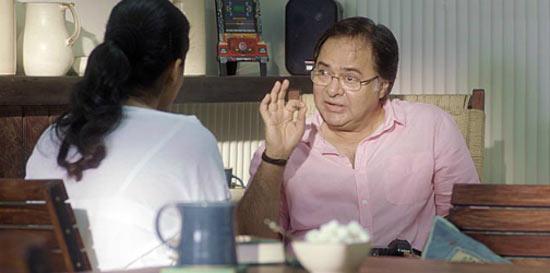 Listen... Amaya is about love between elderly people. Can you elaborate?
Listen... Amaya is a film about a single emotion viewed through different eyes; the emotion is love. It is strange to think that after you have reached maturity, you are not allowed to fall in love, you are allowed to be angry, happy, surprised, shocked. 
That there is a cut-off age for love, is a seedy concept because your heart does not stop beating, so why should your heart stop feeling? Our film deals with that emotion.
Elderly people falling in love is not common in India. Will it go down well with audiences?
Whether it will be appreciated, the audience will decide. But if they see it they will not come away disappointed. They may come out disagreeing, which is completely their right, but they will not come back disappointed.
Do you think this is an exciting time for Indian cinema?
Yes, it is. A large amount of the credit goes to multiplexes which allow limited audiences to come and for limited rent and structure you allow them to enjoy the film. I am all in favour of that. I am apprehensive about cartels being formed even in multiplexes, like people now book in bulk, like out of 100 screens, 85 are sold and others have to make do with the 15. 
That should not be the case because then the purpose of the multiplex is lost. If you had to show just one movie then single screens were good enough, we did not need multiplexes. The system of multiplexes must be kept equitable, for all kinds of filmmakers, and offer equal opportunity for everybody to exhibit their film.
'Manmohan Desai never tells you to believe in what he is showing on the screen'
Last updated on: December 28, 2013 10:01 IST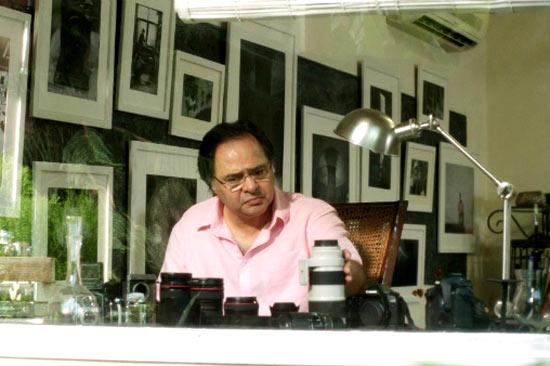 You have worked with Hrishikesh Mukherjee and Manmohan Desai, who are poles apart. How was it working with them?
I did a film with Manmohan Desai for just one reason: I was very fond of the man in just five minutes of meeting him and fortunately for me, he had the same affection for me. 
I asked Manji what is the script, and he said I don't have a script, I said then how will I work, and he said it is in my head. He said I promise you I will do justice to you in the film, but it will be Manmohan Desai's style of film. I agreed. 
We had a whale of a time making this film even though he was not directing it, he was just producing it. 
Manmohan Desai never tells you to believe in what he is showing on the screen, like three sons give blood in Amar Akbar Anthony to a mother through one bottle. He knows that it is not possible but if you show that on screen, it is not a problem.
Hrishida was a delight to work with. We would look forward to every day of working with him. He would have lots of fun with us and so would we: it would seem that we were on the sets just for fun and the film is happening on its own. 
Hrishida was a superb director and ace editor. The educational background that he came from, the intellectual knowledge that he had, did not allow him to make something that was gross or gaudy.
What I mean is, why do you need to urinate on each other to make comedy? (in the film Kismat Love Paisa Dilli) Is that comedy? Is it a compulsory part of comedy? You can't make a film without people spitting and urinating on each other, abusing each other in a language that you and I would not like to watch on screen with our elders or our juniors?
Golmaal, Jane Bhi Do Yaron, Chasme Buddoor are still among the best comedies that you can see.
'From Biwi Ho Toh Aisi to Tere Naam there is a radical change in Salman'
Last updated on: December 28, 2013 10:01 IST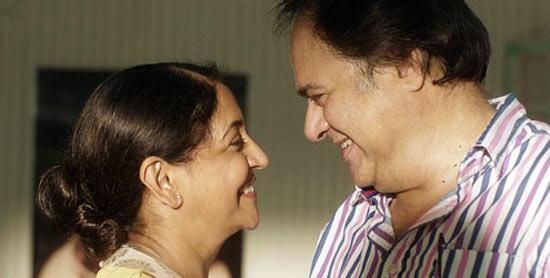 What do you think about the remake of Chasme Buddoor by David Dhawan?
If he can match Sai's (Paranjpe, director) script in terms of its engrossing and entertaining value then he has a winner, because technically he is very good and he is a good editor.
How has humour changed over the years?
The script is the least important part of the film now. There are five fights, two item numbers and four songs and a story around that. People watch such films, but not all of them work. Just one film will make Rs 100 crore, the rest will all flop based on this formula.
You ask an artist to do the same kind of role again and again and bracket them. In fact, all our major stars have so much potential and are so competent that if you challenge them to do something in depth they will come off with flying colours.
For example, look at Salman Khan in Tere Naam. What a wonderful job he has done. He has done such a serious role with conviction. I worked with Salman in his first film Biwi Ho Toh Aisi and from there to Tere Naam there is a radical change in the man's ability. But if you don't give him another Tere Naam, you are not challenging him again.