When Bollywood stars got violent
Last updated on: January 31, 2012 11:52 IST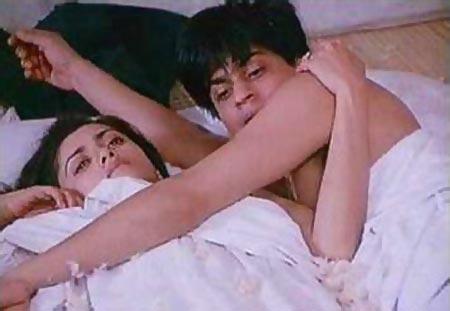 In an industry that was once known for its courteous men, slanging matches and fist fights have become the order of the day. The Shah Rukh Khan-Shirish Kunder incident happens to be the latest one in the long list of Bollywood's scuffles.  Here are some more alleged star fights that broke out through the years.

In an industry where men were once known for their charm and courteousness, especially towards women and the media, the scenario is changing rapidly. While press persons remain the favourite punching bags, assistants, colleagues, ex-girlfriends and wives are suddenly finding themselves dodging slaps and punches. 
With the Badshaah of Bollywood making it acceptable to trade punches, we take a look at some of prominent industry people who lost their cool for seemingly insignificant reasons.
Shah Rukh Khan
SRK's most intimate love scenes aren't with Kajol or Madhuri. The film Maya Memsaab has been forgotten but those who saw it will remember the sizzling chemistry between SRK and his co-star Deepa Sahi.
At a media interaction, one inquisitive journalist insisted on asking SRK if he had a brief fling with Deepa during the shoot. 
Shah Rukh apparently got uptight and lunged at the reporter but unit members hastily separated the two and nobody was beaten roughed up.
Saif Ali Khan
Last updated on: January 31, 2012 11:52 IST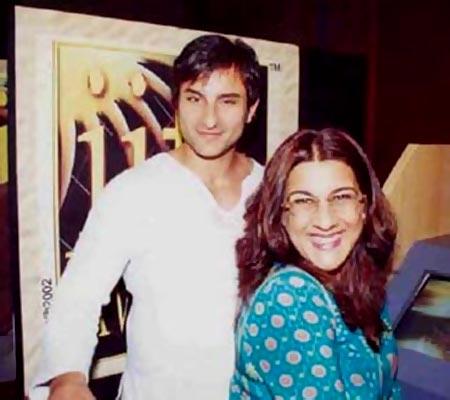 While most actors turn egoistic when their films are super hits, it was probably the frustration of the early years which got to Saif Ali Khan.

Saif and his former wife Amrita Singh allegedly landed up at the office of a journalist called Kanan Divech (Star and Style) and apparently assaulted her. Some furniture and curios were also apparently destroyed in the incident.

The matter finally ended in the Bombay High Court where Amrita Singh issued a formal apology in writing.
Vidhu Vinod Chopra
Last updated on: January 31, 2012 11:52 IST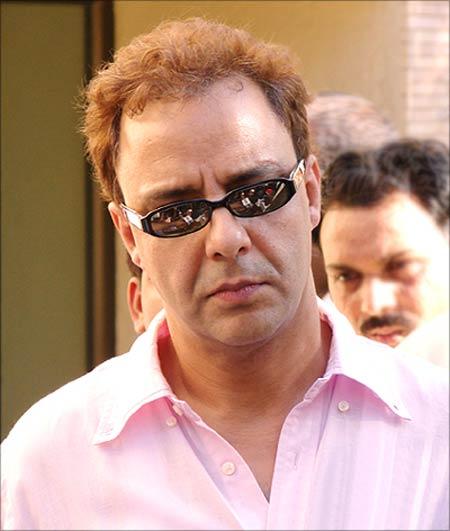 In a recent interview to a newspaper, the outspoken director claimed he had bashed up many people, most of who were film critics. He refused to take any names, insisting it was all history now.

And no, he doesn't believe in apologising or changing his ways. This gutsy director insists on speaking his mind when asked to do so.

Salman Khan-Subhash Ghai
Last updated on: January 31, 2012 11:52 IST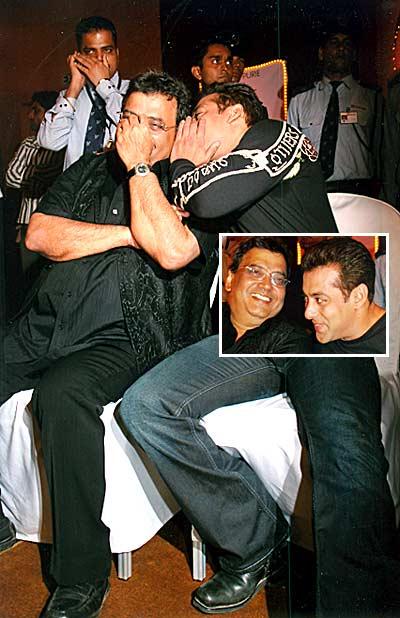 This happened at a party more than 10 years ago.
Aishwarya Rai (she wasn't a Bachchan then) had just completed Taal and was looking forward to working with director Subhash Ghai again.

Salman didn't care too much for the warm vibes his then girlfriend shared with Ghaisaab. According to eye witnesses, a fight broke out in the party, continued unabated in the mens' room and when they emerged Ghai's pants were apparently soaking wet.

Rumour mongers claim that Salman relieved himself on Ghai but the truth never emerged.
Dharmendra
Last updated on: January 31, 2012 11:52 IST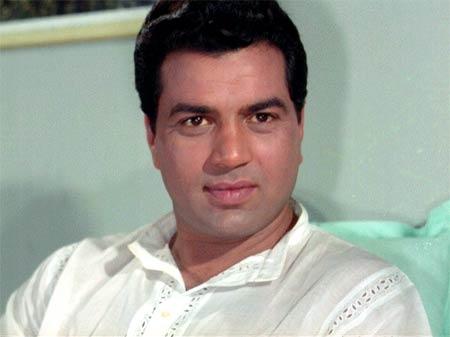 Hema Malini's mother apparently disliked Sanjeev Kumar, as everyone knew about his passion for alcohol. She did not like Jeetendra either.

The one person she trusted was Dharmendra and he was always warmly welcomed to their home.

But when Hema decided to formalise their relationship, she was apparently taken aback. And then there was total chaos when journalist Devyani Chaubal leaked the news to the media.

Dharmendra, in the tradition of true herogiri, chased Devyani Chaubal before he apparently delivered a couple of punches.
Govinda
Last updated on: January 31, 2012 11:52 IST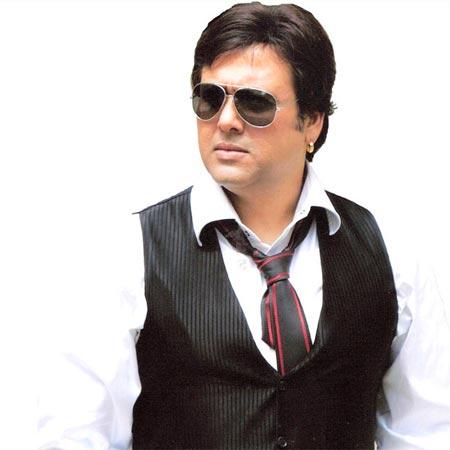 When he was ruling the roost in the 1990s, Govinda was quite friendly and easygoing. But when the flops started piling up, it appears the amiable actor was unable to maintain the facade.

When he was shooting for the film Money Hai To Honey Hai, an apparently provocative question from a newbie journalist saw Govinda meting out one tight slap -- or in the actor's favourite words, one big 'tamacha' -- to that same journo.
Rishi Kapoor-Neetu Singh Kapoor
Last updated on: January 31, 2012 11:52 IST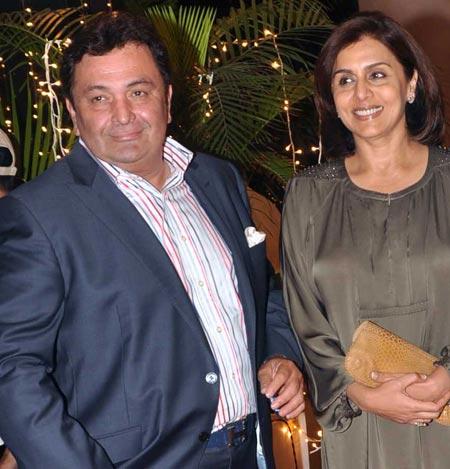 Sometime in 1997, the Bandra Police station received a call saying that Neetu Singh wanted to register a formal complaint against husband Rishi Kapoor, as he was apparently turning violent every time he got drunk.

Neetu Singh was directed to do so at the Khar Police Station. When the officer visited the house, a visibly drunk Rishi Kapoor pretended to be asleep and claimed it was a prank call.

But the police always confirm the number and identity of the caller before making a house call. To date, this couple denies the incident but insiders maintain Rishi's heavy drinking was the main cause.
Salman Khan-Shah Rukh Khan
Last updated on: January 31, 2012 11:52 IST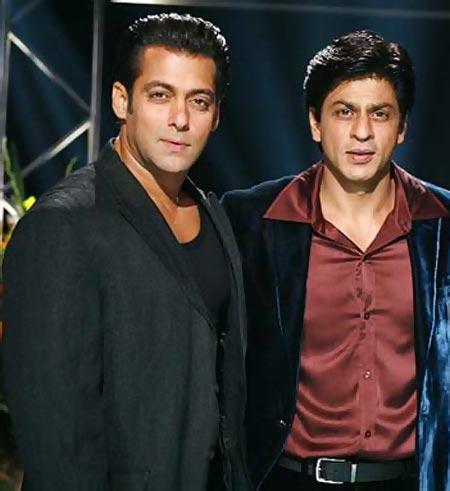 Their feud began on the sets of Chalte Chalte in 2002. Salman wasn't happy about Aishwarya working again with Shah Rukh after two huge hits Mohabbatein and Devdas.

Though he didn't fight with Shah Rukh then, Salman visited Aishwarya on the sets, damaged property, broke the windscreen of a vehicle and used abusive language with Aishwarya. Ash was then replaced with Rani Mukerji.
By 2008, Ash was happily married and Salman was involved with Katrina Kaif.
At Katrina's birthday in July that year, Salman apparently kept provoking SRK about his flop television show Kya Aap Paanchvi Paas Se Tez Hai? and various other incidents.

Initially, Shah Rukh tried to ignore Salman but when the latter persisted with his barbs, they got busy abusing each other verbally. It would have degenerated into a major brawl if Gauri Khan and Katrina hadn't separated them.