Looking back at Bollywood in Posters
Last updated on: June 1, 2010 16:08 IST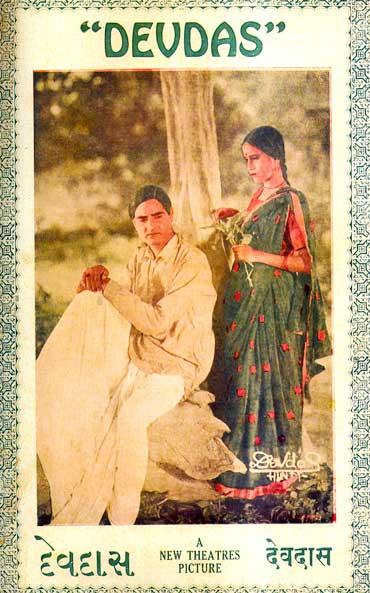 Original hand-painted movie posters have become collectors' items these days. One such collector is S M M Ausaja, who has been collecting rare handmade film posters for the past 20 years and owns about 5,000 posters today.

His book Bollywood in Posters was recently launched by Amitabh Bachchan. The book has posters, synopsis, cast and crew details and trivia.
We present excerpts from the book with the accompanying posters:
Devdas (1935)
Director: Prathmesh C Barua
Cast: K L Saigal, Jamuna, Rajkumari, A H Shore, K C Dey, Raju, Nemo, Biswanath Bhaduri, Rm Kumari, Khetrabala, Sitara, Pahari Sanyal, Kidar Sharma and Roshanara.
The Saratchandra Chatterjee novel was first adapted to screen in the silent film bearing the same name in 1928.
It was directed by Naresh Mitra. Then Prathmesh C Barua directed the 1935 Bengali version in which he himself played Devdas.
Barua made a Hindi version the following year, presenting K L Saigal as Devdas, Jamuna as Paro and Rajkumari as Chandramukhi.
Saigal immortalized himself with this role of an alcoholic lover, and people who patronized the film didn't like Dilip Kumar's marvelous portrayal in the 1955 adaptation by Bimal Roy.
K L Saigal's songs from the film were hugely popular across the country.
Excerpted from Bollywood in Posters (Rs 2500) by SMM Ausaja, published by Om Books International, with the publisher's permission.
Mahal 1949
Last updated on: June 1, 2010 16:08 IST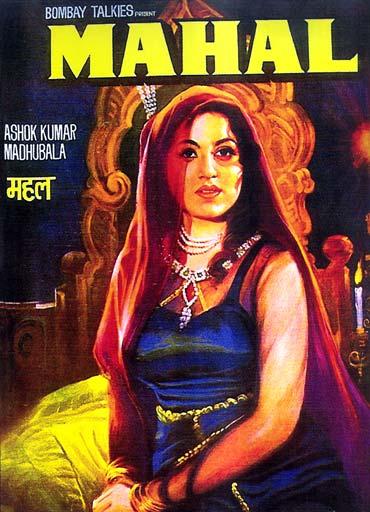 Director: Kamal Amrohi
Cast: Ashok Kumar, Madhubala, Vijaylaxmi, Kumar, Kanu Roy, S Nazir, Erich Tarapore, Shiela Naik, Neelam, Lala Pandey, Kaneez, Jagannath, Mohsin, Laxman Rao, S A Bakar, Ram Shastri and Raja Salim.
The first mystery film of Independent India that stormed the box office. It catapulted Lata Mangeshkar to top league with Khemchand Prakash's immortal composition '
Ayega aanewala...
' it also boosted the career of Madhubala as a lead actress.
The film had haunting melody, gripping drama and sterling performances by Ashok Kumar and Madhubala. Its taut script and deft direction made Amrohi a formidable director in the industry.
It had choreography by Lachchu Maharaj, and a thrilling climax culminating in a court room.
Do Bigha Zamin 1953
Last updated on: June 1, 2010 16:08 IST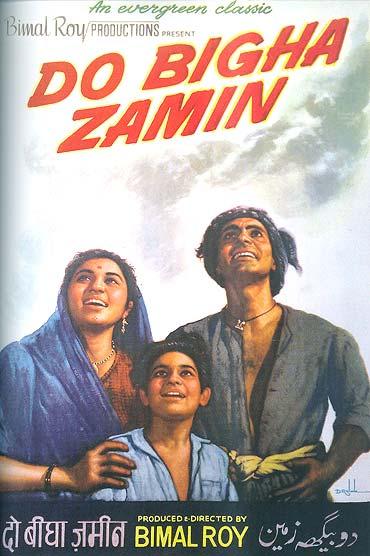 Director: Bimal Roy
Cast: Balraj Sahni, Nirupa Roy, Ratan Kumar, Jagdeep, Murad, Nana Palsikar, Tiwari, Meena Kumari and Asit Sen
One of the few fifties' Hindi films which won critical acclaim not only at home, but also at the Cannes Film Festival,
Do Bigha Zamin
remains a landmark in the combined careers of director Bimal Roy and actor Balraj Sahni.
Loosely inspired by the Vittorio De Sica classical Ladri di biciciette (1948), better known with its English name The Bicycle Thief, Do Bigha Zamin swept awards, acclaim and considerable popularity on its release. 1953 is special to Bimal Roy for giving two superbly crafted films -- Do Bigha Zamin and Parineeta.
These two films catapulted him to big league in Hindi cinema, after which he is known for a series of cult films with the greatest actors on the horizon -- Devdas, Yahudi, Madhumati, Sujata and Bandini to name a few.
Do Bigha Zamin exposed the tragic indifference that the nouveau riche of semi-industrialized 50s India had for the lower class.
Balraj Sahni, as Shambhu the wronged farmer, immortalized himself with this film. He actually spent days with the Rickshaw pullers of Calcutta to prepare for the role.
Nirupa Roy, Ratan Kumar, Jagdeep and Murad played the other important roles. The film also marked the arrival of music director Salil Choudhury to Hindi cinema.
Aradhana (1969)
Last updated on: June 1, 2010 16:08 IST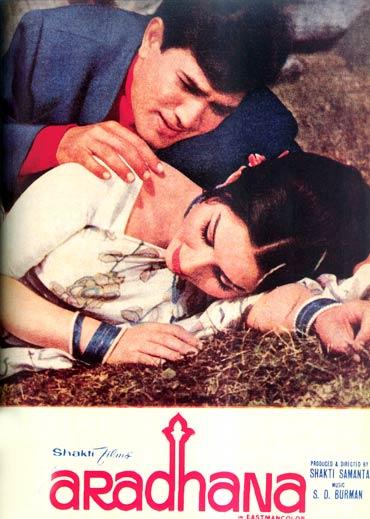 Director: Shakti Samanta
Cast: Sharmila Tagore, Rajesh Khanna, Sujit Kumar, Pahari Sanyal, Abhi Bhattacharya, Madan Puri, Asit Sen, Manmohan, Subhash Ghai, C S Dubey and Farida Jalal
This Shakti Samanta's film heralded the arrival of a new romantic superstar on the Indian screen -- Rajesh Khanna.
The musical romance involving pre-marital sex and illegitimate pregnancy essentially followed a conventional narrative form with the hero essaying the roles of both father and son with the same face. A daring attempt.
Khanna's rise was aided by Kishore Kumar, R D Burman and a director like Samanta.
Aradhana was a romantic trendsetter in terms of music, performances and the on-screen chemistry of Khanna and Sharmila Tagore. It won three Filmfare Awards viz Best Film, Best Actress and Best Playback (Male).
Sholay (1975)
Last updated on: June 1, 2010 16:08 IST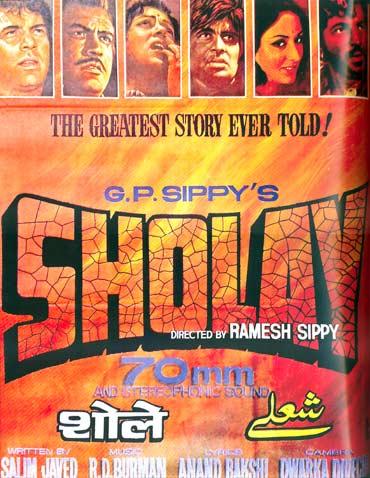 Director: Ramesh Sippy
Cast: Dharmendra, Sanjeev Kumar, Hema Milini, Amitabh Bachchan, Jaya Bhaduri, Amjad Khan and A K Hangal
Unarguably the biggest hit of Hindi cinema, Sholay ran for not just one but multiple reason.
Amjad Khan's portrayal of Gabbar Singh became cinema history in itself, a blazing debut as a villain set a benchmark of on-screen tyranny!
Amitabh's rising stock as an 'Angry Young Man' consolidated his superstardom with this film.
Dharmendra and Hema Malini's chemistry, Salim-Javed's sparkling script, Ramesh Sippy's deft direction, R D Burman's foot-tapping ditties et al contributed in snowballing Sholay into a monster hit.
When it was released at Bombay's Minerva theatre, Sholay was given mixed reviews, and was declared a dud in the first week!
As weeks progressed, the film grew in stature making critics and trade analysts eat their words! It got the distinction of becoming the first film to celebrate a silver jubilee in more than hundred theatres across the country. BBC declared it a 'Film of the Millennium' in 1999.
Umrao Jaan (1981)
Last updated on: June 1, 2010 16:08 IST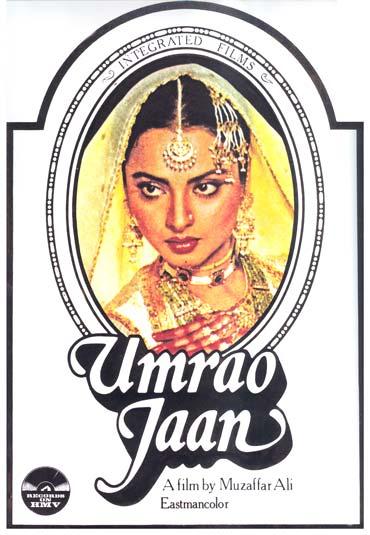 Director: Musaffar Ali
Cast: Rekha, Farouque Shaikh, Naseeruddin Shaj, Raj Babbar, Prema Narayan, Shaukat Kaifi, Dina Pathak, Gajanan Jagirdar, Bharat Bhushan, Leela Mishra, Yunus Parvez, Mukri, Satish Shah and Shaad Ali
After two films, both in the year 1958, based on the same work -- Nakshab's Zindigi ya Toofaan (Nutan and Pradeep Kumar) and S M Yousuf's Mehndi (Ajit and Jaishree), Hindi cinema saw yet another adaption of Mirza Hadi 'Ruswa's novel in 1981 by director Muzaffar Ali.
With Rekha in the title-role, Al's Umrao Jaan surpassed all adaptations of the past to emerge a classic. Rekha's performance, Shahryar's poetry, Ali's vision, Khayyam's music, Parveen Bhatt's camerawork and the art direction of Bansi Chandragupta and Manzoor catapulted this film to cult status.
It's one of the few genuine films on Lucknow and its old-world charm, portrayed with authentic research showing the filmmaker's passion for his subject.
Though Rekha lost her Best Actress Filmfare Awards to Smita Patil for Chakra, she won the National Award for her performance. It is considered to be the most important film in Rekha's and playback legend Asha Bhosle's career. The film won two Filmfare Awards -- Best Director and Best Music.
Dilwale Dulhania Le Jayenge (1995)
Last updated on: June 1, 2010 16:08 IST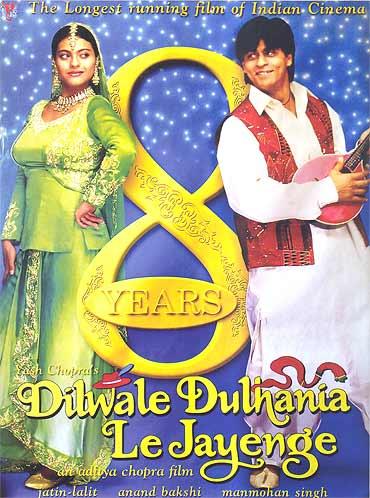 Director: Aditya Chopra
Cast: Shah Rukh Khan, Kajol, Amrish Puri, Farida Jalal, Anupam Kher, Parmeet Sethi, Mandira Bedi, Satish Shah, Achla Sachdev, Himani Shivpuri, Mansoor Merchant, Karan Johar, Pallavi Vyas, Anita Shroff and Tulika
The film marked the spectacular debut of filmmaker Yash Chopra's son Aditya Chopra as director. The film smashed records to emerge as the longest running film in the history of Hindi cinema. It consolidated Shah Rukh Khan's career as the hottest teen icon.
It demonstrated sparkling chemistry between Shah Rukh and Kajol. Besides the lead pair's magic, it had an immensely popular soundtrack (Jatin-Lalit) and a brilliant performance by Amrish Puri. The dialogue and cinematography complimented the film's narrative.
It swept the Filmfare Awards winning ten trophies, viz Best Film, Best Director, Best Actor, Best Actress, Best Supporting Actress (Farida Jalal), Best Comedian (Anupam Kher), Best Lyricist (Anand Bakshi for Tujhe dekha toh...), Best Screenplay, Best Dialogue and Best Playback (Male -- Udit Narayan for Mehndi Lagake Rakhna...). It was also nominated for Best Supporting Actor (Amrish Puri), Best Music, Best Lyrics and Best Playback (Male -- Kumar Sanu for Tujhe dekha toh...).
The film won the National Award (Rajat Kamal) for Best Film Providing Wholesome Entertainment.
Lagaan 2001
Last updated on: June 1, 2010 16:08 IST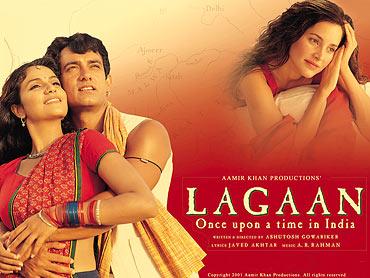 Director: Ashutosh Gowariker
Cast: Amir Khan, Gracy Singh, Rachel Shelley, Paul Blackthorne, Suhasini Mule, Kulbhushan Kharbanda, Raghubir Yadav, Rejendra Gupta, Javed Khan, Raj Zutshi and A K Hangal
A period drama set in pre-independence India about a group of villagers resisting an unjust tax (lagan), and getting challenged for a cricket match by the local British officers, a win being essential for the waiver!
The film was brilliantly directed by Ashutosh Gowariker and reached the Oscars as the Best Foreign Language Film. Amitabh Bachahan's narrative, Aamir Khan's performance, and the film's authentic period look complimented its gripping script.
It won five National Awards -- Best Popular Film Providing Wholesome Entertainment. Best Audiography (H Sridhar and N Kamte), Best Lyricist (Javed Akhtar for Radha kaise na...), Best Music and Best Playback (Male -- Udit Narayan for Mitwa...). Among several global nominations and awards, the film also won eight Filmfare trophies viz Best Film, Best Actor, Best Director, Best Lyricist, Best Music, Best Playback (Male -- Udit Narayan for Mitwa...) Best Playback (Female -- Alka Yagnic for O re chore...) and Best Story.
Lage Raho Munna Bhai (2006)
Last updated on: June 1, 2010 16:08 IST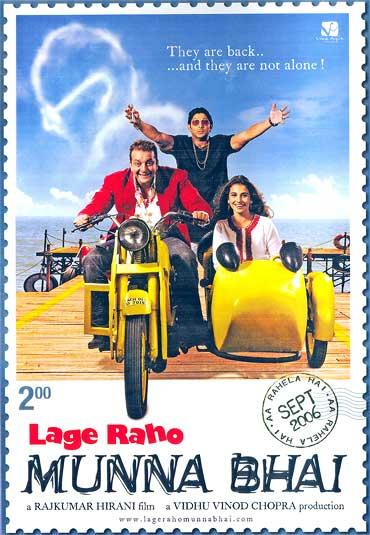 Director: Rajkumar Hirani
Cast: Sanjay Dutt, Arshad Warsi, Vidya Balan, Boman Irani, Dilip Prabhawalkar, Jimmy Shergil, Diya Mirza, Kulbhushan Kharbanda, Saurabh Shukla, Rohitash Gaud, Parikshat Sahni, Dr Hemu Adhikari, Arun Bali, Atmaram Bhende, Kurush Deboo, Bomie Dotiwala, Ashwin Mushran, Achut Podar, Anjaan Shrivastav and Abhishek Bachchan (Guest Appearance)
A sequel to the superhit Munna Bhai MBBS, Lage Raho Munnabhai opened with herculean expectations from the audience and critics.
Producer Vidhu Vinod Chopra and director Rajkumar Hirani managed a coup of sorts by delivering on even better film! It reinvented Gandhian values with its thrust on winning people with humility rather than violence or any negativity.
Sanjay Dutt and Arshad Warsi appeared in awesome form in terms of performances.

The film was superbly directed by Hirani and deservedly went on to become not just a hit but a classic for years to come. It won four Filmfare Awards: Best Comedian (Arshad Warsi), Best Film (Critics' Choice), Best Story and Best Dialogue. Other nominations included Best Actor, Best Villain (Boman Irani), Best Director and Best Film. It was voted Best Film of 2006 by CNN-IBN and Star Gold channels.
Chak De! India (2007)
Last updated on: June 1, 2010 16:08 IST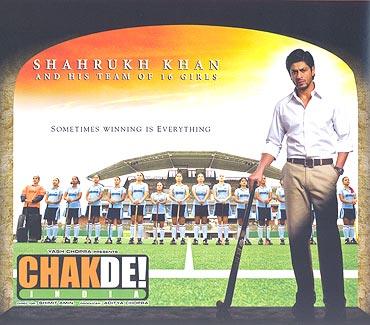 Director: Shimit Amin
Cast: Shah Rukh Khan, Vidya Malvade, Tanya Abrol, Chitrashi Rawat, Arya Menon, Seema Azmi, Nisha Nair, Sandia Furtado, Masochon Zimik, Kimi Laldawala, Shilpa Shukla, Shubhi Mehta, Anitha Nair, Sagarika Ghatge, Kimberly Miranda, Nichola Sequiera, Raynia Mascerhanas, Javed Khan, Vibha Chhibber, Jaishree Aroa, Nakul Vaid, Vivan Bhatena, Mohit Chauhan, Padam Bhushan and Anjaan Shrivastava
Few producers dare to venture on a subject that is devoid of romance and the usual hero-heroine storyline. A film about an aspiring all-girl hockey team ready to take on the world under a committed leader -- played wonderfully by Shah Rukh Khan -- who also had to redeem his honour in society.
The girls performed so well that it would be difficult to applaud the film without a mention of their collective contribution, particularly Chitrashi Rawat. Brilliantly scripted and ably directed, Chak De! India was a triumph for its director Shimit Amin.
The film won five Filmfare Awards -- Best Actor, Best Film (Critics' Choice), Best Action (Rob Miller, Best Cinematographer (Sudip Chatterjee) and Best Editing (Amitabh Shukla).
It was also nominated for Best Film, Best Director, Best Supporting Actress (Shilpa Shukla) and Best Playback (Male-Sukhwinder Singh for the title song).