Esha Gupta: If you have it, flaunt it!
June 12, 2014 17:46 IST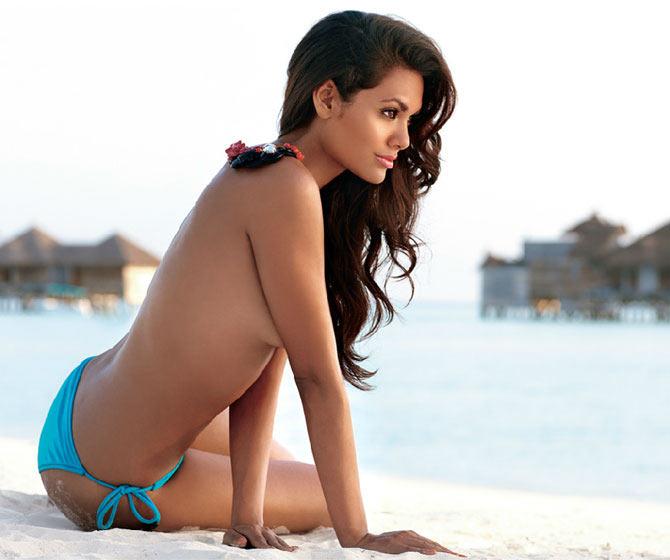 'I am making the best of what I get,' says a supremely confident Esha Gupta.
Esha Gupta claims she has become the 'hamming' queen after her stint in Humshakals, as director Sajid Khan asked her to overact!
The film, also starring Saif Ali Khan, Riteish Deshmukh, Ram Kapoor, Bipasha Basu and Tamannaah, is a mad comedy and is up for release on June 20.
Esha, who was previously seen in the hit films Jannat 2 and Raaz 3, talks to Patcy N about her next film, her glamorous co-stars and her unabashed take on wearing bikinis.

This is your first film directed by Sajid Khan. What did you think of the experience?

Sajid is really funny. The kind of films he makes is because of the kind of person he is.
The film is slapstick comedy. Sajid is like that. Even if he is sitting at the dinner table, he will crack a joke.
I am glad that he is out of the Himmatwala phase and back to what he is really good at.

Your song Look Into My Eyes is doing well. You also did an item song in Gori Tere Pyar Main.

In Gori Tere Pyar Main I only danced to an item song but here I am acting. I have a proper role.
I am glad that I got a solo song in a multi-starrer and it's a good song so why not do it?
Please click Next to see more.
'Just because a film has flopped doesn't mean the director is a flop'
June 12, 2014 17:46 IST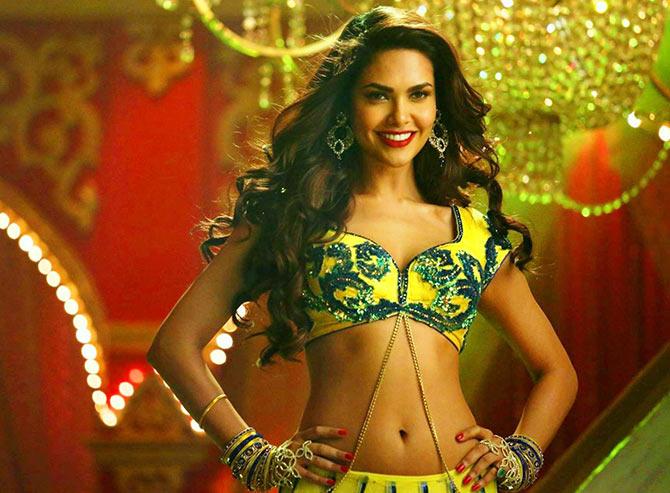 Were you anxious about working with Sajid Khan since his last film Himmatwala flopped?

Just because a film has flopped doesn't mean the director is a flop.
Just because a film flops, you don't stop giving a chance to the actor or actress or music composer.
Everyone has their good days and bad days.

You can write an article tomorrow which doesn't make sense. I can wear something really hideous one day but that doesn't mean that designers are not going to give me outfits.

Okay, he did a bad film. At the same time he gave two big hits. They were really funny. They were mass commercial hits. That's why I decided to do Humshakals.

Do you count Housefull and Hey Babyy among his better films?

I watch all kind of films.

When you are not from the industry, you are either a full film buff or you don't watch films at all.

I was a complete crack case. Every Sunday my mom's side of the family -- a group of 40 of us -- would go to the theatre to watch a film (in Delhi). There were no multiplexes only single-screen theatres.
So, I am used to watching every kind of film. I don't rate a film and say the director is not good. I will say the film is not good.
I wouldn't say Sajid Khan is not a good director.

My film before this was Chakravuyh. It was critically acclaimed. Whoever saw it said it was good. But it did no business at the box office. That doesn't mean that Prakash Jha is not a good director.
'During Jannat 2, I was very nervous'
June 12, 2014 17:46 IST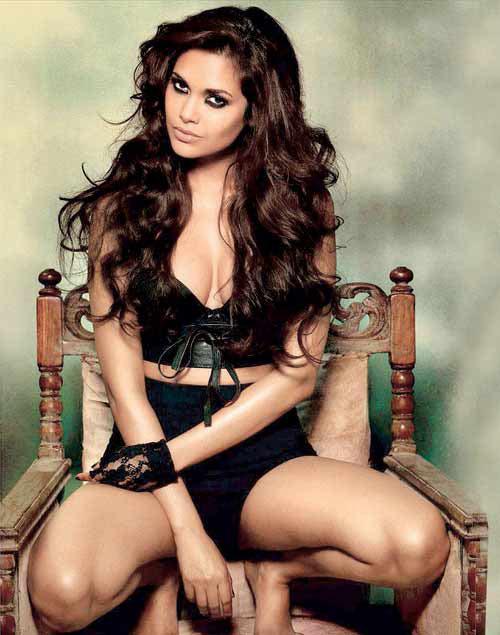 Before this you did Jannat 2 and Raaz 3, all the Bhatt films. Now you are working with Sajid. How different are they?

I love the Bhatts. They are like family to me. I call Mukesh sir and tell him 'I am in this area can I come and meet you'. I go there and have lunch with them.
Mahesh sir is like a mentor. I started with him. I sit and talk to him. I have the most argumentative discussions. I like the whole family.

During Jannat 2, I was very nervous, so I just did my work. With Raaz, I got to know more and I was very comfortable.

For Humshakals, Sajid told me you have to look hot and ham throughout.
That's all I have done. Sajid helped me a lot.
'I have done holidays with my father and I have worn a bikini in front of him'
June 12, 2014 17:46 IST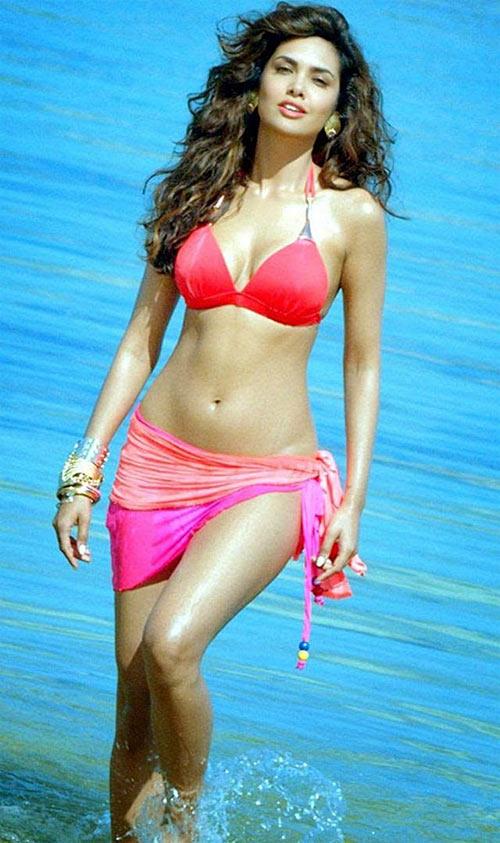 You said you are very comfortable wearing a bikini…

If you are showing a beach scene, what else will you wear?

If you speak English and if you wear jeans and T-shirts it means you belong to western culture which means that if you are on a beach or in a pool you will either wear a swimsuit or a bikini.
Those days are gone when you would wear a sari and dance on the beach.

I have done holidays with my father and I have worn a bikini in front of him and thousands of people have seen me. What's a thousand more?
So long as you look good and you are comfortable, you can wear it.

If you have it, flaunt it. More than having a bikini body, it is all about having confidence.
You can wear jeans and t-shirt and be fully covered and still look awkward because you are not comfortable in your own skin.
'Tamannaah and I are different personalities. So there is no clash ever'
June 12, 2014 17:46 IST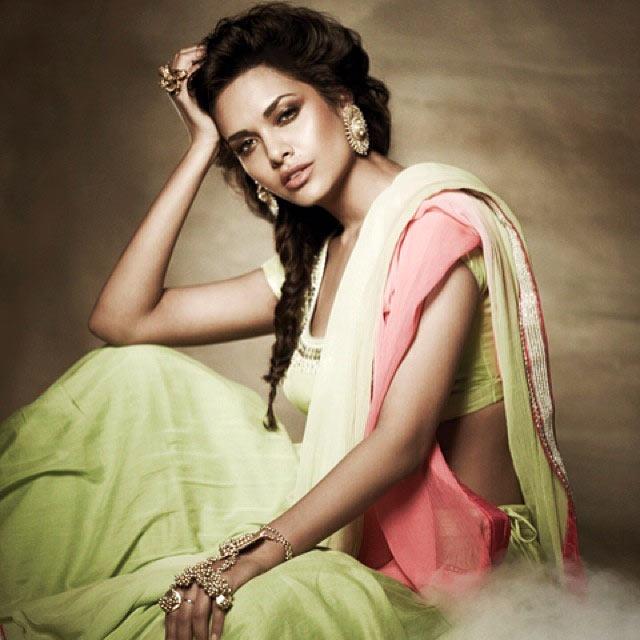 Are the reports of fights between you and Tamannaah and Bipasha Basu, true?

I first met Tamannaah when we were shooting the song Caller Tune. Bipasha was not shooting that day. Though I am not in the song in the film, I am in the promo of the song.

Tamannaah and I immediately became friends and started talking about dieting which she had started for this film.
I was having a slice of pizza and was telling her how I can't diet at all. Sajid sees us having this friendly talk and tells us, "Please can you guys fight? There is no gossip at all."

Tamannaah and I are different personalities. So there is no clash ever.
She is too girly and feminine. I am not girly at all, or feminine. I won't be quiet or shy.
During shootings I would ask her whether she would like to go swimming and she would say do you want to do yoga and meditation?
I was okay for yoga but not for meditation.
My point is we are that different that we never really had problems with each other.

When I met Sajid and Vashu Bhagnani, Sajid told me what my role would be. He did not promise me something that wasn't there.

He told me exactly what I would be shooting, what is my character, how much is my role and he also told me what the other girls are playing. And that is exactly what was there.

Even our characters in the film are very different, so we really never clashed. There was no competition whatsoever.
'This is the first time Saif has broken away from his cool image'
June 12, 2014 17:46 IST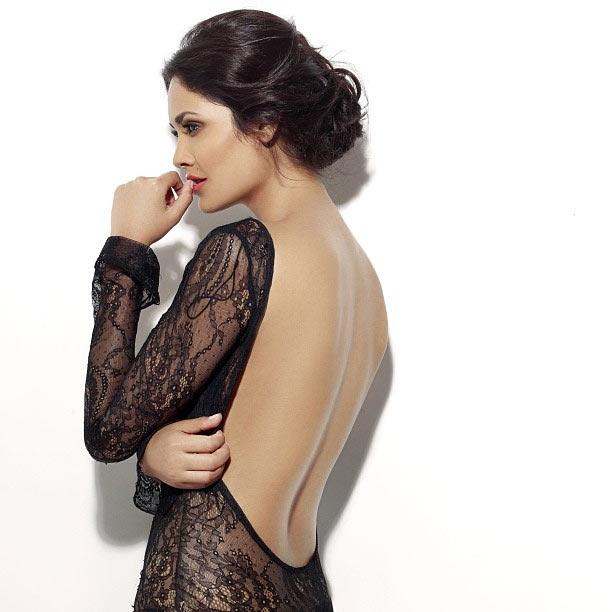 The three guys were dressed in drag in a few scenes.

Saif, Riteish, and Ram were more self-conscious than we were. Ram was the biggest (literally) surprise for us when we saw him in a bikini.

Poor Ram kept on taking off his wig and saying I can't take it, it is too hot. I can't take the make-up. If Ram told you he enjoyed the drag portion, he is lying.

Saif, on the other hand, wanted to be a big voluptuous girl, so he kept on padding up and pouting. Kareena (Kapoor) just kept laughing.
Riteish has dressed as a girl before. He wanted everything matching right from his nail paint to eye shadow. Once when he did not find the right eye shadow, he came to me and I put him on to my make-up artist. He still did not get the right shade so he shopped for it!

He did not like the clothes he was given to wear so he wore Genelia's skirt!
We wanted to cover ourselves, but he wanted to show more mid-riff. Riteish kept on touching up his make-up

All the three men got waxed!

Plus, they kept on asking for deep necks and short costumes.

What is Saif's character like in the film?
Saif is a really chilled out, cool guy in real life. His character in the film is very endearing.

He is a sweet guy put into an asylum where I am a doctor. They are ill people there but not because of themselves but because someone electrocutes them.

I am a fan and I have never seen him play such a character ever. And he played it so well.
He is a 10-year-old in heart and mind in this film and in love with me. The moment he sees me you can see the innocence on his face. I take care of him and I fall in love with him.

Saif always plays cool characters in his films. This is the first time he has broken away from that image.
'Yes, I have a boyfriend'
June 12, 2014 17:46 IST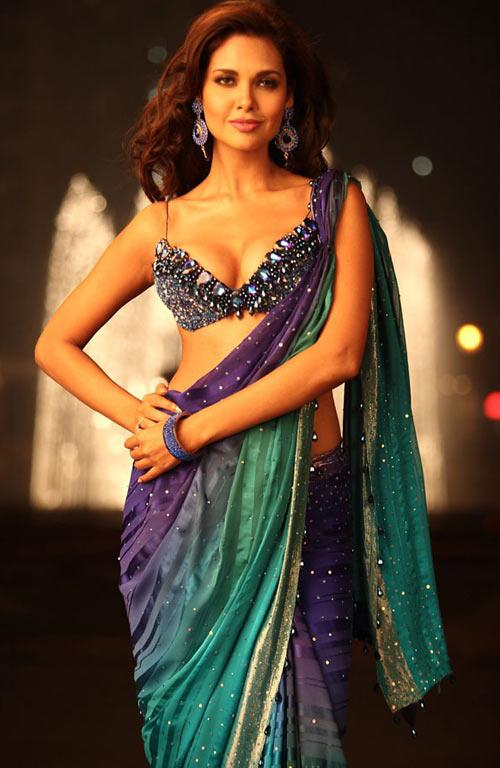 Do you think star kids get a break more easily than others?

I don't know. I don't know their struggles and I don't know if they are criticised enough because they will always be compared to their star parents.

It is easy for them in the sense that when they fall, there will be someone to hold their hand.

In my case, I know that will not happen. If I take one wrong step there will be 10 more hands pulling me down and pointing fingers at me.

I am making the best of what I get.
Do you have boyfriend?
Yes.
Is he from the industry?
No not at all.