Photo: Priyanka Chopra attends Grammys
Last updated on: February 13, 2012 16:59 IST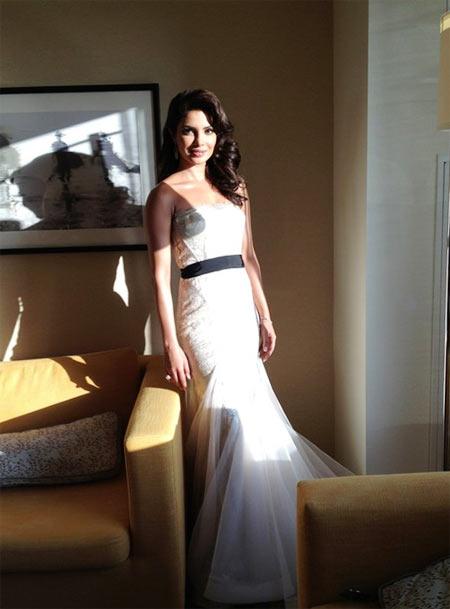 Here's what your favourite Bollywood celebrities are tweeting.
Priyanka wore a gown designed by designer duo Gauri-Nainika.


'A special behind the scenes pic only 4 U. On my way to the Grammys.In a Gauri Nainika original! What say guys?' she wrote with the picture (above).
Bollywood pays tribute to Whitney Houston
Last updated on: February 13, 2012 16:59 IST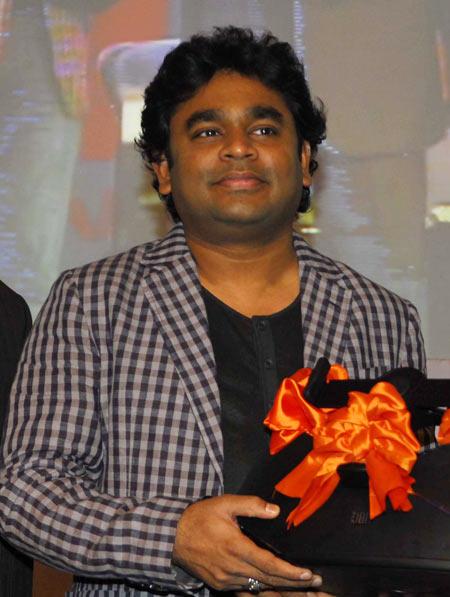 Stars expressed shock and tweeted their tribute to Whitney Houston, who was found
dead
at her Beverly Hilton hotel room on Sunday.
AR Rahman tweeted: 'Another shining star of the music world gone too soon...! We will miss you, Whitney... Respect and prayers for you!'
Neha Dhupia wrote: 'Shocked and saddened to hear about Whitney Houston .... So , So tragic! RIP'
Vishal Dadlani tweeted: 'RIP Whitney Houston. What a singer, what an artist, what a life! Goodbye, and may you find happiness.'
The singer was an inspiration for Sunidhi Chauhan. 'Whitney Houston.. You were truly an inspiration for me.. Will miss you,' she updated.
Priyanka Chopra tweeted: '"Bitter sweet..memories..that is all..I'm taking..with me..so goodbye..pls don't cry"RIP Whitney..u made me believe in magic and dreams.'
Shah Rukh Khan wrote: 'and v waste so much time on inconsequential aspects of life. criticism..cynicism...voyeuristic.live ur life so u don't miss it.whitney r.i.p'
Celina Jaitly was shocked to hear the news. She wrote: 'Just heard the unbelievable news of whitney H's death,how very tragic.. She gave us beautiful music & left with so much music still within.'
Madhur Bhandarkar tweeted: '"I will always love" is the song the world will sing today. A sad day fr international music industry. RIP Whitney Houston, u'll be missed!'
Akshay Kumar wrote: 'Another sad news this morning. Such things sometimes make you think how much for granted we take our lives. The loss of one of the greatest voices of all time!! R.I.P. Whitney Houston. I will always love you.'
Sonu Nigam tweeted: 'One of my biggest inspirations in diversifying from what I knew as a musician, to what I was destined to become, has left without meeting me. The world will never be the same without her. Whitney Houston, Rest in Peace!'
Did Zarine Khan turn down item song for Salman?
Last updated on: February 13, 2012 16:59 IST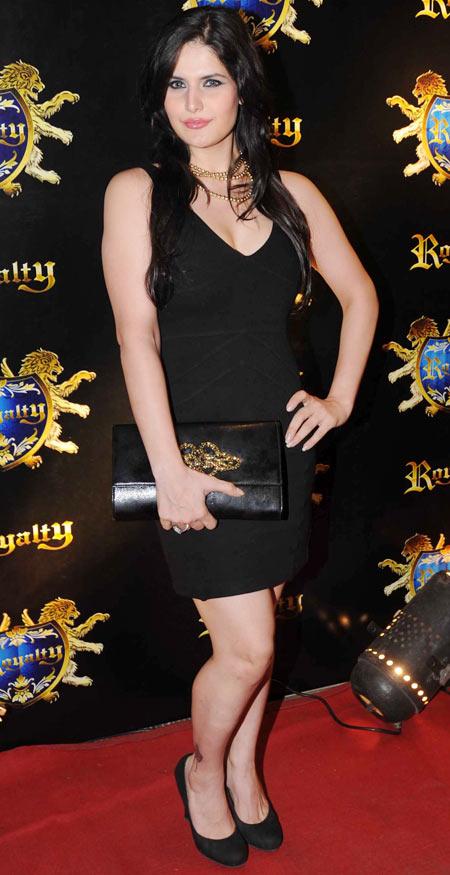 According to a newspaper report, Zarine Khan opted out of an item number called Main Chamiya No 1 because it also featured Vivek Oberoi, who had fallen out with Salman Khan many years ago.
The report also claimed that Zarine was a background dancer before she debuted with Veer opposite Salman.
Zarine denied the reports and tweeted: 'The article in today's bombay times mentions me as a background dancer. Dunno whether to feel upset over this or b amused. Dunno whethr to b upset or amused as befre veer i was in noways associated wid the hindi film industry, wonder whr backgrnd dancing came frm.'
Filmi updates
Last updated on: February 13, 2012 16:59 IST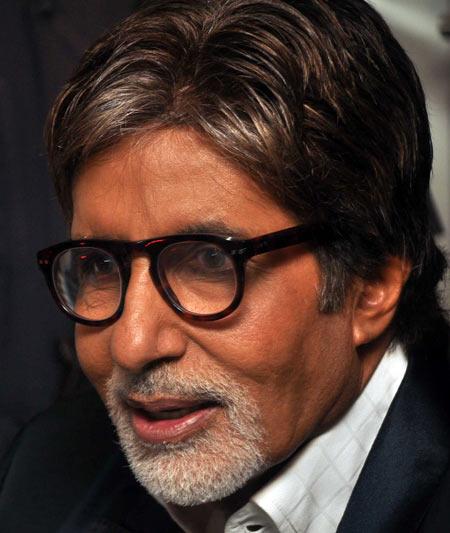 Amitabh Bachchan,
who underwent
surgery
on Saturday, is doing well. 'Back ..!! Thank you for your prayers.. your love and wishes never fail..indebted for life, one that I shall never be able to pay back. Took almost 5 hrs on the OT, but could feel the concern and wishes of the TwFmXt (the extended Twitter family, which is how Amitabh Bachchan refers to his followers) every minute .. you all are incredible .. thank you. Took long because 2 surgeries had to be done on either side..yes there is pain, but nothing good in life ever achieved without it !' he updated.
Madhuri Dixit celebrated her husband's Dr Sriram Nene's birthday on Sunday. 'Celebrating Ram's birthday in India today. Thank you for all your wishes,' she wrote.
Neetu Chandra clarified that she isn't getting married anytime soon. 'I am fed up of people asking about my marriage... Guys CHILL... I am not getting married... PERIOD... Have Fun,' she tweeted.
Mallika Sherawat is recovering from fever. 'Recovering well from fever,thx to th love n warm wishes of ma lovely Tweeple:)Xoxo' she updated.
Shah Rukh's new hairstyle
Last updated on: February 13, 2012 16:59 IST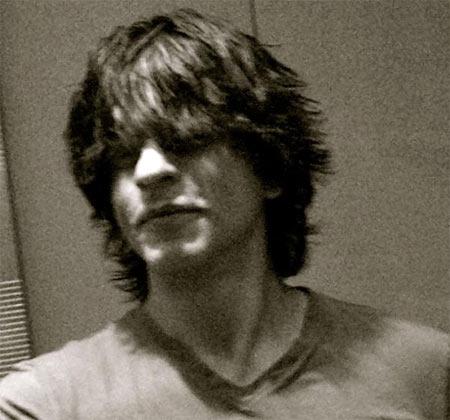 Shah Rukh Khan has got a new haircut. 'was missing my long hair...didnt need shades for one. my son says my now haircut is too goody boy one,' he tweeted with the picture (above). 
Karan Johar had with lunch with his
Ek Main Aur Ekk Tu
gang on Sunday. 'at lunch with shakun batra and imran!!! The ek main aur ekk tu happy gang!!!!' he wrote with the
picture
. 
Ali Zafar shared a picture of him from Kala Ghoda Festival as he wrote: 'I look like I have joined the #PTI in this
picture
.'