Pix: Making heroines look stunning
Last updated on: January 14, 2011 20:26 IST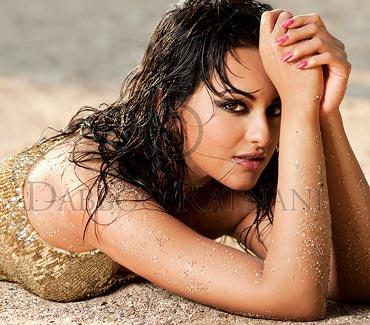 Ace lensman Dabboo Ratnani's 2011 calendar is a spectacular feast for the eyes, as it shows off Bollywood's stars in their sexiest avatar.
We see a new face as well like Sonakshi Sinha, besides the regulars.
Dabboo shows off five fab pictures, and tells Patcy N how he shot them:

Sonakshi Sinha
 
Make-up: Subhash Singh
Hair-styling: Rekha Sharma
Styling: Jaydeep Bose

I've worked once with her even before Dabangg released. I have known her for a couple of years actually.
She is a very confident girl. She knows her poses and angles. She's quite easy to work with.
She's open to experiments, and wanted to look different. Being from a filmi family, she knew the way we function. She had come to my studio when I was shooting her elder brother, Luv Sinha. So she knew my style of working too.
I make a conscious effort to make the actors look different from the way you have seen in them in their film, or in my previous calendar. So Sonakshi looks different from what she looks in the movies.
Sonakshi has beautiful and expressive eyes, so we played them up. We made her eye make-up quite dark. We shot in the evening light to get a warm tone.
Vidya Balan
Last updated on: January 14, 2011 20:26 IST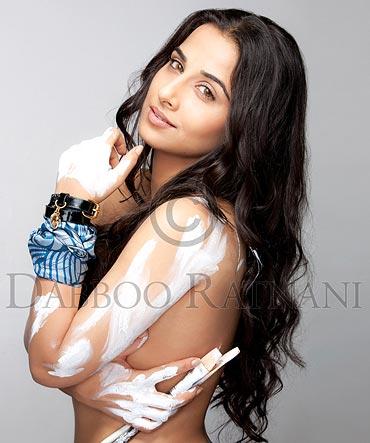 Make-up:
Shreyas
Hair-styling:
Shalaka
Styling:
Komal Sahani  
Vidya looks stunning after losing a lot of weight. She trusts me, and so she is comfortable shooting a sensual picture or wearing a backless outfit.
Although she has a very Indian face, she is very sensual. That's not been portrayed in any of her movies, so I feel that part needs to be captured and explored. She can carry off sexy images. I think I have been successful in trying to get that image out of her.
When I told her about this year's idea and concept, she asked me if we would be able to pull it off. I said we could if it's done only by the two of us.
The minute we took the first picture, she relaxed, and you can see that here. She is not conscious of being backless. My wife Manisha was on the sets too, and Vidya was constantly taking advice from her.
Mallika Sherawat
Last updated on: January 14, 2011 20:26 IST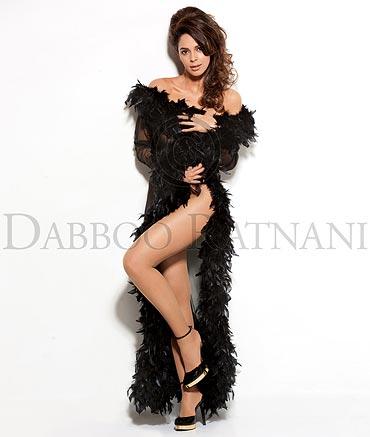 Make-up:
Pravin Banker
Hair-styling:
Roshan Banker
Styling:
Anita Dongre 
Mallika's first photoshoot when she got into the movies was done by me. I shot her when she was a model too. So I know her quite well. She is very comfortable in her skin.
The whole idea of doing a sensual picture is that the model must be at the ease with the photographer. She trusts me. I recently shot Mallika for
Hisss
as well. She's always open to experiments and wants to do things that she has not done before.
We did this photoshoot in a studio. She had brought seven to eight outfits, and I chose this for the calendar. We decided to use the outfit and show a lot of leg.
She used the fur coat as a drape. We played with different angles, holding the coat in different places. This was an impromptu shot.
Genelia D'souza
Last updated on: January 14, 2011 20:26 IST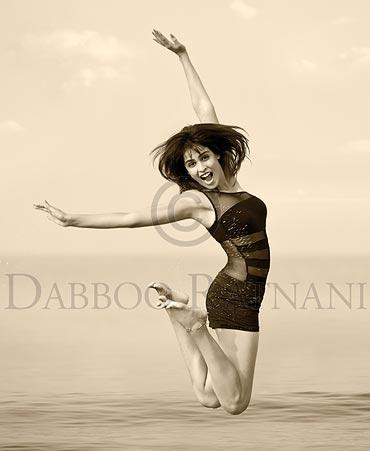 Make-up: Puneet Sen
Hair-styling: Kanta
Styling: Ayesha Dasgupta
 
This was another impromptu shot. We wanted to do something on the beach. But we didn't want her to wear beachwear, or even bright colours or a flowy dress. We took a bodysuit kind of outfit.

This shot has a very energetic vibe. She is a great dancer, so she's got great movement in her body. We decided to let her go wild in the water. I kept giving instructions and she kept doing the dance moves in the water.
 
Finally, we went with this picture where you see a lot of energy. The picture looks sexy in its own way, and her body looks great against the water and sky.
Deepika Padukone
Last updated on: January 14, 2011 20:26 IST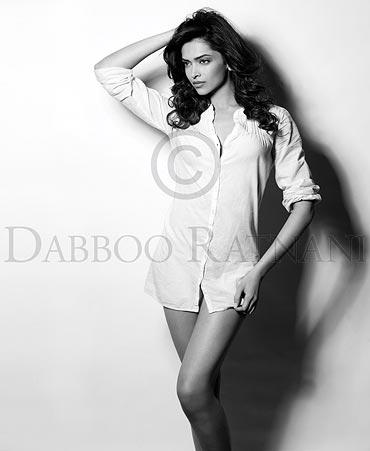 Make-up:
Kapil Bhalla
Hair-styling:
Susan Emanuel
Styling:
Ayesha Dasgupta 
There are only two black and white pictures in the calendar: Deepika's and Farhan Akhtar's. 
The whole idea here was that she's wearing her boyfriend's shirt, and nothing else. 
The idea behind the picture was simple. We kept the make-up simple, as I wanted the look of a girl who has just spent the night with her boyfriend's place, and the next morning, she wakes up and wears her boyfriend's shirt. 
We looked for a picture where she was not looking right at the camera, so that we could get a candid moment.