Movie tickets, courtesy Ajay Devgn
Last updated on: January 11, 2011 13:25 IST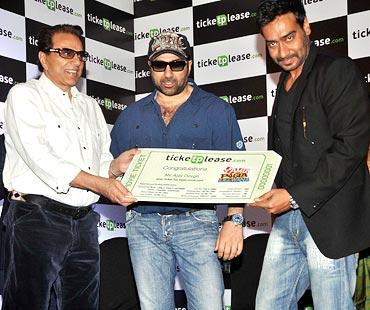 Here's what your favourite celebrities have been up to.
Ajay Devgn poses with Dharmendra and Sunny Deol at the launch of Ticketplease.com, in Mumbai on Monday. The Deols used the platform to promote their upcoming film, Yamla Pagla Deewana.
Movie tickets, courtesy Ajay Devgn
Last updated on: January 11, 2011 13:25 IST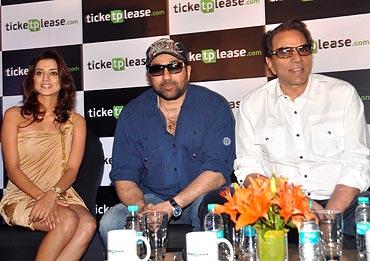 Devgn roped in the Yamla Pagla Deewana star cast of Dharmendra, Sunny Deol and Kulraj Kaur Randhawa to launch his and OneUp Arts Pvt Ltd's new online venture at the JW Marriott, Juhu in Mumbai.
The portal will bring together reviews, e-commerce, ticketing as well as blogs by Devgn.
The big meet
Last updated on: January 11, 2011 13:25 IST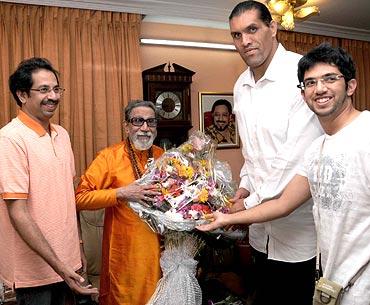 Elsewhere in Mumbai, professional wrestler The Great Khali met up with Shiv Sena chief Bal Thackeray, his son Uddhav Thackeray and grandson Aditya Thackeray.
Khali recently lost out the Bigg Boss title to Shweta Tiwari.