Bollywood pays a tribute to Gautam Rajadhyaksha
Last updated on: September 13, 2011 16:23 IST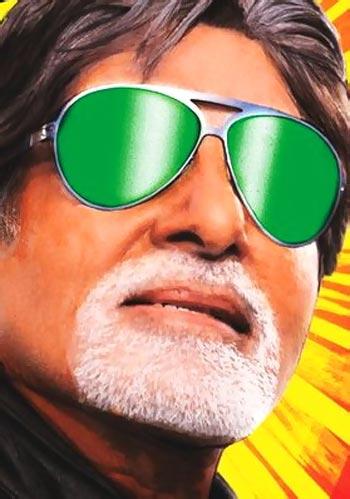 Leading fashion photographer Gautam Rajadhyaksha passed away this morning and Bollywood stars mourned the loss of the great photographer. 
Amitabh Bachchan tweeted: 'Gautam Rajadhyaksha the most gentlest of humans, and one of the finest photographers in the Industry, a friend,family favorite ..RIP. Too shocked to learn of Gautam ! Were talking about him just the other day. Many of his pictures adorn our house and our books.'
Rajadhyaksha was a close friend of Lata Mangeshkar. 'hum sabke priya mitra ,bahot bade photographer ,acche gayak, acche lekhak, aur bahot hi acche insan gautam rajadhyaksha ji ka aaj subha dehaant hua,humare liye ye bahot dukh ki baat hai,mujhe kadam kadam pe ek acche insan ki yaad aati rahegi,main ishwar se prartana karti hun ki ishwar unki aatma ko shanti de,' she tweeted.
Juhi Chawla regretted she couldn't meet him. 'Got the shocking news that gautam passed away !!! But was even more surprised he was in mumbai .. I thought he d shifted to kunnoor ...wish I d known he stays in town ... Would ve met up with him ..his home is close by ..one more cruel reminder .. Don't wait ..do it now .. Some day it will be too late !!!still can't believe it ... Good ol gautam ! Shot with him many many times ..some of my earliest and best,' she tweeted.
Javed Akhtar tweeted: 'Gautam was my friend from 70s.all childhood pictures of Zoya and Farhan in our albums are by him.he was like family to us .He is gone.'
Celina Jaitly tweeted: 'Saddened by the news of the demise of legendary ace photographer Gautam rajadhyakshya .. He made us timeless with his talent..we will miss u.'
Madhur Bhandarkar was shocked: 'Shocked 2 hear abt d demise of best portraitist photogpher Gautam Rajadhyaksha. He was a great human being & will b missed always. RIP!
Farhan Akhtar wrote: 'Rest in Peace, Gautam. Will miss you and remember you with fondest memories.'
Karan Johar tweeted his condolences: 'A deep sense of loss...we lost the one man who captured every movie star with his lens and his heart...RIP Gautam...you will remain forever!'
Rajadhyaksha's cousin Shobhaa De wrote: 'My darling Gautam Rajadhyaksha no more.Saddened beynd belief.Farewell confidante-cousin.Thank u 4 your generous love nd soft focus memories.'
Boman Irani tweeted: 'Rest in peace Gautam. You made everything look so beautiful. "All this and heaven too!"'
How Rajadhyaksha propelled careers
Last updated on: September 13, 2011 16:23 IST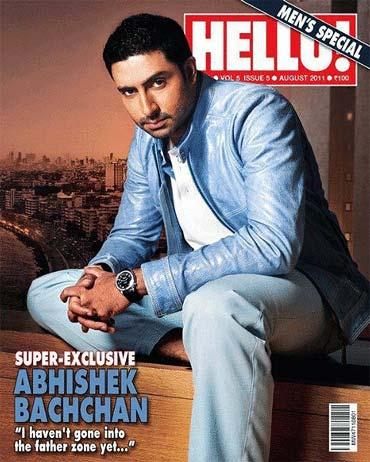 Apart from being one of the most loved people in the film industry, Gautam Rajadhyaksha was also credited with giving career boosts to many strugglers with his glamorous photo shoots.
One of them was Abhishek Bachchan, who did his first professional photoshoot with the ace lensman. 'The 1st time I ever did a professional photoshoot was in front of the lens of the great Gautam Rajyadaksh. He was a pioneer in glamour... Photography and possibly one of the sweetest and most gentle people you would ever meet. Rest in peace Gautam, you will be greatly missed,' Abhishek tweeted.
The lensman also shot Neil Nitin Mukesh's first ever portfolio. 'Heard of the sad demise of ace photographer Gautam Rajyadaksh. My first ever portfolio was shot by him. Asha bhosle ji had sent me to him!RIP Have fond memories of working with him. He truly was a great man. And a great artist,' he wrote.
Eesha Koppikar had met him at the age of 15. 'One of the best people I've knwn.Dada v ll miss u .Lov u alwys. He was a revelation. D best potraits of d biggest actors hv been clickd by him. GR dada made evey1 look so beautiful n etheral. I still rembr GR dada had clicked my pics n told me to complete my education n only den enter films. I was 15 yrs old den jus outta school,' she wrote.
Gautam's work inspired photographer Atul Kasbekar to become a photographer. 'Gautam was kind enough to spare time to meet wt me as a confused teen studying chem engg. His work inspired me to take up photography. I had admired GR's work in mags n dialled every Rajadhyaksha in d phone book till I spoke wt him. The time he spent wt me changed my life,' he tweeted.
When Shah Rukh got nostalgic
Last updated on: September 13, 2011 16:23 IST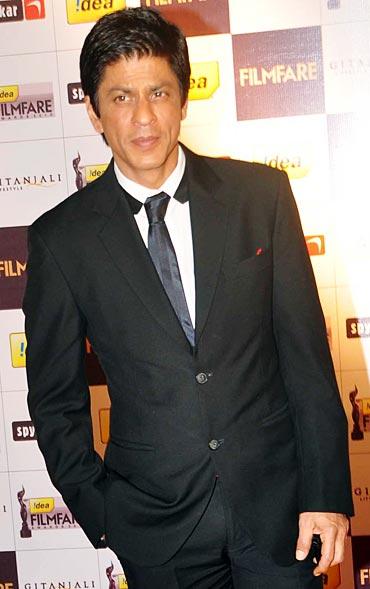 At the music launch of Ra.One, Shah Rukh Khan remembered three people who had helped him make movies but couldn't be with him on the occasion -- late film producer Yash Johar, producer Karim Morani who is in judicial custody, and Bobby Chawla, Juhi Chawla's brother and Red Chillies' CEO, who is critical in hospital.
'had gone to bed..got up for a minute to thank u all for being so positive about this film. insha allah v will not disappoint u with our work. had too much fun at the launch of the music. missed bobby karim and yash johar....who have been instrumental in my making movies,' he tweeted.
Meanwhile, Karan Johar had fun at the launch. 'One of the most spectacular music launch events ever!!! RA-ONE kicks off its chamak challo vibe!!! AKONS and ICONS rock the album!!' he wrote.
Co-star Shahana Goswami too had a fun time at the launch. 'Had a great time at the music launch. Being able to be around SRK is always something to look forward to. The music is fantastic! Go buy!' she tweeted.
Shooting stars
Last updated on: September 13, 2011 16:23 IST
Neil Nitin Mukesh shared a behind the scenes video from the cover shoot of OK! Magazine where he is using his legendary grandfather's artifacts.

Amitabh Bachchan was nervous on the first day shoot of Department.  'First day nerves, bumps, uncertainties at 'Department' ...always a worry how it all went ...ahhh ! this is a fascinating profession !' he tweeted.
Co-star Rana Daggubati was thrilled to be with him. 'First day with the Sarkar himself @SrBachchan on the sets of RGV's #Department. Thrilled!!!' he updated.

Tweet pix
Last updated on: September 13, 2011 16:23 IST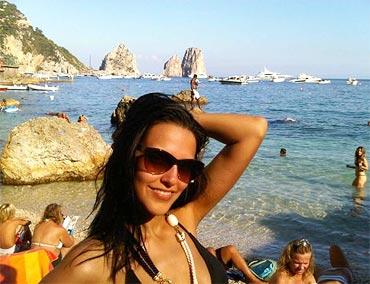 Neha Dhupia, who is in Italy, posted a picture of her soaking up the sun on a beach (left).

Ameesha Patel flaunted her Birkin bag with a picture from her ongoing London trip.
Anupam Kher shared a picture of him with Deepa Mehta and Salman Rushdie at Toronto Film Festival.