Casting catastrophes we'd like to fix!
Last updated on: January 4, 2011 12:53 IST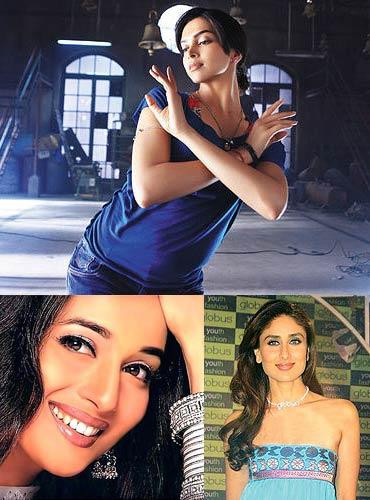 A lot of filmwatching, like filmmaking itself, focusses inevitably on 'what could have been,' often more amusing grounds for rumination than 'what is on screen' in our cinema.
In that vein, here's a look at some films which suffer from fundamentally awful casting decisions, which completely derail the project. Some of them admittedly would be duds no matter what. But here's a look at 10 films where we'd love to switch the actor to someone more suitable. (Or even, in one particular case, just someone much hotter.)
Read on, dear reader, and as always, leave your comments below.
Deepika Padukone in Lafange Parindey
Pradeep Sarkar's interesting yet clumsy film could have been salvaged by using actual actors. And while Neil Nitin Mukesh tried manfully to do his bit, his character wasn't well written at all.
Unlike the female protagonist, who had all the snappy lines, all the sass, all the persona everything but a real actress essaying the part.
Replacement pick
: Madhuri Dixit circa the mid-90s would have nailed it fantastically well. Today, Kareena Kapoor.
Aishwarya Rai Bachchan in Robot
Last updated on: January 4, 2011 12:53 IST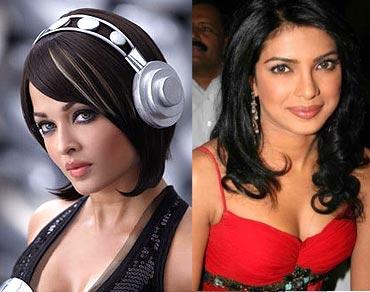 Shankar's Enthiran/Robot has deservedly been one of the year's most talked about films, a special effects extravaganza that took and made it global. And while everyone in the film performed well, especially Superstar Rajnikanth, Ms Rai let the film down massively, overacting and shrill and just plain amateurish. One of her worst acting jobs, this.
Replacement pick
: Priyanka Chopra. At least the ridiculously bubbly persona would come naturally.
Abhay Deol in Aisha
Last updated on: January 4, 2011 12:53 IST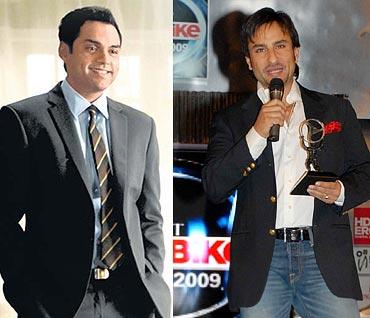 Agreed, Aisha's a chick-flick with hardly anything to go for the guys while the girls go shopping.
Yet, Deol was given the part of a Jane Austen hero, and any male lead should kill for parts written with such irresistibility built in. But Deol was just dour in the film, boring and stuffy and, well, outclassed by Cyrus Sahukar.
Replacement pick
: Saif Ali Khan could do this in his sleep, really. Yes, even today.
Anushka Sharma in Badmaash Company
Last updated on: January 4, 2011 12:53 IST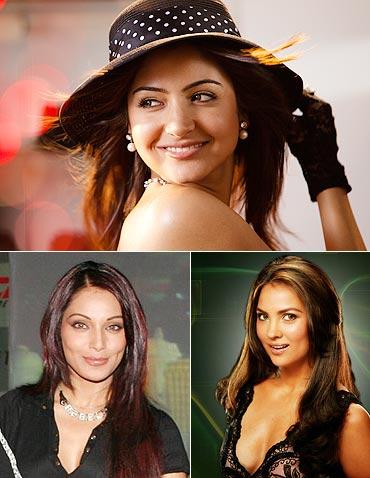 The latest YRF heroine was perfectly acceptable in her debut film, Rab Ne Bana Di Jodi, where she played a quiet young bride who saves her enthusiasm for the dancefloor.
She's not as suited, however, to playing a smartmouthed 'babe' dripping with attitude and aggression. Profanity mouthed through bubblegum is particularly jarring coming from her, as are references to her own, um, hotness.
Replacement pick
: Bipasha Basu, she of the booty and the badass-ness. Or Lara Dutta.
Konkona Sen Sharma in Wake Up Sid
Last updated on: January 4, 2011 12:53 IST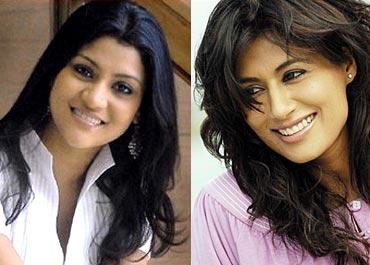 Powerful actress she may well be, but Koko's fallen into the awful trap of xeroxing her performance: she seems to play the same version of herself in every recent film, no matter what the character is.
Little wonder, then, that relative rookie Ranbir Kapoor acted rings around her in the film.
Replacement pick
: Chitrangda Singh. Sexy and smouldering, yet utterly believable.
Sanjay Dutt in Blue
Last updated on: January 4, 2011 12:53 IST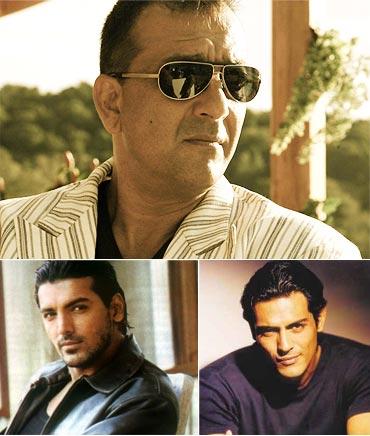 Beaches. Stunts. Lara Dutta's droolworthy body in a tiny bikini. Akshay Kumar with a bizarre goatee gimmick.
The only thing worse than the script for this monstrosity was Sanjay Dutt, looking haggard, out of place and far too fat to be the leading man in what was ostensibly an adventure actioner. Dutt, bloated and paunchy, has never looked as embarrassing.
Replacement pick
: John Abraham. Wait, was he in it already? No? Then okay, him. Just his kinda thing. Or even Arjun Rampal.
Abhishek Bachchan in Drona
Last updated on: January 4, 2011 12:53 IST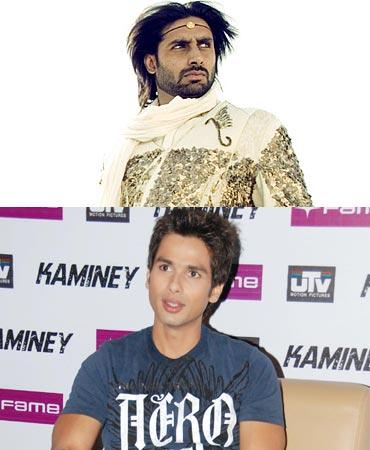 For some reason, Abhishek Bachchan tries too hard to ape other, more successful heroes around him. His own restrained style was completely forsaken in this hideous film, where he tried to do a Hrithik and go all superhero. Not a wise idea, that. Really.
Replacement pick
: Someone like Shahid Kapoor could maybe worked it. A la Jake Gyllenhaal in
Prince Of Persia.
Paresh Rawal in Oye Lucky! Lucky Oye
Last updated on: January 4, 2011 12:53 IST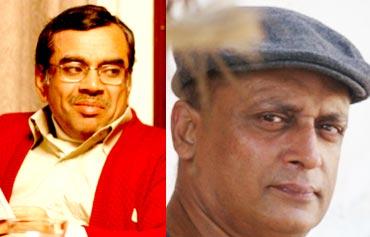 False notes, however small, always jar in films that are otherwise perfect.
Rawal, unquestionably one of our better actors, bit off a bit too much in this Dibakar Banerjee exercise that saw him trying to play thee different breeds of Dilliwala. Rawal started by getting the accents wrong, and then tried to cover that up with a sadly exaggerated performance.
Replacement pick
: Piyush Mishra. He's the man.
Abhishek Bachchan in Dhoom 2
Last updated on: January 4, 2011 12:53 IST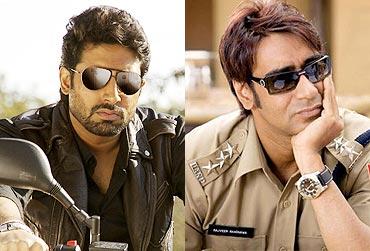 Yet another out-of-shape story. I'm not saying six-packs are mandatory, but in a film which is blatantly all about looking good girls in bikinis and the Roshan boy shirtless throughout, Bachchan stood out like a sore thumb.
Abhi plodded along lazily, his belly unflattered by cruelly chosen Hawaiian shirts. Even Uday Chopra looked better.
Replacement pick
: Ajay Devgn. Who better to play a tough, no-nonsense copper?
Nisha Kothari in all the Ram Gopal Varma movies
Last updated on: January 4, 2011 12:53 IST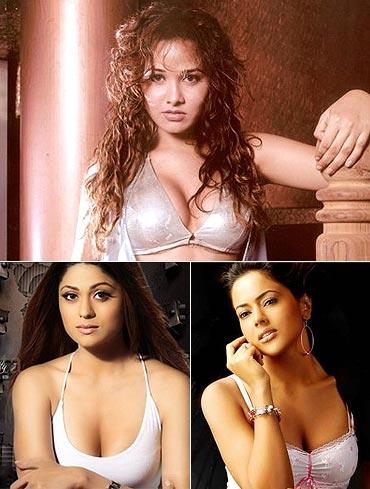 Yeah, this one's just inexplicable, innit? Kothari's massacred a lot of Varma's work like Sarkar, James, Darna Zaroori Hai, Shiva, Go, Agyaat and topped it off by slaughtering Basanti for us in Ramu's Aag.
Now some might justifiably argue that most of those films couldn't be salvaged just by changing an actress, and I agree. But they would immediately be rendered a lot less painful. And hey, if all we need is someone to look hot and scream, why don't we look at B-movie lore and pick truly scorching women? I bet Mahesh Bhatt could suggest a few PYTs.
Replacement pick: Shamita Shetty, packing in true B-movie style oomph. Or Sameera Reddy. Same difference.