Old hit songs make a groovy comeback
Last updated on: July 20, 2010 11:10 IST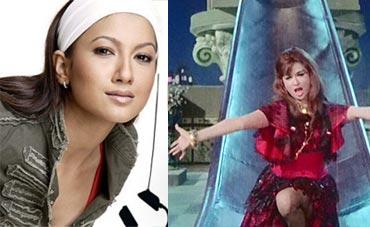 The charm of some songs goes beyond time and trend.
No wonder the remix bosses don't show any signs of slowing down. The amazing bit is, regardless of the criticism thrown at its ways by purists, the music even in its remarkably recycled state often succeeds in making a connection with its listeners.
Bollywood's fondness for formulas is well-known. And so it's no surprise that quite a few memorable chartbusters have been revived, reproduced or remixed to provide a stunning, retro effect to the movie.
Milan Luthria's Once Upon A Time in Mumbaai is latest to join the list. Set in the 1970s, the underworld drama starring Ajay Devgn, Emraan Hashmi, Kangana Ranaut and Prachi Desai features the high-voltage track Parda, a wild mix of R D Burman's Duniya mein logon ko (Apna Desh) and Piya tu ab to aaja-Monica, Oh my darling (Caravan).
On that note, here's a look at the others to make a groovy comeback.
Yeh mera dil and Khaike paan Benareswala, Don
Last updated on: July 20, 2010 11:10 IST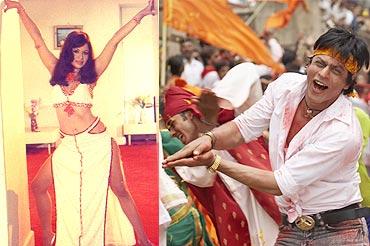 Farhan Akhtar's version of 1978's Don took the liberty of casting two of Kalyanji-Anandji's ritzy creations -- Yeh mera dil and Khaike paan Benareswala, reworked with enough reverence by Shankaar-Ehsaan-Loy.
Honestly though they fared much better doing their own thing as evident in the reactions to Aaj ki raat and Main hoon kaun. 
Interestingly another Shah Rukh Khan starrer, Kal Ho Naa Ho, too, featured an official remix of Roy Orbison's Pretty Woman, by S-E-L again. This time, of course, they got it bang on.
Aapka kya hoga, Housefull
Last updated on: July 20, 2010 11:10 IST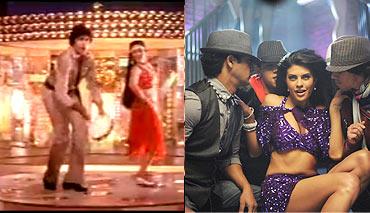 Kalyanji-Anandji made their presence felt in 2010 as well what with Shankar-Ehsaan-Loy regenerating the foot-tapping Laawaris classic, Apni to jaise taise to Housefull's Aapka kya hoga. 
The troika whilst retaining the essence and characteristic moans of the original adds a personal touch by introducing a typical flamboyance through the self-styled vocals of Mika and Sunidhi Chauhan.
Bachna ae haseeno, Bachna Ae Haseeno
Last updated on: July 20, 2010 11:10 IST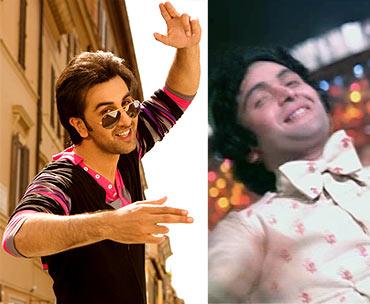 Like father, like son. Taking a page from daddy Rishi Kapoor's book and song from one of his super-hit musicals, Hum Kisise Kum Nahin, Ranbir cultivates an onscreen lover-boy image to charming results with Vishal-Shekhar's pumped-up edition of the R D Burman original.
What makes the collaboration all the more special is the inclusion of Kishore Kumar's son Sumit stepping in his legendary father's shoes and doing a decent job of it.
Sabse bada rupaiya, Tabdeer Se Bigdi Hui Taqdeer, Do aur do paanch, Bluffmaster
Last updated on: July 20, 2010 11:10 IST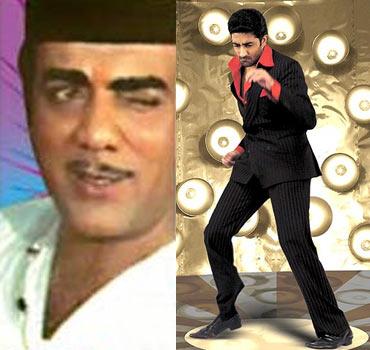 Rohan Sippy's Bluffmaster stylish con caper stands out with its eclectic soundtrack boasting of Indian, Indie and International credits. 
Besides providing its titular hero Abhishek Bachchan a platform for flexing his vocal muscles with Vishal-Shekar's Right here, Right now, it borrows a perfectly retro vibe with the swanky remix of Mehmood-rendered Sabse Bada Rupaiyaa (for Basu Manohri's music) by Trickbaby, Baazi's Tadbir se bigdi hui taqdeer (S D Burman) and Do Aur Do Paanch's title ditty (Rajesh Roshan) by Sameeruddin.
All songs, Dil Vil Pyar Vyar
Last updated on: July 20, 2010 11:10 IST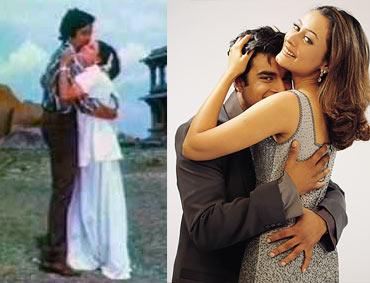 Anant Mahadevan's Dil Vil Pyar Vyar is a notable if not remarkable experiment in film soundtracks. Mahadevan and the movie celebrate the melody of Rahul Dev Burman by compiling an album of the composer's creations, with a fresh set of vocals and arrangement by Babloo Chakravarthy. 
The RD playlist ranges from Teesri Manzil's O haseena zulfonwali to Zehreela Insaan's O hansini.
Ek haseena thi, Karzzzz
Last updated on: July 20, 2010 11:10 IST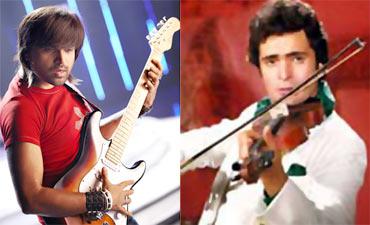 Director Satish Kaushik's move to recreate Subhash Ghai's mellifluous reincarnation, Karz as Karzzzz with Himesh Reshammiya as hero failed to meet with any approval.
Nor did the audience care for HR's lackluster and self-conscious reproduction of Laxmikant Pyarelal's grand and dramatic, Ek haseena thi.
Mehbooba Mehbooba, Aap Kaa Suroor - The Moviee - The Real Luv Story
Last updated on: July 20, 2010 11:10 IST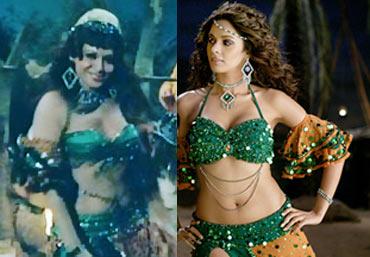 Luckily for Reshammiya, viewers were found too busy ogling at Mallika Sherawat's enviable frame, to realise just how awful is his take on RD's marvelously exotic, Mehbooba (Sholay).
One fails to understand what made Asha Bhosle agree to be a part of this indisputably shoddy remix.
Humein tumse pyaar kitna, Jhankaar Beats
Last updated on: July 20, 2010 11:10 IST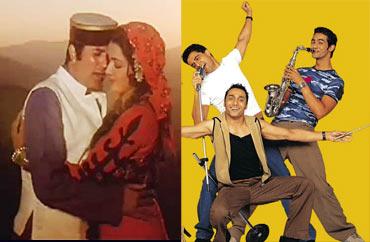 The haunting, romantic notes of RD's Humein tumse pyar kitna in Rajesh Khanna-Hema Malini starrer Kudrat contributed significantly in a crucial sequence of Sujoy Ghosh's breakthrough debut, Jhankaar Beats.
Considering the witty musical itself heralds the greatness of RD, addressed as Boss in the movie, it inspired official musicians Vishal-Shekhar to deliver one of their best-loved works with this album.
Jab andhera hota hai, Acid Factory
Last updated on: July 20, 2010 11:10 IST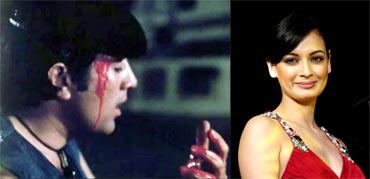 Music director Gourov Dasgupta modifies R D Burman's enchanting and whimsical night-time melody,
Jab andhera hota hai
of
Raja Rani
fame into a glamorous, fast-paced club song coming to play as the end credits roll of White Feather Films'
Acid Factory
.
Aa dekhen zara, Aa Dekhen Zara
Last updated on: July 20, 2010 11:10 IST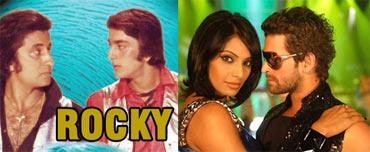 Following in the footsteps of his playback singer grandfather (Mukesh) and father (Nitin Mukesh), Neil, with Sunaina in tow, wields the microphone to deliver Gourav Dasgupta's snazzy remix of Rocky's dazzling dance track, Aa dekhen zara, another RD special.
Though originally titled Freeze, the sci-fi thriller was subsequently renamed to the song title in discussion.