Bollywood's obsessed with Dulhans!
Last updated on: September 1, 2011 10:34 IST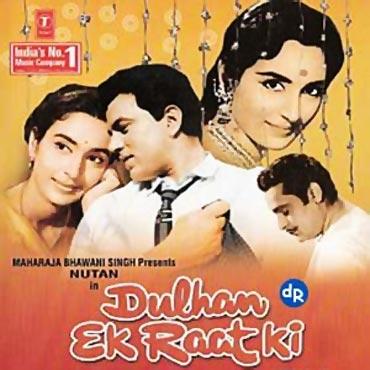 Dulhan this, dulhan that.
Hindi film industry's obsession with shaadis, baraats, dulha and dulhans hasn't escaped public eye. Most stories either begin or end on a wedding set. No wonder one of its most banal formulas revolves around the hero winning his bride against all obstacles. Guess it's only fair to endorse this Dulhan in a movie's name too?
First-time director Ali Abbas Zafar certainly seems to think so. His debut, Mere Brother Ki Dulhan, stars Imran Khan and Ali Zafar as two brothers and the wacky adventures to follow once the loony dulhaniya aka Katrina Kaif comes in the picture. Inspired by the amusing content in matrimonial adverts, Yash Raj Films' brand new rom-com is set for a September 9 release.
Meanwhile, here's a look at Bollywood's best-known offerings with a demure 'Dulhan' gracing its title.
Dulhan Ek Raat Ki

Based on Thomas Hardy's Tess of the D'Urbervilles, Dulhan Ek Raat Ki is a bleak drama with commendable performances from its cast.
In DD Kashyap's compelling adaptation about social injustice and individual anguish, Nutan becomes a victim of Rahman's lust resulting in reel-life beau Dharmendra's refusal to accept her.

Dulha Dulhan
Last updated on: September 1, 2011 10:34 IST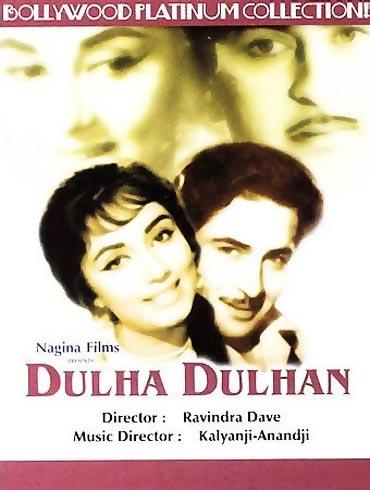 You expect nothing short of magic when a blue-eyed Kapoor and India's Audrey Hepburn come together on silver screen. Sadly, that's not the case with the little-remembered musical, Dulha Dulhan starring Raj Kapoor and Sadhana as a married couple engaged in a medley of mysterious identities.
Interestingly, Sadhana acted opposite all three Kapoor brothers:  with Shashi in Prem Patra, Waqt and Shammi in Budthameez and Rajkumar.

Dulhan Wohi Jo Piya Man Bhaaye
Last updated on: September 1, 2011 10:34 IST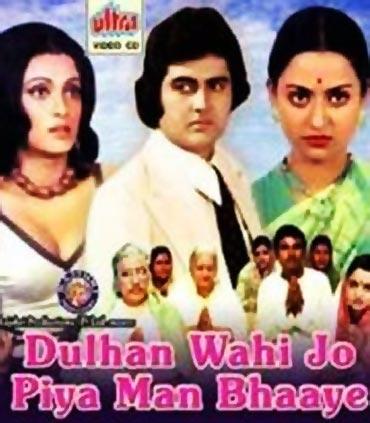 Rajshri Films' runaway hit Dulhan Wohi Jo Piya Man Bhaaye, about traditional values against modern mind-sets, won a couple of Filmfare trophies for Best Dialogue and Screenplay. A rollercoaster romance, DWJPMB deals with a wealthy, decadent young man and how he brings in a roadside flower seller to play his pretend wife to appease his ailing granddad.
Best remembered for its lilting melody, Le to aaye ho and yesteryear actress Rameshwari's debut who latter went on to star opposite Jeetendra in films like Aasha and Sharada.

Dulhan
Last updated on: September 1, 2011 10:34 IST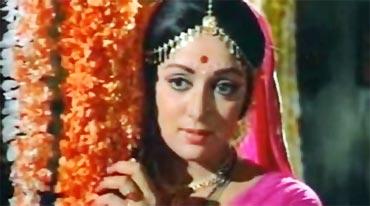 In this 1974 melodrama, Hema Malini plays a woman in a state of mental shock having lost her husband on their wedding night. When his lookalike (Jeetendra) appears on the scene, there's a faint possibility of her regaining normalcy.
Years later, Ajay Devgn and Madhuri Dixit paired up to portray a similar scenario in Deepak Shivdasani's utterly forgettable, Yeh Raaste Hain Pyaar Ke.

Doosri Dulhan
Last updated on: September 1, 2011 10:34 IST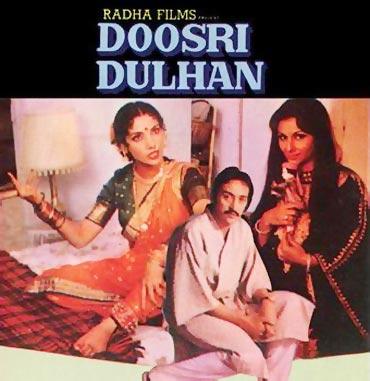 Trust a cast of Sharmila Tagore, Shabana Azmi and Victor Banerjee to make a worthwhile watch out of a standard kerchief caper like Doosri Dulhan. Unable to conceive, a marriage couple seeks the assistance of a surrogate mother resulting in emotional chaos and insecurities.
Inspired by the schmaltz, director duo Abbas Mustan doled out a moderately successful rip-off, Chori Chori Chupke Chupke featuring top stars like Salman Khan, Preity Zinta and Rani Mukerji.

Dilwale Dulhania Le Jayenge
Last updated on: September 1, 2011 10:34 IST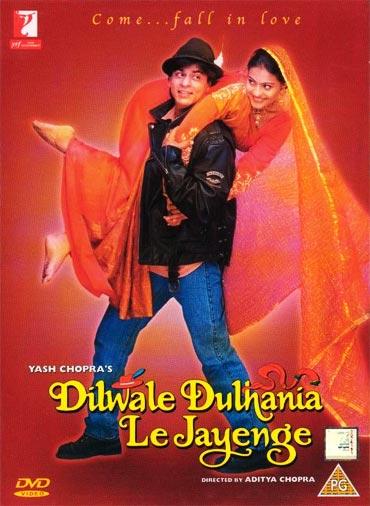 At a time when mindless action reigned supreme, Aditya Chopra's tender love story between Shah Rukh Khan and Kajol came, saw and conquered an iconic status in movie history.
What makes their romance even grander is SRK's insistence on winning the favour of his Dulhaniya's entire clan before it can be declared a happily ever-after.

Dulhan Hum Le Jayenge
Last updated on: September 1, 2011 10:34 IST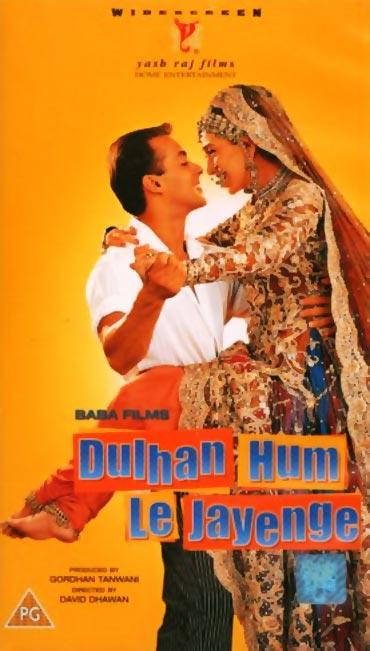 Here's the deal:  to win Lolo's hand, Sallu has to equally impress all her three quirky uncles.
Despite Salman Khan-Karisma Kapoor's hit jodi (Judwaa, Jeet, Biwi No 1) and Himesh Reshammiya's catchy score, David Dhawan's mishmash of DDLJ and Ek Phool Chaar Kaante failed to generate enough laughs or big bucks at the box-office.