When Bollywood went the gay way
Last updated on: April 27, 2011 13:54 IST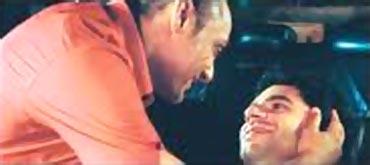 Onir's next cinematic outing I Am, that tells four stories dealing with different social issues, is ready for release this Friday. One of the stories touches upon the subject of homosexuality and stars Rahul Bose and Arjun Mathur as lovers.
The story talks about the nexus between the police and male sex workers, who harass gay men by using article 377. The lovemaking scene between Bose and Mathur has been creating quite a buzz lately.
There have been other instances where directors have taken on homosexuality, either in a poignant tale or in a comedy caper.
Here's taking a look at how Hindi films have tackled the subject.
Dunno Y... Na Jaane Kyun
Last updated on: April 27, 2011 13:54 IST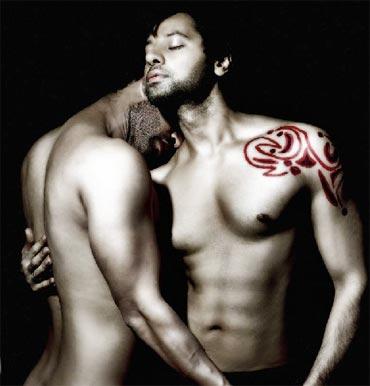 Dunno Y Na Jaane Kyun follows the story of a gay model, who is forced to compromise on his morals for his career. In the course of the film, he develops an intimate relationship with another man, who is already married and lives with his family. 
While the film was appreciated in several international film festivals, the makers are still grappling with getting a release date in India.
Straight
Last updated on: April 27, 2011 13:54 IST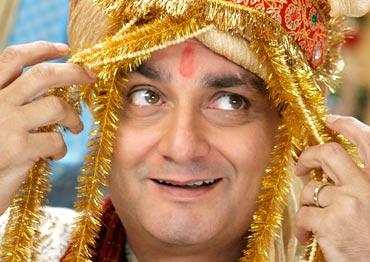 Straight tells the story of Pinu Patel (Vinay Pathak), who's homophobic and struggles with coming to terms with his fears and complexes.
He does, towards the end, manage to 'come out' as straight and accept things the way they are.
Dostana
Last updated on: April 27, 2011 13:54 IST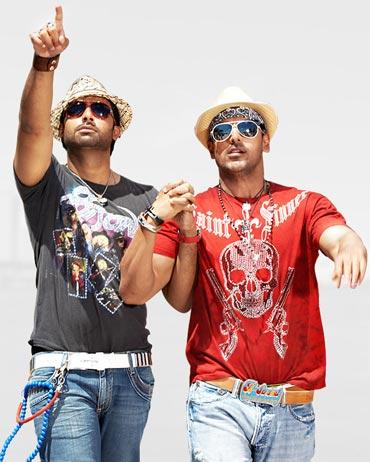 In what appears to be another homophobe's take on sexuality, Tarun Mansukhani's
Dostana
is the story of two straight guys (Abhishek Bachchan and John Abraham), who pretend to be lovers just so they can live in a gorgeous apartment owned by a hot chick (Priyanka Chopra).
Fashion
Last updated on: April 27, 2011 13:54 IST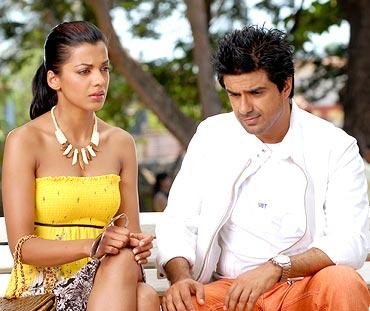 Director Madhur Bhandarkar's movie Fashion, that was all about the fashion industry, saw Samir Soni play a gay fashion designer. He marries Mugdha Godse's character to hush up speculation about his sexuality.
My Brother... Nikhil
Last updated on: April 27, 2011 13:54 IST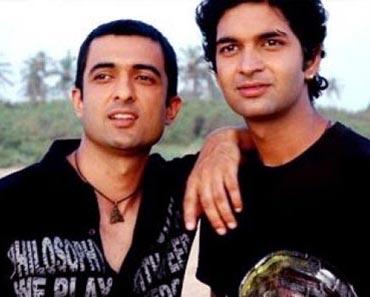 With My Brother... Nikhil, director Onir told the story about a gay swimmer played by Sanjay Suri, who contracts AIDS and is disowned by his family. He finds solace in his gay partner (Purab Kohli) and sister (Juhi Chawla).
The set up was of the 1980s when little was known about homosexuality in India.
Page 3
Last updated on: April 27, 2011 13:54 IST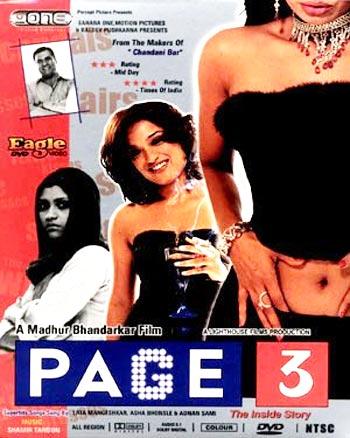 Page 3 -- another film from Madhur Bhandarkar -- followed the life of journalist Madhavi Sharma as she navigates the world of parties, drugs and double-standards.
Her stint doesn't end well as she feels disoriented towards the end and also finds out that her boyfriend is gay.
Girlfriend
Last updated on: April 27, 2011 13:54 IST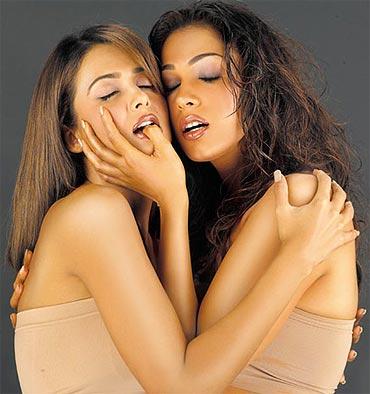 Eesha Koppikar and Amrita Rao turned up the heat in Girlfriend as two lesbian lovers and shared quite a few steamy scenes.
Tanya (Eesha) is a possessive lover who's in a relationship with Sapna (Amrita Arora), who's pretending to be a lesbian but is actually seeing Rahul (Aashish Chowdhary) on the sly.
Kal Ho Naa Ho
Last updated on: April 27, 2011 13:54 IST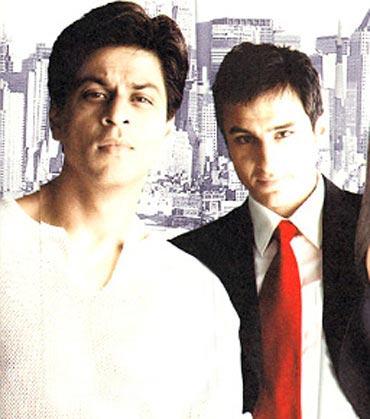 Karan Johar's Kal Ho Naa Ho touches upon the sensitive issue of homosexuality when the characters of Saif Ali Khan and Shah Rukh are mistaken for gay lovers by Rohit's (played by Saif) domestic help.
Fire
Last updated on: April 27, 2011 13:54 IST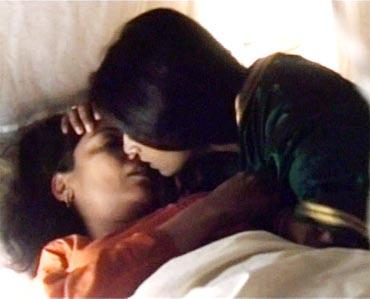 Deepa Mehta's Fire was a film about two unhappily married sisters-in-law (played by Shabana Azmi and Nandita Das), who sought escape by finding fulfilment in each other.
Fire was the first Hindi film to tackle the subject of lesbianism and also the first to show women making love to each other on screen.