Happy birthday, Mr Tambourine Man!
Last updated on: May 24, 2011 14:18 IST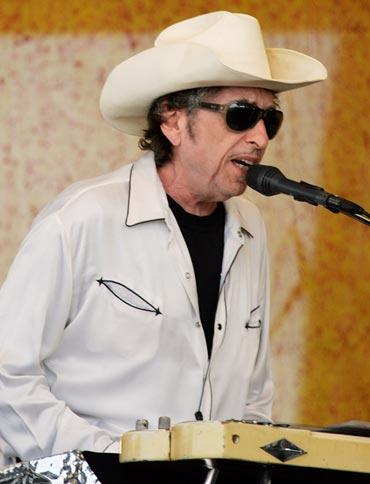 Songwriter, poet, rock star, legend Bob Dylan turns 70 today. Sumit Bhattacharya pays tribute.
I was introduced to Bob Dylan on a Kolkata street that could have fit right into one of his songs. With pimps and peddlers, prostitutes and fiddlers, jokers and alleyways, Free School Street of the 1980s was a secret world where record-store owners educated buzz-eared youngsters about the revolution-per-minute called rock music.
On a record player in one such shop on Free School Street -- where, later, I would buy my first guitar, stealing money from my parents -- I first heard that nasal drawl, asking me: How Does it Feeeeeeel.

I cannot say, as Bruce Springsteen did inducting Dylan into the rock n roll hall of fame, that that snare shot opened any mental corridors. I was just curious. It sounded odd.
But within days I -- a middle-class Indian teen who had never seen a dime -- was back at the store with a definite request: More.

The years passed -- time is a jet plane, it moves too fast -- as the songs played. I made my father listen to Times They Are a Changin', hoping he would understand.  The Blood on the Tracks was mine. I sang It Ain't Me Babe as if my life depended on it. I was the one the Mr Tambourine Man took on a trip upon his magic swirling ship.

Happy birthday, Mr Tambourine Man!
Last updated on: May 24, 2011 14:18 IST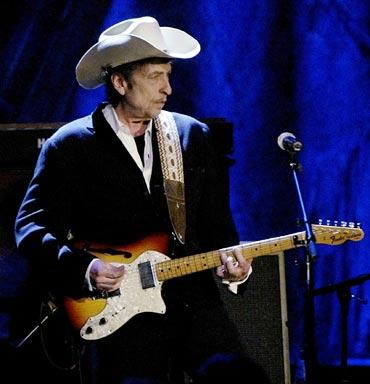 And if a man's songs can become the soundtrack to millions of average lives so far removed from his own reality, it perhaps justifies the myriad awards, the professors splitting his syllables, magazines running quizzes on whether you are a Dylanologist or neophyte.
Because we journalists are calendar-clocks. We mark time. Time that is marked by creators like Dylan.
If you're wondering what the fuss is all about a singer turning 70, allow me to just say that if The Beatles wrote the book on pop songwriting, Bob Dylan, before them, made the song relevant. 
Even the Fab Four were majorly influenced by Dylan, and their music changed from I Wanna Hold Your Hand to Come Together after they got high with him in 1964. His words were so powerful that the man who redefined popular music and the electric guitar, Jimi Hendrix, would always carry a Dylan songbook with him.
The real USP, if you will, about Dylan's songs are that like all great art, they transcend their context. So, you will find thousands of fans in Shillong, tucked away in northeast India -- that seldom figures even in the national Indian consciousness -- celebrating his birthday.
The man who was born Robert Allen Zimmerman in Duluth, Minnesota, and who wanted to be like James Dean will, of course, deny any such epochal responsibilities. Indeed, Dylanesque has become the adjective for creators who refuse to identify with what their creations stand for.

Happy birthday, Mr Tambourine Man!
Last updated on: May 24, 2011 14:18 IST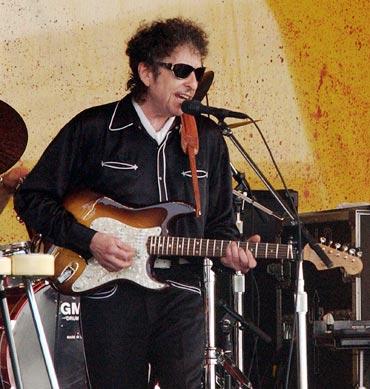 Right from the early days of New York's Greenwich Village in the 1960s, a smorgasbord of writers, revolutionaries, prophets and poets, Dylan was the 'unwashed phenomenon', as Joan Baez sang in Diamonds and Rust.
Baez, then the queen of protest songwriting, was so smitten with the original vagabond that she wanted the world to see what she saw, hear what she heard. Soon Dylan's spitfire drawl and her soaring soprano became the dual voice of the human conscience at a time when the world in general and America in particular was discovering what Mahatma Gandhi meant by the power of peace and nonviolence.
And then, when Dylan became the king of the protest song (finger-pointing songs, he called them), he said up yours to the righteous world of political songwriting. Instead, he focused on the war within, went electric -- 'Judas,' he was called by stunned followers; 'you lie,' was his response -- and made rock music his vehicle. Rock would never be the same again, neither would Dylan, ever.
Along the decades, he has notched up almost every milestone a writer or a singer or a performer can -- the Pulitzers, the Oscars, the Grammies of the world -- but he has treated every achievement with the disdain it perhaps deserves. When he collected the Grammy for lifetime achievement, Dylan's entire acceptance speech was: "When I was young, my father said (pause) He said a lot of things."    
Happy birthday, Mr Tambourine Man!
Last updated on: May 24, 2011 14:18 IST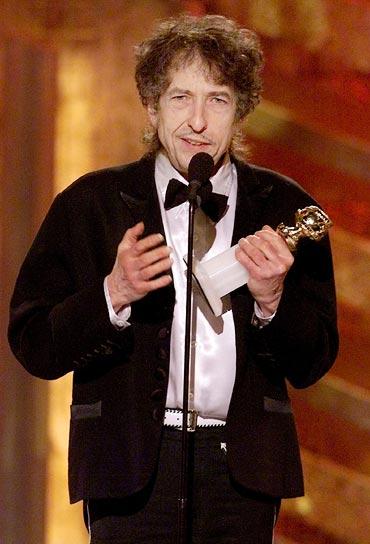 Recently, under fire from The New York Times for 'letting China choose his song list in Beijing', rock's greatest poet wrote on his website: 'If there were any songs, verses or lines censored, nobody ever told me about it and we played all the songs that we intended to play.'
He added: 'Everybody knows by now that there's a gazillion books on me either out or coming out in the near future. So I'm encouraging anybody who's ever met me, heard me or even seen me, to get in on the action and scribble their own book. You never know, somebody might have a great book in them.'
Yes, for all his fabled chameleon ways -- he started out as a 'protest' singer, scandalized the 'intellectuals' by becoming an electric rocker, then turned to country, gospel and born again Christianity -- Bob Dylan hasn't changed much. He just doesn't care a damn. Or so he says.
For Dylan junkies, the resources keep multiplying every day. New recordings are being found, new books are being written, new films made, DJs remixing his material. American Idol contestants singing his songs. And even now, journalists/fans are rummaging through his trash -- albeit metaphorically -- to nail if he was once upon a time a heroin addict.

Happy birthday, Mr Tambourine Man!
Last updated on: May 24, 2011 14:18 IST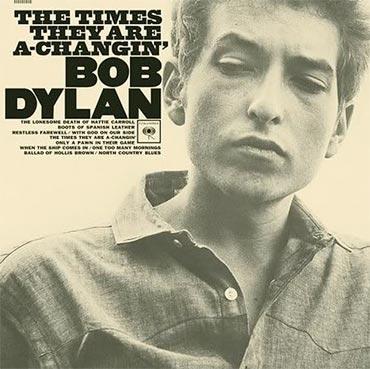 Among the biographical films, Martin Scorsese's No Direction Home and the 1967 documentary Don't Look Back are must-haves. Dylanologists no doubt will absolutely dig the impressionistic feature I'm Not There, featuring four different actors including a superb Cate Blanchett symbolizing Dylan in different stages of his life. Among the books are Clinton Heylin's Bob Dylan: Behind the Shades (now Behind the Shades Revisited) and Anthony Scaduto's Bob Dylan: A Biography.
You can always pick up Dylan's own books Tarantula (a 'stream of consciousness' novel) and the supposedly autobiographical Chronicles, a promised trilogy of which only the first he has published. Supposedly, because like his songs, Dylan is the master at tell all and tell nothing even in his book. Or you can buy his lyrics in book form, and spend your life analysing them. He wouldn't approve of the analysis, though.
Maybe Dylan -- always a fiercely private person -- sees himself as a true troubadour, who must never look back over the shoulder.  Since 1988, he has been on an almost nonstop playing spree, which has become known as the Never Ending Tour, though most say his 'voice' is gone. He is still playing the old songs in completely new ways, changing lyrics, arrangements and everything he can, and new songs with every show.
As if that's his only destiny. As if he is 'just a song and dance man,' as he told a journalist in 1965 when asked if he was a songwriter or a poet.

Happy birthday, Mr Tambourine Man!
Last updated on: May 24, 2011 14:18 IST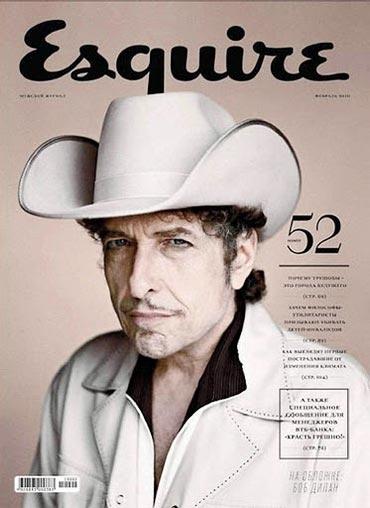 But unlike rock dinosaurs who refuse to accept their time has come and gone, Dylan has changed with the times. He is still writing, and his newer albums -- while maybe not as period-defining as his early ones -- still grow on you and wrap you up in their uplifting imagery. Listen to  I Feel a Change Coming On from Together Through Life, you will know.
And of course you will be hard-pressed to find a modern human situation you cannot find a Dylan line for.
A Hard Rain's a-Gonna Fall is as relevant in Fukushima in the new millennium as it was when the Cuban missile crisis seemed to be almost obeying the song. I'm sure even in 2050, some love-struck Romeo can sing: Come closer Ramona shut softly your watery eyes, the pangs of your sadness will pass as your senses will rise.
If you are about to discover Bob Dylan, I envy you. And if you know what it means to be hunted like a crocodile, ravaged in the corn, come, let's raise a toast to Mr Tambourine Man on his 70th birthday.
May he stay forever young. His song will always be sung.