Birthday wishes for our own Audrey Hepburn
Last updated on: September 2, 2011 15:23 IST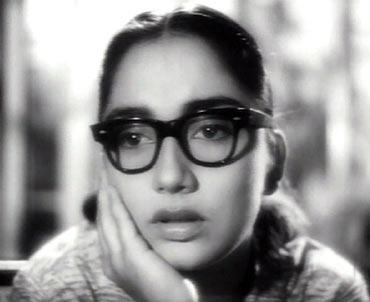 Whether she was a sari-clad spirit standing in the middle of a deserted road or an affluent heiress serenaded by many an eager-to-please suitors, Sadhana was always a sought-after beauty.

As one of the foremost glam goddesses of the 1960s, the actress ruled a million hearts with her delicate, refined good-looks and subtle performances. Even in a relatively short career span, Sadhana established herself as a leading lady who could be both fabulous and fascinating. Unlike her contemporaries, the stunner refused to stretch her career by playing inconsequential or supporting parts and gracefully retired while she was still at the peak.

Today, the lady with the iconic fringe turns 70. rediff.com celebrates the eternally glorious star and 10 most memorable films.
Love in Shimla (1960)

As the petite, impish teenager formulating a Cinderella-inspired romance to win Joy Mukerjee's affections, debutant Sadhana is a picture of confidence and spontaneity. Her transformation from a Plain Jane in thick glasses to a stunner with attitude, keeping with Bollywood's absurd fascination with appearances, is just as noteworthy.

Following the film's success, Sadhana and Mukerjee teamed up once again to star in the light-hearted musical, Ek Musafir Ek Haseena. Interestingly, it was on the sets of Love in Shimla, Sadhana fell in love with the director and her future husband, R K Nayyar.  The film's breezy flirtations was the inspiration behind 2003 remake, Rules: Pyaar Ka Superhit Formula starring Milind Soman and Meera Vasudevan. Needless to say, it wasn't a patch on the original.
Parakh (1960)
Last updated on: September 2, 2011 15:23 IST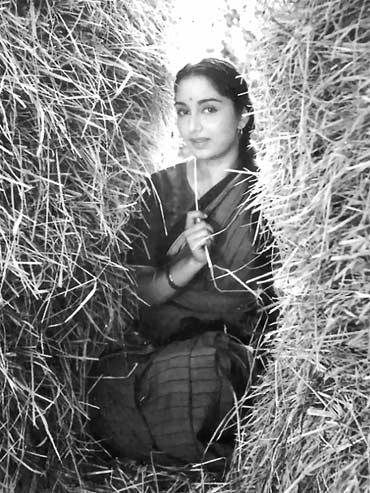 Seeing there's more to Sadhana then a standard heroine, ace filmmaker Bimal Roy cast her in his mild satire, Parakh. As the mild-mannered daughter of a postman with a secret crush on the village school teacher, Sadhana conveys volumes with her bashful manners and a faraway look in her twinkling brown eyes.

Her dainty splendour and concealed desire come alive as she lip-syncs to Lata Mangeshkar's soulful rendition of O sajna barkha bahar aayi.  
Impressed with Sadhana's serenity, Roy cast her opposite Shashi Kapoor in the frothy albeit underrated romance, Prem Patra.
Hum Dono (1962)
Last updated on: September 2, 2011 15:23 IST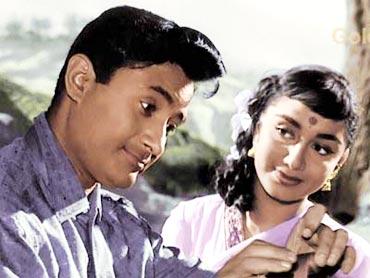 Having always enjoyed Dev Anand films on screen, Sadhana gladly took the opportunity to play his romantic interest in Navketan's Hum Dono and, later, Asli Naqli.

As a woman torn between love and denial, Sadhana lends her character with enough sincerity to validate a popular song from the film, 'Abhi na jaao chodkar ke dil abhi bhara nahi.' How apt!
Re-released earlier this year as Hum Dono Rangeen, the digitally colourised version was well-received among aficionados of quality cinema.
Mere Mehboob (1963)
Last updated on: September 2, 2011 15:23 IST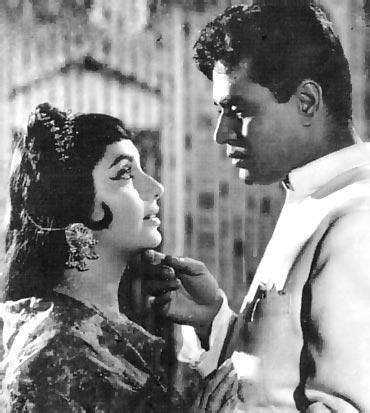 Melodrama and melody collaborate to forge a super duper success called Mere Mehboob. In this complicated romance, Sadhana and Rajendra Kumar exchange sighs and lovelorn poetry against Naushad's lilting score with classics like Mere mehboob tujhe meri mohabbat ki kasam and Mere mehboob mein kya nahi. 
Apart from the visible extravagance and intricate relationships around the decorum and social norms of a community, Mere Mehboob is increasingly watchable for its luminous leading lady alone.

Sadhana is a sight to behold every time she lifts her veil. So it's only fair she should be the inspiration behind all that overwhelming shayari.
Woh Kaun Thi (1964)
Last updated on: September 2, 2011 15:23 IST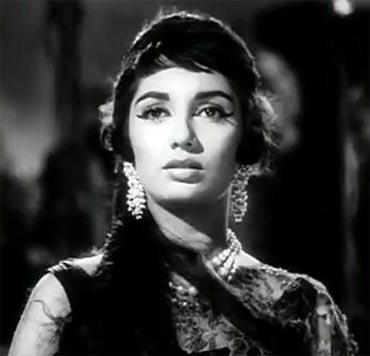 Mujhe khoon acha lagta hai, she claims. It's been more than 40 years but a chill still runs down the spine every time a frozen-eyed Sadhana, in her spooky white glory and half-smile, stops to have a midnight chit chat with Manoj Kumar in the middle of nowhere.
Under Raj Khosla's masterful direction, Sadhana convincingly alternated between restraint and anguish to portray a distinctly mysterious woman.

Madan Mohan's unforgettable compositions -- Lag ja gale and Naina barse deftly convey the profundity of these contrasts. Khosla completed his hat trick of mysteries starring Sadhana with Mera Saaya and Anita.   

Rajkumar (1964)
Last updated on: September 2, 2011 15:23 IST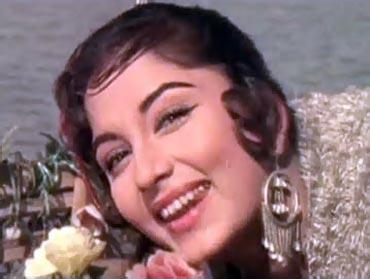 Innately regal, Sadhana had no problems getting under the skin of Princess Sangeeta opposite Shammi Kapoor in Rajkumar. The two worked again on Budthameez, in which she even dons a swimsuit, though never as publicised as contemporary Sharmila Tagore in An Evening in Paris.
Coming to Rajkumar, which mostly revolves around Shammi's antics and comical masquerade, Sadhana provides a pretty distraction with her glossy appearances and lively dance.

Whether she's cooing, 'Aaja aayi bahar' or getting all coy over Shammi's candour, Is rang badalti duniya mein, Sadhana is a heady mix of sensual and sweet. 

Arzoo (1965)
Last updated on: September 2, 2011 15:23 IST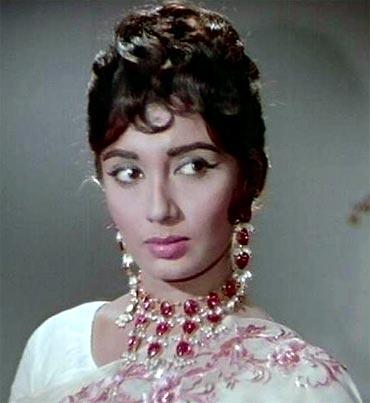 Love triangles form an integral part of every actress' oeuvre. Sadhana, too, enjoys her share of hill station romance gone awry courtesy a best friend and physical tragedy in Ramanand Sagar's Arzoo.

A huge success of its times, Arzoo relies on Shankar-Jaikishen's phenomenal soundtrack featuring Bedardi balma, Aji roothkar yun and Baharon ki mallika in addition to Sadhana's allure and smarts as much as Rajendra Kumar's golden touch and Feroz Khan's dynamism to make it work.
Waqt (1965)
Last updated on: September 2, 2011 15:23 IST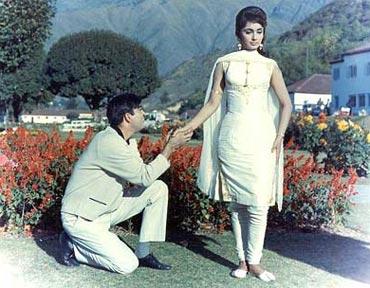 Yash Chopra's multistarrer is memorable for a lot of reasons. Lavish production, lost and found theme, Raaj Kumar's lines, Ravi's brilliant score and, more importantly here, Sadhana's gift to Indian fashion -- churidar kurta.
In a look devised by Oscar-winner Bhanu Athaiya, Sadhana looks like a romantic dream, setting the benchmark for future Yash Raj heroines. The actress embodies larger-than-life dazzle with her feminine charms, understated sexiness and enticing style that only a fool could resist.

Mere Saaya (1966)
Last updated on: September 2, 2011 15:23 IST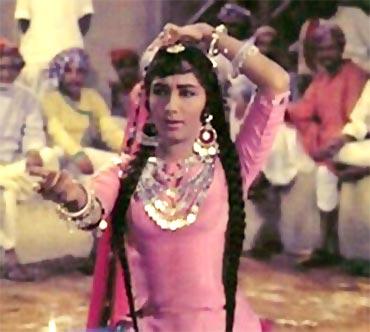 Displaying her range as an artist, Sadhana is equally effective in a double role for Raj Khosla's Hindi adaptation of Marathi feature film, Paathlag.
Mera Saaya's exquisite music (Mera saaya saath, Naino mein badra, Jhumka gira re, Aapke pehloon mein aakar) coupled with Sadhana's histrionics as Geeta and sauciness as Naina and warm chemistry with hero Sunil Dutt make Khosla's nifty puzzler a lot more than genuine than its genre is known to be.

Intequaam (1969)
Last updated on: September 2, 2011 15:23 IST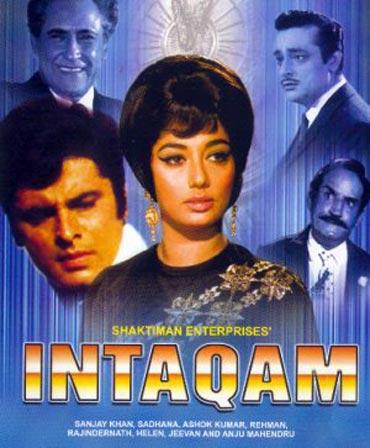 Just when detractors began writing her off following a tryst with Hyperthyroidism, Sadhana returned to screen with a bang as the avenging angel in hubby Nayyar's Intequaam co-starring Sanjay Khan and Ashok Kumar.

That same year, Khan and Sadhana got together again for the soppy but successful kerchief caper, Ek Phool Do Maali.
As a scorned woman seeking vengeance, Sadhana unapologetically schemes and plots against her wrongdoers. The actress plays it sly and smooth but doesn't waste that single opportunity to let her guard down in the deliciously drunk ditty, Kaise rahoon chup brimming with hurt and humiliation.

Years later, Dimple Kapadia recreated the same scenario with her inebriated outburst in Lava's Shaadi ka jashn hai dulhan ko jam do.