Burying the hatchet, Bollywood style!
Last updated on: January 16, 2014 18:34 IST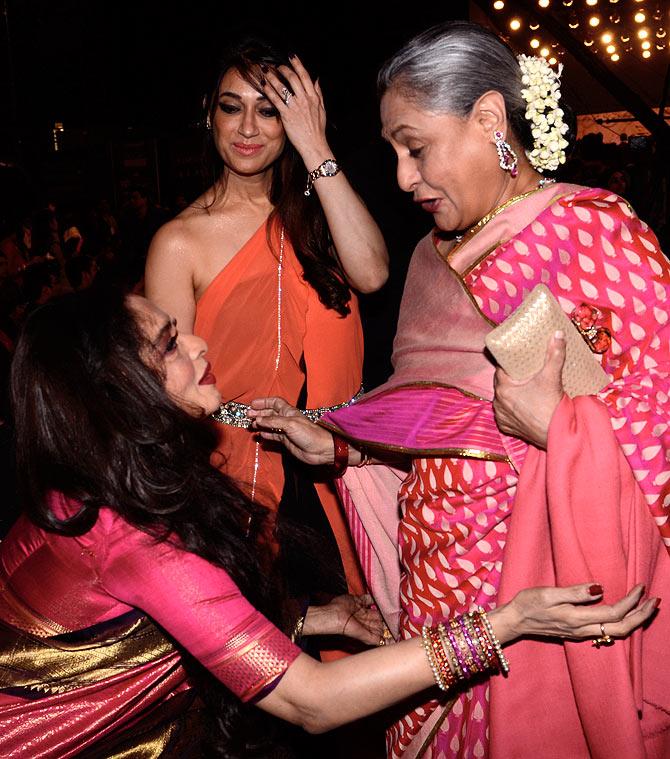 Want to patch up with longtime foes? Take a leaf out of Bollywood stars' books!

Never hold a grudge for too long, they say. And Bollywood seems to take this phrase quite seriously.

In an industry where fragile egos, instigating camps, ever changing equations and extended cold wars are the norm, friendships gone sour are an everyday occurrence.
Even more fascinating is how these legendary feuds -- after both the parties have shot the other down in print or public -- eventually end in letting bygones be bygones.
In either scenario, the media has a wild time reporting the latest status quo. We look at some of Bollywood's most memorable reconciliations.
Amitabh Bachchan-Rekha

Even after three decades, the equation between these two legends continues to be Bollywood's biggest story.
Rumors of the Amitabh Bachchan-Rekha liaison hit their peak after Yash Chopra roped in the duo along with Bachchan's better half, Jaya to complete the on screen triangle that (allegedly) rang too close to home.

AB's near fatal accident on the sets of Coolie, however, marked the end of the Rekha chapter and the beginning of a much-documented ignore treatment of the latter by her Muqaddar Ka Sikander hero.
Clearly, that's a thing of the past what with recent pictures of the Bachchan couple warmly greeting their long-snubbed colleague at the recent Screen awards.
How about getting the troika on the show for some Koffee, Karan?

Please click NEXT to read further...
Salman Khan-Shah Rukh Khan
Last updated on: January 16, 2014 18:34 IST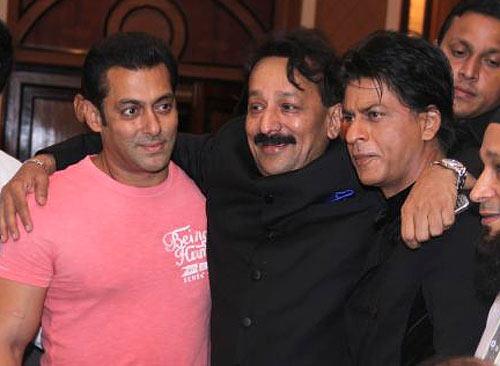 From best friends to best foes, the Khan superstars -- Shah Rukh and Salman -- are Bollywood's best-known fall-out.
It all began with an argument that got out of hand at Katrina Kaif's birthday party in 2008.
After the infamous incident, both the actors avoided every chance to cross paths till politician and common friend Baba Siddique's Iftaar party forced them to come face to face leading to a much talked about hug.
Though they aren't getting back together anytime soon, Shah Rukh's tweet immediately after ('Finally u realize turning the page is the best feeling in the world, becos there is so much more to the book than the page u were stuck on') and Salman's sentiments ('No brownie points for those who badmouth SRK in front of him') on a chat show underscores their complicated bond.
Salim Khan-Javed Akhtar
Last updated on: January 16, 2014 18:34 IST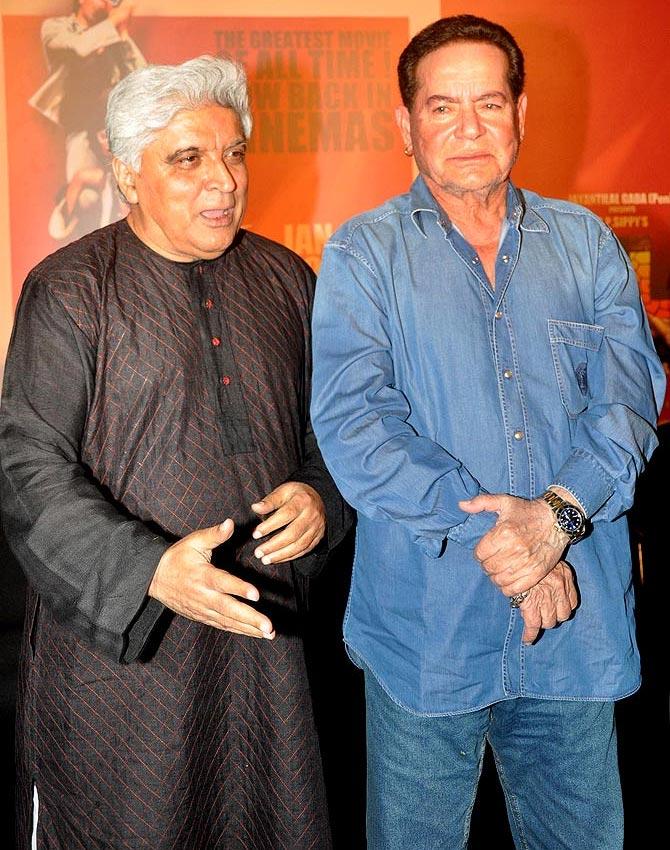 Celebrated writer duo Salim-Javed, credited for the 'angry young man' myth, rocked the most prolific phase of their career with blockbuster scripts.
But even the best partnerships cannot withstand the pressure and poison of Bollywood.

Severe differences cropped up between the two leading to a sad end of a fruitful association and friendship.
Twenty six years later, the writers, while filing a lawsuit against the producers of the Zanjeer remake found the opportunity to spend quality time and resolve their internal dispute.
There's a good chance of them working together in the near future.
Aamir Khan-Juhi Chawla
Last updated on: January 16, 2014 18:34 IST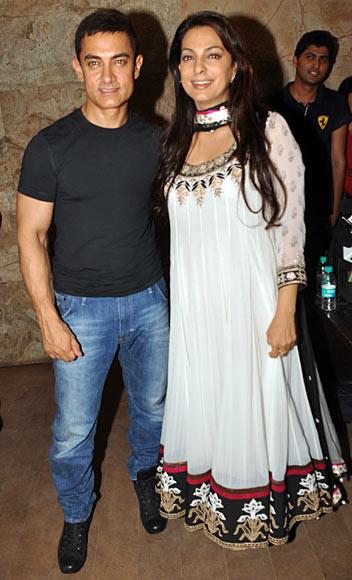 The super-hit Jodi of Qayamat Se Qayamat Tak -- Aamir Khan and Juhi Chawla -- shared a fun camaraderie on and off screen.
On the sets of Ishq, Aamir's prankster ways rubbed his chirpy co-star the wrong way. The two weren't even on talking terms for nearly a decade.
Luckily, good sense prevailed and they realised the silliness of it all and hugged it out.
Shah Rukh Khan-Farah Khan
Last updated on: January 16, 2014 18:34 IST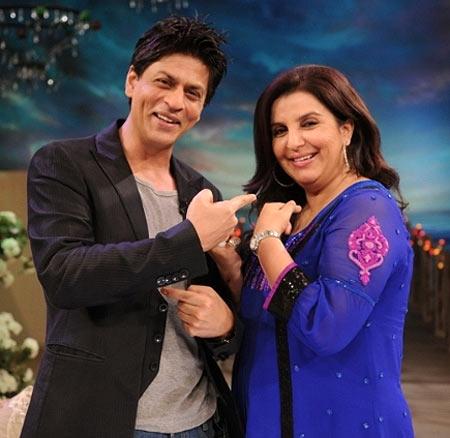 Things got awkward between one of the most enduring friendships of Bollywood, when choreographer-turned-filmmaker Farah Khan's significant other took nasty pot-shots at Shah Rukh Khan's lavish science fiction fantasy, Ra.One on social networking sites.

SRK refused to take it lying down and slapped Shirish Kunder at Sanjay Dutt's party.
A damage control move by the missus and her man at Khan's residence cooled down wounded egos and bruised cheeks.

And now the team behind Main Hoon Na and Om Shanti Om is ready with one of the most awaited films of 2014 -- Happy New Year.
Ranbir Kapoor-Deepika Padukone
Last updated on: January 16, 2014 18:34 IST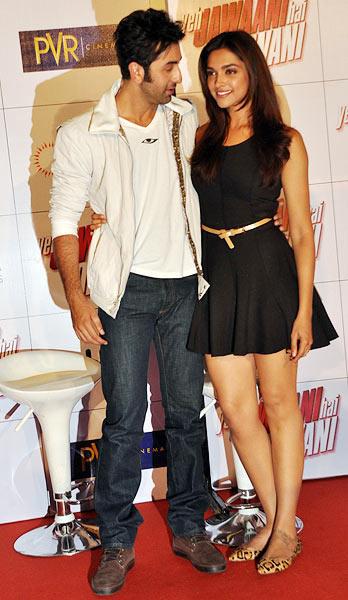 Bollywood's hottest couples breaking up on a bitter note isn't anything new.

But the kind of maturity and magnanimity demonstrated by Deepika Padukone and Ranbir Kapoor is most ideal.
After going separate ways, DP and RK Jr made some catty comments about each other, which were blown out of proportion in gossip circles.
Instead of choosing to believe hearsay, they talked about it and sorted things out like a levelheaded duo.

Today, they share a genuine friendship, which is for all to see in the warm chemistry of their blockbuster romance, Yeh Jawaani Hai Deewani.
Salman Khan-Priyanka Chopra
Last updated on: January 16, 2014 18:34 IST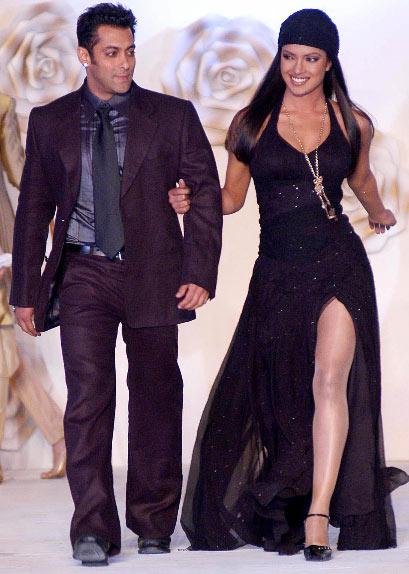 Salman Khan gave Priyanka Chopra the cold shoulder during the making of Salaam-E-Ishq and God Tussi Great Ho.

It was widely reported they don't get along too well.

His indifference changed into affection after she extended her support to his charity brand, Being Human.

Ever since, they're not just 4am friends but the Dabangg dude even went on record to express his adoration for the 31-year-old.
Shah Rukh Khan-Aishwarya Rai Bachchan
Last updated on: January 16, 2014 18:34 IST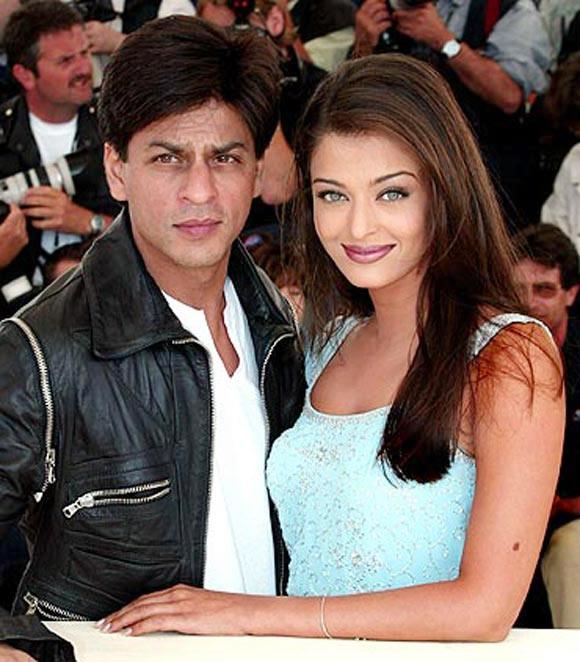 Things took an ugly turn between Bollywood's celebrity scorpions -- Shah Rukh Khan and Aishwarya Rai -- after the latter was unceremoniously dropped from Khan's home production Chalte Chalte (and replaced by Rani Mukerji) following an altercation between her and her then beau Salman Khan on the sets.
At that point, SRK felt more loyal towards his Karan Arjun costar and Ash got the short end of the stick.

Needless to say, hell hath no fury like a woman scorned and SRK and family were left out of her wedding guest list as well.
A couple of years back at common friend Karan Johar's party, King Khan felt the need to apologise.

Ash graciously accepted and ended the hostility.
Anurag Kashyap-Amitabh Bachchan
Last updated on: January 16, 2014 18:34 IST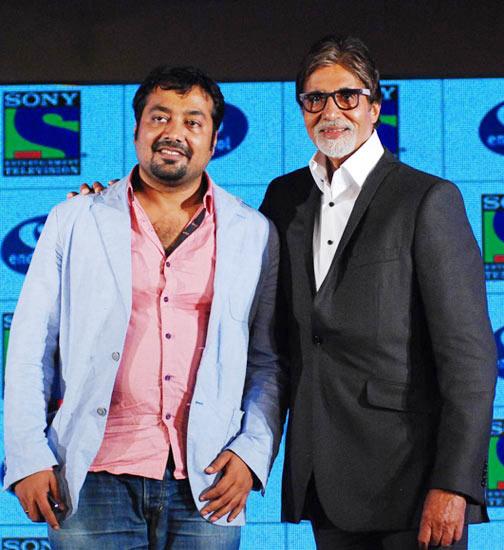 There was a time when Anurag Kashyap picked on Amitabh Bachchan regularly to express his frustration against the Bollywood hierarchy.

Diplomatic to a fault, Big B chose not to dignify his comments with a response but there was certainly no 'yaarana' happening.

With time and success, Kashyap mellowed down and met up with the superstar to clarify things.

Clearly, he did a convincing job of it given their professional collaborations now, both, on the big and small screen.
Karan Johar-Priyanka Chopra
Last updated on: January 16, 2014 18:34 IST
Sometimes, a celebrity's picking sides lands him/her in needless trouble.

Filmmaker Karan Johar's bid to support his bestie, Gauri Khan who reportedly couldn't see eye to eye on her husband Shah Rukh's closeness to Priyanka Chopra, led to some spiteful remarks in print.
But the director known to get along with just about everybody soon realised his folly.

He immediately called and made up to the actress who's worked on his home productions -- Dostana and Agneepath.

PC didn't see any point in prolonging the battle and called it truce.
Confirming it's all good, she even made a super chic appearance on his chat show's on-going season with Deepika Padukone.
Karisma Kapoor-Raveena Tandon
Last updated on: January 16, 2014 18:34 IST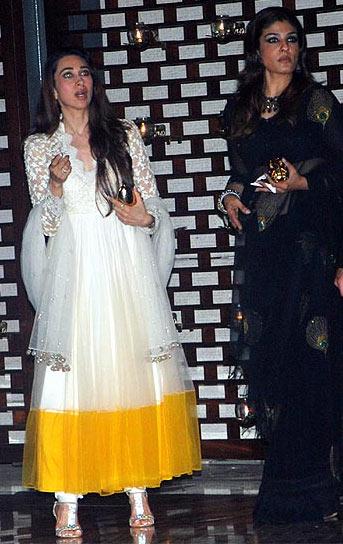 Directors Rajkumar Santoshi and Sanjay Gupta tore their hair out during the making of their films Andaz Apna Apna and Aatish respectively thanks to its constantly quibbling heroines.
Raveena-Karisma's famous cat-fights over men, roles and costumes sold many a glossy in the 1990s.
The two actresses are, mercifully, past that phase, and laugh about those wild times while bonding over their daughters -- Raasha and Samaira -- who are said to get along famously.