Arya: Settai will be a trendsetter in Tamil cinema
Last updated on: April 4, 2013 10:13 IST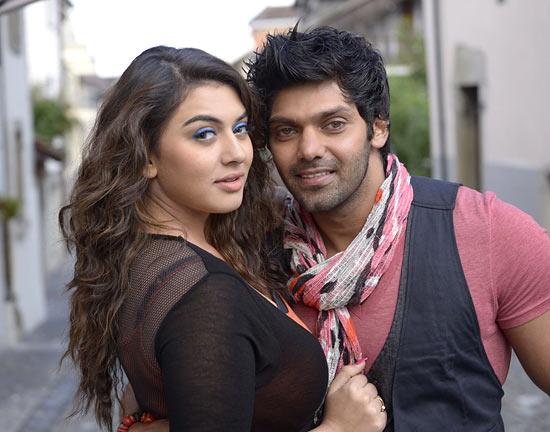 An engineer by profession, Arya entered the Tamil film industry in 2005 with the late Jeeva's Ullam Ketkume, with Asin and Pooja as his co-stars.
Arya's latest release is Settai, the Tamil remake of Delhi Belly directed by R Kannan. He does the role essayed by Imran Khan in the original.
In this interview, Arya talks about working in Settai.
Had you seen Delhi Belly when you were offered Settai?
I had seen Delhi Belly much before I was offered Settai.  I had enjoyed the film thoroughly and felt it was a cool film.
But when Kannan said they were going to remake it in Tamil, my initial reaction was 'how can you?'
Why did you feel that way?
It is too daring a film for the Tamil audience. Here the censors won't allow such language. It will definitely be a bold film if done in Tamil. You have to think of the possible audience.
In Hindi, you have so many multiplexes and you can cover the cost from the multiplexes alone. But how many do you have here? A film with an A certificate will restrict the number of viewers. That will affect the collections.
'Settai will be two hours of fun for the Tamil audience'
Last updated on: April 4, 2013 10:13 IST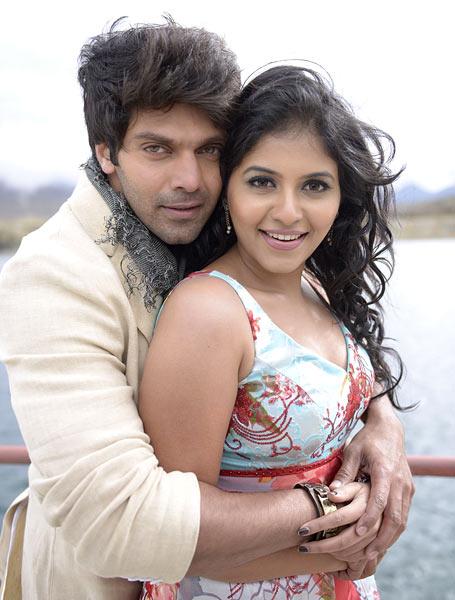 So, what did you tell the director?
I asked him how he would make such a film in Tamil. He said they had adapted the story for the Tamil audience.
When Kannan narrated the story to me, I was in for a shock. I never thought they could change it so much, at the same time retaining its soul.
The toilet humour, the kissing scenes...all are there but we have sobered everything down.
In Tamil, it runs for 120 minutes, so we had to add something more. It is more comical and funny in Tamil. The film stresses on the friendship between three friends, and all three of us work at the same place in Settai.
How was the experience of shooting the film?
It was pure fun. It was more like a holiday for all of us. I, Santhanam and Premjee have been friends for many years. So, we had a blast shooting the film. We were just being ourselves and not acting.
We shot most of the film in Mumbai. It was like going on an excursion when you are in college! When we came back after the shoot in Mumbai, it was like, oh no, back to work! It was so enjoyable we didn't feel we were working.
Was it the most enjoyable film that you have done?
Though I always enjoy working in my films, this was one film that I enjoyed the most.
I can confidently say that Settai will be two hours of fun for the Tamil audience.
Delhi Belly was a cult film in Hindi. I am sure Settai will be a trendsetter in Tamil.
'I can't make films that I dont believe in'
Last updated on: April 4, 2013 10:13 IST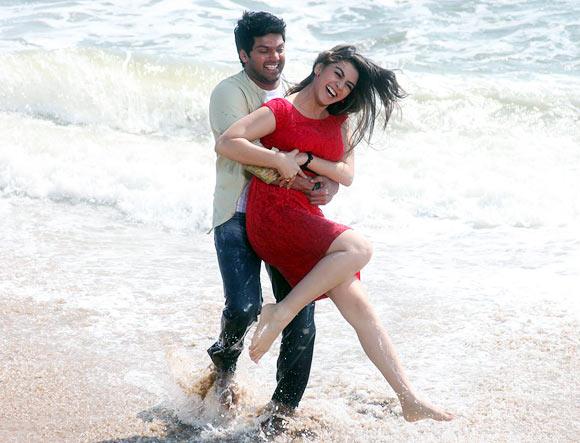 Do you feel there has been a change in the taste of Tamil audiences from the time you entered the film industry in 2005?
Yes, it has changed considerably. Now, they are more open to experiment. Any film that can entertain has been accepted wholeheartedly.
With more and more English films being shown in theatres and on TV, the taste of the audience is changing. They are also exposed to what is happening outside Tamil Nadu.
Did you start a production house to make films that you believe in, or is it just a business proposition for you?
I can't make films that I dont believe in. Ultimately, you need money to make films and you need to recover the money too. So, it is better you make the kind of films audiences prefer, and not what you want.
I started the production house as a business and want to produce good films that will entertain people.
My first production, Boss Engiruntha Bhaskaran (with himself, Nayantara and Santhanam), was accepted by people, fortunately.
What do you look for as a producer?
Anything interesting! I don't look for anything specific. If a story really interests and excites me, I come forward to produce the film.
'I did not want to copy Imran Khan'
Last updated on: April 4, 2013 10:13 IST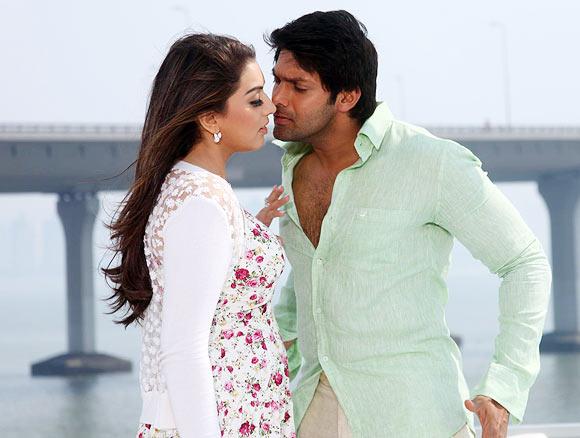 When you were acting in Settai, wasthe performance of Imran Khan in your mind? Did you consciously try to be different from him?
I didn't want to perform differently, nor did I want to copy him. I am very bad at imitating others. I prefer to perform the way I want to, that is, my own interpretation of the character and situations.
Another thing is that my body language and his body language are totally different.
Would you go to the theatre and watch the film with the audience?
It will be fun watching it with the audience particularly because there are many funny scenes in the film. It will be fun to watch the audience clapping and enjoying the film!