Anupam Kher's takes a break with Mr Bhatti on Chutti
Last updated on: May 8, 2012 12:25 IST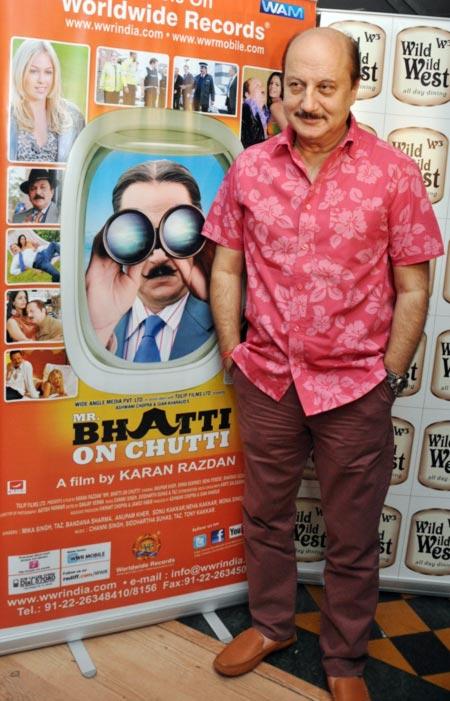 A press conference was held to launch the music, and also announce the movie, Mr Bhatti On Chutti, at Fun Republic in Mumbai, on May 7.
Mr Bhatti On Chutti is a comedy thriller about a common man who is caught in the midst of a conspiracy. He is a fan of Amitabh Bachchan and wants to meet George Bush.
Karan Razdan, the director of the movie, was the first to arrive.
The stars of the film began trickling in. Bhairavi Goswami's arrival woke everybody up from their stupor. As she posed in a bright red dress, matching lipstick, and very high heels, the cameras started clicking and didn't stop for two hours.
Actor Anupam Kher, who stars in the film too, made his entry half an hour later.
He thanked the journalists for coming and said he was surprised that so many had turned up. "Please give us publicity, I beg you," he said.
The promo of the film is then launched.
Anupam Kher's takes a break with Mr Bhatti
Last updated on: May 8, 2012 12:25 IST
In one very amusing scene Anupam enquires at a hotel reception desk if George had arrived.

"Which George?" the receptionist wants to know.

"George Bush," says our hero without batting an eyelid.

Shakti Kapoor was the last to arrive for the promo launch.