Anita Advani: I could never fall in love with anyone else after Rajesh Khanna
Last updated on: October 15, 2013 18:12 IST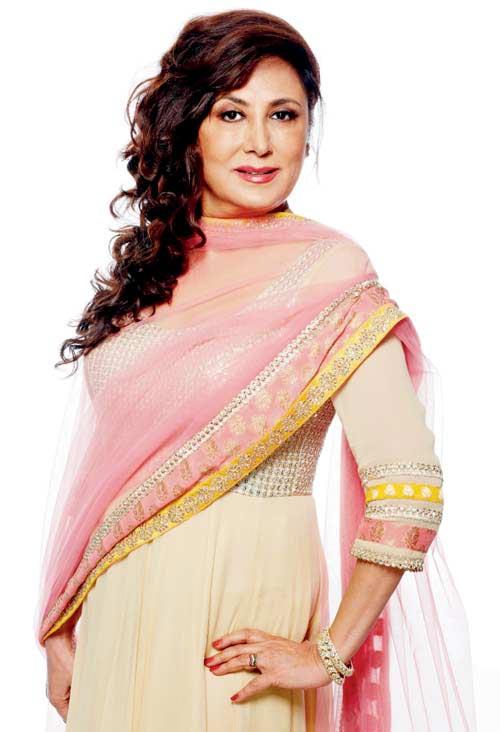 Anita Advani became a household name when she entered the hugely popular television reality show Bigg Boss.
On the show, people got a closer look at late superstar Rajesh Khanna's live-in partner, who looked after him in his final years but was 'thrown out' of his house two months before his death.
One of the reasons Anita entered the show was because she needed money to fight Khanna's estranged wife Dimple Kapadia for a share of his property.
In a candid long conversation with Patcy N, Anita discusses her life with Rajesh Khanna, how the affair began, what a difficult person he was, and the troubles she has been beset with after his death.
Click Next to read more.
'Rajesh Khanna gave me so much attention'
Last updated on: October 15, 2013 18:12 IST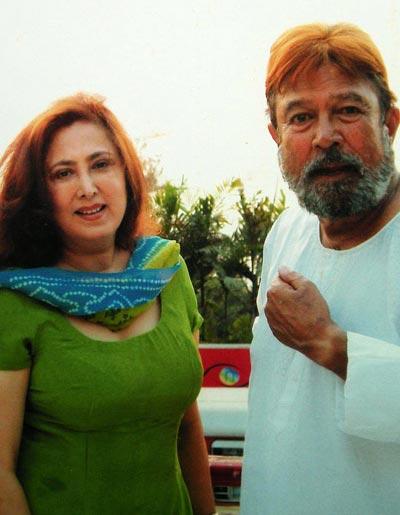 Meeting Rajesh Khanna for the first time

I first met Rajesh Khanna when I was still in school. I was just 13 then and a huge Rajesh Khanna fan. I was doing my schooling in Jaipur, and had come to Mumbai for a holiday.
A family friend took me to Mehboob Studio. When we reached there his car was leaving so we followed the car to his house. Since the family friend knew him, we got invited into his house.

We were offered tea. Rajesh Khanna sat and spoke to us. He asked me for my number, and said we will keep in touch. He told me to come and see a shoot. I was very happy.

He called after a few days and asked me to come and see his shoot in Mehboob Studio.

When I went on the sets, he was shooting a song with Mumtaz. It was a rain song. I was asked to wait in his make-up room.
I had come for a few minutes to see the shoot, but mostly I was waiting in his make-up room. I was too young and didn't understand why he asked me to wait there.

He came to the make-room and he was there with me for quite some time.
That's how we started meeting. He wasn't married then.
I had taken a year's break between my ninth and tenth standard and was living in Mumbai for six months. We were in touch during that time.

I fell in love with him. He gave me so much attention. The way he spoke to me, I was totally blown over.

When I returned to Jaipur, I couldn't get over him. But I never called him. There was no fight but I was very upset with something that had happened. We just parted. He never kept in touch with me after I left.

I went through lot of depression but was too young to understand that it was depression. I became very quiet and aloof.

My parents didn't know what was happening in my life. Only my elder sister Kadambari was aware of my relationship with him.

I never got married. I was in love with him but I never wrote letters to him or called him. I went through a very bad time.
'Dimple would give him a divorce on the condition that he left all his property in her name and that of their children'
Last updated on: October 15, 2013 18:12 IST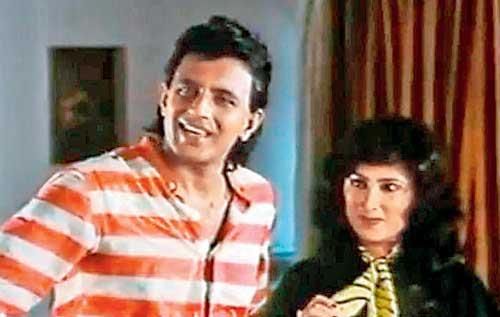 Big fight with Rajesh Khanna

After my graduation, my family and I shifted to Mumbai. I met him again, maybe 10 years later.
I had a big fight with him after meeting him. I was 23 and I could understand what had happened to me. Why I went through depression, why I cannot like any other man.

Every other man would seem so ordinary in front of him. I could never fall in love with anyone else. I had lots of guys wanting to marry me but I would never ever look at them because mentally I was still there with him.

Rajesh Khanna told me he was fond of me and that he will always be there for me.
We spoke out our differences but we parted ways. He told me to keep in touch with him but I did not want to get back with him because there was nothing in common between us.

Rajesh Khanna's marriage to Dimple had broken up by then. They separated but she did not want to divorce him.
Dimple told him she would give him a divorce on the condition that he left all his property in her name and that of their children. He did not agree to that and so they didn't divorce.

I did a couple of movies -- Raj Kumar Kohli's Saazish, and Chorni in which I played Neetu Singh's younger sister. I was not really interested in movies.
I designed clothes for boutiques, did some interior designing, made jewellery pouches for top jewellers… I was quite busy but was on my own.
My parents wanted me to get married. I missed out on some very good marriage proposals; I would have been happily settled and would have had children by now.

At times, I felt very lonely. So many friends of mine were married and settled. Being single was very difficult.

Rajesh Khanna and I started meeting again at functions. We would speak very cordially. He would keep asking me to call him but I never did. I was scared of breaking my heart again.
At one party, he put his arm around my waist and asked why I didn't call him.
He spoke to my sister and asked her to convince me. He always seemed like he was very fond of me.
'I lived with Rajesh Khanna like his wife'
Last updated on: October 15, 2013 18:12 IST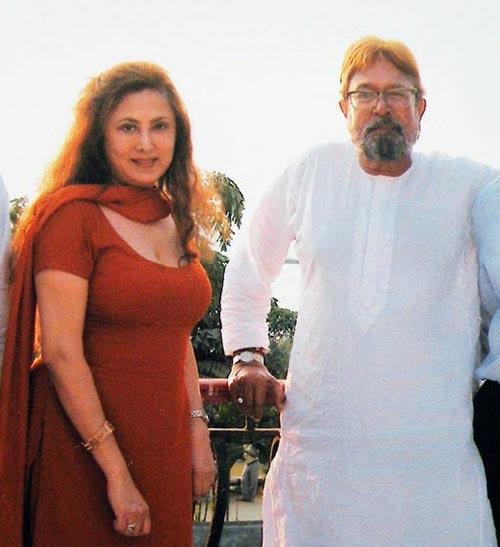 Moving in with Rajesh Khanna

We started meeting regularly in 2000. I would go to his office. If he did not see me, he would call me 10 times. I used to go to a health club Zaf The Fitness Zone opposite his office and after my workout we would meet. I spent a good amount of my time with him.

I moved in with him towards the end of 2006. I lived with him like his wife. He would say that I met him at the wrong time. He regretted not marrying me and that I was too young when we met.
My family was against me living in with him but Kakaji would try and convince them.

When I was with him in 2006, he was still the king, even though he was not working in films. People went mad after him. He was still on a pedestal. Whenever people came to meet him they would touch his feet, they would keep quiet to listen to him speak.
'When Kakaji was drunk, he would even hurt me sometimes'
Last updated on: October 15, 2013 18:12 IST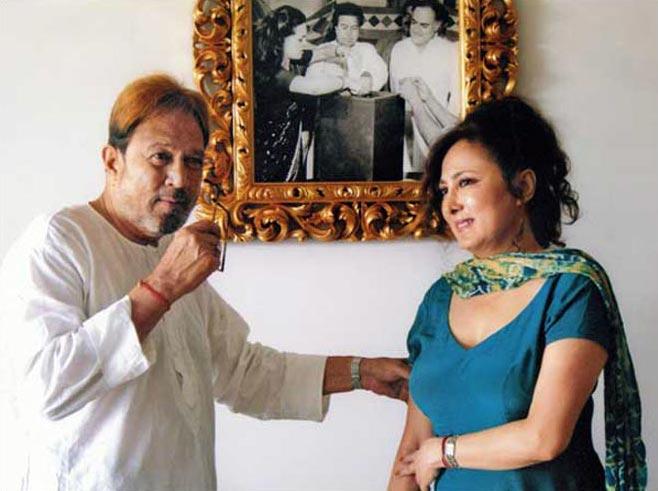 Dealing with Rajesh Khanna's mood swings

Later, he became a recluse. He was scared of being alone. He missed having people around him. We would switch on all the lights and switch on the television and go to sleep because he wanted to feel that people were around.

He was a difficult man to live with. After a drink or two, he could be rude. You had to really know his moves and manage him.

I learnt to deal with him. Earlier I would fight and argue with him. But he made me understand. He told me 'Even if I am wrong, just keep quiet'.

Anything could upset him. It was like he had to get angry; the reasons were never important or logical. It was really difficult.

When he was drunk, he would even hurt me sometimes. But when he was not drunk he was the best person to be around.

He was my choice. I didn't regret it.

We would have so much fun. Around 3 in the morning he would wake up and be in such a good mood. He would laugh and talk and smoke. I told him whatever it was I wanted and at that time he would listen and talk.

We would go out for drive at 3 am -- to Juhu, or into town. After returning he would go back to sleep and get up at 7:30 for his cup of tea and get me my cup of tea too every morning. I miss those days.
The bad time was from 6:30 pm when he started drinking, till dinner time. He would go to sleep at 9 or 9:30.
He wouldn't watch his own movies but I did when they came on television.
'Kakakji did not take a penny from Akshay'
Last updated on: October 15, 2013 18:12 IST
Rajesh Khanna's illness

He was drinking too much (in his final years). He had a liver problem. Drinking was the only problem that made him sick.

From the time I shifted in with him I had never seen anyone from his family. They did not come to the house and they were not even allowed to come. Once or twice his daughter (Twinkle Khanna) or Dimple came to meet him in the office, but not at home.

They would speak on the phone. They were friends, they would share their problems on the phone related to the kids. Akshay (son-in law Akshay Kumar) never came home.

Akshay never paid for the house renovation. Kakakji did not take a penny from Akshay.

He had so much money that he could take care of himself. He had invested well.

Kakaji and I went to meet Dimple when her sister Simple was sick. They were aware that we were living together. Also, we met at many events and functions and there were reports about us in the newspapers too.

They were very cordial and nice to me. It was when he fell ill a year before his death, and after the puja in the house that followed the renovation, that they started coming regularly.
They would spend a couple of hours there. If I was out, they would call me and ask me when I would be returning so that they could leave.

When they came, I took care of them. I would tell them where his things were kept. Dimple didn't even know who all came to the house to see him. I would tell her, and we were like friends.

I was happy that his family had come to him. It was difficult for one person to take a decision since he was sick, so I would consult with them too.
I was very scared that his health was deteriorating. (Rajesh Khanna's former love) Anju Mahendroo would also sit with him once in a while. We bonded very well.
'I was thrown out of the house when he was in hospital'
Last updated on: October 15, 2013 18:12 IST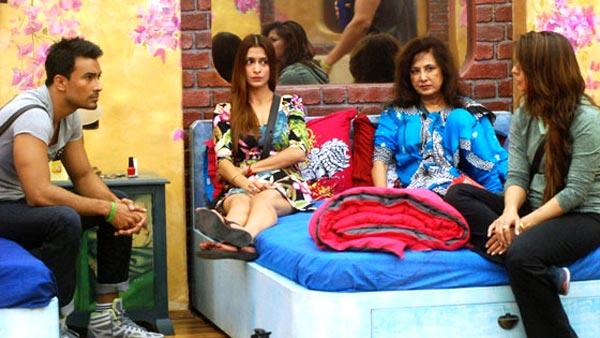 How she was thrown out of Rajesh Khanna's house

The doctors had told us that he could go any time. He had become very weak, he had started hallucinating, and couldn't understand things.
And at such a time, they (his family) wanted him to sign the will.

There were fights in the house. They brainwashed the staff, they told everyone to get me out of the house. People were telling me that they were scheming against me, but I was lost in his sickness.

I would be up till 2 or 3 am with him. I was drained taking care of him. He was in pain. He was the kind who would take pills for everything, sometimes even for hiccups.

Two months before his death, things started getting worse. They asked me to leave the house.
I was thrown out of the house when he was in hospital. Once the will was signed, their attitude towards me changed.
Kakaji was not in his senses at all. When the will was signed, I was asked to leave the room. The way they made him sign the papers, I was very upset, it was not right.

I was not allowed to go into his room in the hospital. Everybody could meet him but they told me that you can't go inside, he doesn't want to see you. Kakaji was not in a condition to talk and they were talking for him.

Even the nurse was rude to me. Then I lost my cool I told them 'enough is enough, don't think that I come from the streets that I will take all this rubbish. I am very silent and quiet but that doesn't mean I am weak. I am a very strong person.'

When he passed away, I was there. I was in the room when the last puja was performed.
But when I got into the truck in which his body was being taken to the crematorium, I was pushed out. I was told it is only for the family. I asked them 'Am I not his family?' They said 'No'.

I would not have done what I did if they had shown some gratitude.
I never wanted his property. I always said 'Aashirwad ko museum bana do'. He wanted the house to be turned into a museum.

He wanted to be cremated in Santa Cruz crematorium as the place is always surrounded with people. I told everybody about his wish but nobody listened.

I always trusted Kakaji because he told me he would look after me. I never doubted all these people because they were all really well-to-do.