Check out the Heroines in Bollywood
Last updated on: May 23, 2011 18:14 IST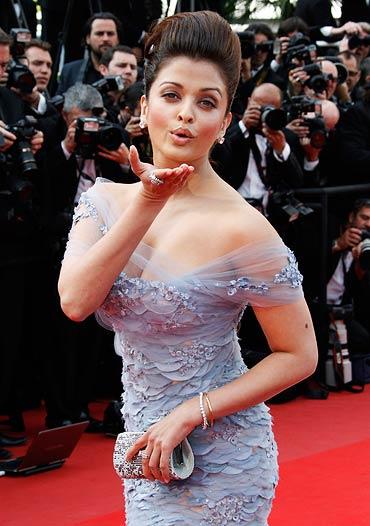 Bollywood actresses play all sorts of roles, from campus hotties to courtesans and from princesses to journalists. But it is when they play a heroine in a film-within-film that they generate the maximum buzz.

For instance, no sooner had Aishwarya Rai Bachchan been revealed as the heroine in Madhur Bhandarkar's latest film Heroine than the tongues started wagging. Will she pull it off? Isn't she the right choice?

Questions can wait for a while. In the meantime, check out the women, who've reflected on their professions in the recent past and whether they made the cut or simply failed.
Aishwarya Rai Bachchan in Heroine
In the hands of Madhur Bhandarkar, who's known to extract solid performances out of his actresses (Tabu in Chandni Bar and Konkona Sen Sharma in Page 3), will Mrs Bachchan deliver a knock-out?

Word is that the film derives its story from the troubled life of Hollywood's legendary star Marilyn Monroe. However, Aishwarya's character Mahi is said to have been heavily Indianised and that Madhur has borrowed from some Indian actresses as well.

Katrina Kaif (Tees Maar Khan)
Last updated on: May 23, 2011 18:14 IST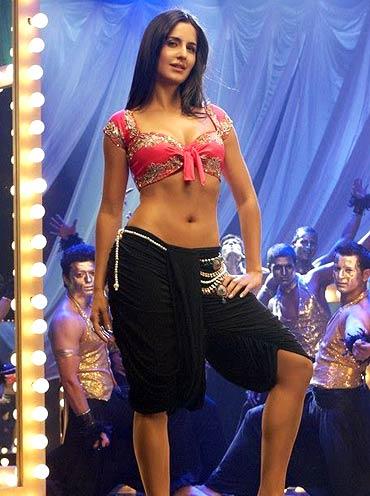 The brainless bimbo that she is, Anya (named after director Farah Khan's daughter) should be set as a perfect template for bad acting.
Just before an important scene in a mock-film that Tabrez is directing, Anya is the kind of actress who rushes off to apply more make-up; as if that would enhance her acting. Obviously, the character is conceived that way and intended to generate laughter.
Honestly,
Sheila Ki Jawani
saved the day.
Kangna Ranaut (Once Upon A Time In Mumbaai, Woh Lamhe
Last updated on: May 23, 2011 18:14 IST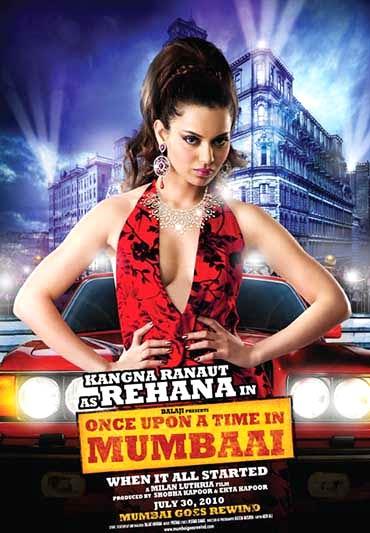 Her lover, crime boss Sultan Mirza, has absolute control over Mumbai and she, over him. Kangna's Rehana in Once Upon A Time in Mumbaai is easily inspired Haji Mastan's wife Sona on whose rags-to-riches story the film was based. Kangna tried to imitate Madhubala, too, since Mastan was said to be an admirer of the late actress.
In Woh Lamhe, Kangna does a take-off on Parveen Babi.
Deepika Padukone (Om Shanti Om)
Last updated on: May 23, 2011 18:14 IST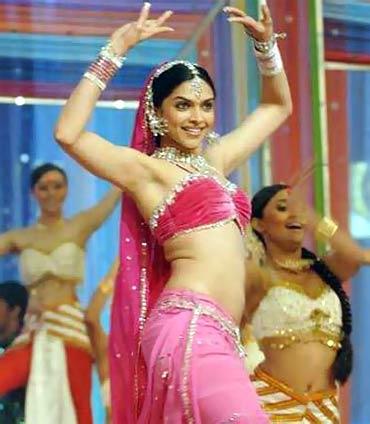 An antithesis to Anya, Farah's other heroine, Shanti Priya acts quite okay and has shades of Hema Malini. Remember the premiere of her film, Dreamy Girl?
A satire on the film industry, of which Shanti Priya is just a small part,
OSO
goes on to re-incarnate Shanti as Sandhya who is being trained to play the former's ghost. Probably the most challenging aspect of any role, one must say.
Mallika Sherawat (Maan Gaye Mughal-E-Azam)
Last updated on: May 23, 2011 18:14 IST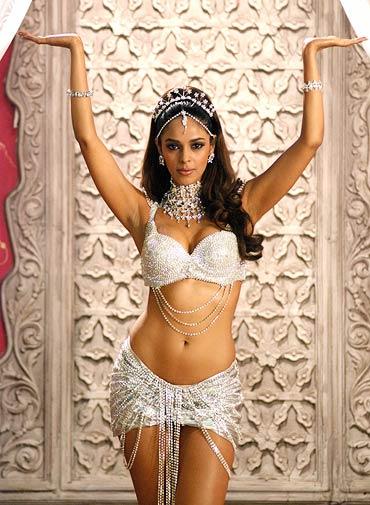 Ms Bombshell as Madhubala? You gotta be kiddin'. It is true that Mallika gets to play Anarkali in this Sanjay Chhel film which owes more to
Jaane Bhi Do Yaaro
than the K Asif blockbuster.
As the flirtatious wife of Paresh Rawal, Mallika appears ill at ease with comedy but looks hot throughout. As her on-screen husband says,
'Woh sexy hai.. lekin yeh item-witem nahin hai. Ek sanskari ghar ki nari hai.'
Whatever that means.
Preity Zinta (The Last Lear)
Last updated on: May 23, 2011 18:14 IST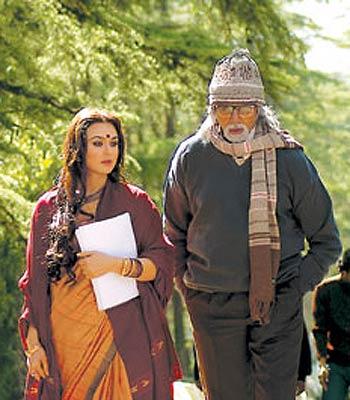 Although the film belonged to the men (Amitabh Bachchan and Arjun Rampal), The Last Lear offered an unusual role to this dimpled beauty. That of an anguished actress Shabnam, mortified by her suspicious lover and a largely abusive relationship she shares with him.
As she settles into a genteel bond with Big B who returns the gesture by giving her acting tips, Preity pulls off a mature performance.
Lara Dutta (Bhagam Bhag)
Last updated on: May 23, 2011 18:14 IST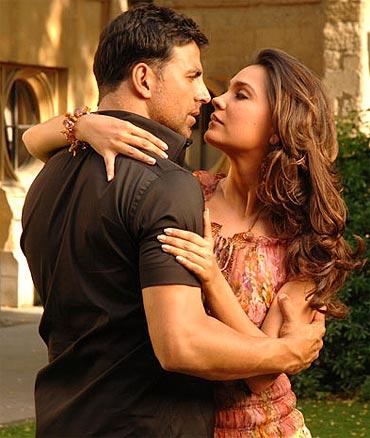 Mrs Bhupathi's entry into Priyadarshan's
mandli,
this madcap is all about a lost heroine and a found heroine. Don't get the lost and found device confused.
The heroine of a theatre group, which has Govinda and Akshay Kumar as chief contenders for the lead role, has fled. The organiser sends them on a wild-goose chase to look for a heroine and whoever gets one, will get to play the hero. Which is to say Lara is a heroine just for the sake being one. Tut tut.
Bhumika Chawla (Silsiilay)
Last updated on: May 23, 2011 18:14 IST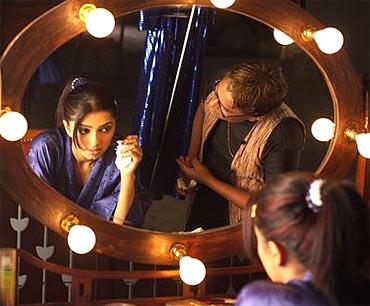 Khalid Mohamed's very own Love Actually-meets-La Voix humaine, one of the segments feature Bhumika as Zia, an upcoming actress.

Mirroring her own career in a way, Zia is depicted as a South Indian actress who wants to be a star and is living in with her boyfriend. This one's more about her personal trauma than lights, camera and action.
Urmila Matondkar (Rangeela)
Last updated on: May 23, 2011 18:14 IST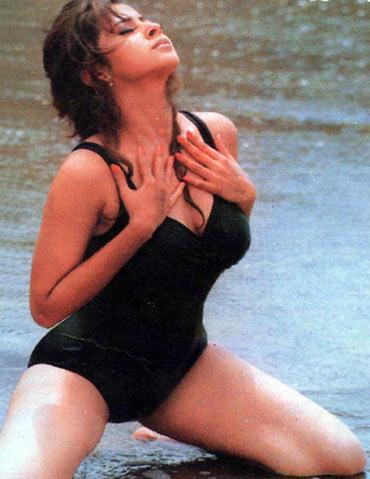 RGV's earliest creation, Mili is carefree, garrulous and has a soft corner for the reigning superstar, Raj Kamal.

All day she either hangs out with the street-side tapori Munna or dreams of making it big in Bollywood. As she fulfils her dream of becoming an actress, at her first premiere she's beset with a difficult choice: Munna or the superstar Raj Kamal?