Would Deepika make a hot Little Mermaid?
Last updated on: March 10, 2011 18:17 IST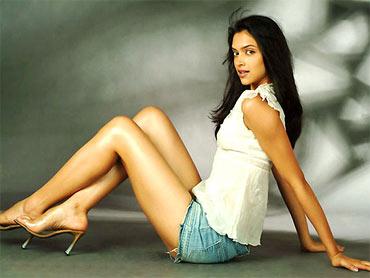 Following Tim Burton's success with Alice in Wonderland, Twilight director Catherine Hardwicke is ready to release her eerie take on Red Riding Hood, starring Amanda Seyfried, even as Kristen Stewart is on board to play Snow White and Channing Tatum is hankering for the titular part in Peter Pan.
What if Bollywood was to create its very own version of Fairy Tale Theatre? After all, there's no dearth of ethereal faces in this part of town. We decided to have some fun with the prospect. And so here's a look at potential contenders to play beautiful princesses, enchanted maids or quest-undertaking lads in case Hindi films ever decides to dole out a desi Once upon a time.
Deepika Padukone, The Little Mermaid

A fabulous figure and well-defined features makes Deepika fairly easy on the eyes, wouldn't you say? Take that and slip it into a shapely mermaid body with a slinky bustier and wildly flowing tresses as she rests atop a sea rock longing for a mortal prince and a pair of feet. Quite a splash!
Or maybe we should just sell this idea to the creative team behind Kingfisher's annual calendar?
Katrina Kaif and Rekha, Snow White and the Seven Dwarfs
Last updated on: March 10, 2011 18:17 IST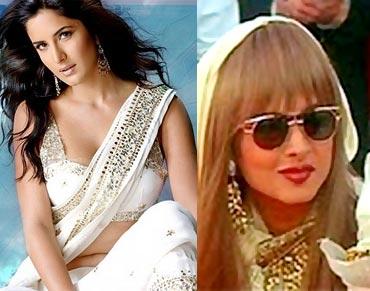 Even Sheila ki jawani's in-your-face sexiness cannot diminish the appeal of Katrina Kaif's doe-eyed charms. And it's only fair that she signs up to play amaiden with 'lips red as the rose, hair black as ebony, skin white as snow,' shooed off by the vanity-driven queen into athick forest to take refuge with seven distinctive dwarfs.
While it would be great to see Rekha cackling evil sentiments in the skin of a beauty-obsessed diva, Aamir Khan, with his penchant for avatars, just might agree to play all the seven CGI-supported dwarfs.
Sonakshi Sinha, Cinderella
Last updated on: March 10, 2011 18:17 IST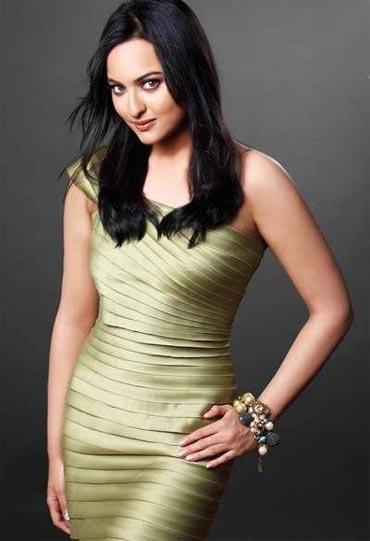 We've already witnessed her competence at pottery making in Dabangg. Playing Cinderella, however, offers Sonakshi an opportunity to better her housekeeping skills. It's not hard to picture the dainty newcomer singing to birds while polishing the china or making a sulky face when the wicked stepmother picks her ugly daughters over her to attend a dance.
At the end of the day, Cinderella had it real good. She got to be the belle of the ball, marry the prince, rule a kingdom and keep the glass slippers. Manolo Blahnik could sponsor them, no?
Saif Ali Khan, Pinocchio
Last updated on: March 10, 2011 18:17 IST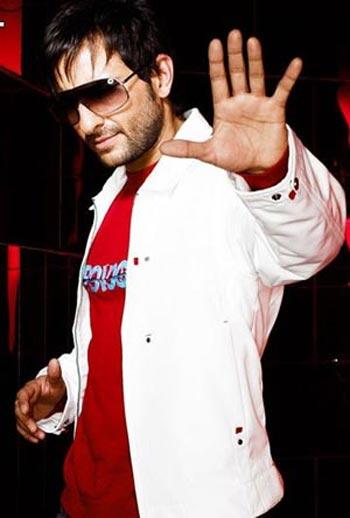 Liar, liar, nose grows higher.
Although Saif Ali Khan is one of the most candid and suave celebrities in the business, he's got a rather pointed nose, don't you think? A touch of prosthetics from the same fell responsible for Nicole Kidman's Oscar-winning nose in
The Hours
and Saifoo would make one hell of a 'real boy.'
Guess what? Even the Blue Fairy agrees.
Aishwarya Rai Bachchan, Sleeping Beauty
Last updated on: March 10, 2011 18:17 IST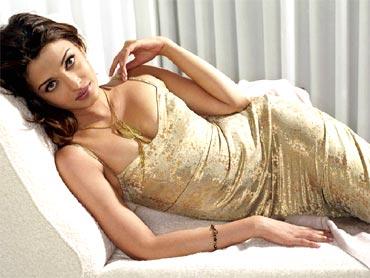 Playing this particular princess is one of the easiest roles in the history of fairy-tale characters. All Ash has to do is be herself do the usual red carpet gig smile, doll up and make men go weak in their knees before Prince Charming (hopefully Hrithik Roshan) kicks the bad dragon's ass and plants a kiss on this stunning cousin of Kumbhkaran.

Considering majority of her films are snooze fests anyway, it's only fair Bollywood's greatest beauty gets to enjoy a much-deserved nap on-set.
Kareena Kapoor, Red Riding Hood
Last updated on: March 10, 2011 18:17 IST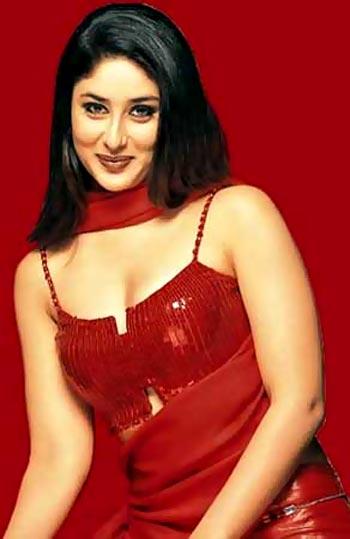 Imagine Bebo in a red cloak, designed by Dior (no less), carrying a Louis Vuitton-labeled basket of goodies (hopefully not the ones prescribed by her dietician) for her ailing grand mom who for some weird reason picked a cottage in the middle of a creepy old forest to reside.
Oh grandma, what a great promo. And before you cry wolf, isn't that how most Bollywood works? Rocking trailers, rotten movies.
Ranveer Singh, Aladdin
Last updated on: March 10, 2011 18:17 IST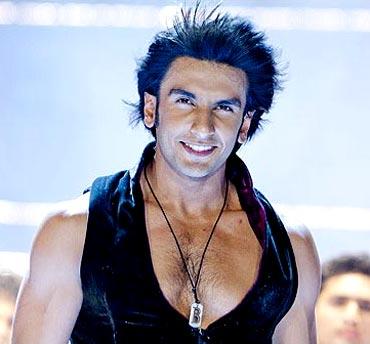 Of magic lamps and chatty genies, Aladdin is one the most popular fantasies of all 2001 Arabian tales.
As the street-smart bloke who gets lucky, Ranveer Singh knows exactly what that feels. Plus, the current toast of Yashraj is just the right blend of charm and spunk to pull it off. But, of course, he can always slip Anushka Sharma for a whirlwind tour on a flying carpet.
Priyanka Chopra, Rapunzel
Last updated on: March 10, 2011 18:17 IST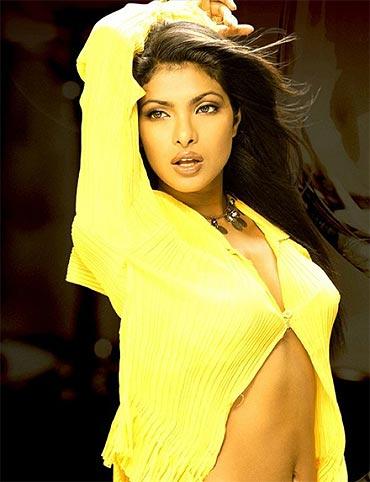 Given that Priyanka loves to wear extensions in her hair, donning Rapunzel's mane should be a walk in the park for the star.
Although do pray her murderous instincts from
7 Khoon Maaf
don't resurface. We don't want her to snip off that never-ending plait while a blue-eyed prince is still latched on to it, do we?
Imran Khan and Sonam Kapoor, Peter Pan and Tinkerbell
Last updated on: March 10, 2011 18:17 IST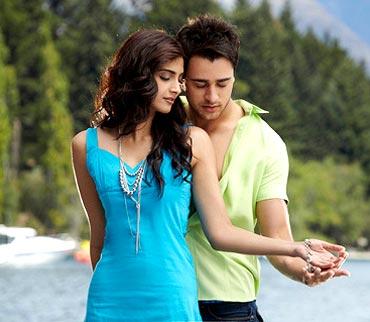 With that chocolate-faced disposition, Imran Khan looks every bit of an endorsement for eternal boyhood. Yes, even in green tights. Whereas Tinkerbell is the quintessential child woman in all her glittery pixie dust glory. Who better than our very own Sonam Kapoor to do her justice? The latter's rich fashion sense could make even a mythical fairy see green with envy.
Too English? Not feeling it? Oh well, see ya on the cover of Vogue then.
Omkar Das Manikpuri, Rumpelstiltskin
Last updated on: March 10, 2011 18:17 IST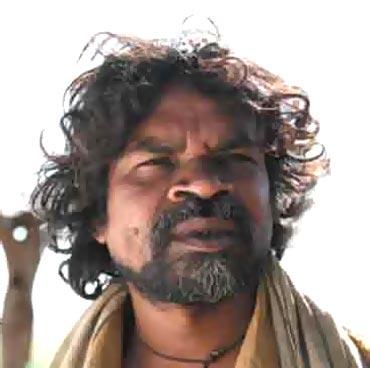 Peepli [Live]'s Natha is a mighty good actor. And it'll be super cool to see him flex his range as a sly, trouble-making goblin making life hell for a miller's daughter by asking her to guess his name.
Perhaps a certain Vishal Bhardwaj could be coaxed into adapting this Brothers Grimm' fairy tale for a children's film with the likes of Vidya Balan, exuding an effective mix of worry and wit, to challenge the mischievous workings of Rumpelstiltskin.