Looking at the men in Priyanka's life
Last updated on: February 16, 2011 12:14 IST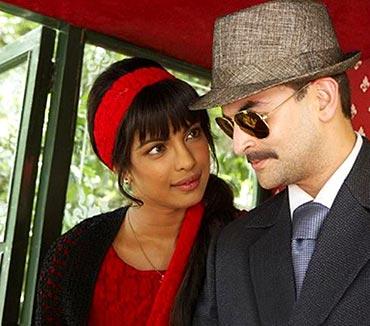 After playing 12 different roles in What's Your Raashee, Priyanka Chopra gets ready for another complicated role. Vishal Bhardwaj's 7 Khoon Maaf sees her in seven looks, as the film traces her through her life.
Based on Ruskin Bond's Susanna's Seven Husbands, the film is about an Anglo-Indian woman Susanna Anna-Marie Johannes, who bumps off her seven husbands one by one.
So who are these actors playing the unfortunate husbands? We take a look:
Neil Nitin Mukesh
The actor plays Susanna's first husband, Major Edwin Rodriques. A very young Susanna falls for Edwin's dashing personality and his uniform.
To get the look right, Neil took help from his uncle, who is retired from the army. The thick moustache, Aviator sunglasses and uniform were all inspired from him. Neil also gained five kilos for the role.
John Abraham
Last updated on: February 16, 2011 12:14 IST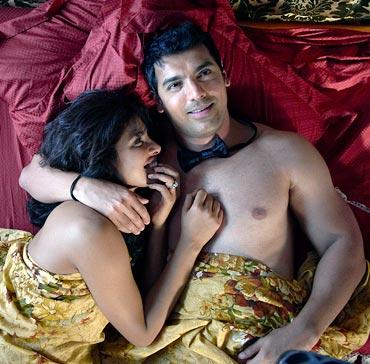 Good looks and musical talent is what makes Susanna fall for Jimmy Stetson, her husband number two.
She puts her money on Jimmy but she is unaware of what is in store for her.
John and Priyanka share a very steamy love-making scene in the film. In fact, John went completely naked for the scene with just a cap protecting his modesty.
Irrfan Khan
Last updated on: February 16, 2011 12:14 IST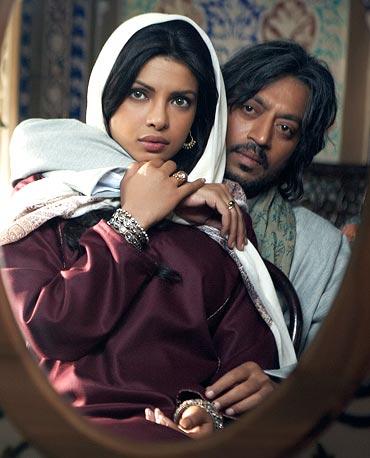 After the dashing Jimmy, Susanna moves on to husband number three -- Wasiullah Khan aka Musafir, played by Irrfan who looks far younger than his real age of 48 years.
He plays a romantic poet who sweeps Susanna off her feet. Unknown to Susanna, though, Musafir has a dark secret.
Apparently Gulzar has written some of his most romantic lines ever for Irrfan to woo Priyanka.
Irrfan had earlier played a love-struck poet in Govind Nihalani's Drishti in 1990, where he had romanced Dimple Kapadia.
Aleksandr Dyachenko
Last updated on: February 16, 2011 12:14 IST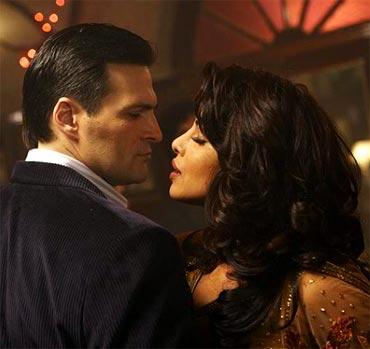 Done with husband number three, Susanna then moves on to Nicolai Vronsky, an attache to the ussian consulate in Chennai.
He meets Susanna on a horse racing track, and falls for her. Their happiness is shortlived when Susanna discovers that Nicolai has been cheating on her.
Annu Kapoor
Last updated on: February 16, 2011 12:14 IST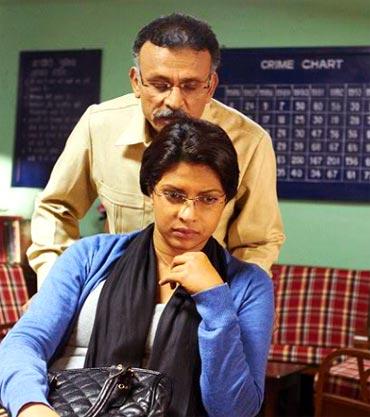 With the death of husband number four, Susanna is getting a lot of attention from the police. Displaying more attention than what is appropriate is Keemat Lal (Annu Kapoor), the investigating officer in the case.
His attraction to Susanna gets the better of him and he persuades Susanna to marry him.
Though Priyanka has intimate scenes with most of her onscreen husbands in the movie, she refused to get intimate with Annu Kapoor as he is her father's friend and quite elder to her.

It has been reported that Vishal Bhardwaj shot their expressions of ecstasy separately and put them together to give the audience an impression that it has been shot together.
Naseeruddin Shah
Last updated on: February 16, 2011 12:14 IST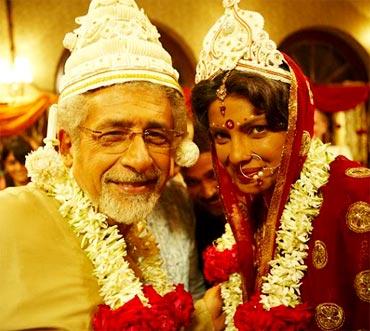 After the demise of husband number five, we see Susanna suffering from depression and indigestion. She goes to Dr Modhusudhon Tarafdar (Naseeruddin Shah) for treatment. Very soon, he becomes husband number six.
Naseer and Priyanka have earlier worked in Asambhav. During the shoot of Asambhav, Priyanka was apparently so much in awe of the actor that she would look at his feet while talking to him.
In 7 Khoon Maaf too, Priyanka said the actor was so good that she would stare at him instead of saying her dialogues.
Vivaan Shah
Last updated on: February 16, 2011 12:14 IST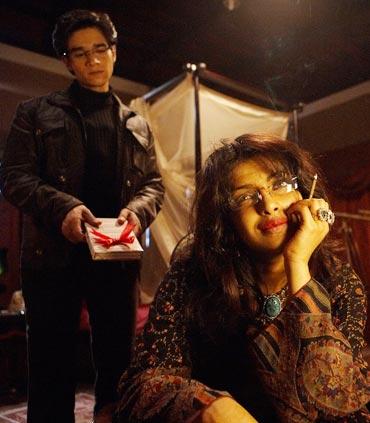 The identity of husband number seven has been kept under wraps. But the buzz is that Naseer's son Vivaan plays the role.
The film follows Vivaan's character through his life as well, as he plays Priyanka's domestic help. He is also the film's narrator.
Which husband, do you think, will shine over the others? Tell us!