A guide to EVERYTHING about romance, filmi style!
Last updated on: February 13, 2013 19:04 IST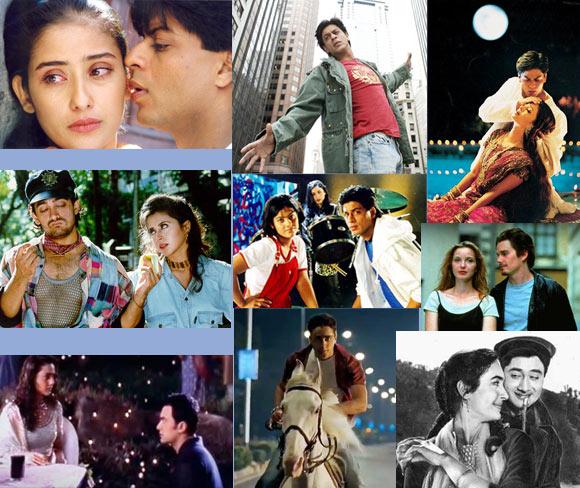 There's no love lost between Saint Valentine and I. He probably has no idea how much. 
Year after year, for over a decade now, I've religiously contributed multiple stories on Bollywood's everlasting romantic frame of mind on rediff.com

But this year when I was asked to do the same, out of sheer exasperation and exhaustion, I exclaimed, 'I have written everything on the subject, I am practically the last word on it.' 
So this year, I will guide you into the realm of L-O-V-E in the movies through this compilation on matters of the heart over the years.
Click NEXT to read further...
Seven stages of love
Last updated on: February 13, 2013 19:04 IST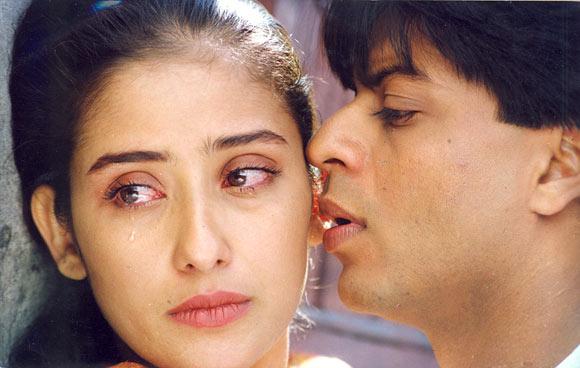 For one of our earliest specials on Valentine's Day, I took inspiration from Dil Se's promotional catalogue which refers to the seven stages of love -- Hub (attraction), Uns (infatuation), Ishq (love), Adiqat (reverence), Ibadat (worship), Junoon (obsession), Maut (death) and how they individually apply to specific scenarios in film.
In another feature, I whipped up some reel tips to real love.

You know? 'Jaisa filmon mein hota hain,' wooing the girl with the usual flowers, chocolates, song dedication and works.  
Lovelines
Last updated on: February 13, 2013 19:04 IST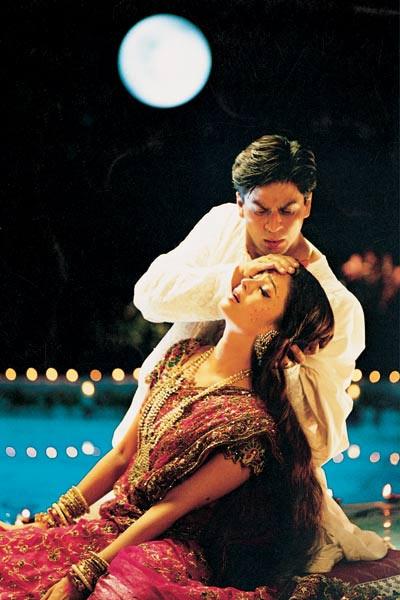 Dialogues leave quite an impression on movie buffs.

And it's always fun to quote everyone from Don to Devdas.
In Lovelines, I handpick words, from deceptively simple to deeply poetic, exchanged between a man and woman in love.  
Bollywood romances
Last updated on: February 13, 2013 19:04 IST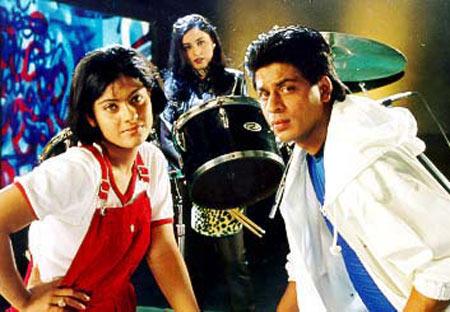 Okay, so here I share my favourite Hindi romances with you.

I remember a lot of readers wrote to me wondering why I picked Kuch Kuch Hota Hai over Dilwale Dulhania Le Jayenge.

And while I agree the latter is definitely more epic, I just naturally gravitated towards Rahul and Anjali and the whole 'Pyar dosti hai' funda. (Of course, later that year I began living out my personal DDLJ and I have felt a lot differently ever since. ;-)) 
Romance and heartache are two sides of the same coin.

And it's almost indescribable how manageable the blues can be when accompanied by a touching song that articulates one's state of mind.

So here's a list of some heartrending playlists for the heartbroken from Pyaasa's timeless Jaane woh kaise log to Kal Ho Naa Ho's title track.
Shah Rukh Khan: The face of Valentine's Day
Last updated on: February 13, 2013 19:04 IST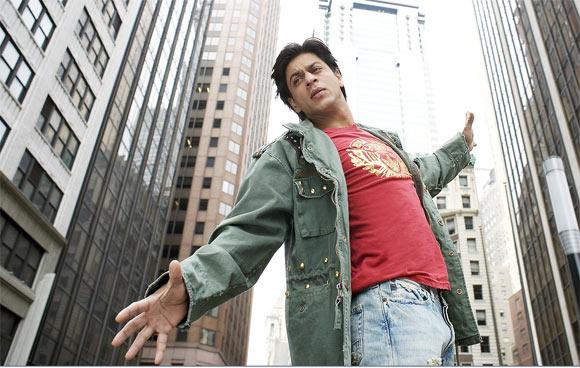 He may save his releases for Diwali but Shah Rukh Khan is the unofficial ambassador of everything amour and by default the face of Valentine's Day. 
'Though he started off as the neurotic lover, the actor has mastered the art of winning the girl film after film.

Perhaps that's what makes him a superstar.

He always wins -- the girl and the audience, is what I wrote in my column discussing the attributes of the badshah of romance whose last release was a Yash Chopra love story, Jab Tak Hai Jaan. 
Must Watch on Valentine's Day
Last updated on: February 13, 2013 19:04 IST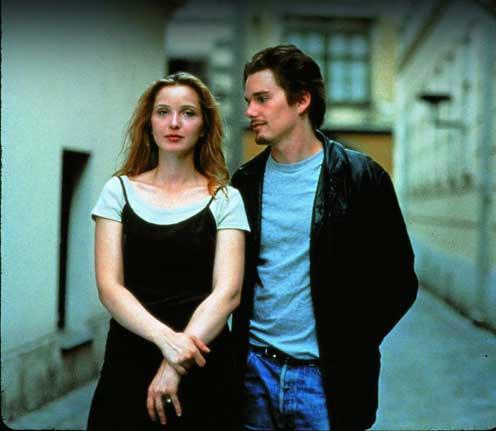 Easily one of the most aggressively marketed festival on the planet and yet Valentine's Day is, sadly, not a public holiday. (That would surely lead to a few less haters.)
That doesn't mean one can't watch movies dripping with the emotion of the day? 
Whether you're single or have a date, you can snuggle up to a pillow or your partner with a box of popcorn watching your pick from a range of DVDs/Blu-rays.

Like the stunning Before Sunrise, entertaining Shrek or a charming Rajnigandha among our recommendation of movies to watch on V-Day.

Or you can catch up on these underrated Hindi romances like Chameli Ki Shaadi or Chhoti Si Baat, which while widely adored and watched haven't received the same decibel of attention or recognition as a certified classic.
Romance, Hollywood and Bollywood style
Last updated on: February 13, 2013 19:04 IST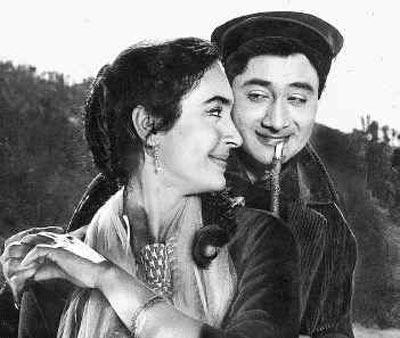 In 2008, I return with some more recommendations of movies to catch on V-Day.

It's a wild mix of lively desi fare, beloved Hollywood rom-coms and some immensely watchable foreign films. Tere Ghar Ke Saamne, The Princess Bride, Jeux d'enfants, you get the picture?    
The imagery of romance on celluloid is what lingers on years after its first appearance on screen.

So here, I observe its changing face through Bollywood's popular romantic moments.
Bollywood's hardcore romantics
Last updated on: February 13, 2013 19:04 IST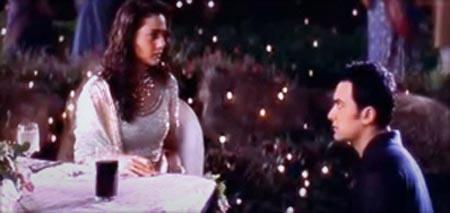 A lot has changed in the portrayal of romance (they're calling it Ishq-wala Love these days) but the excitement leading up to the part where he or she proclaims their feelings remains the same. 
Be it Dil Chahta Hai's Aamir Khan gate-crashing Preity Zinta's engagement ceremony to go down on his knee and propose the obvious or Kareena Kapoor dumping her beau to run back into Shahid Kapoor's arms in Jab We Met, here's a look at six recent scenarios revealing Bollywood's hardcore romantics in all their unabashed glory.  
Favourite Happy Endings
Last updated on: February 13, 2013 19:04 IST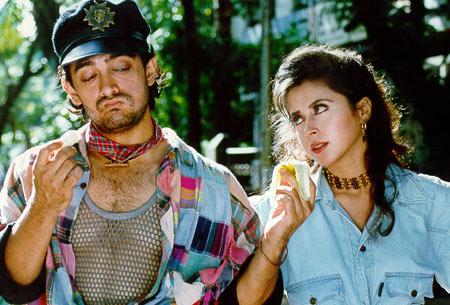 Who doesn't like a happy ending?

Devdas aside, there's much to cheer about one's favourite couple finding their blissful-ever-after in the climax. 
Even the most blistering cynic cannot help but momentarily give into grand illusions when the duo happens to be as lovable as the iconic ogres Shrek and Fiona or Jerry Maguire and Dorothy Boyd's tearful reunion that had the entire audience at hello or the impossible, far-fetched but so damn believable affirmation of affections between Munna and Mili in Rangeela. 
So here it is, my 10 Favourite Happy Endings.  
Grand methods to propose
Last updated on: February 13, 2013 19:04 IST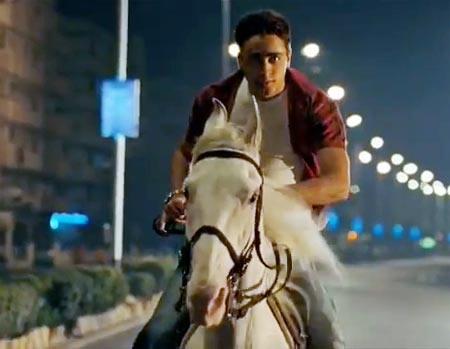 One simply cannot ignore Bollywood or its outrageous way of approaching romance.

Notice how it puts ideas in an average moviegoer's head with its grand methods to propose?

No? Here's how.  
From galloping gallantly on a horse all the way from Marine Drive to Mumbai airport and then dash within its secured premise to stop the girl from flying out of the country by singing a RD Burman song to abandoning a discourse on Botany to offer a marriage proposal instead or setting off ingenious kabootars as the fastest courier service in town, Bollywood truly epitomises all is fair in love and war.