9 things Salman Khan must have KICKed himself for!
July 22, 2014 09:59 IST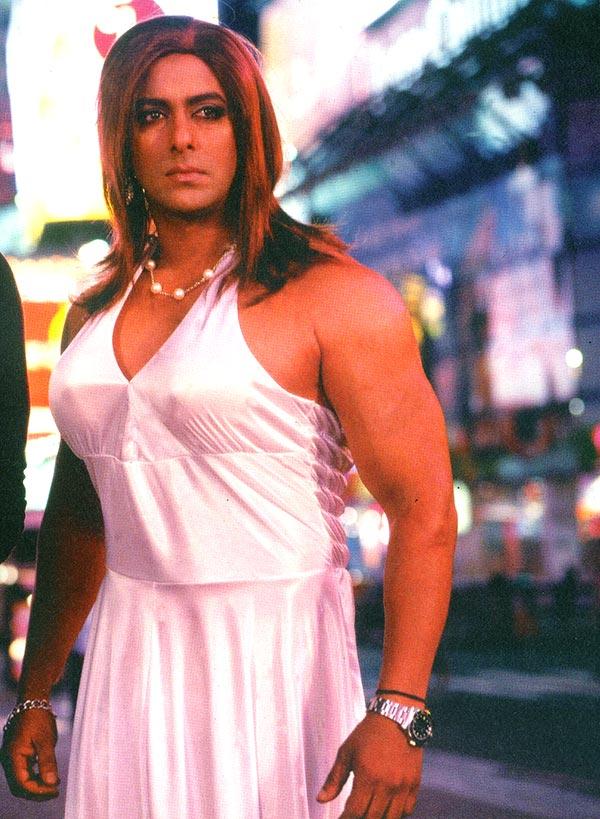 He maybe enjoying an outstanding run at the box office at present, with his Eid release Kick poised for a record-breaking opening week, even a star like him is not without a few skeletons in his onscreen closet.
Take a look at the ones we have dug out!

Salman Khan doesn't make ill-advised choices when it comes to films.

Or does he?
Take a look at these epic styling fails he's suffered in his eventful career spanning over two decades and decide!

Jaan-E-Mann

Salman Khan in drag was definitely the least of this Shirish Kunder film's troubles.

Behold that sight for a moment, for a picture is worth a thousand words indeed.

Please click NEXT for more.
Suryavanshi
July 22, 2014 09:59 IST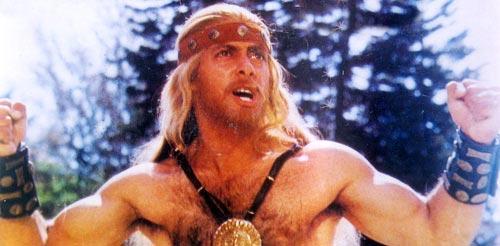 If crimes of passion had a face, this would be the most accurate representation for them.

Also, it strikes as exceedingly amusing that Suryavanshi released in the same year as Rahul Roy starrer Junoon.

Did Salman source leftover werewolf hair from Junoon sets to play this flashback avatar in his own film?


Auzaar
July 22, 2014 09:59 IST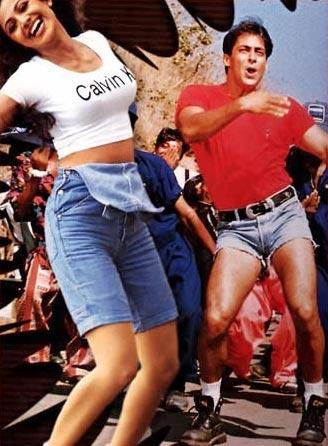 Unlike most of his contemporaries, Salman Khan was probably all too conscious of his youth and its fleeting ways.

So when he realised that he was at the peak of his physical form, he decided to immortalise it on 70 mm.

Various states of shirtless-ness are acceptable.

This is not.
Totally unrelated: Let's just take a moment to appreciate nature's fine craftsmanship (HOLY COW THOSE LEGS!).
Mujhse Shaadi Karogi
July 22, 2014 09:59 IST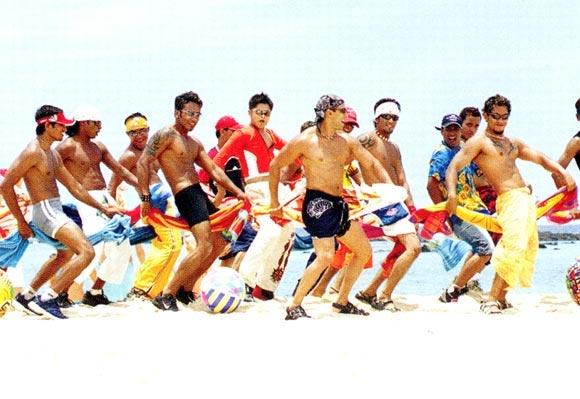 So clearly, Bollywood's penchant for over-explaining stuff transcends everything.

Yes, we get the subtext and profundity of 'jawaani,' and how once gone, it doesn't come back.

But Salman (or his choreographers) were too smart to leave it to chance.

Hence, those subtle pelvic thrusts AND the towel gesture, just in case we missed it.
Saawan
July 22, 2014 09:59 IST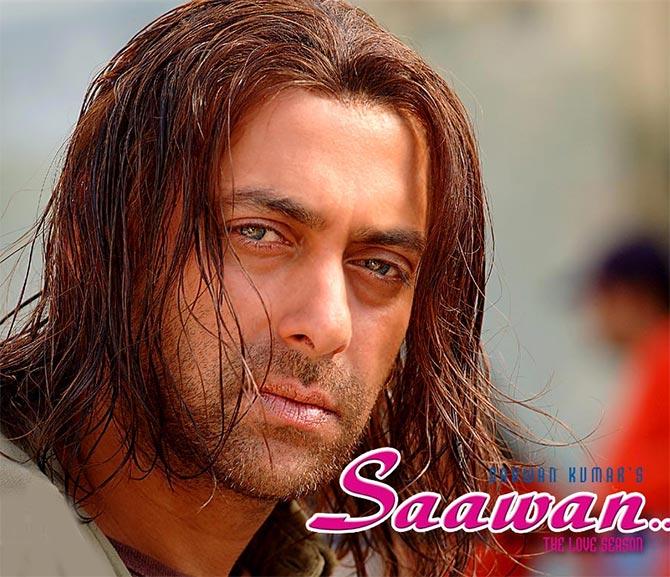 This film's title was based on its director Saawan Kumar's first name.

That bit of trivia is important because it puts a lot of things in perspective.

All of us now know where he, and this killer wig, are coming from.
Veer
July 22, 2014 09:59 IST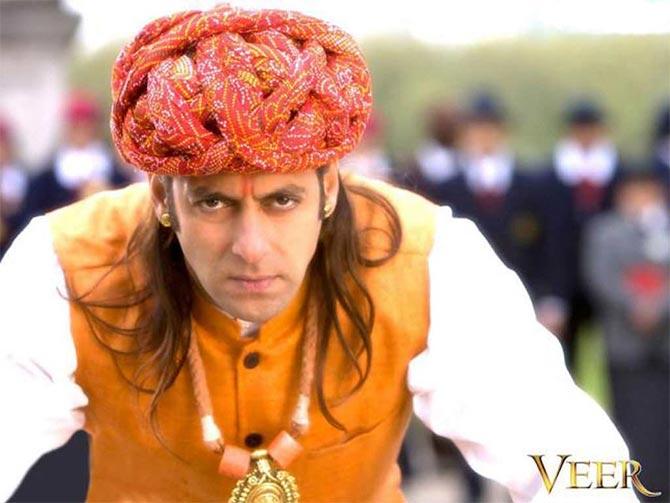 How do you explain this?

Okay, here's our theory.

Before casting himself as the lead in Paheli, Shah Rukh Khan offered it to Salman and snuck the role right from under his turban when poor Bhai turned up on the sets, in character.
Subsequently Veer, the hate crime, was committed by Salman four years later.



Veer
July 22, 2014 09:59 IST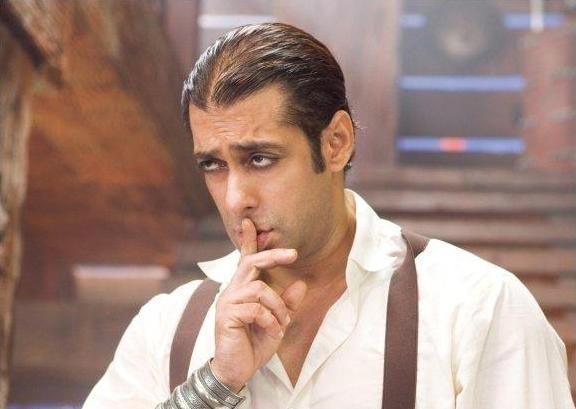 Receding hairline, that bizarre bracelet and odd-looking kohl-lined eyes.

Was Veer also Salman Khan's midlife crisis?
If it was, it certainly makes SRK's midlife crisis look good.
Har Dil Jo Pyar Karega
July 22, 2014 09:59 IST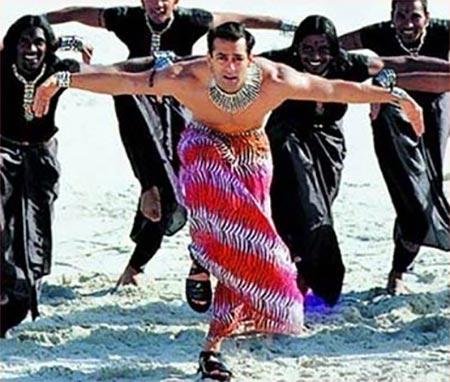 Warrior prince.

Tribal leader.

Human incarnation of a heavenly being who can fly on certain days of the year.

No matter how awesome the aforementioned characters sound, fact is, Salman Khan is just a lowly lover boy stuck between two best friends in Har Dil Jo Pyar Karega.

Even the backup dancers are amused at their hero's plight.



Sanam Bewafa
July 22, 2014 09:59 IST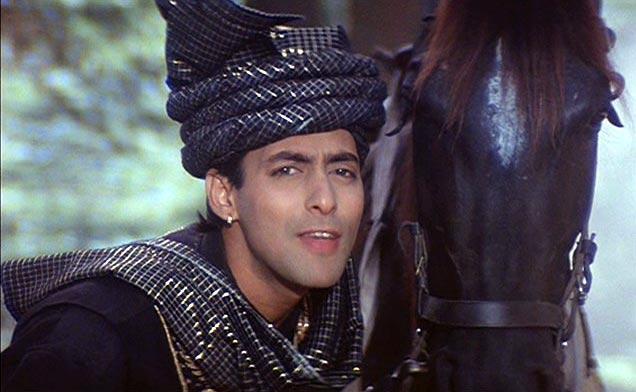 Dear Salman.

Kabuliwallah called.

He wants his costume back.