Celebrating 40 Years of Pakeezah
Last updated on: March 5, 2012 16:43 IST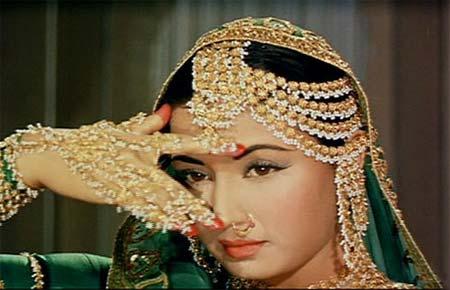 Meena Kumari's brilliant last film Pakeezah completes 40 years this year. We re-visit the film.
What makes Pakeezah such a cult classic 40 years since its release?
First released on February 4, 1972, with a grand premiere at Maratha Mandir theatre in central Mumbai, director Kamal Amrohi's Pakeezah received good press and an encouraging response. It's heroine Meena Kumari's death within two months of the film's release got it even more notice.

This is perhaps the tragedienne's finest performance. "But Pakeezah," argues Kamal Amrohi's son Tajdar Amrohi, who would visit the sets in Filmistan Studios often as a young boy, "is incomplete without Ashok Kumar, Raaj Kumar, Nadira, Veena, Ghulam Mohammed and Naushad's music, the train, the Gulabi Mahal and everything."

Tajdar shares his memories of the film that established his father's name among the pantheon of great Indian directors and the pleasure and pain behind the making of Pakeezah.
'Many people thought it's an outdated film, especially the music'
Last updated on: March 5, 2012 16:43 IST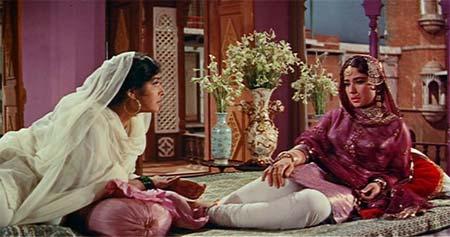 In many ways, Pakeezah was not an easy film to make.
It took 14 years of shooting and Amrohi's difficult marital relationship with Meena Kumari caused much of that delay.
At one point, the Amrohis underwent a period of great financial distress because they had invested all their money in it. "But baba never let us feel that way," says Tajdar.

Finally, their happiest moment came when the film was premiered at Maratha Mandir theatre and Tajdar remembers the prints being carried on a decked-up palanquin. When Meena Kumari arrived, after much persuasion, Tajdar went up and hugged his chhoti ammi.
"This was the first time the mother-son was up to this open display of affection. My father saw all this from a distance and he couldn't have been prouder," he says.
When the film ended, there was a mixed reaction.
"Many people thought it's an outdated film, especially the music. Just a year before, Johny Mera Naam had opened and it was believed to be a very modern film with exciting music. Next day, the reviews were out and they were quite good but baba never read what was written about him or his films."
'Kamal Amrohi and Raaj Kumar have had their moments of tu-tu-main-main'
Last updated on: March 5, 2012 16:43 IST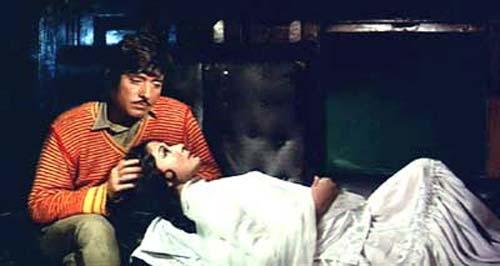 Amrohi and Ashok Kumar, who played the key character of Shahabuddin, were very good friends. "They shared a great comfort level and you could see that on screen," says Tajdar.

Earlier, Amrohi had made Mahal with Ashok Kumar in 1949; it kick-started the trend of supernatural movies and is mostly remembered today for its chartbuster Lata Mangeshkar number, Aayega Aane Waala. It was Dadamoni, being the producer at Bombay Talkies, who recommended Amrohi's name to his partner Savak Wacha.

Unlike Dadamoni, Amrohi's relationship with his film's hero Raaj Kumar was rather strained at first. "They have had their moments of tu-tu-main-main," says Tajdar, revealing, by way of example, a scene in which Raaj Kumar gets into a scuffle but he refused to get hit simply because he was Raaj Kumar, the superstar.
"He wanted to overturn the horse and beat this character to pulp but baba told him he must behave like Salim and not like Raaj Kumar. Salim is a forest ranger and his actions and behaviour must match that of his character's. Finally, realising that baba is very ziddi, Raaj Kumar saab gave in and said, 'Do Kamal saab, as you please."
In due course, Amrohi and Raaj Kumar became good friends, so much so that at a gathering when somebody was bad-mouthing Amrohi, Raaj Kumar jumped at the man. "Raaj Kumar saab said how dare you pull down Kamal Amrohi. Baba and he became very fond of each other."
'Chhoti ammi and baba had a dignified romance'
Last updated on: March 5, 2012 16:43 IST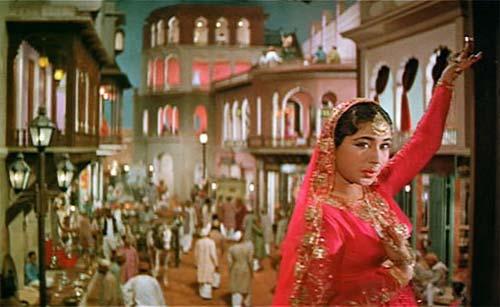 Most of the film was shot at Filmistan Studios where the magnificent sets were mounted. The chandeliers were imported from Belgium and bills of the carpets alone ran into lakhs.
"But baba was not very attached to money. He led a life of a fakir but he had high ideals and high thinking," he says.
Inspired by his own haveli back home in Amroha, Uttar Pradesh, he recreated the exact replica in Mumbai.

"What you see in Pakeezah is exactly how our home looked like -- the same windows, chandeliers, arches and curtains."
The grandfather's character was taken from Amrohi's father. "The dining table sequence in which Raaj Kumar says, 'Afsos, log doodh se bhi jal jaate hai (Alas, people get burnt by milk, too),' was inspired by everyday domestic scenes at our home.

"When an elder enters the room, the womenfolk put on their veil. This is what baba showed in Pakeezah and that's how women at our home behaved."
The famous lines such as 'Aapke paon dekhe, bahut haseen hai. Inhe zameen par mat utariyega maile ho jayenge' (Your feet are beautiful. Don't place them on the ground; they will get dirty) were penned by Amrohi himself. Being a poet, he had a strong command over Urdu; writing came naturally to him.
"He was a very romantic man," says Tajdar, "And his romance with my chhoti ammi was very dignified. Despite being separated, they felt for each other. But they never divorced as rumours go. They loved each other and chhoti ammi respected my father and never allowed anyone to say anything against him."
Amrohi himself lend his voice for narration. "You needed a powerful baritone to tell the story."
Of duplicates and split roles
Last updated on: March 5, 2012 16:43 IST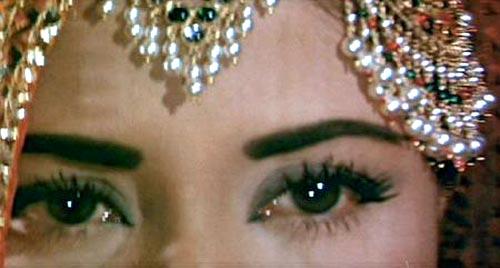 Amrohi was known for his meticulous style of direction and his close attention to detail. For just one shot in the song Mausam Hai Aashiquana, he went every day at 4 am with a unit of 70 to the same spot for seven days.
"Baba had a habit of travelling by road and he had toured the entire country in a similar fashion. Wherever he used to like some scenery, he would halt the car and note down its details. He had seen a beautiful sky one morning between Mysore and Ooty and he wanted to use that in Mausam Hai Aashiquana."
However, nature played truant every time he went there.

"On the seventh day, nature pitied him and relented. He saw the same shade of sky and they shot it."
If you notice closely, you would realise how much of Pakeezah has been rescued by duplicates and junior artistes. Since the film took so long in the making, acquiring dates of its actors was no easy feat.

For the climax song, Meena Kumari's duplicate was used while the actress herself was battling alcoholism. Initially, Nadira was to play Veena's role of the courtesan (Meena's aunt) but because of Amrohi's growing altercations with Nadira, the roles were split into two. "At some places, baba had to chip in as a duplicate of Raaj Kumar but you won't be able to tell."
'He should have been feted when he was alive because of his contribution'
Last updated on: March 5, 2012 16:43 IST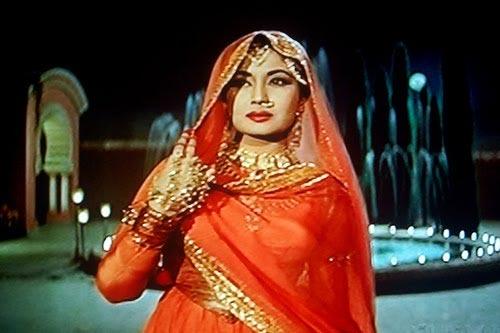 Since Amrohi was a writer-poet first, he emphasised on good music.
"For Pakeezah, Ghulam Mohammed was chosen because baba wanted an old-feel to the music."
Mohammed was an associate of Naushad and the latter stepped in to do background music only after Mohammed passed away.

Tajdar says that somewhere his father knew that he was making a masterpiece. "Whenever we used to ask him for new clothes or place any of our demands in front of him, he would say, 'Will get you after Pakeezah.'"
An admirer of greats like William Wyler and David Lean, Amrohi in his later years had began work on the film Majnoon, which he thought would be his swan song.

Though the film could never be made, Amrohi developed a close bond with Rajesh Khanna. "Baba was close to Dadamoni and Pradeep Kumar, too but otherwise he was a recluse." Beginning his career as a writer with Sohrab Modi and reaching his peak as a dialogue writer in Mughal-E-Azam, Amrohi remained a writer till his last breath.
"He believed that a director should write his own script. He felt a director must never make a film according to public taste but make the public come closer to his taste."
Tajdar's only regret is that in his lifetime, Amrohi was under-valued. "I feel he should have been feted when he was alive because of his contribution to Indian cinema but then when I think about it, he was not the sort of man to hanker for attention. His work speaks for itself."
'The focus was not on her charms as a dancer but on her character'
Last updated on: March 5, 2012 16:43 IST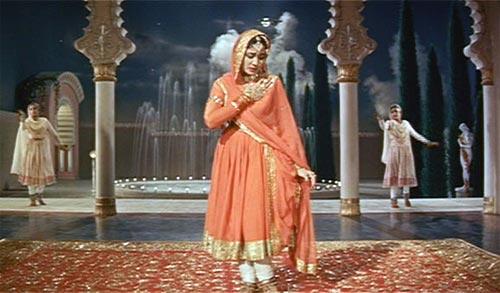 The woman's shot with which Pakeezah closes was a strange face who was, really, never seen at any point in the film and her sudden inclusion, as she watches Raaj Kumar whisk away his bride Meena Kumari, surprised many people on the sets. 

Incidentally, on the edit, the woman's portion was chopped off unceremoniously by editor D N Pai. When Amrohi saw the final cut, he was aghast, "Why did you cut her out? She is the very basis for Pakeezah."
Tajdar explains that shot's symbolism, "In baba's view, that woman represented hope and future for courtesans.

The woman is hoping that a knight will arrive in shining armour and take her away." At several places, the kotha life has been described as one of "hell." Also, the era in which Pakeezah is set has not been clearly defined anywhere.

"It is understood to be pre-1947s," guesses Tajdar, "But the costumes, locations and the aura give you a feeling that it is set in an old-world but exactly how old? The mystery adds to the appeal of Pakeezah."
What's interesting is that because Meena Kumari wasn't a dancer, Amrohi used mostly her close-ups during songs, focusing more on her expressions.