10 years of Raja Sen: His 10 Best Reviewed Films
Last updated on: June 03, 2014 12:00 IST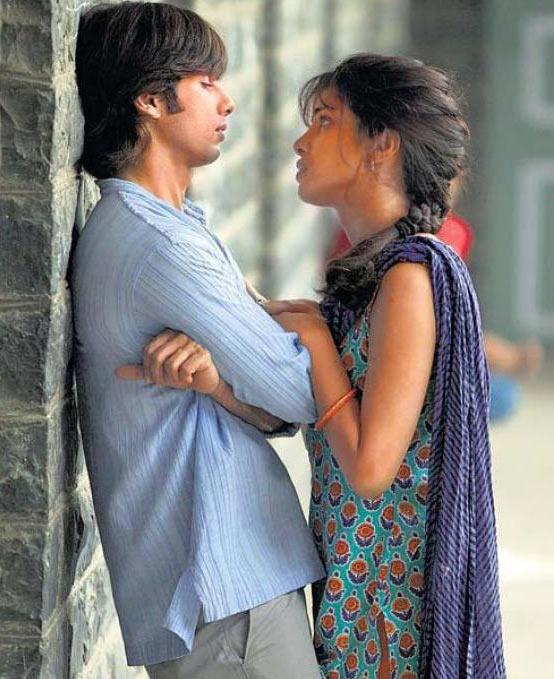 Raja Sen completes 10 years of film-reviewing for Rediff.com. In the second of a special series, we look at his best-reviewed movies!
Ten years is a long time for a man to write reviews, and I have little doubt that I'll eventually be remembered more for the brickbats than the bouquets. And yet there is nothing more pleasurable than being besotted a movie and finding oneself lost for adjectives.
Thus, after my most controversial reviews, we move now to the films I gushed about, falling in love with them for a variety of reasons.
These are not the 10 best films of the decade -- I didn't get to review Lage Raho Munna Bhai, for example, or Inglourious Basterds -- but of the ones I did review, these are definite standouts. You may or may not have fallen for them like I did, but these are certainly a crushworthy bunch.
Kaminey

So vociferously have I championed Vishal Bhardwaj's work over the years that fanboy allegations are rife -- and, perhaps, a tad justified.

But why not?

He's a genuinely gifted craftsman, a marvelous storyteller and, as director/writer/composer/singer, the most consummate of Hindi cinema's current auteurs.

I've loved most things Bhardwaj, from the early genius of The Blue Umbrella to the well-applauded magnificence of Omkara, but I don't remember reviewing a sexier Hindi film than his Kaminey.

'What raises this rambunctious gangster movie head and shoulders above its genre is the writing. The wordplay is constant, subtle and absolutely exquisite -- a tough ask when one hero trips over words and the other narrates -- yes, narrates -- with a lisp.

'And there's a witty duality running through the film's twin tales: a character barks into a phone, and this sound echoes later when someone pleads in front of Bhope, daring not to take his name but just calling him repeatedly big brother, "bhau-bhau"; Mikhail introduces himself to Bhope by calling himself Tope Bhau, and nearing the climax Bhope is told by another that they have 'topein' (cannons) too; when Mikhail wins a race, arriving just in time, he breaks into the Spiderman theme -- and Charlie responds with Fpiderman-Fpiderman.

'When a character wants to steal a king's ransom in drugs to help a pregnant woman, another snarls back: 'Toh kya meri coke ujaadega?' Ha. It's nuanced, lovely writing, the sort we never get to see in films nowadays.'

Read the review here.
Please click Next to see more.
Oye Lucky Lucky Oye!
Last updated on: June 03, 2014 12:00 IST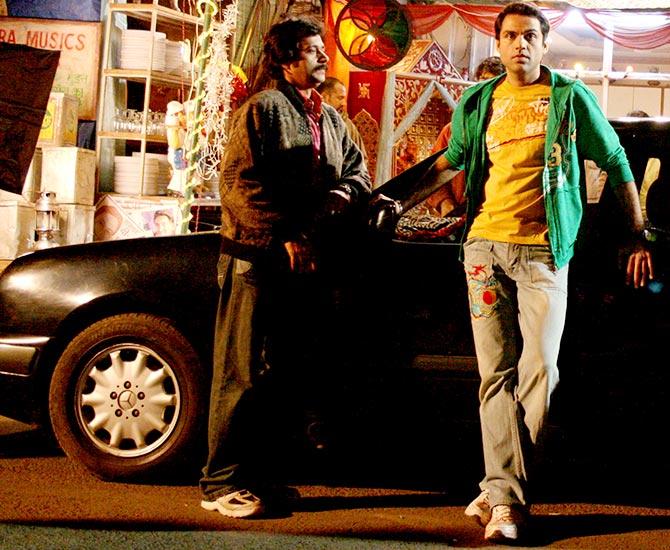 It is too dashed exasperating to try and sum up the unpredictable Dibakar Banerjee in a couple of lines, but suffice it to say that DB -- impossible to pigeonhole, always fearless, always surprising -- is worthy of hero-worship.

He's frequently made me exhaust my superlatives, be it the dark Shanghai or the groundbreaking Love Sex Aur Dhokha, and yet I find it absurdly easy to pick out my absolute favourite Dibakar film.

'Say Mercedes. Yeah, like in the car. Out loud, say it. Now say it minus the second E, replacing the S at the end with a longer ee sound. That's right, Mers'dee. Over the years, the Delhi Punjabi collective has appropriated Mr Benz's luxury automobile and made it their own, like they do to virtually everything they touch. If they use anything enough, it becomes not just a part of their universe but a familiar purza, a localised cog they can deal with. Prada may sound too highfalutin', but mention Pradda-shradda and they know way more about the brand than the Devil ever did.

'Lucky Singh, the cheeky anti-hero of the wonderfully named Oye Lucky! Lucky Oye!, appropriates things just like his clan, only more literally.

'He takes what he likes, from a police motorcycle to a pomeranian, luxuriating in the justified arrogance that he's too good for anyone to not just catch but catch up to. And while conman movies are a dime a dozen, Lucky doesn't just pocket stuff.

'He filches dreams and moments and opinions and taste, and that's what makes this character so darned special.'

Read the review here.
The Lunchbox
Last updated on: June 03, 2014 12:00 IST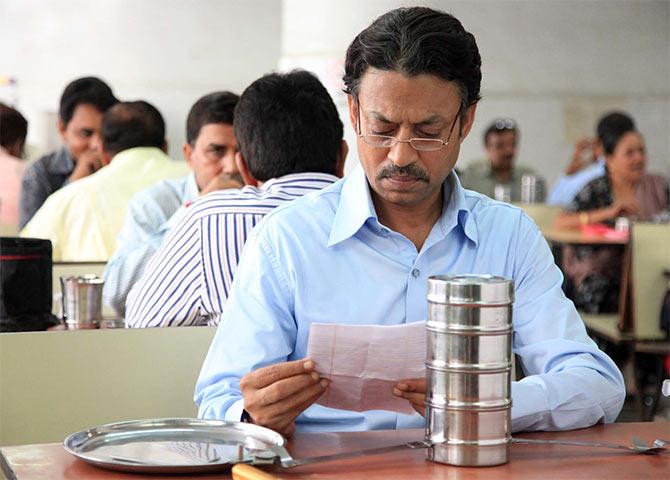 Ritesh Batra's beautiful film marks one of the finest directorial debuts: with a simple but lovingly crafted tale of man, woman and food.

'The Mumbai dabbawala is a miracle, a human cog with clockwork precision who operates, it seems, well outside Mumbai's haphazard universe, and yet fuels the mercenaries shovelling coal into the city's ever-open maw.

'The Lunchbox begins with a dabbawala getting it wrong, odds of which happen to be one in six million. But then this is a film about happenstance, a wondrous what-if movie that lifts us from realism to something far better, and it's only fair that -- in ways unique to itself -- the city conspires, throughout the film, to set these events into motion, to champion this unlikely romance, to give us hope.
'For Mumbai has always motored along on magic.'

Read the review here.
Johnny Gaddaar
Last updated on: June 03, 2014 12:00 IST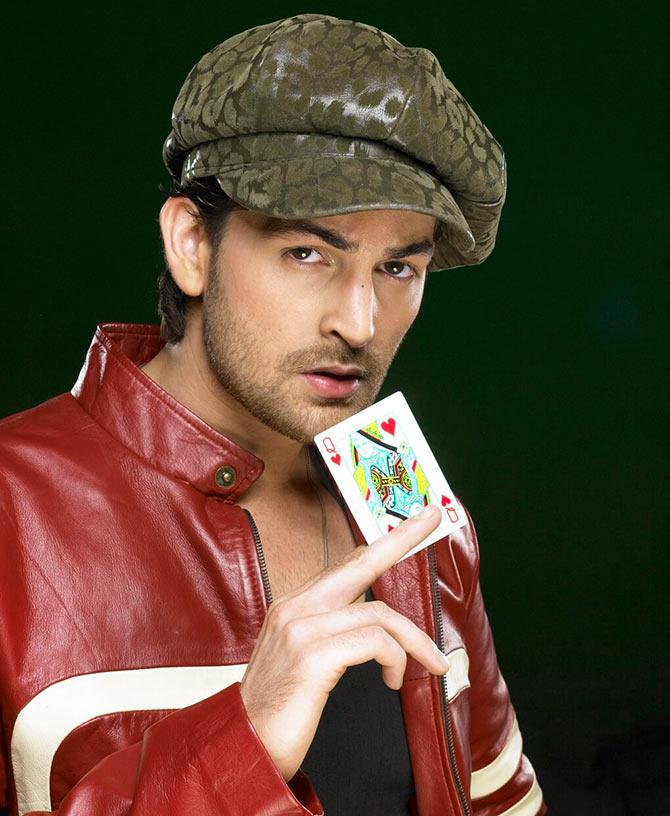 There are very, very few filmmakers who have a truly smashing time with pulp.

One of the rare geniuses who enjoys getting his fingers bloody -- while keeping things extremely finessed, indeed -- is Sriram Raghavan. And this is his raddest, reddest hour.

'The colour of passion.
'The colour of blood.
'The colour of treachery.
'Red almost never fills the entire frame in Johnny Gaddaar, but the colour is used to sensational effect all across the periphery -- beanbags, shirts, blankets covering sitars, mid-burger slices of tomato -- constantly highlighted and meticulously framed by persistently duller colours around it.

'It's not black and white or made largely on a computer, but the superlative way director Sriram Raghavan dabs the Red onto this film begs comparison with a totally different world of vitally discoloured noir: Robert Rodriguez' Sin City. Take a bow, cinematographer CK Muraleedharan, masterfully executed.

'And on such a scarlet note our film opens, a studly youngster looking at the world through blood-tinted sunglasses.'

Read the review here.
The Social Network
Last updated on: June 03, 2014 12:00 IST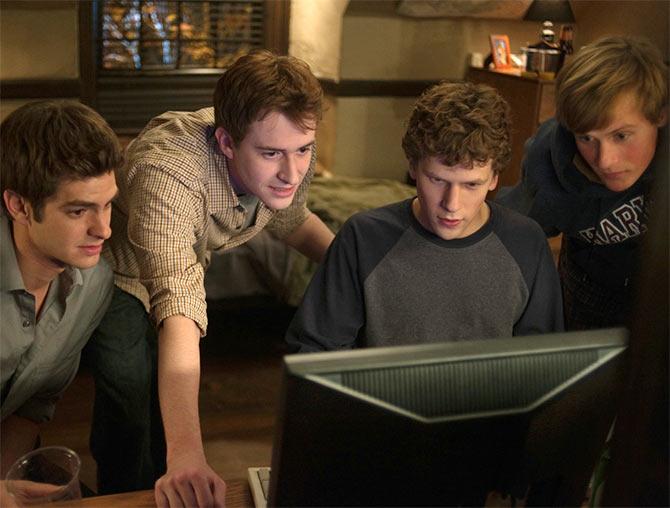 Without question one of the most thrilling filmmakers alive, David Fincher has masterworks like Fight Club, Se7en and Zodiac strewn across his filmography, and I'm willing to bet his next, Gone Girl, will be huge fun.

Still, despite its ostensibly buttoned-up nature, I firmly believe this is the Fincher film that will be his legacy.
'There is a sequence in David Fincher's magnificent new film that, like the invention it talks about, changes everything. A savage quip-eat-quip script is suddenly, without warning, replaced by a shot of two teams rowing down the Thames.

'Made sublime by rocker-composer Trent Reznor riffing magically on Edvard Grieg's In The Hall Of The Mountain King, the sequence lasts barely two minutes.

'It is a race, and as the camera -- so far having gazed finely, accurately and hauntingly on young men sitting in dormitories and law firms -- tilt-shifts its way to a strikingly shallow depth of field, we find ourselves simultaneously both against and cheering a certain team.
'And that, ladies and gentlemen, is The Social Network -- a David Fincher masterpiece that dares you to choose a side, and to then stick by it. Aaron Sorkin's rapier-sharp script snakes through allegiances with such glorious disloyalty that everything is questioned, and everything must be. Including how much of ourselves we end up -- not losing or finding, but investing -- in a website that doesn't care about us.'

Read the review here.
Her
Last updated on: June 03, 2014 12:00 IST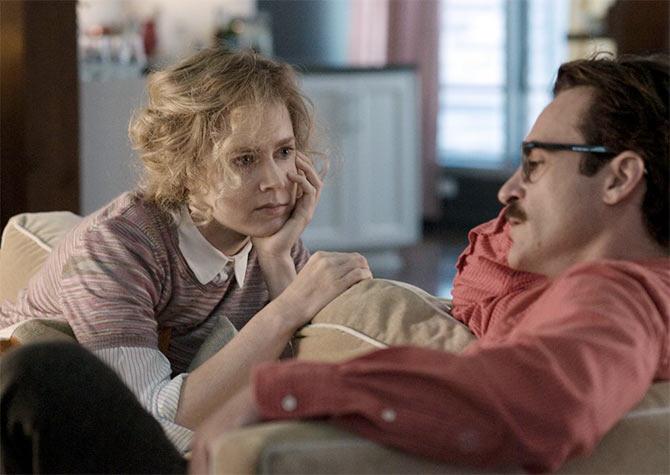 Once in a while, a film comes along that makes you want to buy it flowers, a film you look at with moony eyes and contented sighs, a film you want to have and to hold.

More than a review, Spike Jonze's Her deserved a love letter.
'He's nearly-divorced, lives alone, likes to wear his pants right under his ribs and plays atmospheric video games that seem endless -- not to be confused with pointless -- and yet happens to be what may well be called a professional romantic. He loves the idea of love, even if it has already walloped him in the gut.

'Theodore lives in the future, or something like it. It may merely be just a better-designed present, an iPresent. It's a world where things are beautiful and functional and minimal, where Apple must have won and Jonathan Ive dominates all, where form is charming enough to give way to function while remaining gorgeous.'

Read the review here.
Lootera
Last updated on: June 03, 2014 12:00 IST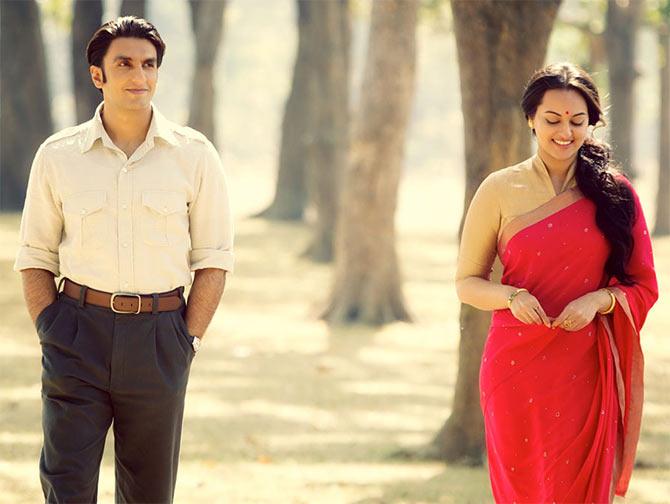 Making a short story into a film is usually a hard task.

Making a short story we've all read -- O Henry's The Last Leaf -- into a gorgeously lyrical film, well, is uphill all the way. Take a bow, Vikramaditya Motwane, for this is special.

'Both Sinha and Singh have distinctive noses, and rather than divert attention away from them the film embraces the contrast, highlighting it by a profile shot of the two in the same frame.

'Before we encounter Sonakshi's nose we see that of a Durga effigy, and the uniqueness of the actress' nose is thrown automatically into sharp relief.
'Later, when Sinha's angry, the lens is positioned to make her nose look like a menhir; it's always intentional, and it's always captivating. Singh's is a more angular nose, one that looks pointy as sweat drips off it during a dimly lit-scene, and the first time the two kiss, it is preceded by an eskimo-style rubbing of the noses.

'Many cinematographers can conjure up moody shadows and beautiful frames, but what is on show here -- as Sinha looks through a big magnifying glass to make her eyes appear huge, as the Bengali-girl stereotype dictates -- is so much more special, and Shetty is clearly a wizard.'

Read the review here.
Paheli
Last updated on: June 03, 2014 12:00 IST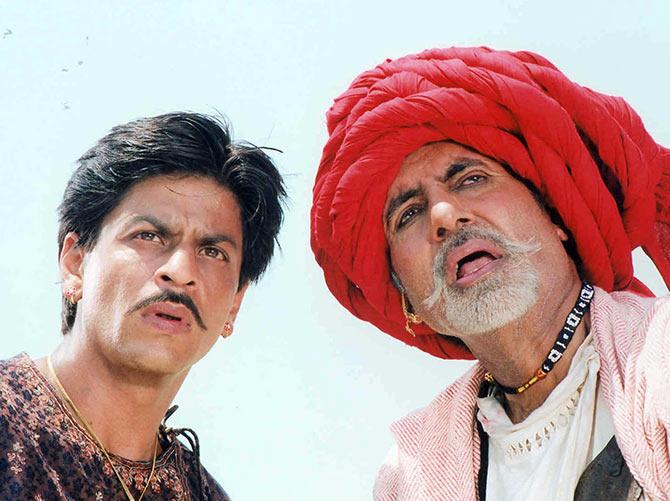 The most visually striking Indian film I've reviewed, Amol Palekar's Paheli is an enchanting fairytale, bright and ingenuous and all colours and chemistry (terrific, terrific chemistry) till it turns as dark as fables frequently are.

'Watching Paheli is quite an experience, and it's from the very opening shot of the film that its sheer, magical palette overwhelms us. And we are immediately aware that we are witnessing a dream. Real life, as we ingloriously witness after reluctantly exiting the theatre, never looked this good.

'Rajasthan's colours are magnified to an awesome extent, every shot coordinated to the hilt. Girls in blood red cholis titter excitedly against vast golden sands, as an electric blue bird chirps past them.

'The contrasts are magnificent. The colours are vivid, unrelenting and addictively rich. This is life as we wistfully long for.'

Read the review here.
Brokeback Mountain
Last updated on: June 03, 2014 12:00 IST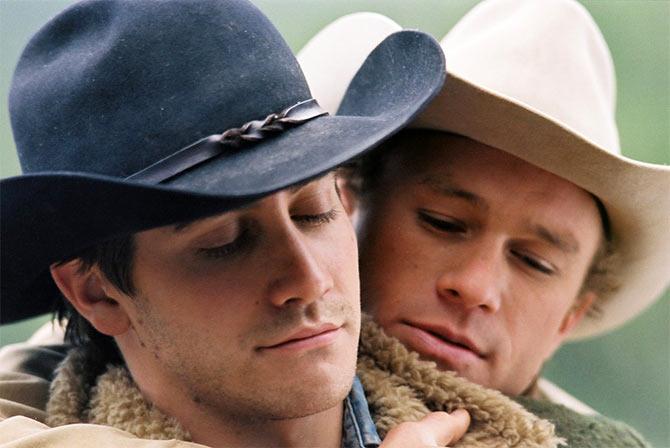 The fact that Ang Lee's cowboy romance involved two men exposed it to scrutiny for the wrongest of reasons.

It is a tender, stunning Western, an achingly good love story, and, in many ways, this generation's Easy Rider.

'Lee's film opens with spectacular vistas, the kind that belong on the covers of colour-pencil boxes: impossibly blue skies dotted with perfect clouds, lush green valleys cleaved by streams of freshly-shorn sheep, and the mountain itself.

'Towering over it all, silhouetted in the background or shadowing the protagonists, Mt Brokeback dominates the film, Rodrigo Pieto's glorious cinematography elevating the film to the ranks of the best Westerns ever shot -- Traditionally, thanks to John Ford and Sergio Leone, a very difficult category.

'Yet, for all the visual bravado and the overreaching scale of the effort, Lee masterfully keeps the film itself in tight, extreme close-up. This is a movie about Jack and Ennis, and does not move beyond them, concentrating broodingly on their every nuance. Each word vital -- especially since there are so little of them -- and all acts crucial, the movie sees the young ranch-hands grow near and apart over a considerable period of time, without giving them any elbow room.

'Lots probably happens in the gaps we do not see, but the director keeps us so close to the action that we can hear the two cowboys breathe, their sighs echoing off the immaculately framed hills and horses. This might be a big, majestically shot movie, but it's impressively intimate.'

Read the review here.
Nebraska
Last updated on: June 03, 2014 12:00 IST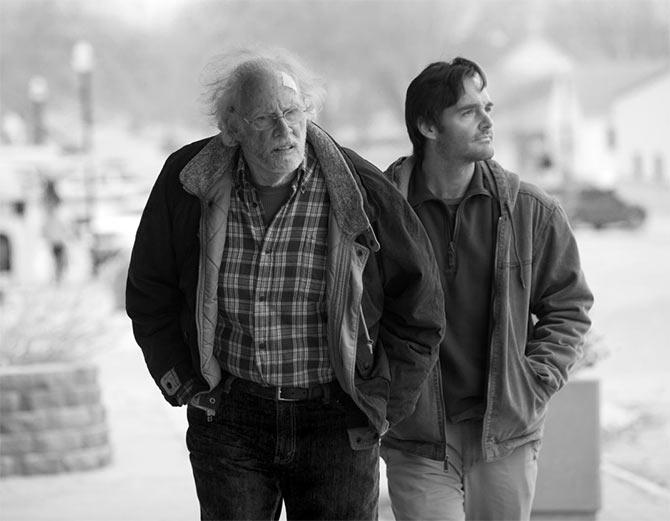 Earlier this year, I sat down with my father and watched Alexander Payne's Nebraska.

A masterful tragicomedy about age and relevance and fathers, the film touched too many chords, often all at once, making for a truly exceptional cinematic experience. It is a high contrast black-and-white masterpiece, yes, but also a film that digs deep and shows off overwhelmingly resonant shades of grey.

'Uncle Albert likes to watch the road.

'He takes a weatherbeaten deckchair and kicks back after meals, sitting by the side of the road to watch cars go by. It doesn't seem that absurd a pastime for a man so grey and wrinkled he predates the television set, and one whose brothers bicker endlessly about whether one of them owned an Impala or a Buick 40 years ago.
'While on that, is 'bickering' even the appropriate word for conversation so comfortably wound down, so slow, conversation made for the sake of hearing one's own voice, talk that staves off atrophy?

'The problem with Uncle Albert's plan is more immediate than existential: there are no cars on the road he's watching.'

Read the review here.