Yeh Kaali Kaali Ankhein is watchable for its able cast of reliable veterans and talented youngsters, notes Sukanya Verma.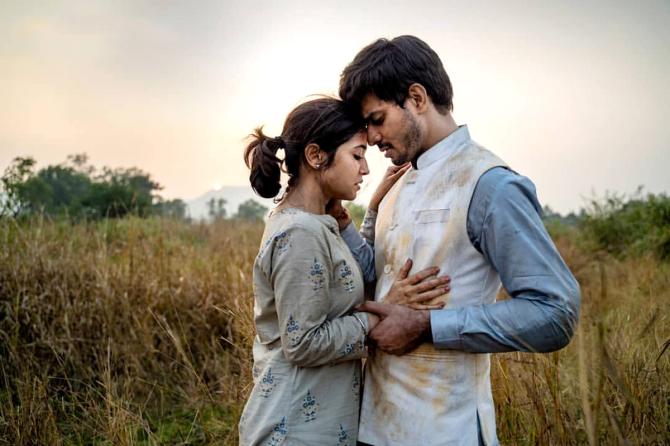 When the courtship of Shah Rukh Khan's chartbuster song in Baazigar is viewed through predatory eyes, it takes an altogether new meaning and sets the tone for Yeh Kaali Kaali Ankhein, a new Netflix series about obsessive love and an equally all-consuming urge to resist it.
Baazigar, Darr, Anjaam... SRK has done quite a few movies around the theme of obsession, but it's his harassment at the hands of a lustful femme fatale in Chaahat, the show is closest to in soul.
Except Yeh Kaali Kaali Aankhein has the premise of a movie or, at best, a mini-series that has stretched into a full-fledged season, derailing a freewheeling mix of black humour and situational extremities into a sprawling, clumsy mess.
Set in Onkara, a fictional small town of North India, it opens with the overused tell-all voiceover wherein Vikrant (Tahir Raj Bhasin) is single-handedly taking on a mass of gun-toting goons in the middle of nowhere until the mandatory flashback starts off to explain how it all began.
Money, power or woman sound the death knell for every man, he rattles off in ornately written emotions that spout lines like, 'Humare saare armaan kaudiyon ke daam mujra kar rahe the.'
Yeh Kaali Kaali Ankhein is every bit the drama queen.
Cursed since childhood, Vikrant rues the day the local politician's daughter Purva lays eyes on him. There's no context to her intense, school girl infatuation but it's deadly in nature because the mighty voiceover predicts so.
When Purva's adult version (Anchal Singh) returns to town a decade later, she's still the smitten kitten whereas he has graduated from engineering college and found true love in college sweetheart Shikha (Shweta Tripathi Sharma).
There's something stifling about Onkara's overly religious air and its severely repressed mood dictated by the corrupt Bhartiya Suraksha Party neta Akheraj Awasthi 'Vidrohi's (Saurabh Shukla) and his vile nephew Dharmesh (Surya Sharma) whose casteist politics has endeared them to the likes of Vikrant's minion mind-set father (Brijendra Kala) and his compliant missus (Sunita Rajwar).
On the bizarre end of the spectrum is Vikrant's bawdy best friend, Golden (Anantvijay Joshi) running a porn cinema theatre.
Things get awry after Purva expresses her desire for Vikrant to her father by hook or crook.
Created and directed by Siddharth Sengupta, he creates a believable milieu and sinister build-up around Purva's preying and Vikrant's bungling lies.
That timeworn justification -- I like you because everybody sought me but you didn't pay me any attention -- to behave all psycho is Purva's excuse as well. Except there's no tamasha, no open threats. The bullying is implied and subtle.
Retaliation happens after a series of intimidation tactics and a tragic development strong-arm a simple guy to toss his modest dreams aside and plan a revenge of absurd proportions.
Around episode seven, Yeh Kaali Kaali Ankhein begins to lose its momentum and whatever sense of realism it exuded for utter silliness like finding hitmen for hire on the Internet. The far-fetched tone and a screenplay that travels as far as Ladakh never quite lands.
Yeh Kaali Kaali Ankhein wants to go into dark places and muse about morality and desperation but lacks the finesse to authenticate its urgency.
Where there ought to be thrills, one notices clumsy touches and a trail of loopholes that it fails to cover up.
Despite its stumbling tone, Yeh Kaali Kaali Ankhein's pulpy misery is watchable for its able cast of reliable veterans and talented youngsters.
It's a relatively minor role, but Shweta never hits a false note.
Anchal is suitably beguiling and unnervingly so.
But it's Tahir Raj Bhasin's steady charisma and tangible conflict that keeps us invested in the foolhardiness of the premise.
He successfully brings out the discomfort, desperation and pushed-to-the-wall sentiments of a regular guy completely out of his depth in lawless territory.
Yeh Kaali Kaali Ankhein streams on Netflix.
Rediff Rating: