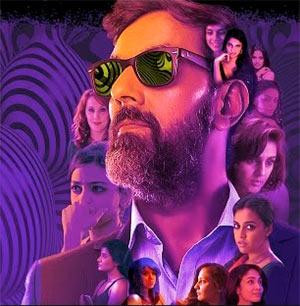 'Mistaking carnality for sensuality, X rings as too literal-minded and too talky, with a technique that just about drains any real density or genuine playfulness that may exist beneath all the talk,' says Sreehari Nair.
In X: Past is Present, so little happens and yet there's such a concentrated effort to tell you that there's so bloody much happening that the movie turns 'heightened enthusiasm' into a genre in itself.
Undershot and over-edited with everything from sound effects to dialogues and even characters' reactions added in post-production, this may be the kitschiest piece of impressionism ever attempted in movies.
Still, its most enjoyable moments are probably those in which the film's cast-and-crew (we're specifically talking about the 11 directors and their crews) silently acknowledge what a mess they've conjured up collectively and instead of trying to polish it with spit, they plainly offer us whatever they've managed to create on a whim.
Here it is: Our little, campy gift for you.
I think there's value in that submission. Even more so, when we know that the set of directors (Abhinav Shiv Tiwari, Anu Menon, Hemant Gaba, Nalan Kumarasamy, Pratim D Gupta, Q, Rajshree Ojha, Sandeep Mohan, Sudhish Kamath, Suparn Verma and Raja Sen) comprises some of the most widely-revered critics in the country. And making an honest presentation of your Gonzo piece of filmmaking to an industry from which you've yourself demanded the highest standards of perfection, is like making a larger point about the art of filmmaking; and perhaps even about the common decency of filmmaking.
'Less of an anthology and more of a collaborative feature' is how the press junket chooses to describe the film.
In a nutshell, X attempts to tell the story of one character K (Rajat Kapoor, as a filmmaker) pieced together through the eyes of different filmmakers -- with each presenting a segment from the character's life -- each segment is a specific genre.
But frankly, this is hardly a well-rounded study of the man-child.
In fact, the movie is so steadfast in only examining K's sexual relationships (even when he's not physically having sex, you can tell he's chasing the petals) and suggesting how they might have shaped up his sensibility, that we might start to suspect if his imagination is holed up almost entirely inside a contraceptive.
The structure of X is fairly simple.
It alternates between K meeting a girl named Aastha -- who he thinks might just be an agglomeration of every woman he's been intimate with -- and him looking back at his memories, fantasies and relationships, like the movie director Guido from 8 1/2.
While on the surface, he might seem like a Lothario with a poetic turn of mind what K actually is, is a privileged-class Sindbad -- his conquests, a sea of bedrooms; chambers where he works out his sexual aggression on women and leaves them pining for him.
Every time they pine, he feels like he has grown up a little more. And while this growth is an honest illusion that boys experience, the directors of X now want K to introspect and redeem himself by reaching out to the cesspool of his own wrongdoings, fears and complexes so that he knows for himself, why he is the way he is.
But all through this manly intellectualization runs an overt display of thought-refinement.
Over the last few years specifically, our prudish approach to the man-woman relationship has meant that most men today consider it honourary to be known as 'worshippers of womanhood' than 'true lovers of women.' So when a fertile movie like Hunterrr -- that attempted to offer us an honest exploration of men's specific fantasies -- arrived in theatres, many of these very prudish men saw it as an attack on their supposedly liberal values.
It's this very quasi-liberal ideology that doesn't allow most of the ideas in X to attain fruition. Mistaking carnality for sensuality, the movie rings as too literal-minded and too talky, with a technique that just about drains any real density or genuine playfulness that may exist beneath all the talk.
The bouncy camera and constantly-uttered off-screen dialogues try to deepen the cleverness of the lines and while some of the lines do have a zing about them -- it speaks the language of displaced souls -- most of the actors never quite make these lines their own.
The fact that the movie tries to tackle memories as recursive entities is laudable, but then again, the technique used (especially in the sections directed by Q and Suparn Verma) to convey the recursiveness is so heavy-handed, it jars.
Most of the women -- both the Independent types as well as the Shrinking Violets -- don't work either as plot-devices or as whole conceptions. The somberness with which these women recite their lines may hint at them being existential musings, while actually being of the strictly soap opera-quality.
To make things worse, the camera closes in on the actors' faces when they are at their most hard-edged. This, when you know that close-ups actually demand from performers, a certain shading and softness. The entire piece is so show-offy, you realise it's not just the protagonist who has a mask on.
A big part of the disappointment of watching X is in knowing that there were real flashes of brilliance in the script that did not materialise on screen. Like a mock-interview scene in a restaurant which seems like a throwback to the interview scenes in Godard's Masculine Feminine -- a scene that could have worked as a potent mix of play-acting and confessional back-and-forth. But here, the performances and the voice modulation together just don't let the effect take shape.
In another instance, a producer wants the aspiring director K to add a 'little sex' to his script -- it's a clear tip of the hat to a terrific scene from Preston Sturges' Sullivan's Travels -- and here again, the self-consciousness in the performances and the way the lines stack up against each other just weans the rhythm off.
Now despite being suffused with such planted insights, what I enjoyed about X were those rough edges, that instead of working against the movie almost expands the meaning of its kitsch.
Some of the acting, for instance, projects such robotic banality that it becomes truly funny. Like, a slap that feels like a fly-swat or when the constantly pursed-lipped Aastha does an act of pantomime it almost hits you like she has a sore muscle that needs stretching.
There's no way a director could have left those scenes as is without re-shooting. The only possible reason maybe is that the movie wants to perhaps make us aware that this is indeed a movie that we are watching. Call it 'meta' or whatever, but there's some incidental generosity about its making which to me, was at the core of any pleasure that I could derive from X.
It's almost easy to tell the good performances in the movie from the ones that just don't work. For every time a performance of some complexity and instinctiveness comes up on screen, the movie automatically slows down, the flashiness blurs out, and you feel the whole enterprise becoming more comfortable in its own skin.
Radhika Apte does that every time she is on screen. There is just the right sincerity each time she gulps down something.
Rajat Kapoor brings a quiet dignity to his role, and you feel that's all he could do.
Swara Bhaskar is quite wonderful in a part that calls for a weird mix of vulnerability and instantly-derived strengths.
It's Anshuman Jha who gets the tone of the material so perfectly figured out and then further humanises, what is essentially a despicable character. Truth be told, I was never a fan of Jha's performance in Love, Sex Aur Dhokha; I thought he was parroting his way through that role. But here, he conveys how a character like Kishen essentially got loused up and got made as the K we meet at the start of the movie through his voice and static-fluid body language.
The bumblebee who becomes a Hip Angel -- completely unaware of hell or one with hell -- is the only arc that rings true and it's the story set in Chennai with Swara and Jha that infuses in the movie, the light, the pungency, the warmth and the almost animistic quality that makes X come alive; albeit briefly. It's the only segment where it becomes apparent, any talent for framing and composition, that's otherwise completely missing from the movie.
For any man, the memory of a past girlfriend playing the guitar for him over the phone might seem as evocative as a lullaby from childhood. But not here: There's almost a playful sexiness about that kind of memory which is what's never tapped into in X.
In its misappropriation of Freudian themes, the movie gives its protagonist a truckload of guilt, but nothing more to chew on. And all this, means that the grand statement made isn't anything more than a South Mumbai kid's version of the all-conquering, all-observing, all-knowing feminine power.
There's a lot of worship for women that's comes through in X. But is there enough love?
Rediff Rating: