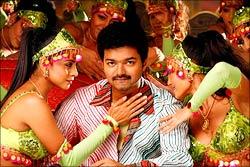 Aascar Films'
Velayudham
, starring Vijay, Hansika Motwani and Genelia, is directed by M Raja. With Vijay Antony composing the music, here's a look at what the album has to offer:
Rathathin Rathame
begins with thumping rhythms and a rather subdued tune. It's also a bit angst-laden and seems to hark right back to Vijay's impassioned pleas to his fans. Haricharan and Madhumitha have pitched in with the vocals to lyrics penned by Annamalai. The words are slightly amateurish but very emotional, almost like a thanksgiving and entreaty to fans all rolled into one.
Molachu Moonu
begins with gentle humming and steady beats and reminds one of another Vijay classic,
Azhagooril Poothavale,
while certain instrumental arrangements carry a strong whiff of
Duet
's
Anjali
. All mention of
vendaikkai
and
avarakkai
aside, Vivega's lyrics are strictly functional. Prasanna and Supriya Joshi sing competently. It's the mandatory romantic number, and once you get into its rhythm, it's a pleasant listen.
It's a bit bizarre to listen to Charulata Mani sing
Chillax
in such a marked Carnatic fashion. Then Karthik and Co pick up and run with the usual
kuthu
beats and it loses pizzazz. Annamalai's
lyrics carry out their mandate, and the beats reign supreme. 
Vivega pens the lyrics for
Maayam Seithayo
, sung by Sangeetha Rajeshwaran, and the song has a strong 1960s's feel to it and is interspersed liberally with English phrases and words. The beginning is good, but the tempo sort of fizzles out after that.
Sonna Puriyadhu
is a folksy number with ethnic instruments and voices. Veera Shankar's emotional entreaty reaches fever pitch as the song blends into synthesised music. Vijay Antony does the vocals and the lyrics, written by Siva Shanmugham, is another fan-pleaser, all about the hero's love for those who are mad about him. Run-of-the-mill.
Once again, Vijay Antony and Mark come together rapping
Vela Vela
, written by Priyan, and it's all about Velayudham, the hero, which pretty much says it all.
For an album that's got promising numbers like
Rathathin Rathame
and
Molachu Moonu
,
Velayudham
steadily descends into the mandatory Vijay album with the requisite
kuthu
and fan-pleasing songs. Vijay Antony plays it safe mostly, with the result that there's nothing new.
Rediff Rating
: