Unpaused, with some fine performances and meaningful stories, will definitely warm your hearts, notes Namrata Thakker.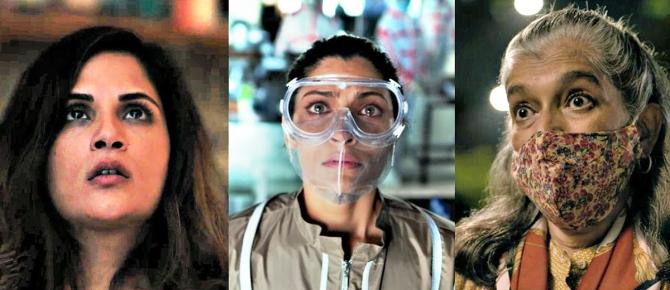 Ever since India went into lockdown in March, Web shows have been made around the subject.
Now, we have an anthology movie comprising of five short stories with the backdrop of lockdown.
Glitchis directed by Raj and DK of The Family Man fame.
Starring Gulshan Devaiah (Ahan) and Saiyami Kher (Ayesha), the story is set in the future where the world is dealing with COVID-30.
Ayesha and Ahan meet virtually on a date but don't click instantly.
He is hypochondriac and she is a frontline warrior.
How they eventually come together amidst an ongoing pandemic is what Glitch is about.
Both Gulshan and Saiyami are a delight to watch in this futuristic set-up and Gulshan steals the show with his act.
He is an under-rated actor who should grace the screen more often.
Kudos to Raj and DK for making a story in the dystopian world with so much relatability.
The Apartment and has been directed by Nikkhil Advani.
Richa Chadha (Devika) and Sumeet Vyas (Sahil) play husband and wife in this story about sexual harassment.
Devika decides to end her life after her husband is accused of sexually harassing five employees of their magazine.
Unlike Glitch, this story is grim and dark and hence Advani has mostly kept the background gloomy.
Story wise, The Apartment is predictable and fails to make a solid impact despite having two terrific actors.
While Vyas hardly gets any screen time, Richa is pretty good.
Ishwak Singh makes an appearance and makes the most of it.
Overall, The Apartment seems like a letdown.
Rat-A-Tat directed by Tannishtha Chatterjee.
Lilette Dubey (Archana) and Rinku Rajguru (Priyanka) play neighbours.
How these two form an interesting friendship is what Chatterjee's story is all about.
As a reluctant senior citizen, Dubey plays her part well.
Rinku, as her young neighbour, is decent too.
But the story doesn't go deep and move beyond showing their friendship.
It fails to strike a strong chord.
Still, the bond between these two characters has been captured beautifully.
Vishaanu is directed by Avinash Arun Dhaware and stars Abhishek Banerjee and Geetika Vidya Ohlyan as migrant labourers, who manage to find a place to stay in a high-rise building amidst the pandemic.
Yes, it sounds crazy but that's the best part about his story.
The way Avinash has spun the otherwise cliched story in a different direction is not only refreshing but surprising as well.
Both Abhishek and Geetika are really good with their performances but Vishaanu stands out because of its hatke storyline and execution. This one will tug your hearts.
Chaand Mubarak, starring Ratna Pathak Shah (Uma) and Shardul Bharadwaj (Rafiq), is directed by directed by Nitya Mehra.
It tells the story of an elderly woman who finds a helping hand in the form of an auto-driver.
While Shah's performance is nuanced, Shardul is a revelation as an actor.
He manages to shine alongside the veteran actress and that is commendable.
Their unusual bonding is beautiful to watch and Nitya has done a good job in highlighting some of the finer moments between the two.
Unpaused is worth watching as all the stories play around emotions and some will warm your heart in unexpected ways.
Rediff Rating: