Unpaused: Naya Safar holds on to a light-at-the-end-of-a-tunnel thought and looks at the pandemic-afflicted people from all walks of life through the prism of optimism in five poignant stories, notes Sukanya Verma.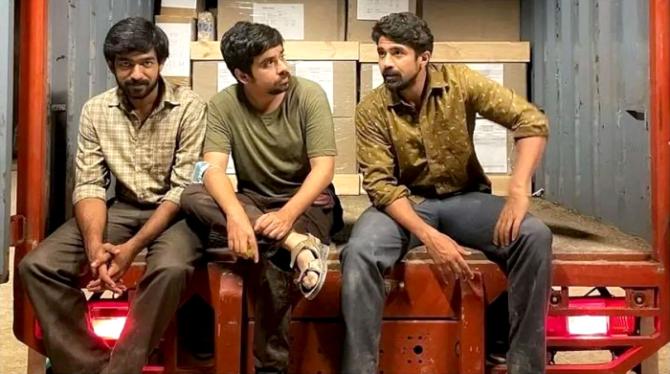 Two years ago, a virus entered our lives and changed things world over.
Indiscriminating and unstoppable, COVID-19 is the great leveller of these times, displacing lives from top to bottom in ways neither the privileged nor penurious could have anticipated in their wildest dreams.
Its adverse impact on every society and every sector has bared open the fragility of human life and ambitions.
Numerous lives and livelihoods lost or left devastated, the tragic aftermath continues to be a wreckage-in-progress.
But as long as we are breathing, there's life and there's hope.
Unpaused: Naya Safar, the second in the Unpaused anthology series streaming on Amazon Prime Video, holds on to a light-at-the-end-of-a-tunnel thought and looks at the pandemic-afflicted people from all walks of life through the prism of optimism in five poignant stories.
In Nupur Asthana's The Couple, a pitch-perfect Shreya Dhanwanthary and Priyanshu Painyuli depict a young, urban marriage between two workhorse professionals navigating their respective careers around the new normal -- WFH (work from home).
Finding just about time for snacks and snuggles, Shreya is the alpha whereas Priyanshu whines and toils.
She is his sounding board and shoulder to lean on, he is her surprise package.
But when a pink slip is thrown at the pretty (and posh) picture, a shift in the power dynamics hovers above their head.
Whether it's insecurity or inevitable is mildly explored in Asthana's slice-of-life segment about city couples with heads buried deep in upmarket lifestyles and woke culture functioning inside their privileged, high-rise cocoon. Even though it points in the direction of those having it much worse, The Couple doesn't grudge them their better-off status.
Rather, Asthana sympathises with her protagonists and understands the challenges of people stuck in an unprecedented scenario.
Staying indoors indefinitely sans any social interactions has turned a majority into edgy, anxious insomniacs, a statistic Asthana's nuance eye remembers only too well, resulting in some intense confrontation as well as heartfelt reconciliation.
Ayappa KM's War Room offers a behind-the-scenes look at COVID-19 volunteers actively engaged in answering SOS calls and finding hospital beds for patients in need of urgent medical intervention. Ever since the pandemic began, it has dominated every day and discourse to the point of numbness, especially for those in its continuous grip.
But the cold, clinical reserve of a Maths teacher turned COVID war room personnel (Geetanjali Kulkarni) is not some defence mechanism.
Brimming in symbolism and sensitivity, War Room is a hauntingly shot story of reluctant revenge.
Conflicted between a wronged mother and dedicated volunteer, a woman finds her better judgment clouded by her need for payback.
War Room is ambiguous about the exact nature of its character's inner turmoil and least interested in revealing what decision it'll arrive to until the final glorious scene.
What it does convey in heaps is the sheer depth of Geetanjali Kulkarni's artistry. Even with half her face covered in a mask, the powerhouse conveys a volume of emotions.
Up next, Ruchir Arun's Teen Tigada is about three thieves stranded in a remote warehouse with smuggled goods and little else in common in the middle of a deadly second wave and complete lockdown.
One's (Saqib Saleem) wife is expecting their first child, other's a recovered alcoholic into self-help videos (Sam Mohan) and the third one (Ashish Verma) is always hungry and quarrelsome -- their bickering and bromance forms the crux of Arun's expletive-rich chronicling of their alienation and angst.
Life, birth, death, the entire circle of life is unhurriedly experienced by the troika during the limbo they find themselves unwittingly stuck inside.
Though a tad slow-moving compared to others in the anthology, Teen Tigada makes some moving observations about the marginalised, discounted lot and equal victims of the pandemic.
A pandemic-era fairy-tale, Shikha Makan's Gond Ke Ladoo is tailor-made to win hearts.
After a lovingly prepared package of a mother's (Neena Kulkarni) handmade ladoos intended for her daughter's post-pregnancy nutrition meets with a freak accident, the delivery guy (Lakshvir Singh Saran) and his better half (Darshana Rajendran) go out of their way to make it happen.
Masked superheroes of the two-wheeler kind, five-star rating is their only reward.
Full of feel-good, grand gestures, Gond Ke Ladoo also highlights the significance of personal touch in the era of social distancing.
Travel limitations have put many celebrations on hold and senior citizens are expected to become technology savvy overnight. But Gond Ke Ladoo rejoices in the little triumphs of a mother's newfound independence as she informs her daughter living in another city in a visibly empowered tone, 'Tumhari offline mummy ne online courier karna seekh liya khud se.'
A grim air envelops Unpaused's fifth and final short, which is set against the backdrop of coronavirus cases in India at an all-time high and looks at the plight of those at society's fringes.
Named so after the funeral ground its central character works in, Vaikunth, which Nagraj Manjule directs and acts in is the most potent, visually striking and superbly edited of all five.
Those horrific images of countless pyres and rudely dumped dead bodies in the river are still fresh in public memory. The stigma and fear surrounding the virus bared the ugly side of humans and is unsparingly noted in Vaikunth.
Ordered to vacate his shanty by the landlord after his father tests positive for coronavirus, a cremator (Manjule) and his son are forced to take refuge in the shamshaan -- Yahan ameer aur gareeb ka bistar ek hi hota hai.
Where his day is spent burning a funeral pyre of corpses dumped like cargo and collected as sanitiser sprayed ashes, his night are attempts to dodge men in PPE suits and get some news about his hospitalised father.
Perhaps it's the nature of his job or the desensitising treatment of men belonging to his social strata but his idea of survival is somewhat reckless and oblivious to the mask. Despite its somber mood, Vaikunth finds an ingenuous way to stay true to Unpaused: Naya Safar's upbeat theme and ends on an incredibly wise note.
Anthologies are uneven and dissatisfying.
They have a tendency to play for favourites.
But Unpaused is a rare exception. Every single story is distinct and voices a reality and relevance.
There is harmony in its ideas, authenticity in its conflict and progress in its message of hope.
Unpaused: Naya Safar streams on Amazon Prime Video.
Rediff Rating: