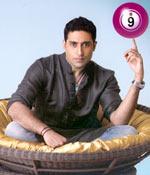 There's no dearth of celebrity in everyday life. They're on the TV, either hosting/judging a show or selling a product in a glitzy commercial. If not that, then they are probably promoting a movie in the mall or multiplex near you.
Bottom-line, celebrities are not that big a deal anymore when it comes to their overall accessibility. And so it takes a lot more than just being a star to be able to hold.
Abhishek Bachchan makes his debut on Colors in Idea's National Bingo Night with abundant enthusiasm but not enough wit or chutzpah to make an impression.
He starts out with his cool dude act through Bluffmaster's spunky Come to me followed by a sprinkling of Jhoom Barabar Jhoom's title song. Too bad he doesn't really perform but merely gesticulates insipidly against the ugly sets reminiscent of the 80s in a not too complimentary way.
He does marginally better when he shrieks about the Bingo mantra, No kaam only araam. Basically, Bingo is no different from Housie or Lotto, only while playing the latter won you pointless plastic bowl or a tacky ball pen, a winning streak here leads to a good Rs 25 lakh.
More lameness follows as he introduces the game show's accompaniments -- Bingo Buddy Ali Asgar who insists on cracking an awful PJ and Bingo Beauty, Rashmi Nigam (thankfully the lovely lady sticks to smiling all through). If you are into Indian television, these soap stars may strike familiar to you and it's amusing to watch them play insignificant sidekicks here.
The game involves two rounds played celebrity and non-celebrity along with the studio audience, wherein a gigantic bingo contains 75 balls and every time a ball pops out they have to guess whether the next one to come will be a greater or lesser figure than the previous one and slash the numbers on their bingo ticket accordingly. Anyone who gets the first five numbers in a sequence declares the Bingo bomb to win Rs 1 Lakh and so on and so forth.
Before the Dostana hero proceeds to explain the above a bit haphazardly, he calls on upon his 'hero, idol, father, Paa' and inaugurating guest of Bingo -- Amitabh Bachchan to boost his morale and the show's opening ratings with his unbeatable presence.
The two engage in a bit of father-son camaraderie which would strike spontaneous and fun if we hadn't already witnessed enough of it in Bunty Aur Babli, Sarkar movies and Kabhi Alvidaa Naa Kehna. Also, their attempts to plug Paa incessantly are just too obvious and flimsy to appreciate.
To Big B's credit, he does his best to give Bingo his all. He seems genuinely enthusiastic about playing the guessing game even as Abhishek pesters him with the latter's own inventions, 'Confident? Lock kiya jaaye?'
With every passing number that is announced, Bachchan discusses some of his landmark movies. Like relating an anecdote, 'If it wasn't for Zanjeer, you (pointing to Abhishek) would not have existed.'
The actor met his wife Jaya Bachchan then Bhaduri, on the sets of Prakash Mehra's action drama and they fell in love. They, along with a group of close common friends, decided if the movie clicks, they will holiday in London. On hearing this, his mom, Teji Bachchan said, 'If you guys want to go alone, you will have to marry Jaya only then its okay with us.' And so they promptly tied the knot and made a trip to England's bustling capital. On hearing this, Abhishek, sporting a spiffy leather jacket, quips, 'So basically you got married coz u wanted to go on a holiday?'
Considering the game is too simplistic, there's nothing much happening on that front and so the show entirely relies on Abhishek to orchestrate the flow. Truth be told, his inexperience at the same show. He's never been known for his showmanship, unlike his father who's quite seasoned on stage and set. 
And so he obliges the star-struck members of the studio audience with a rendition of his father, the poet Dr Harivansh Rai Bachchan's verse from Madhushaala or a delivery of powerful scenes from Deewar, 'Khush to bahut honge aaj' and Agneepath, doing Paa's Auro-monkey dance. While it's nothing new, to his credit, AB has you hooked. The audience in the room goes ahead to the extent of offering him a standing ovation.
He eventually (and easily) wins the prize money and leaves the stage for a non-celebrity couple of a physician (carrying a copy of Madhushala, which he bought for eight bucks as a collegegoer and his wife to gaga over the Bachchans. It's almost comical how Bingo falls further flat, the minute senior Bachchan is out of the picture. Not to mention the urgency with which the game is wrapped up when the commoners come on to play.
While it's not too fair to judge an entire show on the basis of one episode alone, first impressions do make a difference. Hopefully, Bingo will get its act together and live up to its zingy name and easy play.
Rediff Rating: