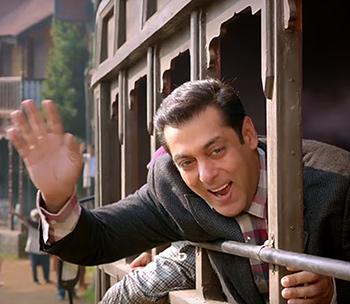 ...It was original, feels Syed Firdaus Ashraf.
After Bajrangi Bhaijaan, one expected Kabir Khan to give us another original story in his next film, Tubelight.
Alas, no!
The Tubelight teaser acknowledges a Hollywood movie, Little Boy.
Why would Khan look for a story in Hollywood when there are so many wonderful Indian stories, just waiting to be told on screen?
After making the mindblowing Bajrangi Bhaijaan, why did Khan need an Angrezi film, yaar?
Of course, the Khans -- Salman, Tubelight's leading man, and Kabir, the man at the screen monitor -- must have added enough masala and tadka in the Little Boy script to engage Indian audiences.
In the two-minute teaser for Tubelight, which was released on Thursday night, you neither spot dishoom-dishoom nor hear Baby Ko Base Pasand Hai kind of songs, both of which are down Salman's street.
Instead, we see the Chinese invasion in 1962, Mahatma Gandhi, Chinese actress Zhu Zhu, Sohail Khan and Salman trying hard to do a Hrithik Roshan of Koi... Mil Gaya.
Salman the star tries to become Salman the actor and I wonder if he's following in the footsteps of his buddy Aamir K.
The Tubelight teaser is quite good. If only it was original.
Pictures from the trailer: