While it's fun for a bit to see enormous robots smashing into one another, it quickly evokes the 'been-there-seen-that' feeling, observes Mayur Sanap.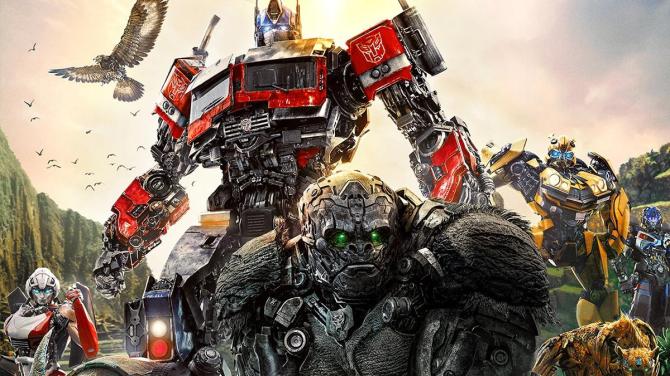 Fingers crossed, it looks like we may be ushering an era where Transformers films are becoming enjoyable again.
Launched in 2007 with Michael Bay at the helm, these live action films weren't superlative cinema by any means, but they delivered on solid popcorn entertainment with mindless amusement of shape-shifting cars.
However, the quality of the franchise derailed after the barrage of charmless and trite sequels that took place after the initial trilogy.
Transformers: Rise of the Beasts, the seventh film in this universe, builds on the old template, but to its advantage, it amps up on everything that worked with Bumblebee, the 2018 spin-off film that revitalised the franchise.
Positioned as a prequel to the first Transformers and a sequel to Bumblebee, the story revolves around the Maximals -- the alien robots that look like giant animals -- protecting the ancient key from the menacing Unicron, who is out to devour planets across the universe.
This key is also a means to find a way back home for the Autobots that are stranded on Earth, which includes Optimus Prime (Peter Cullen). The Maximals and the Autobots form a team together with humans on their side as the intergalactic war ensues.
The human drama is steered by charming Anthony Ramos's Noah and Dominique Fishback's nerdy archaeologist Elena. Together, they go on an Indiana Jones-style adventure alongside our alien robots to help them win the battle.
The Transformers series has never shied away from going totally bonkers and that's exactly what has been its USP. This latest entrant boasts of the action set pieces that are big, loud, and over-the-top staying true to its playbook.
A lot of it just doesn't work.
While it's fun for a bit to see enormous alien robots smashing into one another, it quickly evokes the 'been-there-seen-that' feeling.
Director Steven Caple Jr moves the drama with rapid speed with more focus on the emotional bond between human characters and the robots, which is something we saw in Bumblebee as well.
Reboots are becoming usual fare, but they can be fun only when done in a certain manner.
Last week's Spider-Man: Across the Spider-Verse was a fine example of the subversion of genre, but Transformers: Rise of the Beasts plays the same old beats, missing the opportunity by a mile.
To its credit, the film doesn't go off the rails and become trash like Age of Extinction (2014) and The Last Knight (2017), but at the same time, it doesn't bring anything new to the table, reducing itself to formulaic big-budget, CGI-heavy galore.
All this is fun while it lasts, and instantly forgettable after that.
Transformers: Rise of the Beasts Review Rediff Rating: